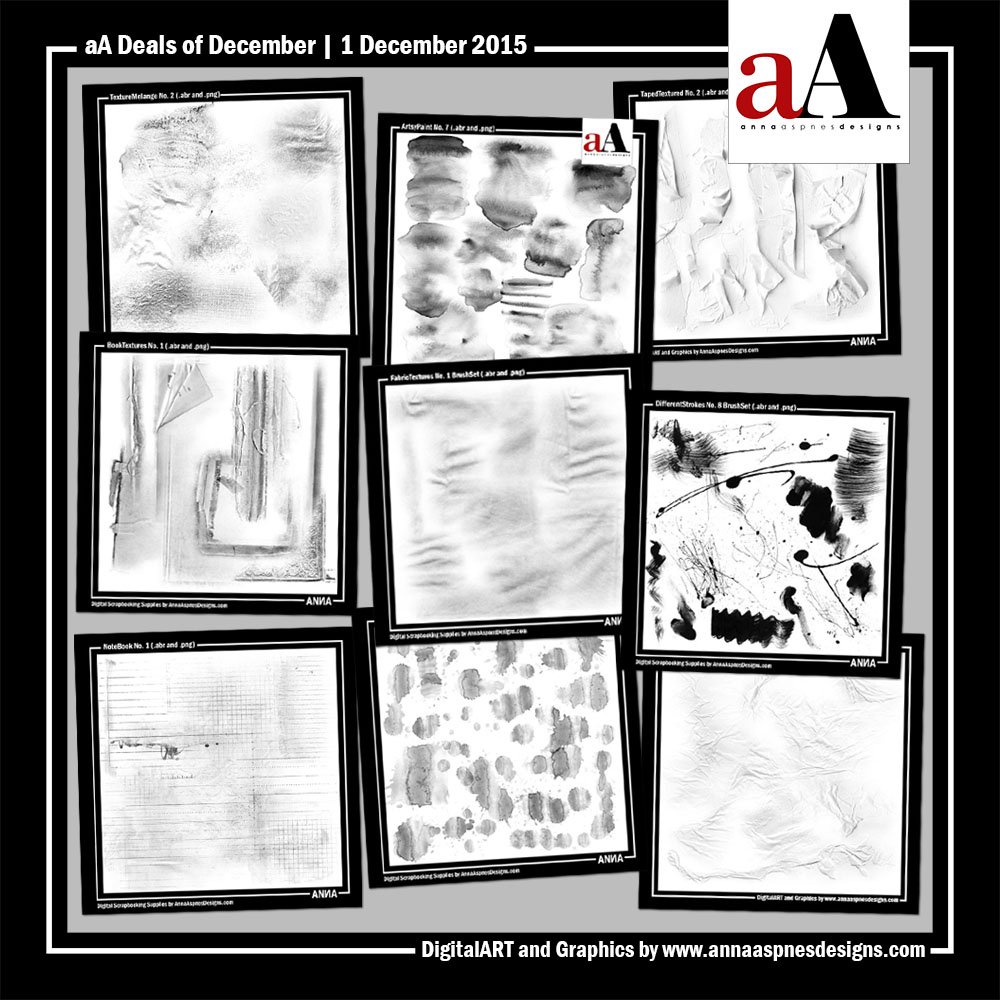 I literally have to pinch myself that it's December and yet I am surprisingly organized…The tree and decor are up in record time, Christmas presents have been purchased (but not yet wrapped) and Himself assures me the outside lights are coming soon.
Yes I believe in miracles and that *things* always happen in threes.
DSD (Do Some Damage) and Black Friday 2015 have come and gone in the blink of an eye, but the 3rd annual aA Deals of December kicks off TODAY.
I'm hoping to bring a little jingle and artistry to your holiday season with some of THE BEST discounts of the year.
The line-up is as follows:
Day 1 – Buy one Tools product get one Free
Day 2 – Save 60% on 10 ArtPlay Palettes
Day 3 – 6 WordART Sets for $12.00
Day 4 – Save 50% on 10 ArtsyTransfers
Day 5 – 10 FotoInspired DoublePage Templates for $20.00
Day 6 – Save 60% on 12 BrushSets
Day 7 – Buy One Album/Template Pack Get One Free
Day 8 – Save 60% on Project Life Category
Day 9 – 10 Artsy Templates for $10.00
Day 10 – Save 50% on 8 Element Sets
Day 11 – 6 Clipping Masks for $12.00
Day 12 – Save 60% on ArtsyKardz Category
This is how it works. Every day for the next 12 days i.e. December 1st-12th, 2015, aA News Subscribers will receive an email announcing each new deal. Sign up for aA News here.
If you are interested in taking advantage of that deal, you can click on the image link to the aA store and begin adding the desired DigitalART products to you cart.
The discounts/offer will be activated and automatically applied once all deal criteria are met.
Note that each offer will run for 24 hours from Midnight to Midnight MST (United States Mountain Standard Time).
Some exclusions will apply and will be outlined in detail with every deal notification.
Subscribe here to receive the deals via email.
DAY 1 | Buy ONE Tools product get ONE FREE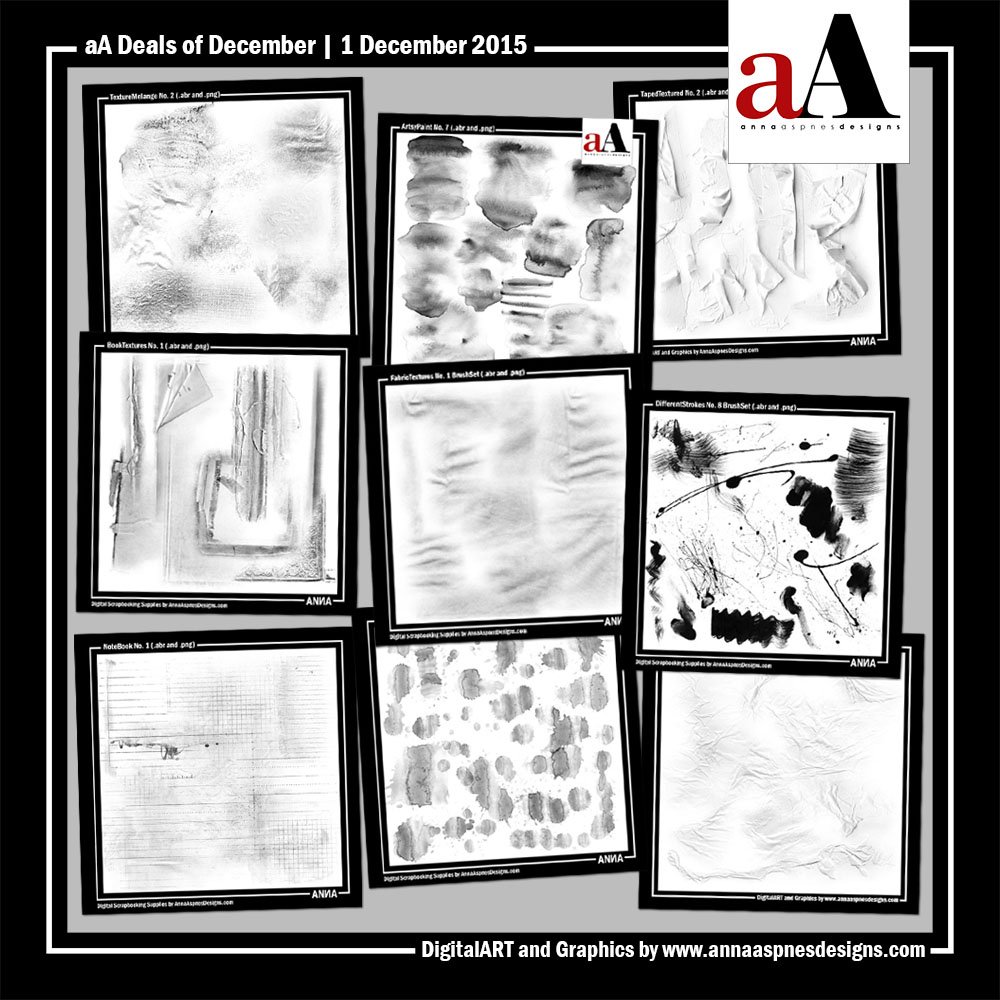 You save 50% on any number of DigitalART products in the Tools category of the aA store.
Tools are typically a variety of textures, stains and paints designed to add depth and color to your DigitalART pages, as well as a variety of distressed BrushSets designed to be used as outlined in the AnnaBlendz LIVE course to expertly blend your photos with DigitalART with ease. Note that registration is currently open for January 2016.
Try stamping a stain or paint texture on your layout using the Paint Brush tool from the Tools panel in a color that coordinates with your image to create unity in your design, or stamp a texture brush in gray on a new layer and apply a Blending Mode such as Multiply or Color Burn to add depth to your composites.
Excludes $4.50 and $4.99  DigitalART products as well as those released in the last 4 weeks.
Discount will be applied automatically to your cart at check-out.
Offer ends at Midnight MST TONIGHT.