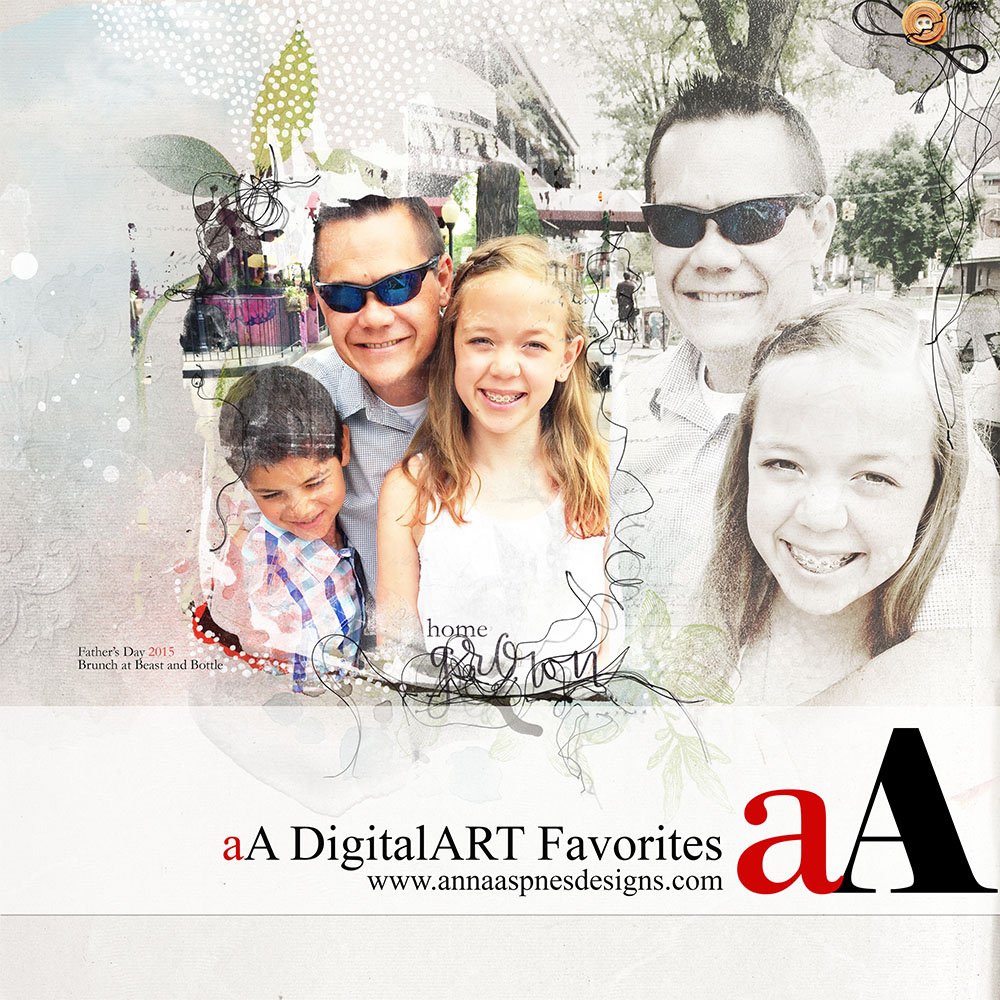 The aA Creative Team share some of their DigitalART product favorites.
1. Artist Edge Overlays. Joanie is known for her ArtsyTraditional style in which she cleverly combines traditional components of scrapbooking with artsy elements such as paint and distressed BrushSets. She admits it's difficult to narrow down a favorite from a long list that includes LoopDaLoop ArtStrokes, FotoGlows and Frames.
She says, " I love to add edge overlays to a layout. Here I used Artist Edge Overlays No. 6 to frame my page and emphasize a color. I edged the page with the same blue as the water from the photo.  This edge overlay in blue, along with the blue button, the blue title, and the blue ribbon on the anchor, help unify the layout. "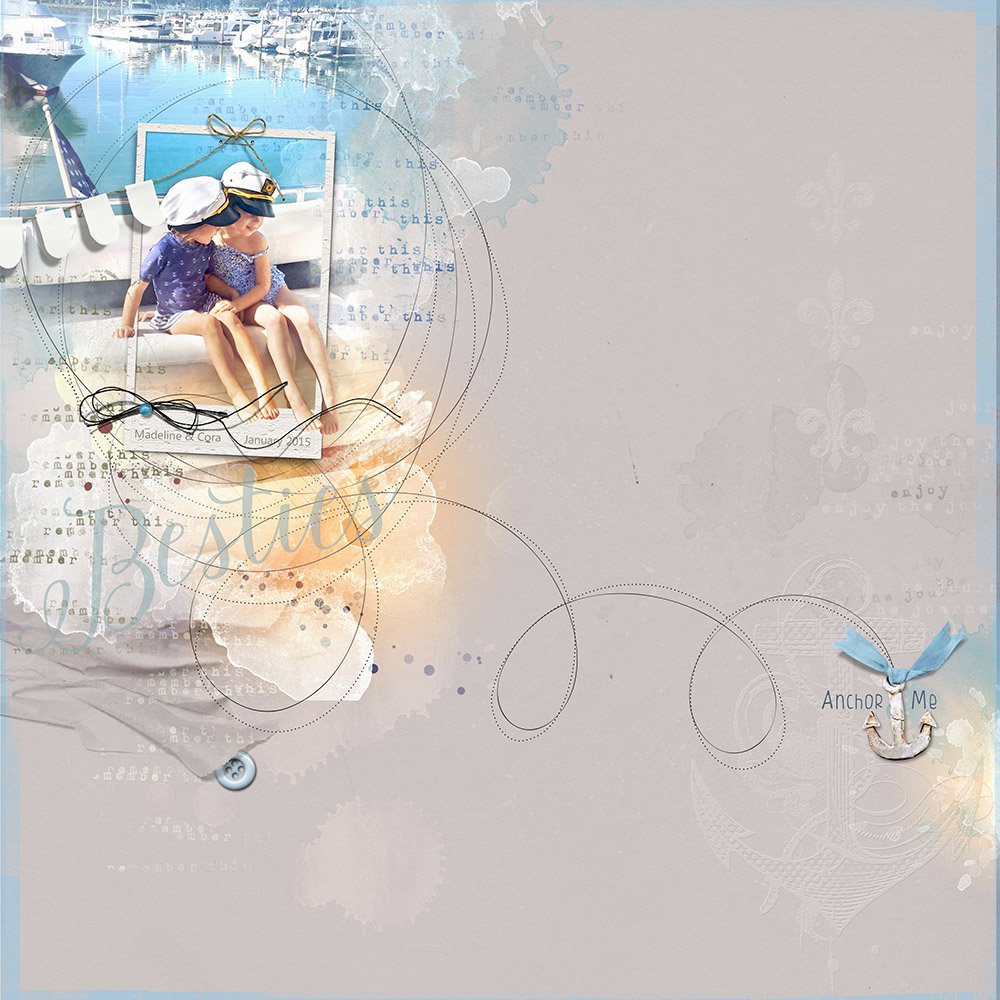 Besties | Joan Schaefer
2. FotoBlendz Overlay Clipping Masks. Fran selected FotoBlendz Overlays No. 6 as her current aA favorite DigitalART product. She says, "I love the look of blended photos. The FotoBlendz products are my favorite to use to achieve seamless blending. If you look through my gallery you can see I use them a lot in my layouts."
Try modifying the FotoBlendz through re-sizing, stretching or rotating them. You can also make some of the more opaque areas denser by painting over them in black using a distressed brush. Use your brushes to add or subtract areas from the mask as needed to better accommodate your photo.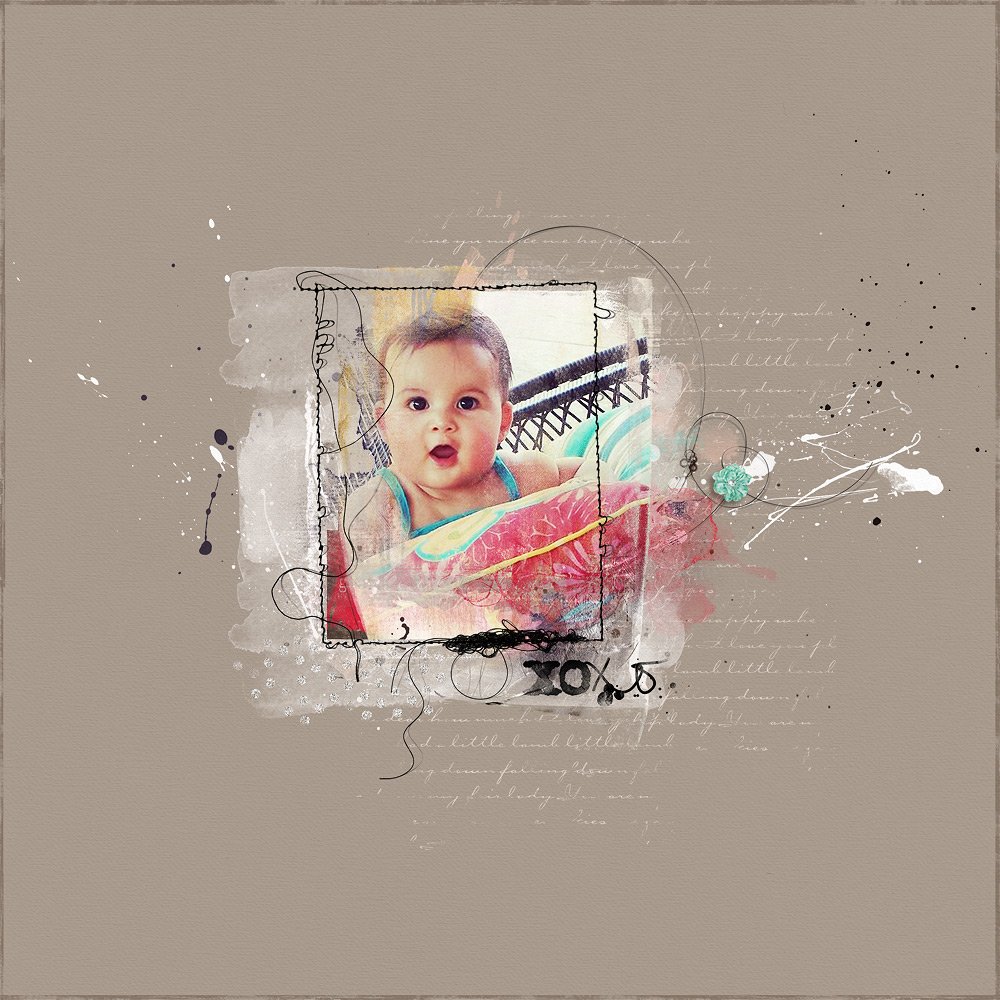 XOXO | Fran
3. ModGrunge FotoBlendz. Fiona always has a knack for thinking outside the box and adding a creative edge to her DigitalART pages. She says, "I don't think I do a page without using a FotoBlendz of some description, whether to clip the photograph to or an artsy paper!" For this page, she used ModGrunge FotoBlendz as an accent to create the white sun behind the car.
FotoBlendz Clipping Masks are so versatile and can be used to create numerous moods, to include urban and gritty, soft and romantic. Use with the clipping mask function with papers photographs and Transfers. They can be darkened to create shadow or lightened to highlight areas.
Try layering different FotoBlendz masks on several layers, play with composition, adjust the opacity, darken or lighten to create depth and unique patterns.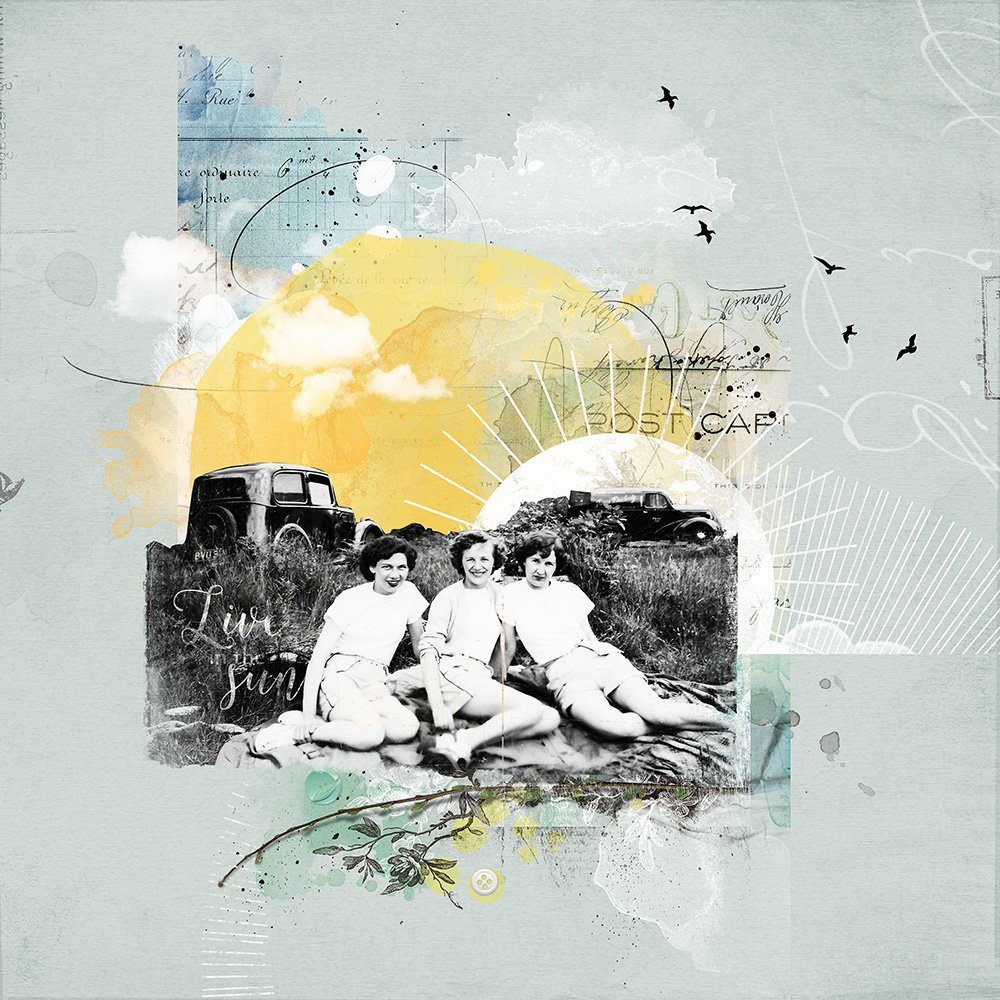 Summer Picnic | Fiona Kinnear
4. ArtsyPaint. Adryane uses artsy digital paint like no-one else I know. She says, "ArtsyPaint No. 6 provides a wonderful watercolor effect and can be used as clipping masks, either alone or combined. They work well as photo mats and can be stamped on masks to erase or add to an image."
Try using these brushes with the Eraser tool from the Tools panel on a low opacity setting. Remove areas of your background to create a soft watercolor look under your photo or around your focal image.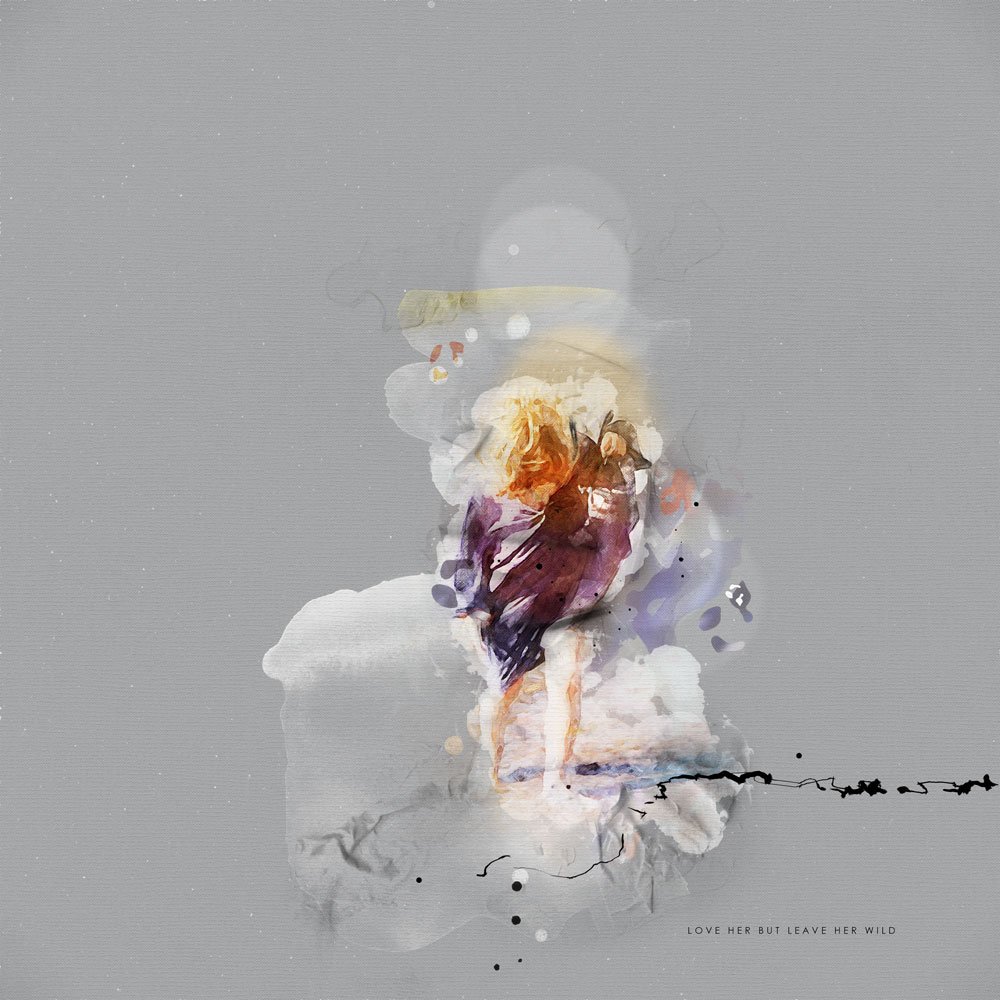 Love Her But Leave Her Wild | Adryane Driscoll
5. Album Templates. Many of  Heather's layouts begin with a layered Template. In the following page, she used one of the 5 templates in Beach Template Album No. 1A. She says, "My favourite product of Anna's are her templates! There are so many to choose from, each set providing endless ways to create and complete layouts and even entire albums. Try flipping them around, recolor the brush layers and clip patterned papers to the paint layers."
A great tip for using the templates is to first turn off each layer to better gauge what is on each layer, where it's located on the template and how it can be used, then just have fun adding elements from the many Artplay Palettes available in the aA store.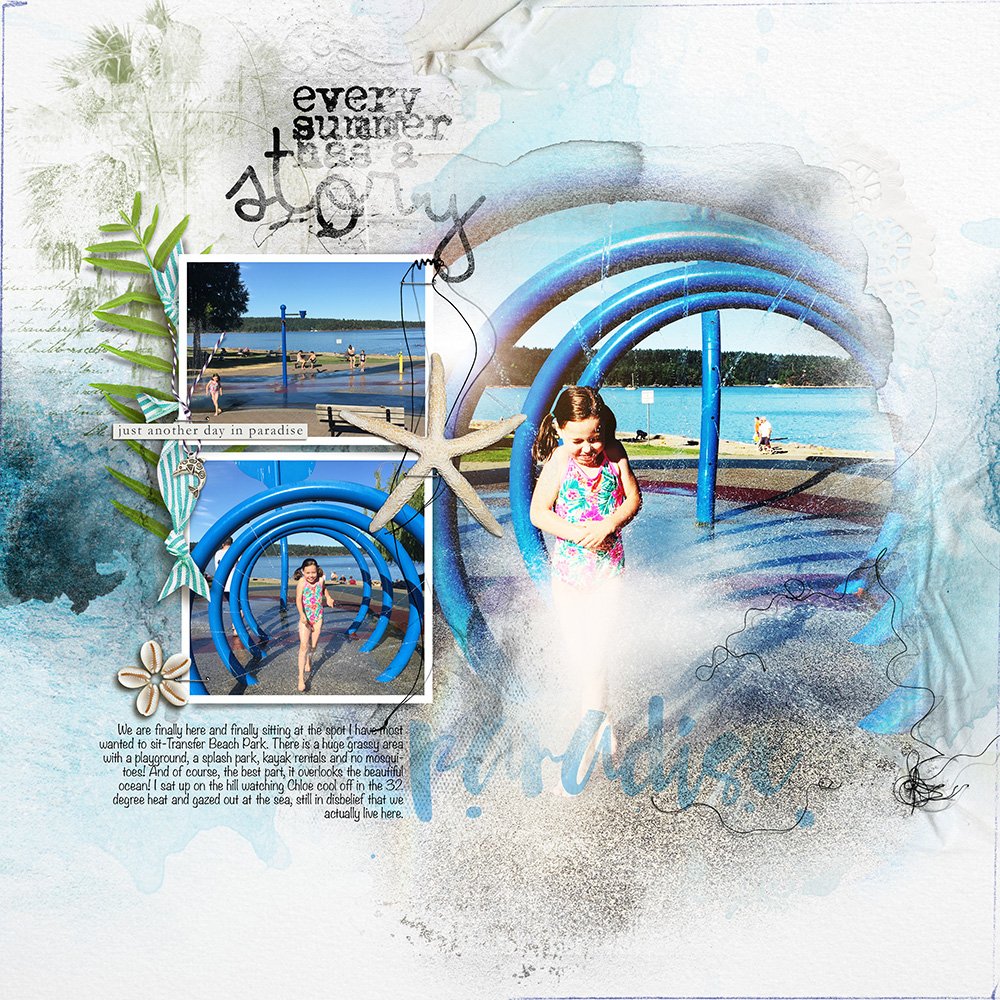 Paradise | Heather Prins
6. WaterColor FotoBlendz. Miki says, "I love working with Anna's beach-themed kits. The colors work so well together to build a foundation for the photos, the Transfers blend seamlessly and the elements help to support the story and memory." Her favorite product is the Watercolor FotoBlendz – When photos are clipped to these masks, the edges soften up and blend right into the page.
Use the Hue/Saturation tool in Adobe Photoshop and Elements to make small tweaks to the colors of the papers and transfers for effortless blending. Try applying Blending Modes to the Watercolor FotoBlendz masks to enhance color and enable the texture from the underlying layers to show through the image.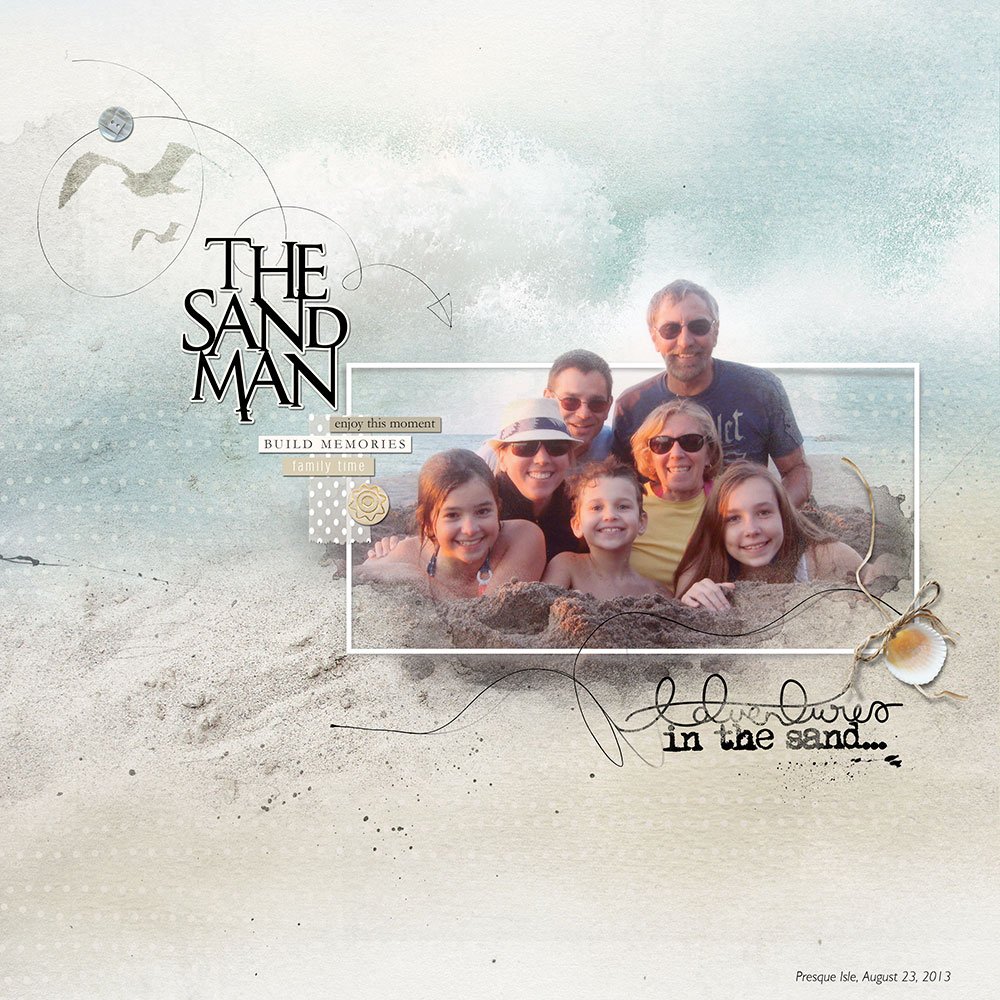 Mr Sandman | Miki Krueger
7. ArtPlay Palette Poppy. This delightful collection happens to be one of my personal favorite products, an interest I share with aA Creative Team Member, Ulla-May.  While I am drawn to the red and black color palette, she finds ArtPlay Palette Poppy so easy o use. She says, "It gives so many possibilities to make pages with different themes."
Try applying the Bevel & Emboss Layer Style to some of the overlays and transfers in ArtPlay Palette Poppy to yield different effects.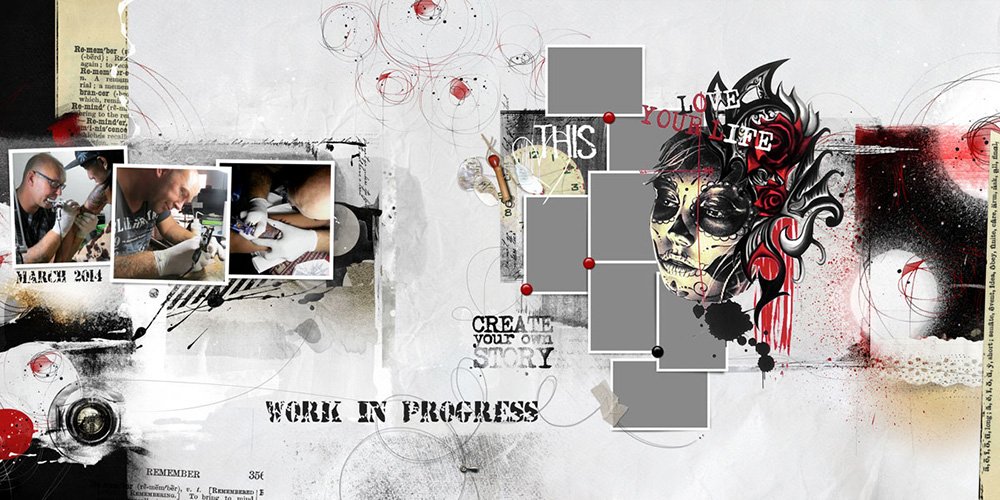 Work in Progress | Ulla-May Berndtsson
8. AnnaBlendz Artsy BrushSets. Linda says, " I use them so often that I've combined them into one brush set which I keep loaded in Photoshop." If you are new to using Adobe Photoshop or Photoshop Elements, and do not know how to create your own BrushSet, check out Brushes #1 |  Loading and Using Brushes video on the aA YouTube channel.
These are the best brushes for blending photos into a background using a Layer Mask, for modifying the FotoBlendz Clipping Masks available in the store, or for making adjustments to ArtsyTransfers. They enhance your blended images with subtle textures to create a smoother and more realistic transition than just using the soft round brush for blending. See the AnnaBlendz LIVE to learn more about blending.
Note that, if you are using one of FotoBlendz Clipping Masks , you'll find a matching texture in these three brush sets – They are perfect for working with both clipping masks and layer masks.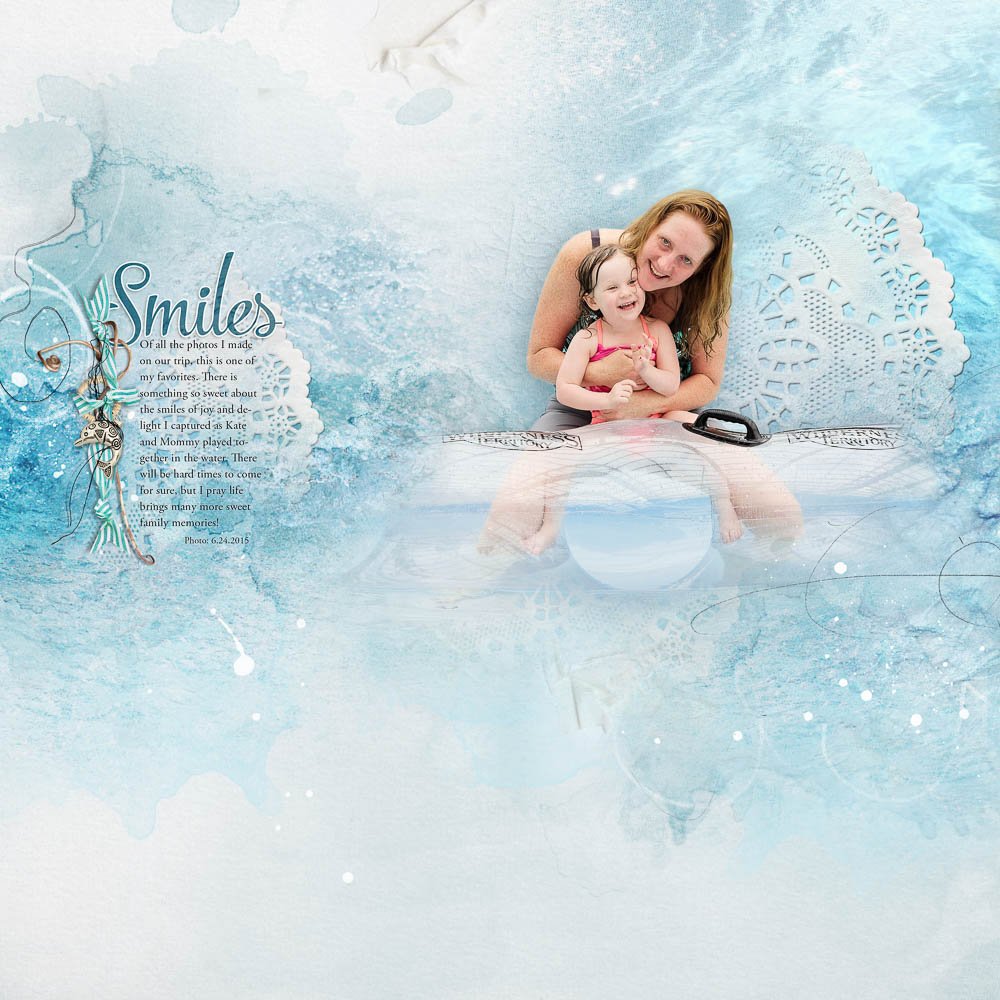 Smiles | Linda Davis
9.  ArtsyTransfers. Suzie likes many of the DigitalART products in the aA range but claims ArtsyTransfers as her favorite. She says, "Artsy Transfers are delivered  in .psd format so I can change the elements around, and duplicate or re-colour them as needed."  She also likes the included texture layers which add depth and visual interest to her DigitlART projects.
When using Artsy Transfers, try opening the .psd format file, select all layers and group them together before moving onto your layout. This approach enables you to keep a better track of your layers, especially when using more than one ArtsyTransfer.  Suzie says, "You can then see them all in the groups rather than as a squillion layers!"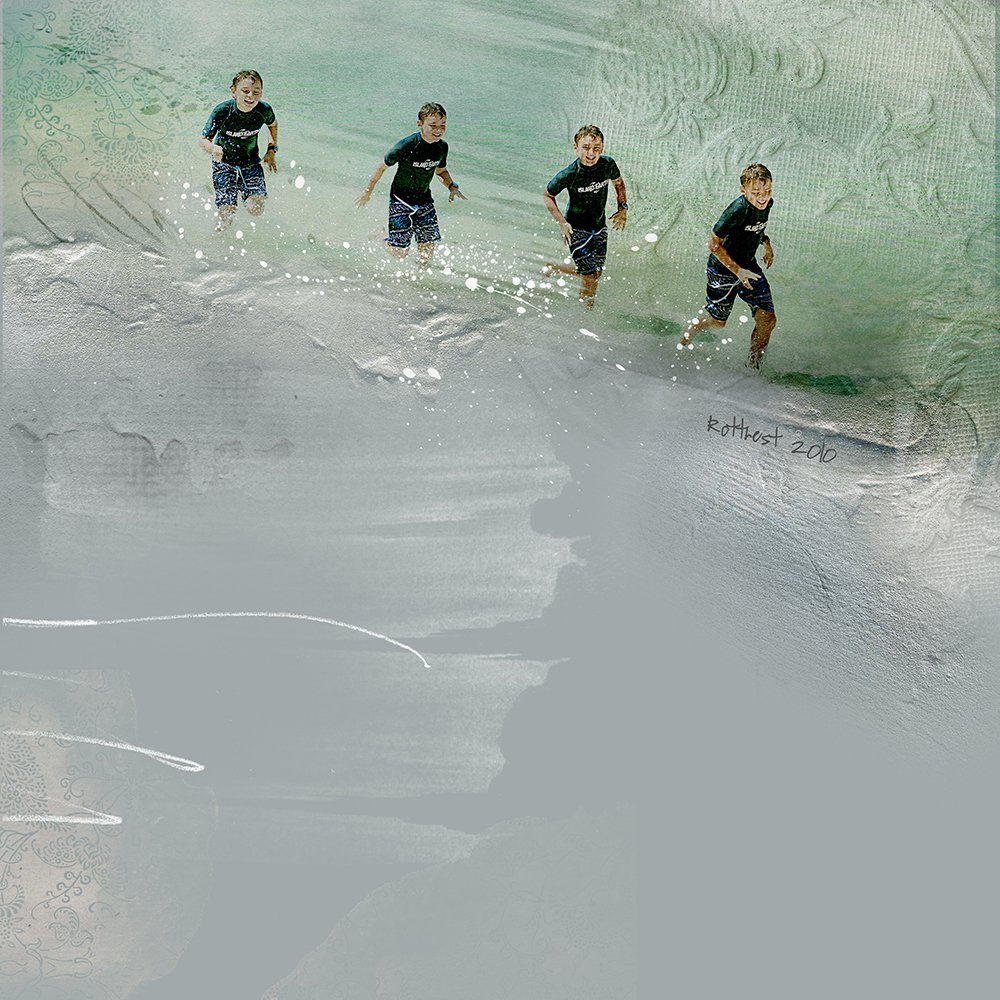 Reflections | Suzie Griffith
10. FotoInspired Templates. Donna is known for her art journal DigitalART pages. She loves to combine FotoInspired DoublePage Templates with ArtsyKardz to create unique works of art
She says, "It's so simple and so much creative fun.  The ART unfolds as you PLAY!"
Try clipping the ArtsyKardz to the mask layers in an FotoInspired DoublePage Template and then move the ArtsyKardz around within the layer until your favorite portion of the ArtsyKardz is displayed. Next add a photo or two inbetween the ArtsyKardz layers, and add brushes, WordART, or elements to create your own custom blended layout.  You can also re-size the template and move the layers around your page to vary the design.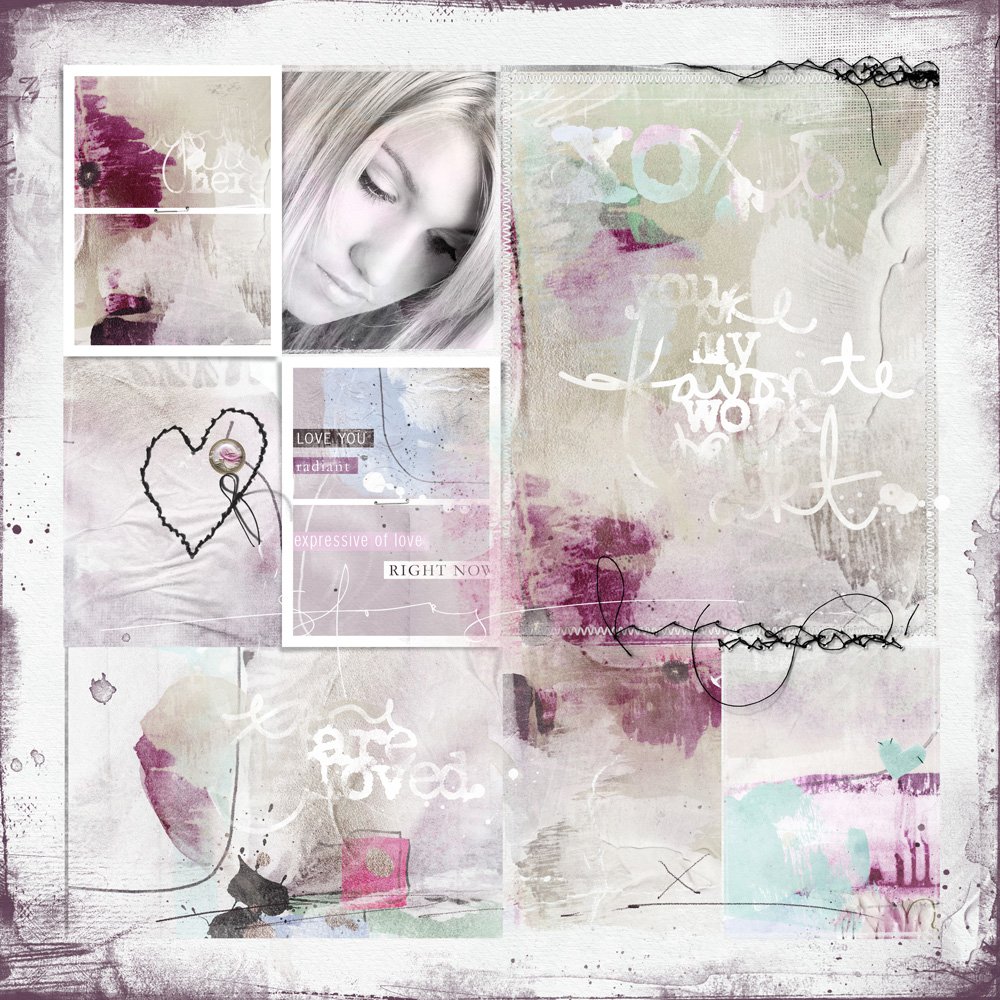 XOXO | Donna Goar
11. UrbanThreadz/Stitchez. I currently love Brushes a LOT, and all types, from textures and paint to add artsy appeal to my DigitalART projects. I like to stamp them on new layers in colors that co-ordinate with my chosen DigitalART supplies and photos. I'm also quite fond of the UrbanStitchez and UrbanThreadz in the Stitching category of the aA store, also delivered in .abr and .png format.
I like to use them in dark colors such as java, navy, graphite and black, and I don't stop at just one. Try layering them up to create visual interest and dimension on a page in place of dimensional embellishments. Favorites include UrbanThreadz No. 3 and No. 4, UrbanStitchez No. 11 and UrbanThreadz No. 9, all used in the layout celebrating my beautiful family below.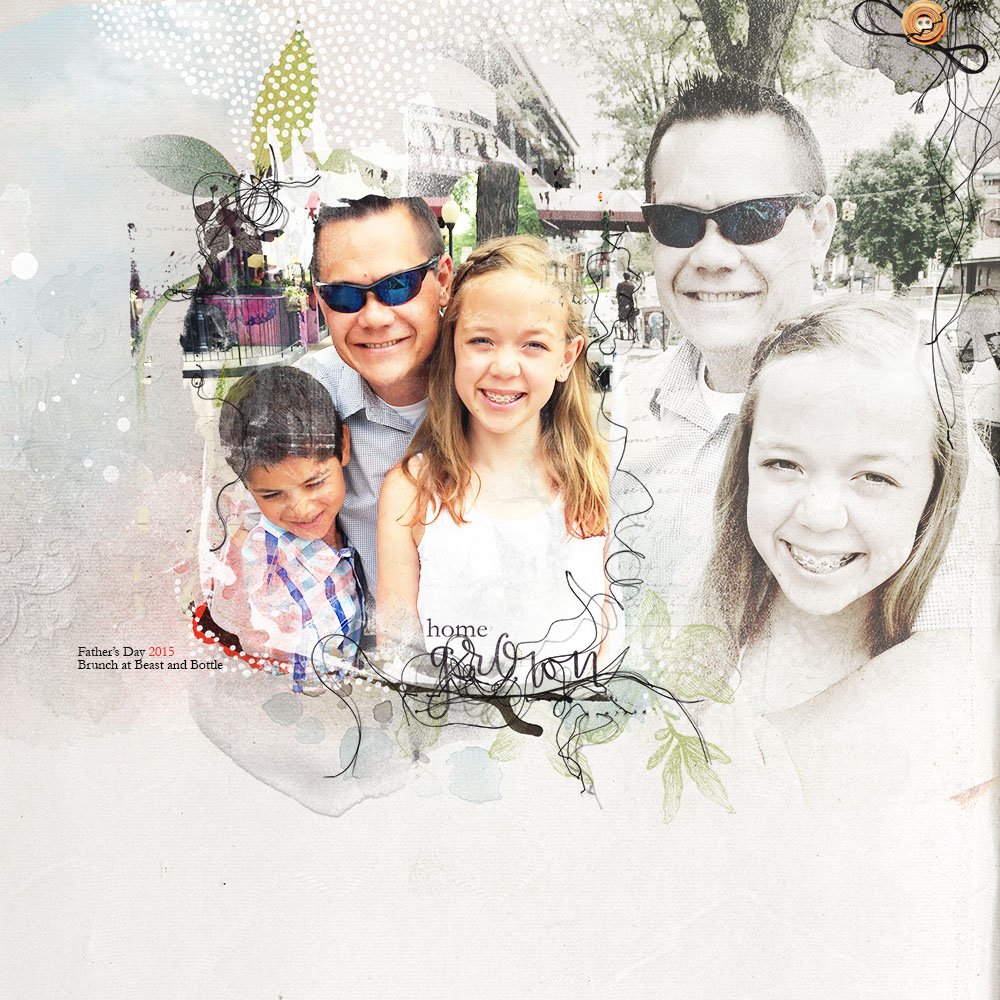 Father's Day 2015 | Anna Aspnes