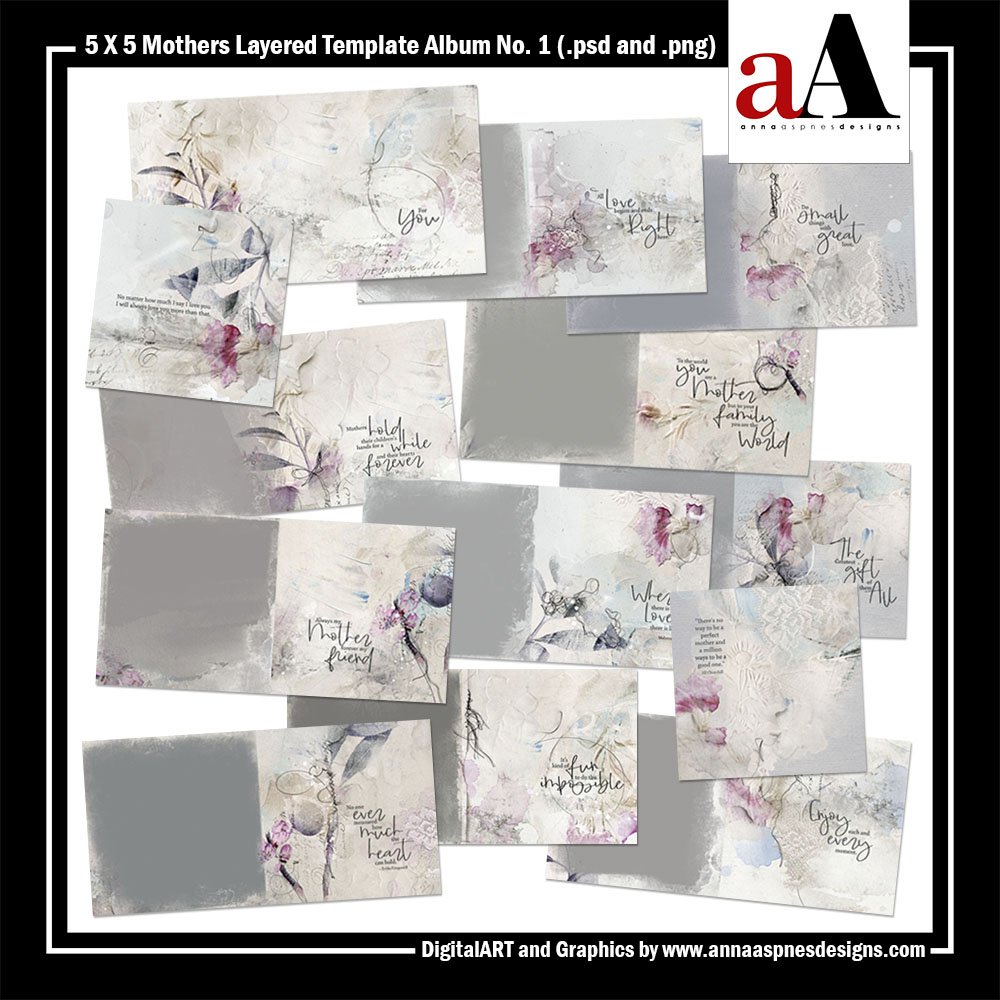 The latest and greatest at Anna Aspnes Designs in aADigitalART Store Updates 04-19.
aA DigitalART Store Updates 04-19
5 X 5 Mothers Layered Template Album No. 1
Offer valid through April 26, 2019 at 9 am EDT. Delight mothers, grandmothers, friends and other significant women in your life with this mini photo book project consisting of a collection of 10 – 10 X 5 artsy layered templates designed to create a 20-page, 5 X 5 photo album. It includes 2 – 5 X 5 first and last pages plus a BONUS cover set for photo book printing. Each page is delivered in 5 layers in BOTH .psd and individual .png format with a background layer using elements of ArtPlay Palette Sashay, a 5 X 5 distressed photo mask, a color overlay, quote and UrbanThreadz. BONUS Printing Code: Save 55% when you print your book at Picaboo using this link.
2. MidWeek Releases
NEW ArtsyTransfers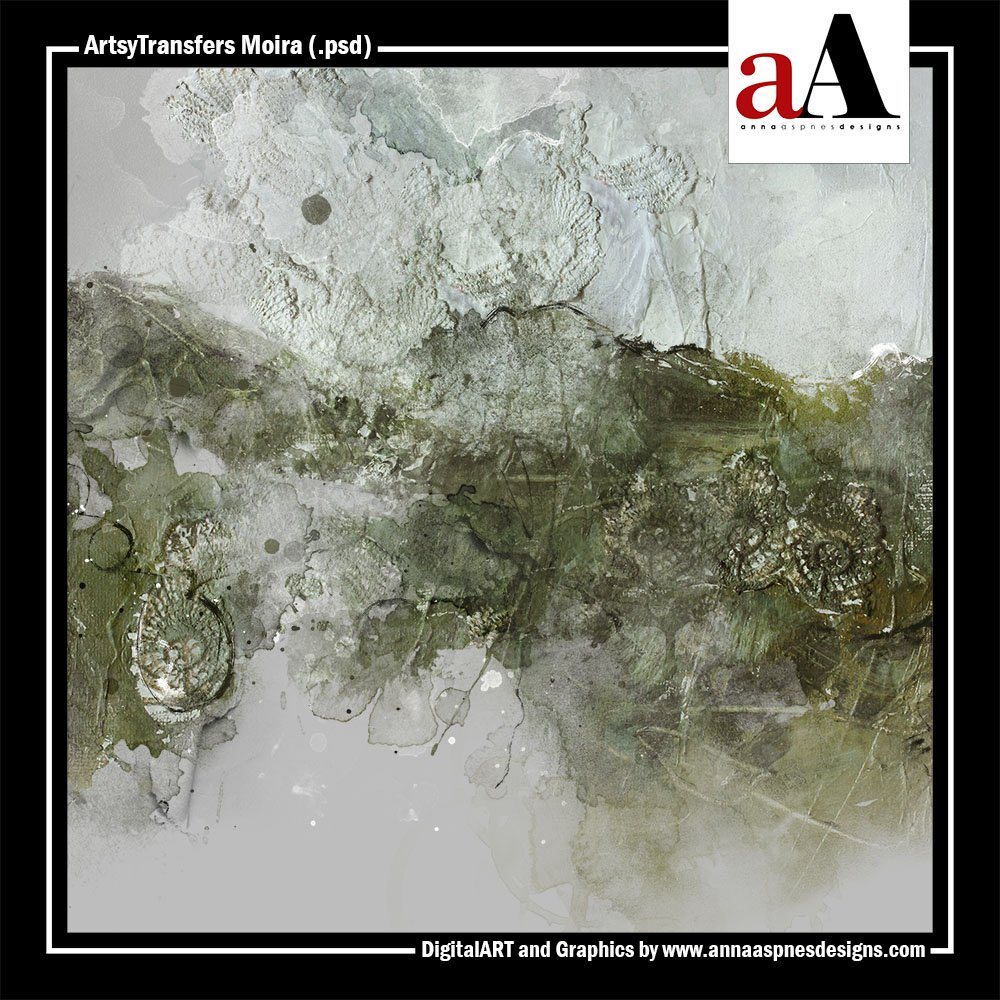 Watch this ArtsyTransfers 101 – The Easy Way to Blend Photos Video for guidance on using ArtsyTransfers in your digital artistry and digital scrapbooking layouts.
New ArtsyTransfers are discounted by 20% through April 24, 2019 at 9 am EST.
NEW ArtsyKardz

A collection of 10 Artsy cards designed for use by both digital and hybrid scrapbookers delivered in layered .psd and flattened .jpg format. This MultiPack includes 2 – 6 X 6, 4 – 4 X 6 and 4 – 3 X 4 varieties. Use them for journaling or clip a photo to them, apply a blending mode to the photo layer or frame them, create a collage with them, add layer styles, or print and cut them out for use in pocket scrapbooking, Project Life or for other paper crafts. They're great for trading or business cards, as the foundation for greeting cards or as gift tags.
Watch this video for guidance on using ArtsyKardz in your digital artistry and digital scrapbooking layouts.
New ArtsyKardz are discounted by 20% through April 24, 2019 at 9 am EST.
NEW BrushSet

A collection of 15 splatter paint brushes delivered in .abr and black .png format to enable maximum customization. There are 2 different .abr files to support PSCC and PSE (from 1459 to 3898 pixels) and Elements/earlier versions of PS (from 1454 to 2144 pixels). The New BrushSet is discounted by 20% through April 24, 2019 at 9 am EST.
3.

a

A

Classic ArtPlay Collection 

The 'Spring Showers' ArtPlay Collection has returned to the

a

A

store for a limited time.
Every Wednesday we bring back a aA Classic AnnaRelease collection from the Anna Aspnes Designs archives.
This limited option is back at a 50% discount and is available for ONE WEEK ONLY.
This collection will no longer be available after April 24, 2019 at 9am EST.
The ValuePack includes the following aA artsy digital scrapbooking designs by Anna Aspnes Designs:
aA DigitalART: PERSONAL USE ONLY – Photographers, artists and crafters, web designers and scrapbookers For Hire (S4H)/Scrapbookers For Others (S4O) may purchase a Commercial Use License for each of these products for a nominal fee here.
4.

a

A

ArtPLAY LIVE Event

Join us for this 2 hour on-line event with 3 of you favorite Digital Artists.
SAVE 50% on your registration for a limited time.
And get a $50 Value DigitalART MegaPack for FREE.
Learn LOTS of different techniques to elevate your Masking and Blending.
Learn more and register HERE.