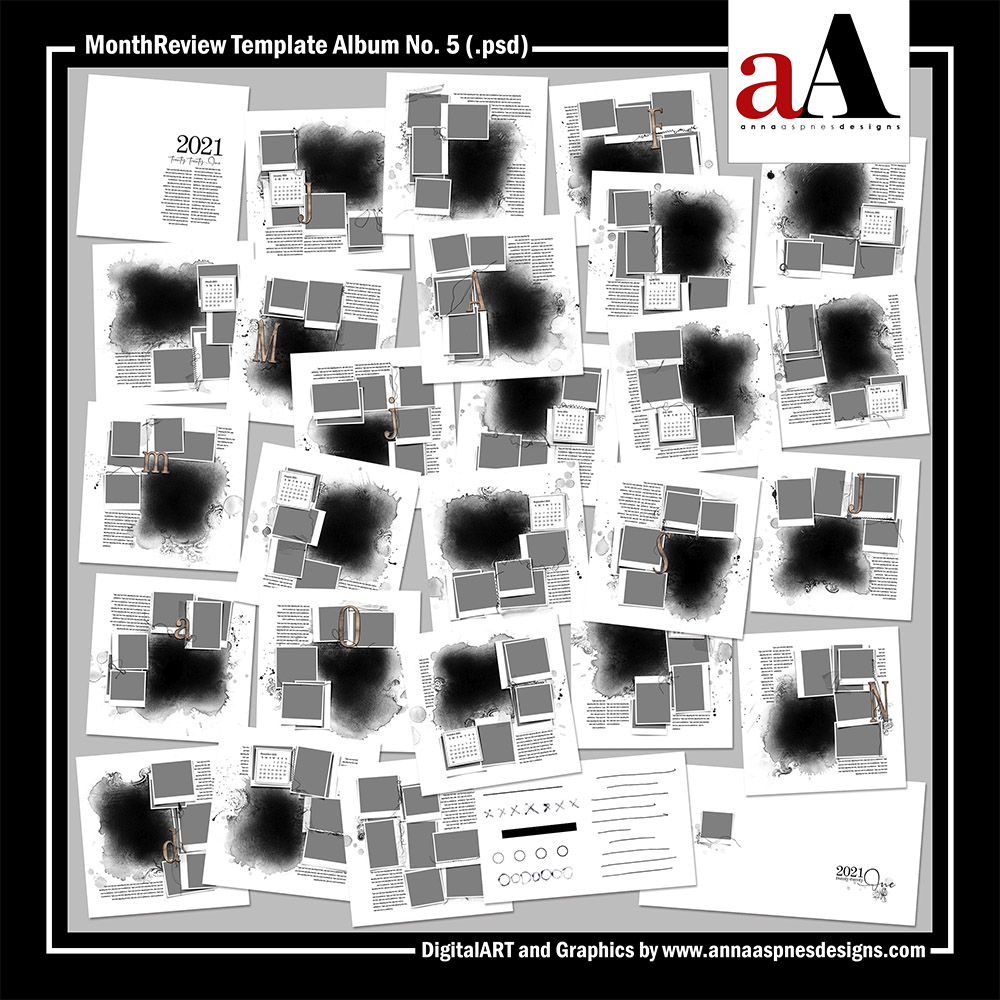 The latest and greatest at Anna Aspnes Designs in aA DigitalART Store Updates 1-15-21.
a

A

DigitalART Store Updates 1-15-21
MidWeek Releases
NEW MonthReview Template Album No. 5
A collection of 26 – 12 X 12 artsy and blended layered templates for artsy digital scrapbooking, photography and memory keeping.
Document a year of photos in a single photobook or album with 2 coordinating single pages for each month of the year.
Includes 12 X 12 Intro layout and Cover Set for photo book printing.
All layer styles, masks, frames (with optional labels), brushwork, stitching, wooden month monograms, year 2021 calendar dates and text boxes shown are included.
Clip your images to the FotoBlendz masks and add your own personalization through DigitalART supplies and words in Adobe Photoshop, Elements or Paint Shop Pro.
BONUS BrushSet to circle, cross and line the calendar dates in .abr and .png format.
Combine with coordinating MonthReview Template Album No. 4 – Limited time 60% discount coupon included.)
NEW

a

A

Year In Review Project LIVE

Learn how to plan and create a Year in Review Project.
Create 1-2 double-page spreads for each MONTH of the year.
Understand HOW to use MonthReview Template Album No. 5
Capture photos that reflect your STORY.
Select and ORGANIZE to ensure project SUCCESS.
Document a year of PHOTOS + STORIES in one photo book.
Now is a GOOD time to Begin!
January is a 'neat and tidy' START to a project like this.
BUT there is no 'bad' time to start telling YOUR stories with photos and artistry.
Document THIS year or create a project with images from PAST years.
What You CAN Expect
>>> Click Here to Learn MORE + Register <<<
NEW ArtPlay Glacial + ArtsyTransfers Bundle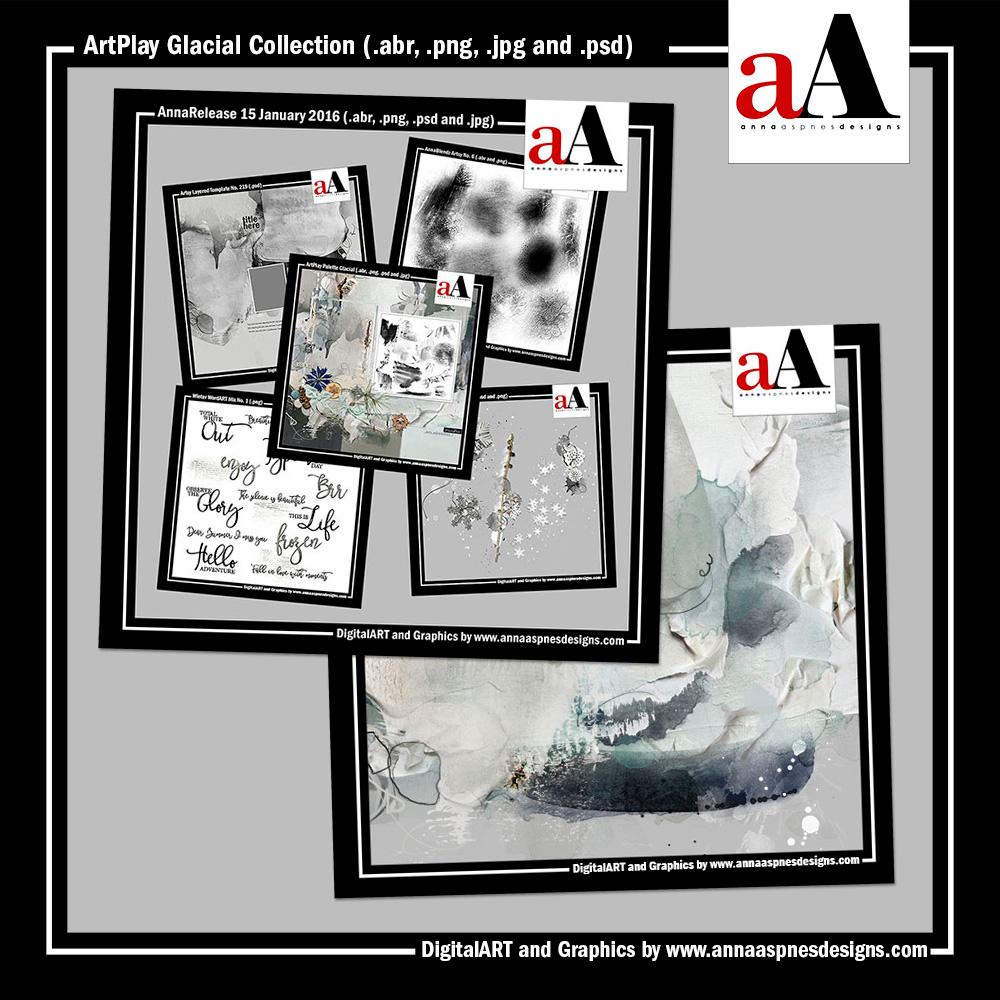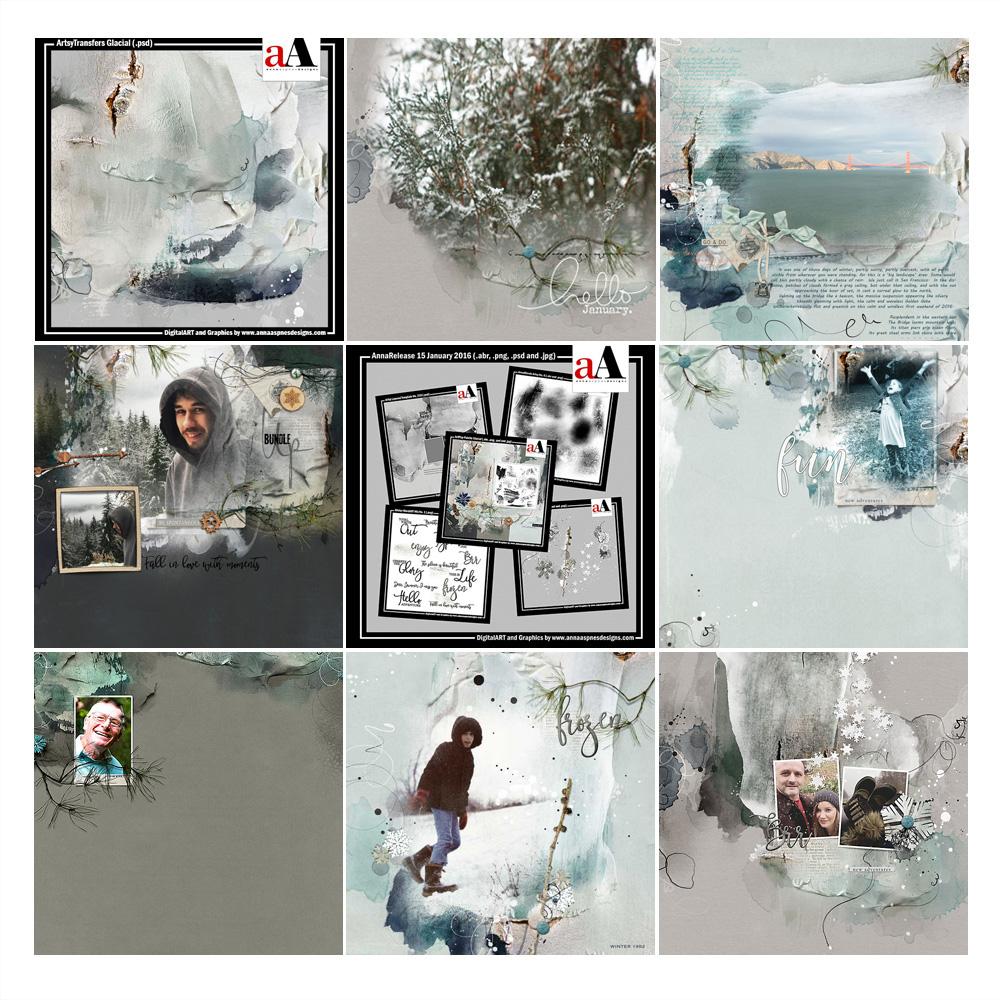 Every Wednesday we bring back a aA CLASSIC ArtPlay Palette Collection.
This limited option is back at a 58% discount and is available for ONE WEEK ONLY.
No longer be available after  January 20, 2021 at 9am EST.
THE VALUEPACK INCLUDES:
aA DigitalART: Extended  Terms of Use for details.