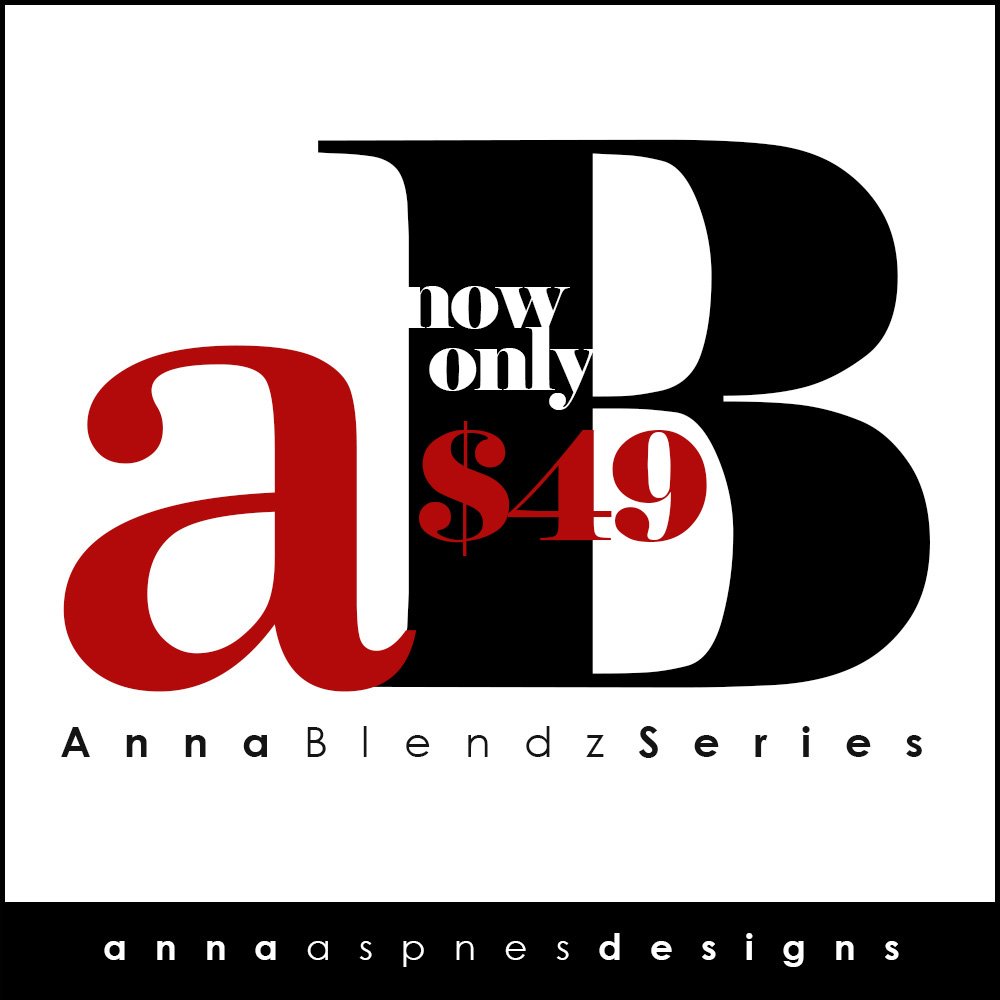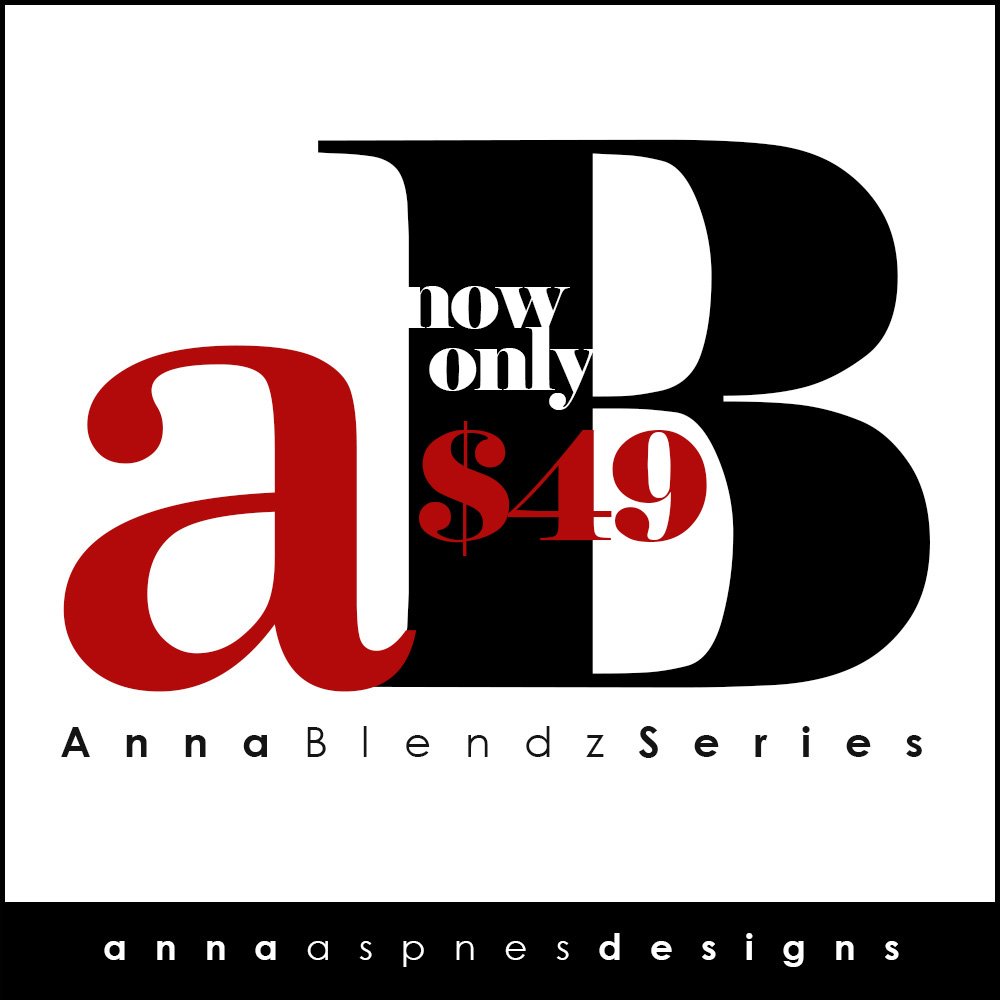 Learning the art of blending can appear complex and difficult to grasp, but AnnaBlendz delivers an easy approach to blending in 3 comprehensive but logical replays of the LIVE interactive classes.
The concepts and techniques in each class build on one another to deliver everything you need to know about blending art and images to transform your digital artistry and modern memory keeping.
You will also receive complementary aA DigitalART product, the layered .PSD files created in class, plus recordings of each session allowing for endless viewing.
Software Requirements: This course is taught using Photoshop Elements 13. Photoshop CC users are welcome to participate and I will provide supplemental guidance for these students. You may also need a microphone or headset if you intend to ask questions.
Got a question? Please see the AnnaBlendz Classes FAQ in which I have provided detailed answers to common questions or email me.
WHAT TO EXPECT FROM A REPLAY ARTPLAY™ CLASS
Each AnnaBlendz Class includes:
Ability to ask questions via email
Complementary

a

A

 DigitalART supplies
Recording of the 3 sessions delivered in .MP4
Layered .psd files created in class
AnnaBlendz 101: During this live course, master the basics of blending images with artsy background papers. Learn how select photos that are best suited for blending as well as helpful criteria for choosing the right artsy background for showcasing your images. Master the use of the Gradient tool to to seamlessly blend images with a  Layer Mask. Combine this concept with the application of blending modes and duplicate layers to create flawless digital artistry. During this class, I demonstrate the techniques using a selection of your photos and my DigitalART. You + Me =ART.
AnnaBlendz 102: We will kick the blending up a notch by learning how to make balanced custom backgrounds that will perfectly showcase your blended photos before mastering the art of blending images using a variety of brushes. You will also gain an understanding of how to use the clipping mask technique with a variety of elements, apply filters to your images and stack techniques to enhance the depth and complexity of your composites.
AnnaBlendz 103: Discover my secret tips and techniques for fine-tuning blending modes as well as learn alternate approaches to creating digital artistry. You will learn two different techniques for using the Layer Mask to include inverted masking and adjusting your color settings. You will also revel in the brilliance of my puzzle blending technique, grasp the ease of extractions through masking and learn how to add depth to your blended images through the use of layer styles, as well as best practices for hiding/correcting imperfections to create stunning composites every time.
WHAT AnnaBlendz LIVE  STUDENTS ARE SAYING:
"I wanted to take a quick moment to say thanks so much for this class. It is like having my eyes opened for the first time.  What a world of possibility. So many Ah-Ha moments. It's really exciting."
"I was thrilled with this class. I've been using Photoshop for some time now but learned even more from the class. I'm so excited to now know how to use your artsy products to enable me to make artsy products!"
"You graciously have structured your class so that all of us feel welcome, and you have given us so much for the price of admission. Thank you again, Anna, for all the hours it took to envision and create something this comprehensive and downright fun. I can hardly wait until next Tuesday!"
"I learned so much and left with the ability to try the techniques myself. It was great to watch Anna work in real time and see that with a few tips, I could create similar art with my own style."
"Wonderful; professional presented; Anna is charming and it was just like being in a living room chatting and learning with people we knew."
"I was totally amazed by the amount of information you managed to pack into a three session course.  If I thought the fee was a little excess in the beginning, I can assure you, I no longer do.  The quality of the class was well worth the cost.  And, since you included a permanent copy of the actual class and the syllabus, the pace is up to the participant. You patiently answered questions as they came up which can not be done with the standard pre-taped video lessons. I so much appreciated the sample layouts indicative of each lesson.  It gave my brain something with which to gauge my understanding.  The same with the class photos. Thank you also for the digital art that came with each lesson.  Although certainly not required, they were very helpful as your lessons are designed around your artwork and style.  It would have been difficult to learn without the right tools. I am so pleased with my growth as a result of having taken this course.  Color me very happy."  – Jeanne
"I learned so much from you during the AnnaBlendz LIVE classes.  You're right…it really is simple!  But, sometimes we need to see this for ourselves to help us get over that hurdle in our head and that's what you have done with this course.  Being able to see you demonstrate live made all the difference in my understanding of how you use your art tools.  The light went on for me (and I think many, many more) and that should be a huge measure of your success with this class!" – Barb
"It's your thinking that is so powerful in the classroom, your talking through your creative process. This will make such a difference for all of us wanting to understand your intent for your designs but also to learn how to create something unique with them. Live teaching is a very effective format for you! I deliberately sent you a photo I'm struggling to figure out how to use, so I loved what you did. Now, I'm going to take your technique with that difficult photo and combine it with one of the other shots to create a page. And I know just how to approach it:)" – Linda
The LIVE class was $75 – The Replay of the event is now $49 through Friday October 7, 2016 at 9pm MDT.
Email me at classes@annaaspnesdesigns.com for purchase details.
It works like this. You contact me. I send you an invoice. Once payment has been made, links via Dropbox are sent to download all the files as soon as I am able. The process is somewhat archaic but it works.
Note LIVE classes may be offered at a discount 12-18 months after their original air date.