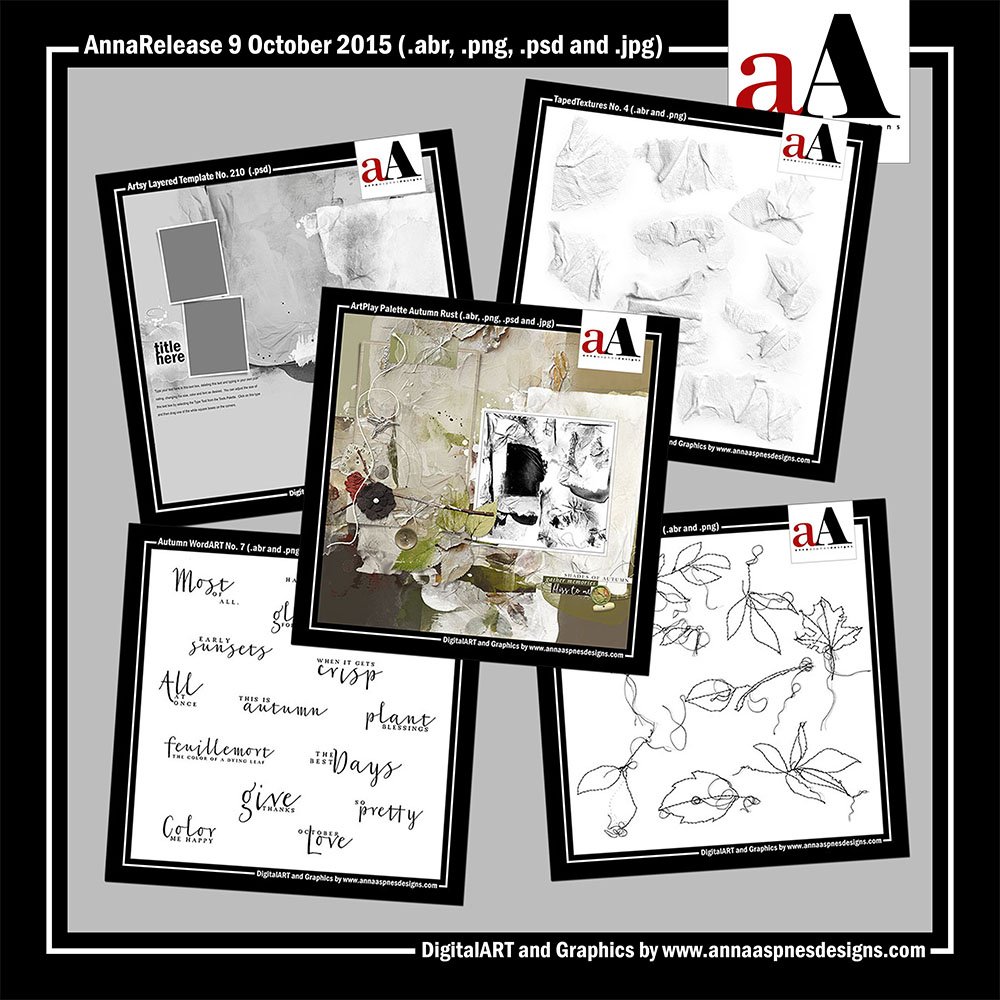 The Details. NewART has arrived in the aA store.
Each of the 5 individual digital products is 20% off or available as a collection discounted by 44% through Friday October 16, 2015 at 9am EDT.
Background and Origins. I may have mentioned last week how much I love autumn… Fall-themed products happen to among my favorites to create.
This week I bring to you a more traditionally colored Palette for this time of year. Last week I was creatively getting ahead of myself as I often do, yearning for that tipping point which takes us from autumn to winter. *Autumn Rust* mirrors the earlier change from greens to yellows with a neutral brown foundation and a burst of red, here and there.
The most challenging part of this ArtPlay Palette was finding a name – I spent considerable time playing with words, and a Thesaurus, to find one that felt right, ultimately taking inspiration from the rust color palette I started with.
I assure you, it's not nearly as difficult to work with though – You'll find it's a super simple foundation for most of your autumn-themed photos. This week I have also included some personal favorites, UrbanStitchez Leaves No. 1 and TapedTextures No. 4.
If you're struggling with how to use the aA DigitalART range to create sophisticated and seamless digital scrapbooking pages or artistry, join me next month in the November sessions of AnnaBlendz LIVE. This is the last time in year 2015, that I will be teaching in a 3-part on-line interactive workshop, showing you how to blend your photos with digital art supplies in Adobe Photoshop and Elements.
We just started the October sessions and I'm already seeing the light being ignited in my current group of students – I can't express how fulfilling it is to be witness to their growth and watch them creatively fly… It never ceases to amaze how quickly that make that transition after just the first class in the series.
Learning how to use the the  ArtPlay Palettes and companion DigitalART sets has definitely been an unintentional BONUS for those attending the workshop. They glean a full understanding of the all the blending techniques I use in both my professional and personal work, as well as master the use of the aA DigitalART product range.
Learn more about AnnaBlendz LIVE and enroll in class today – Note that I'm currently limiting classes to 30 students to ensure best experience for all attendees.