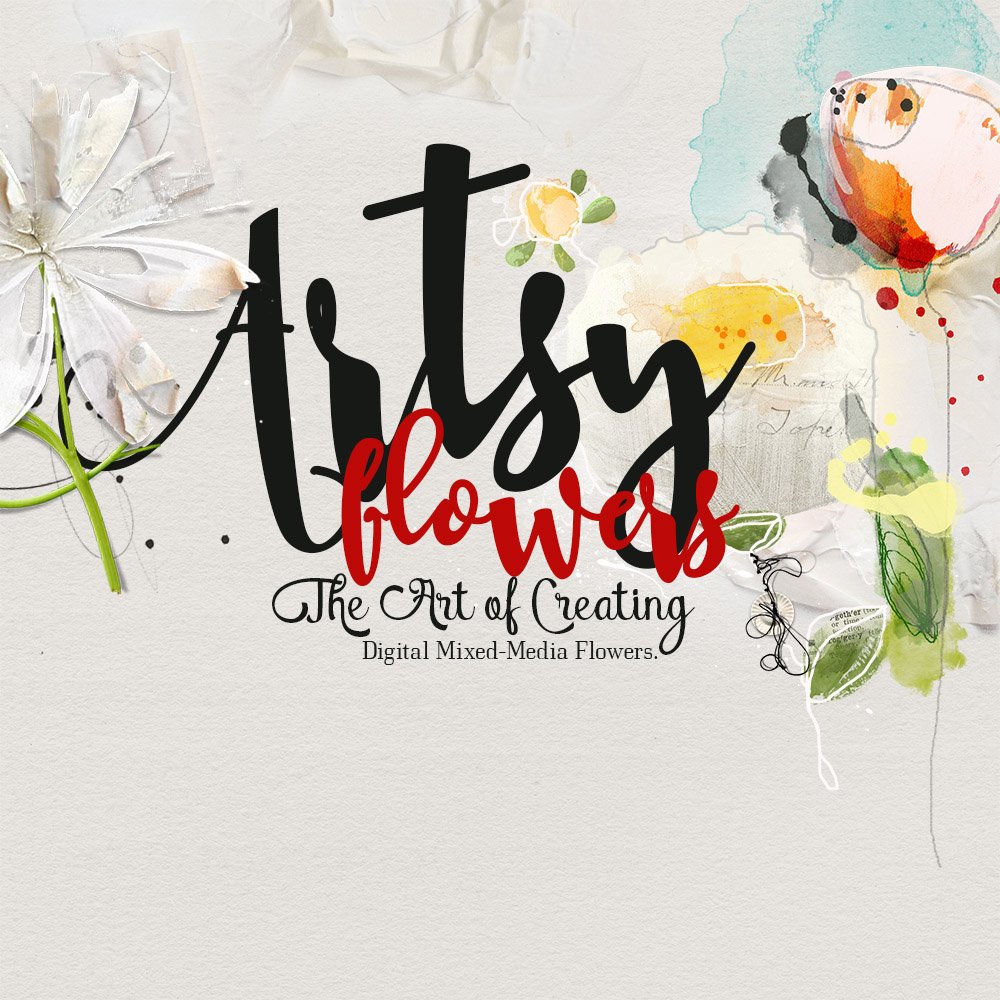 Today, I'm excited to announce the ArtsyFlowers Class is NOW On Sale.
ArtsyFlowers Class is NOW On SALE
Yes my friends – The magic happened!
It took a couple of months, but I got there in the end using the same principles, I share with my students.
Are You Ready to Master the Art of Creating Digital Painted Flowers with Mixed Media Flair?
aArtsyFlowers will teach you my step -by-step approach to creating artsy abstract flower designs in Adobe Photoshop CC.
Together we will ArtPLAY our way through the creation of a digital mixed-media style flower element, guided by a specific design 'blueprint', and wielding the power of Photoshop Tools.
The method has been developed and perfected over the course of 15 years, and this aArtsyFlowers workshop, shares EVERY detail with you.
PLEASE NOTE THE TOOLS NEEDED TO PERFORM THESE TECHNIQUES ARE AVAILABLE IN ADOBE PHOTOSHOP ONLY.
My apologies to Adobe Photoshop Elements users but there are no appropriate workarounds for the techniques in this class.
6 SECTIONS 

DIVIDED INTO 

12 SELF-PACED VIDEOS

 WITH ALMOST 

4 HOURS

 OF ARTSY DIGITAL DESIGN EDUCATION.
Introduction, Definitions and Background
The Flower Study
DigitalART Supplies

a

A

rtsyFlower Formula
'Good to Know' Guidance
Summary & Assignment
Get a more detailed look at each section here.
YOU CAN ENJOY:
12 Self-paced video sessions in .MP4 format available for immediate download.
Just under 4 hours of step-by-step video instruction in total.
In depth 20-page written course content in .pdf format to accompany the videos.
ALL

a

A DigitalART supplies used in class, with a total value of 

$35.00.

ALL photo images, patterns/blueprints, and layered .psd files created throughout the course.
Access and mentorship via the

 a

ArtsyFlowers Facebook Group community.
SOFTWARE REQUIREMENT. 
Conducted in Adobe Photoshop CC.
Requires FULL version of Photoshop CS2 or above.
PHOTOSHOP LEVEL.
Basic familiarity of the Adobe Photoshop work space, and using BrushSets, is required.
You DO NOT need to have taken the aAdvanced Brushes course to successfully complete this new workshop.
LICENSE.
All content is Copyright © Anna Aspnes at Anna Aspnes Designs 2002-2017.
Ownership and Copyright are retained by Anna Aspnes at Anna Aspnes Designs, are non-transferable and all rights are reserved.
Techniques and materials shared in

a

ArtsyFlowers are intended for PERSONAL USE ONLY.
Limited Commercial Use License for this workshop is available here.
BONUS Special Offers.
We are celebrating the launch of this brand NEW! course at Anna Aspnes Designs with the following:
1. EARLY-BIRD DISCOUNT
Save $10.00 when you purchase aArtsyFlowers course BEFORE Friday August 25, 2017 at 9.00 am MDT.
2. 

FREE

ARTSYFLOWERS LIVE EVENT
Open to ALL students who purchase the course prior to the aArtsyFlowers event outlined below:
Monday September 18, 2017

 from

 

5.00-6.00 pm MDT.

Featuring Q&A + more ArtsyFlower demonstrations.
At Go To Meeting/Webinar.
Link to join event will be emailed to your registered email address at least 72 hours prior to the LIVE session.

a

ArtsyFlowers LIVE will be recorded and REPLAY sent to all students.
Your registration for this event is automatic with the purchase of the 

a

ArtsyFlowers.
And did I mention ArtsyFlowers Class NOW On SALE?
>>It's all happening RIGHT HERE<<
Yay! I am so excited to share more digital artistry with you and look forward mentoring you in the Facebook Group.