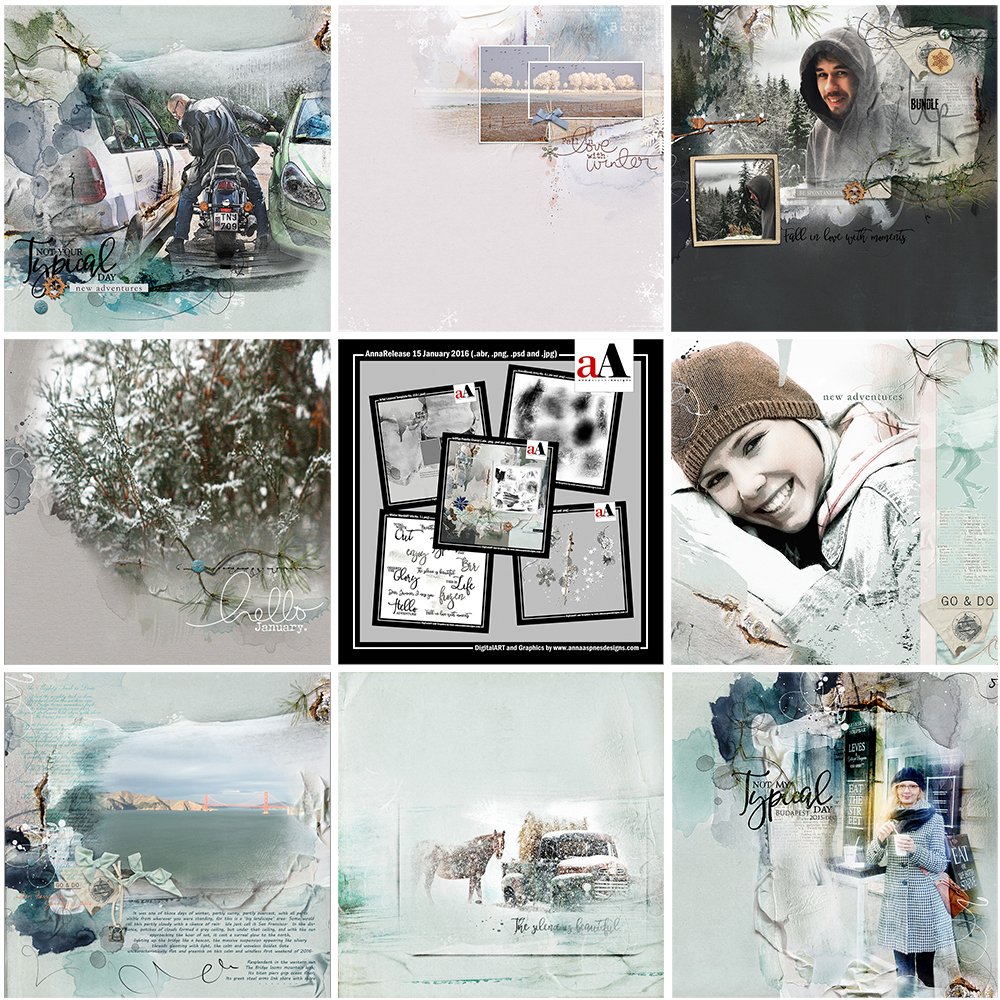 Happy Monday Friends… Hope you had a wonderful weekend. The aA Creative Team has been creatively adventuring using ArtPlay Palette Glacial and supporting DigitalART products. It's all happening in the AnnaGallery.
Lots of different options for this collection if you are not winter fan or happen to have visited a Glacier in the recent past.
View the entire release here and save 44% for a limited time.
Click on the image below to view more gallery inspiration, or visit the AnnaTeam Layouts board on Pinterest.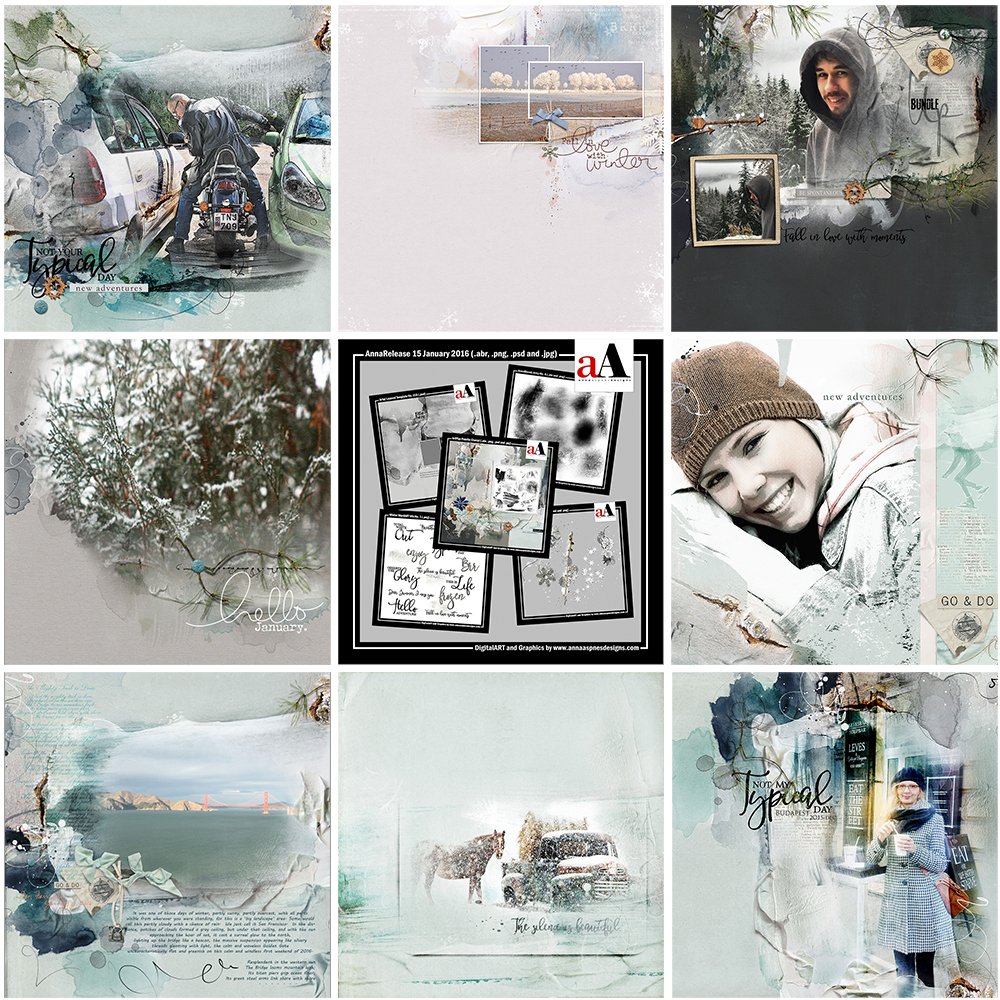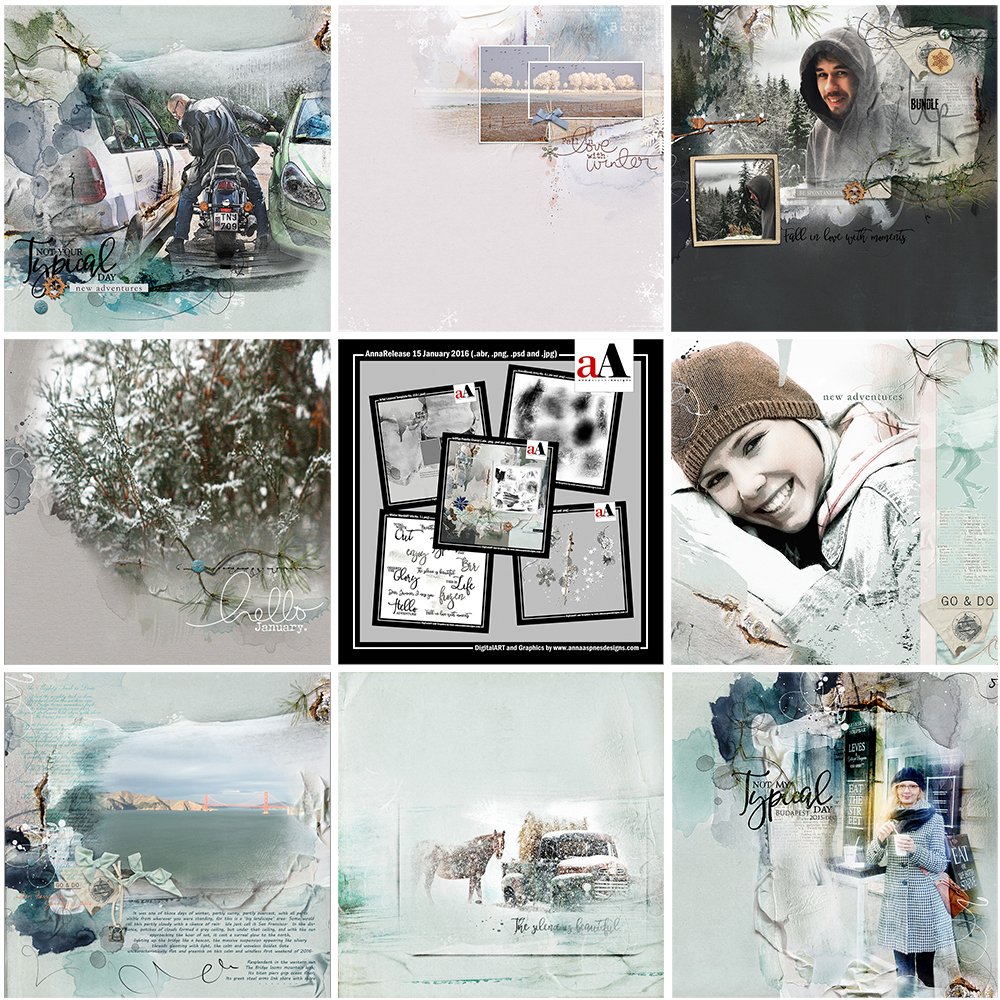 Gallery HighLights. Click on the images to access complete digital supply lists, plus process notes on how each team member put their pages together.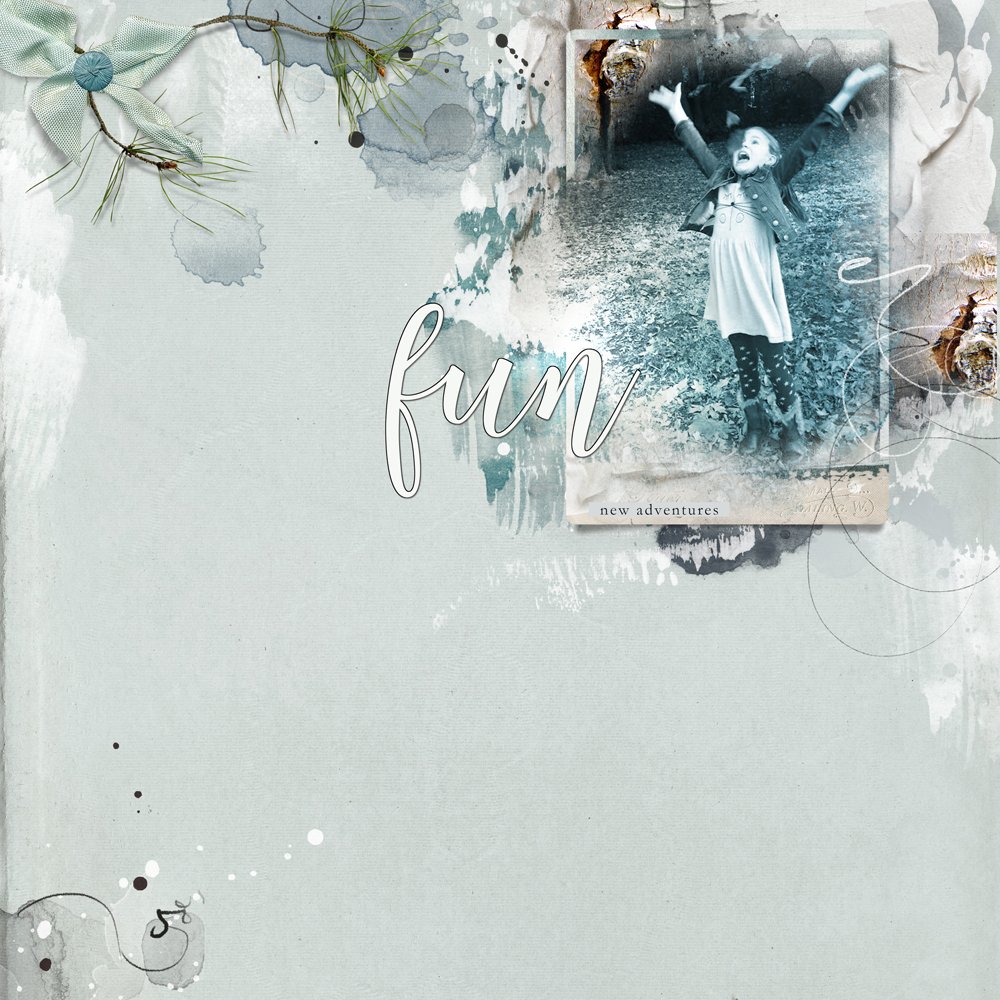 Fun | Tansy
Monotone Photo Coloring. There are a number of ways to achieve this effect, but the one that works in both Adobe Photoshop and Elements is to desaturate the color from the photo.  Go to Enhance> Convert to Black/White (Elements) or Image> Adjustments> Desaturate (Photoshop) to remove the color from your photo. Then go to Enhance> Adjust Color> Hue/Saturation or Image> Adjustments> Hue and Saturation (Photoshop). Adjust the Hue and Saturation sliders in the dialogue box as desired to yield the appropriate color hue and intensity.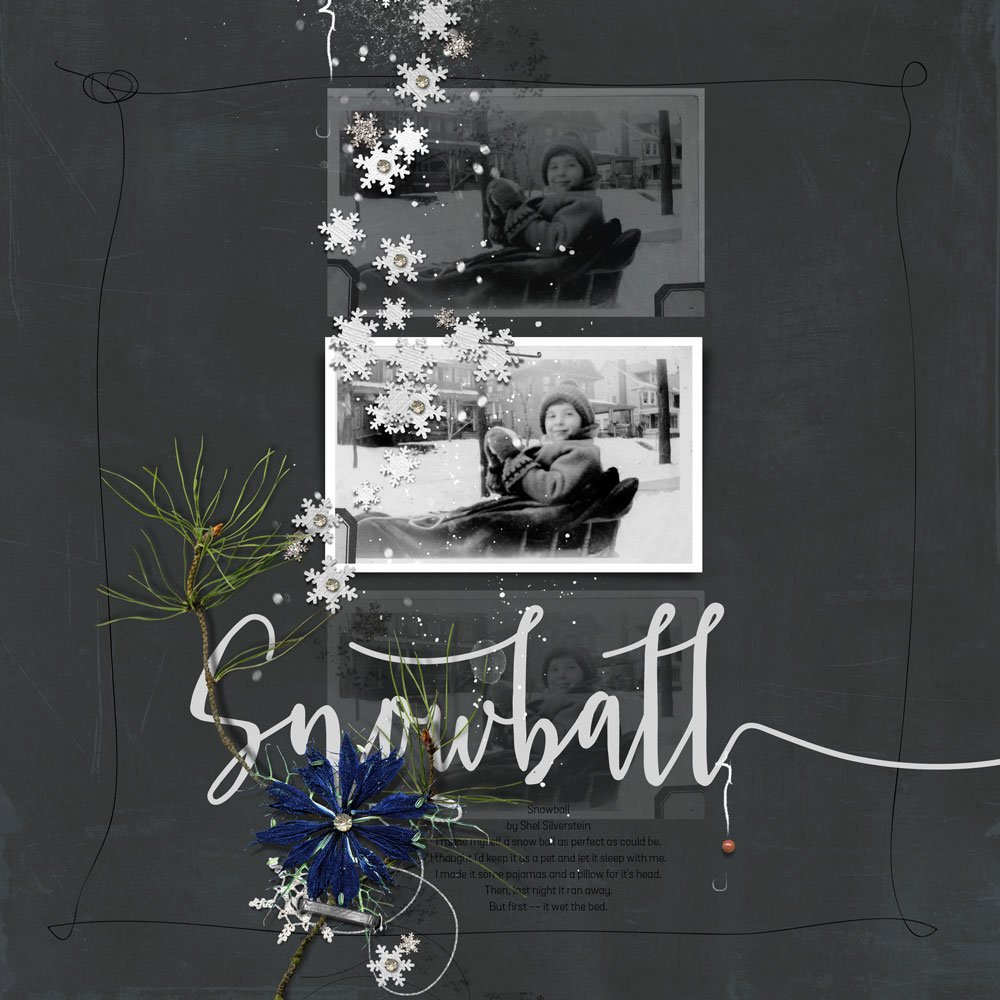 Snowball | Adryane
Photo Duplication. Use the same photo 2 or more times in your composition to create emphasis and build page design. In this layout Adryane, clipped her photo to a FramedMask, merged the layers, then duplicated the photo twice, re-positioning the layers in a vertical column. The opacity of each of the duplicate layers was adjusted, to draw focus to the center photo and create visual interest in the design.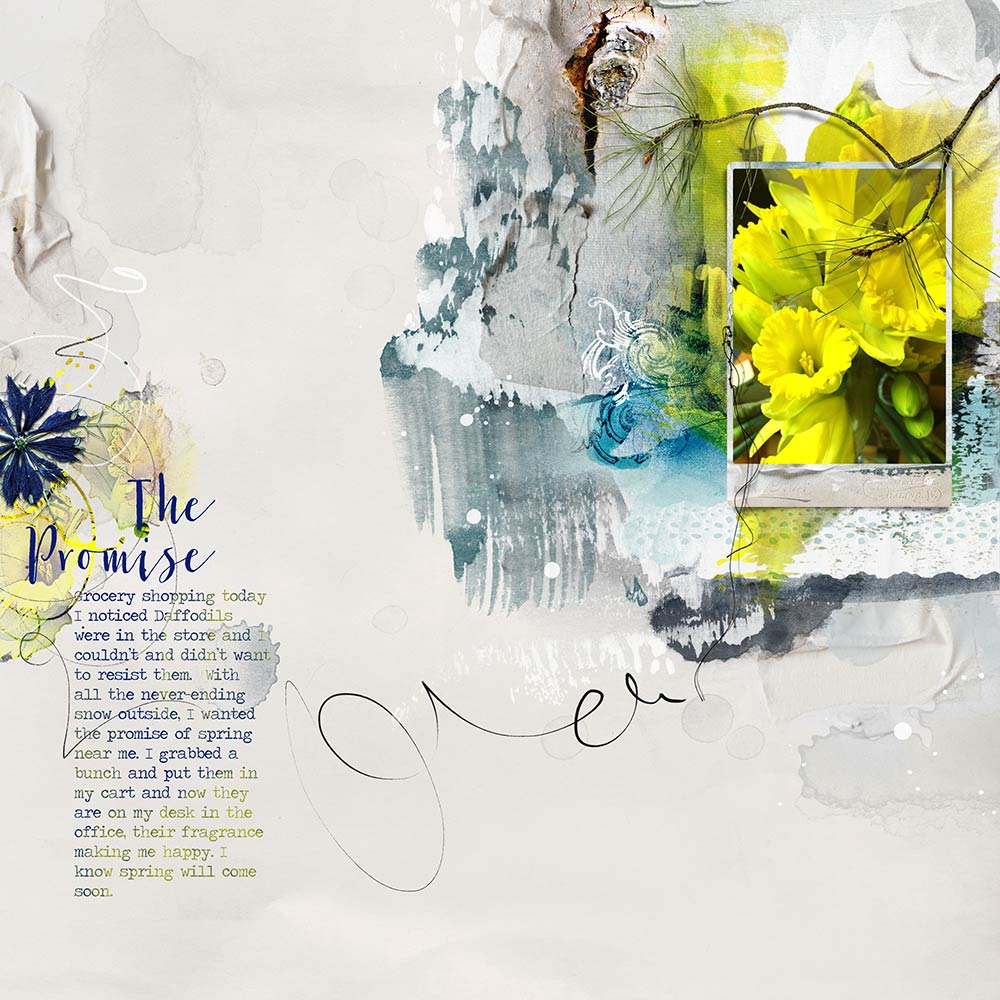 On the Roof Top | Barbara
Tension Through Color.  Add an unexpected color to your composition to create visual interest. Yellow seems an unlikely candidate for an artsy paper featuring predominantly blues  and variations of greens, but works because yellow happens to mix with blue to create the green. Yellow is a primary color in the color wheel. Barbara was led by the design of the artsy paper for her photo placement and blended her image using the techniques shared in the upcoming AnnaBlendz LIVE workshop, expertly interweaving the same yellow throughout her composition to fully incorporate. I love how she's added various shades of green to her journaling text.