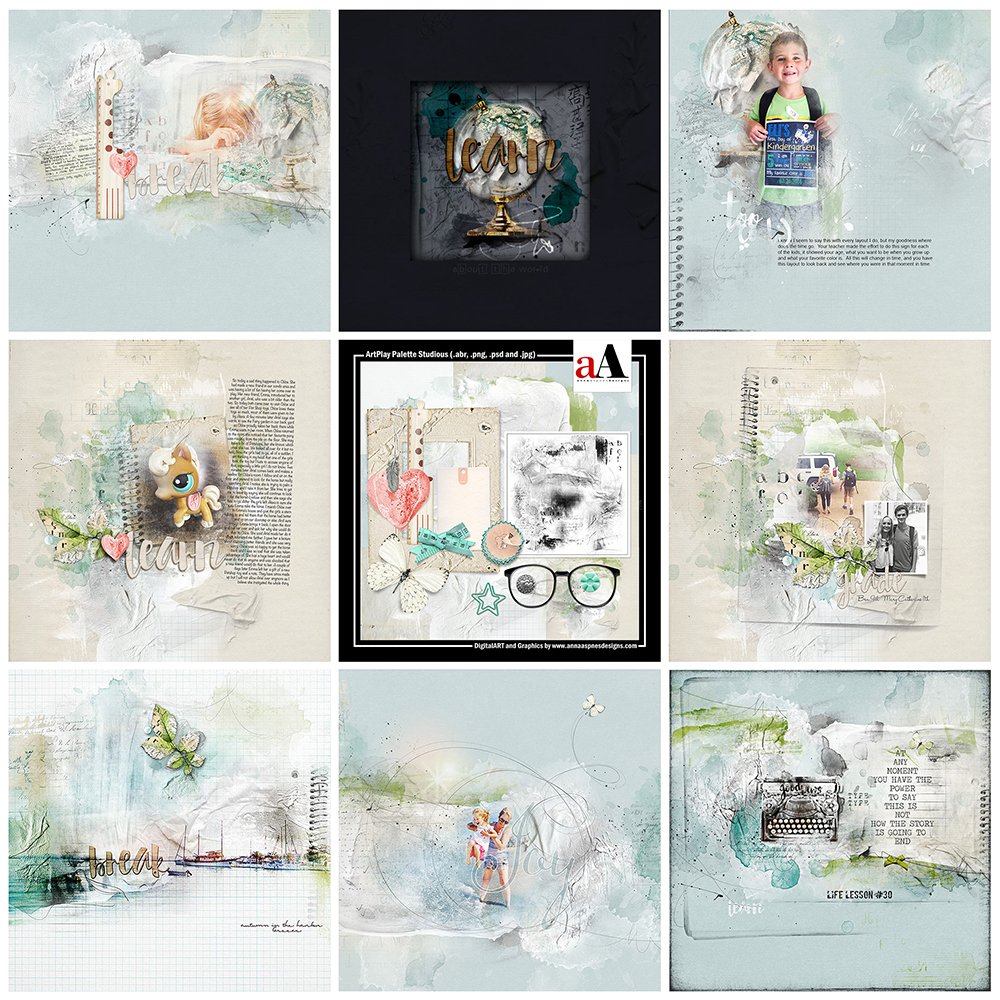 Happy Monday friends!
I hope you had a wonderful weekend. The  aA Gallery is full of new inspiration from the aA Creative Team using ArtPlay Palette Studious and supporting DigitalART products.
You can view the entire release here for a limited time.
Click on the image below to view more gallery inspiration, or visit the AnnaTeam Layouts board on Pinterest.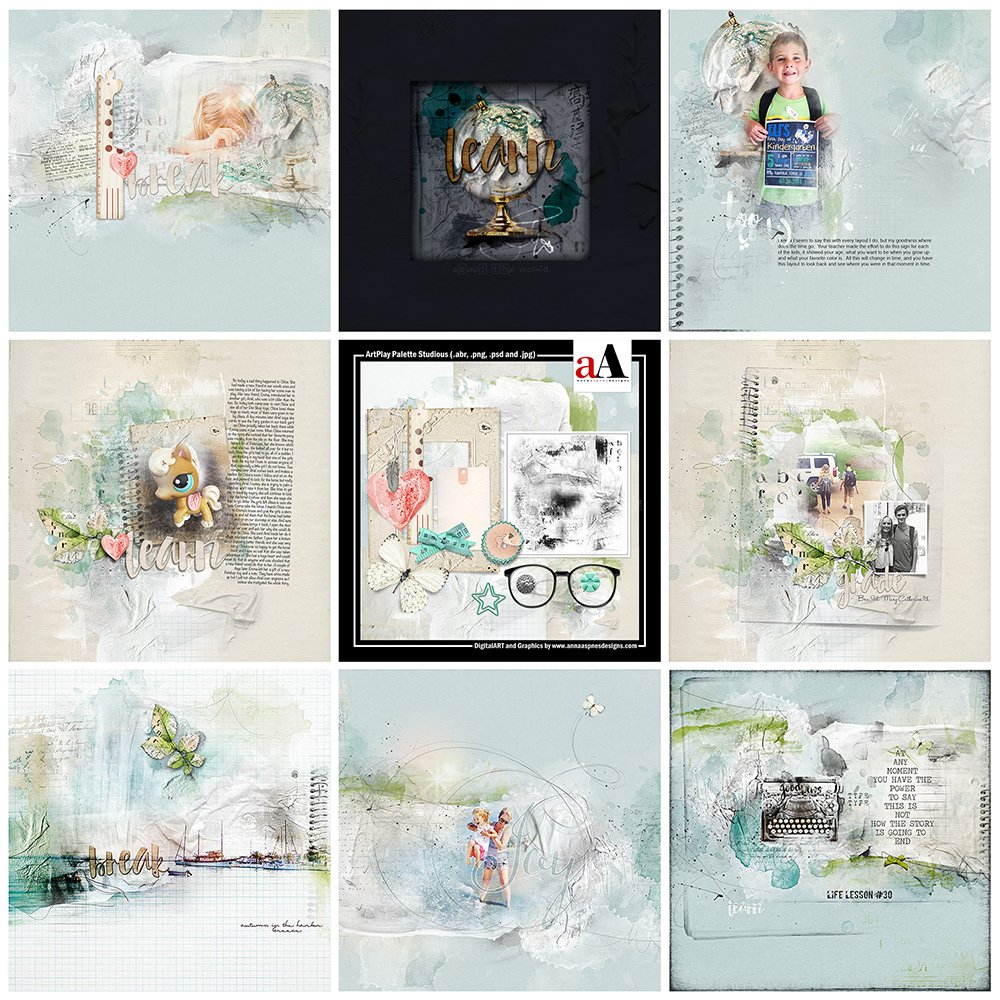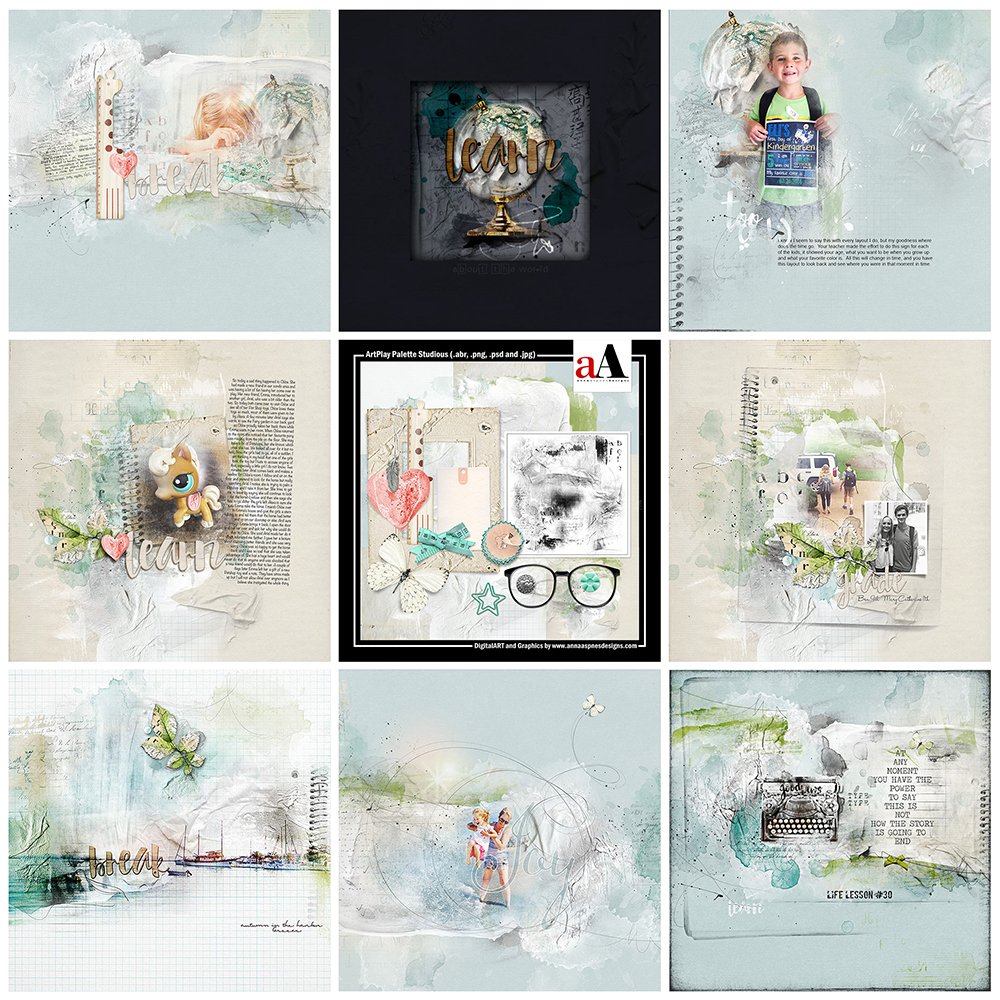 Gallery HighLights. Click on the images to access complete digital supply lists, plus process notes on how each team member put their pages together.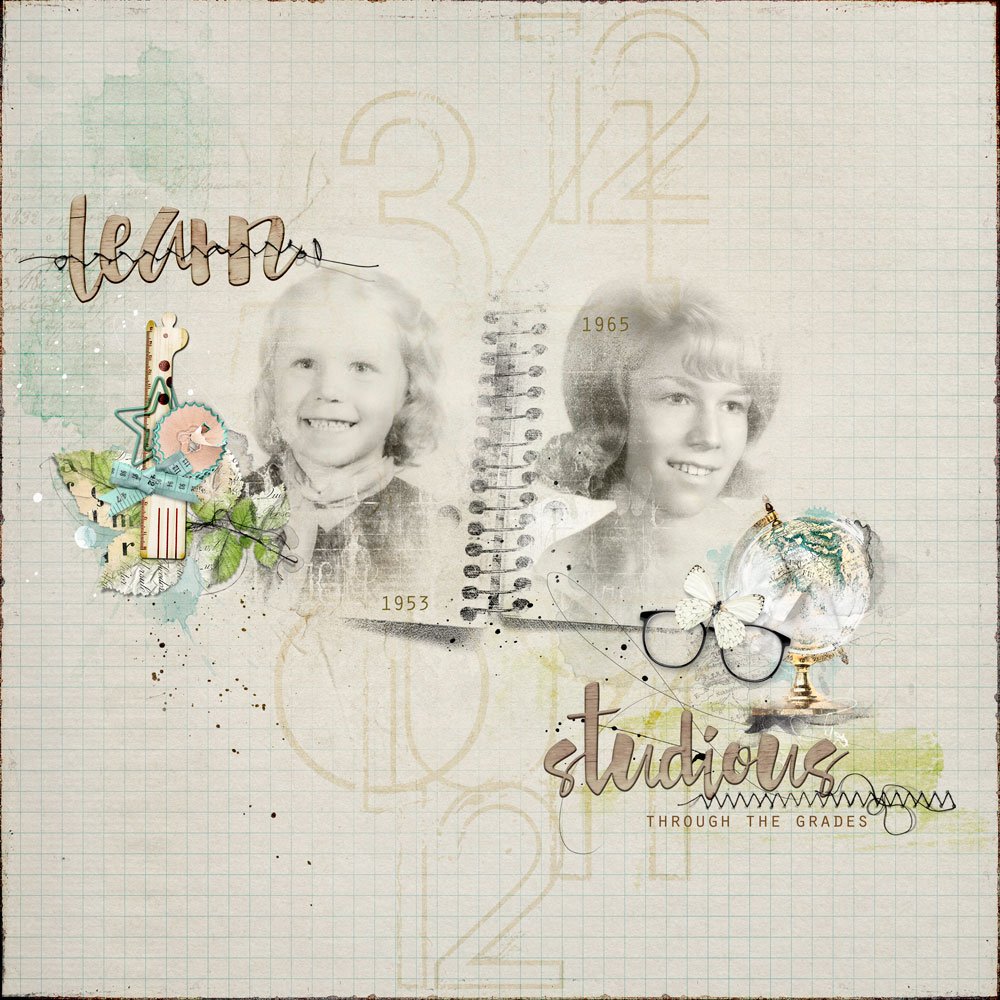 Through the Grades | Miki
Create a NoteBook Frame. Stamp the brushes from NoteBook No. 2 on new layers to frame blended photos.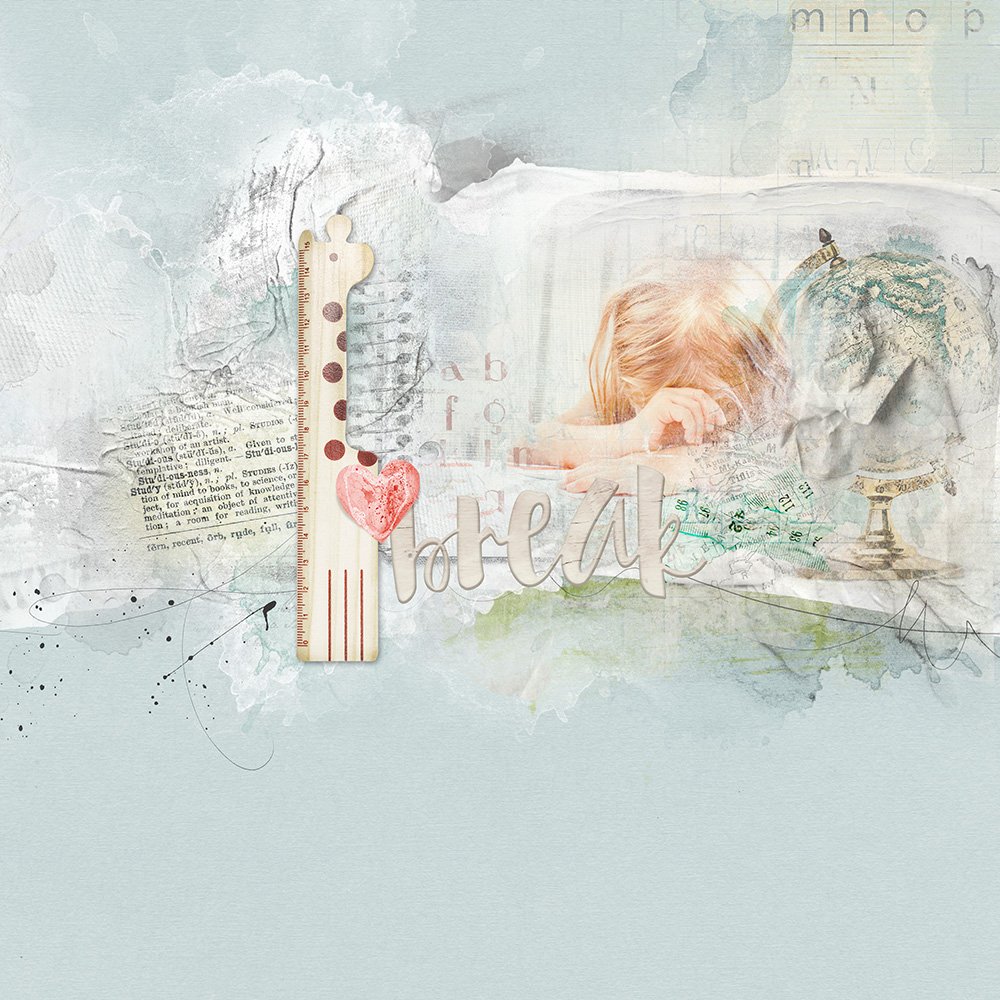 Break | Ulla-May
Blend a Photo Using ArtPlay Palette Brush. Clip a  photo to a brush from ArtPlay Palette Studious stamped onto a new layer using the Paint Brush tool from the tools panel. Adjust the Hue/Saturation and Levels of the image as preferred.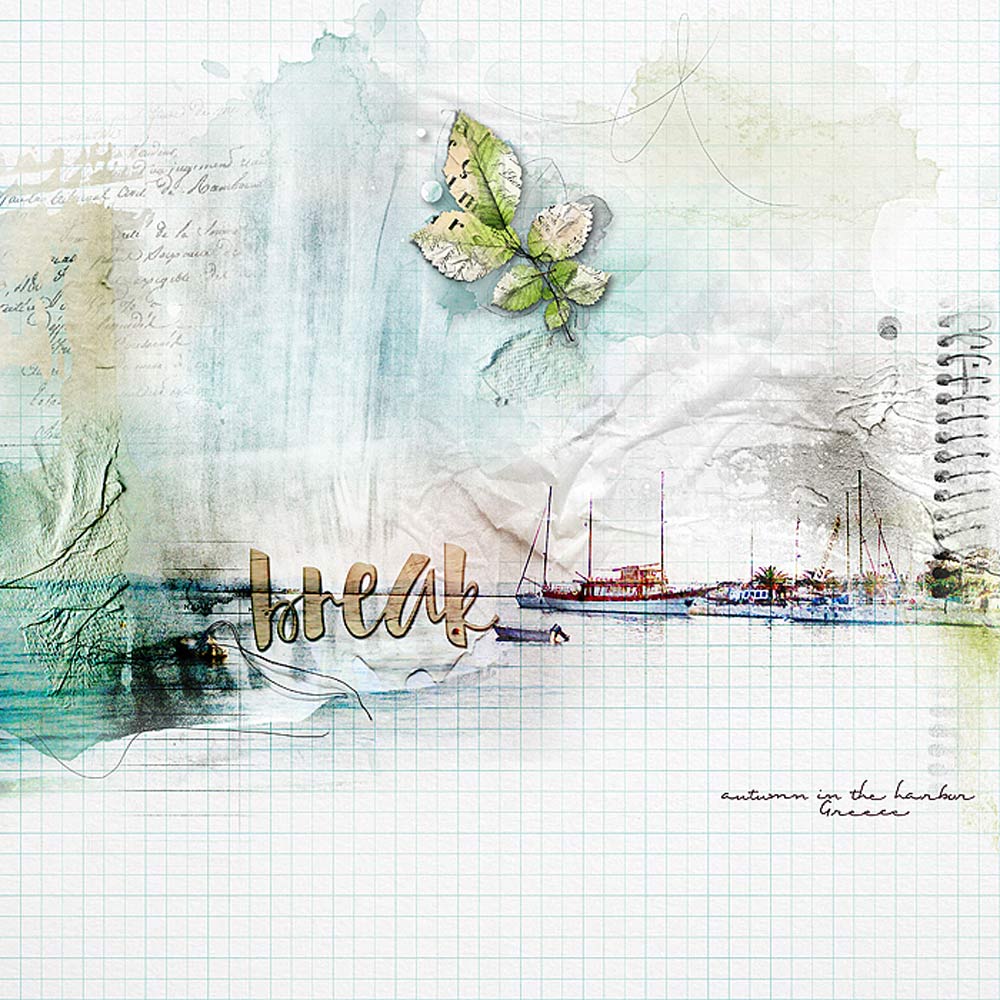 Break | Eva
Blending Mode Magic. Blending modes applied to photos create visual interest based on the interaction of the photo properties with the color, light and tone of the underlying layers. Consider placing elements and brushwork and elements beneath your photo layers to create different effects.
You can also add Blending Modes directly to element, brush and transfer layers to alter these elements as demonstrated with the WordWoods currently FREE with $15.00 purchase in the aA store through Friday August 28, 2015 at 2pm EST.
Registration has been re-opened for AnnaBlendz LIVE September 2015 in which you will learn how to use blending modes and brushes, as well as a number of other favorite techniques, to blend images seamlessly to create digital photo collages in Adobe Photoshop Elements.
We always love to see your pages. Share them here.