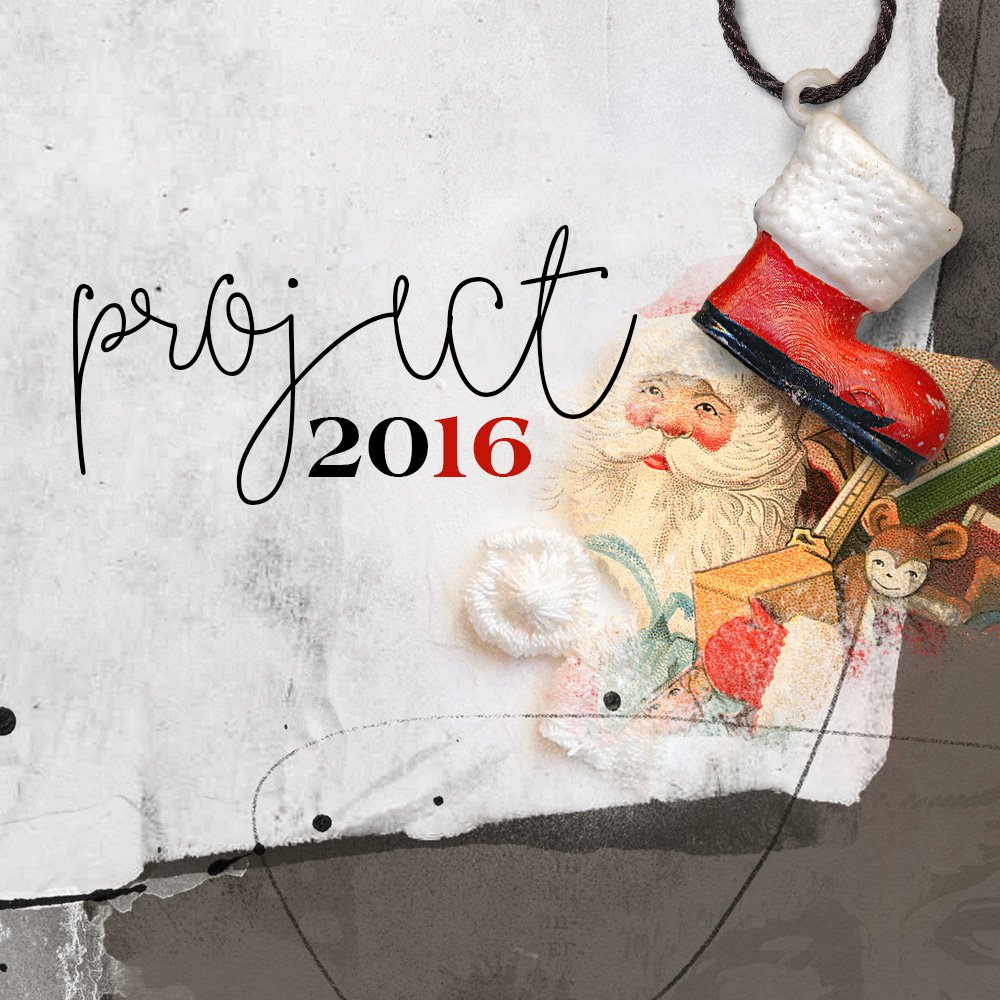 Today I'm sharing information about the aA Project 2016 'experience' which is an opportunity to celebrate your year through art.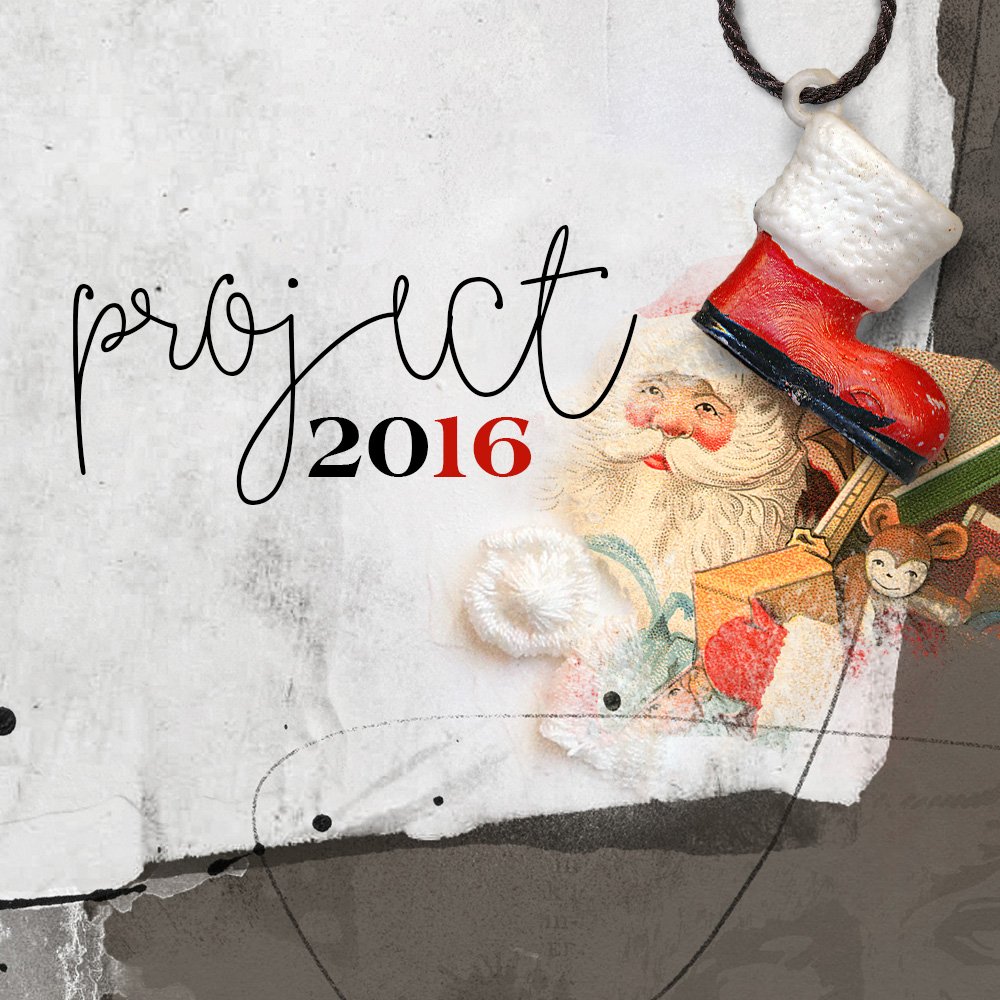 Celebrate Your Year Through Art
The 'grand finale' of the year is almost here.
How will you savor the season and reflect on your year?
For the past 5 years I have paid homage to ArtPLAY in December in joyous celebration of life and art.
ONE daily reflection inspires ONE daily layout in ONE act of creativity.
The result is a collection of 25 digital artistry/scrapbooking pages collated in a photo book enabling me to be more present during the chaos of the season, memorialize the passing year and make connections in my story.
I have shared my process in various formats but this year I invite you to join me for aA Project 2016 in what will be the most 'intimate' aA educational offering yet.
1. A 'Birds Eye' View.  The process of creating all 25 layouts will be recorded in 13 videos from start to finish. You will learn the whats, hows, whens and whys of my process, as I share all the decisions I make and the techniques I use, in real time. The videos will be made available via Dropbox throughout December as the inspiration strikes to create.
2. Learn how to achieve AlbumMagic. Learn the foundation principles and 'mechanics' of creating a cohesive photo book or album. This content will support the process-orientated videos in .pdf format. They will be made available alongside the videos on Dropbox intended for you to read at your leisure.
3. Join me in LIVE Q & A sessions. There will be 2 X 1 hour LIVE Q& A sessions for hands on demonstrations and feedback. You will be invited to submit your questions and layouts prior to each session, or you can come along and simply check in.
4. Participate in aA Project 2016 LIVE Facebook group. Connect and share with fellow students to get the most out of this unique 'Celebrate Your Year Through Art' learning experience.
5. Enjoy BONUS Printing Guidance. In January, when your album is complete, you will receive a BONUS video leading you through the process of getting your pages ready and making a photo book with Picaboo.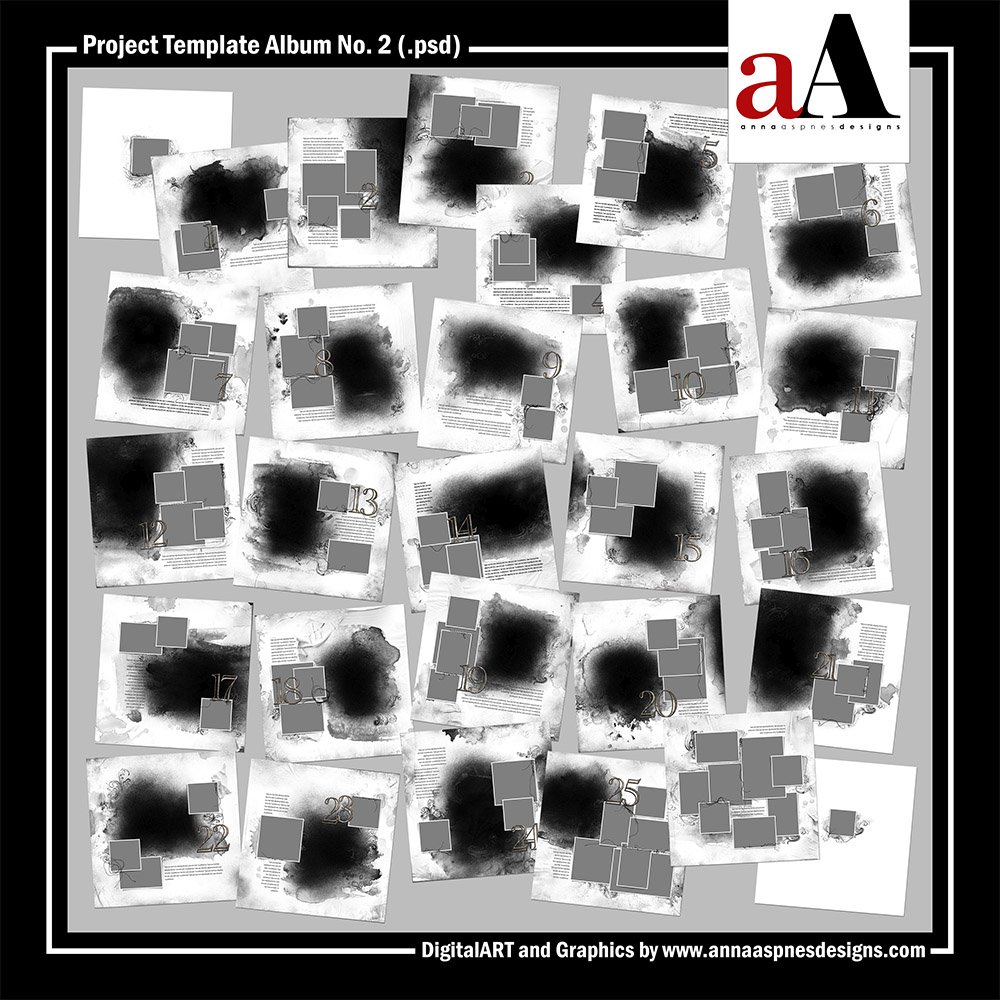 New Exclusive

a

A

Project Templates
There's a brand new set of exclusive templates designed to co-ordinate with the aA Project 2016 workshop experience.
1. Template Design.  The collection of 26-12 X 12 layered templates, comprised of numbered templates 1-25 plus BONUS photo book 'end' page and Cover Set, have been designed for both digital scrapbookers and artists. They include one large blended mask, a variety of framed masks, brushwork, stitching, wooden numbers and text boxes. Simply remove any of the elements that do not serve your preference or ArtPLAY practice.
2. Purchase Details + Special Savings. The collection of templates, Project Template Album No. 2, are available for purchase from the aA store at Oscraps. Save an additional $10.00 on Project Template Album No. 2 with registration in the aA Project 2016 experience.
Note that a $10.00 discount coupon will be automatically provided on receipt of you registration. Note that this may not happen immediately. Please contact me for a coupon code if not received within 12 hours.
3. Daily Prompts. With the purchase of Project Template Album No. 2 you will automatically receive a daily prompt, providing simple inspiration for each of your pages.
The aA Project 2016 'experience' will be jam-packed full of process and technique content, enabling you to watch over my shoulder as I ArtPLAY and celebrate your year through Art.
Click Here to Register for aA Project.
Click Here to Purchase the Templates.