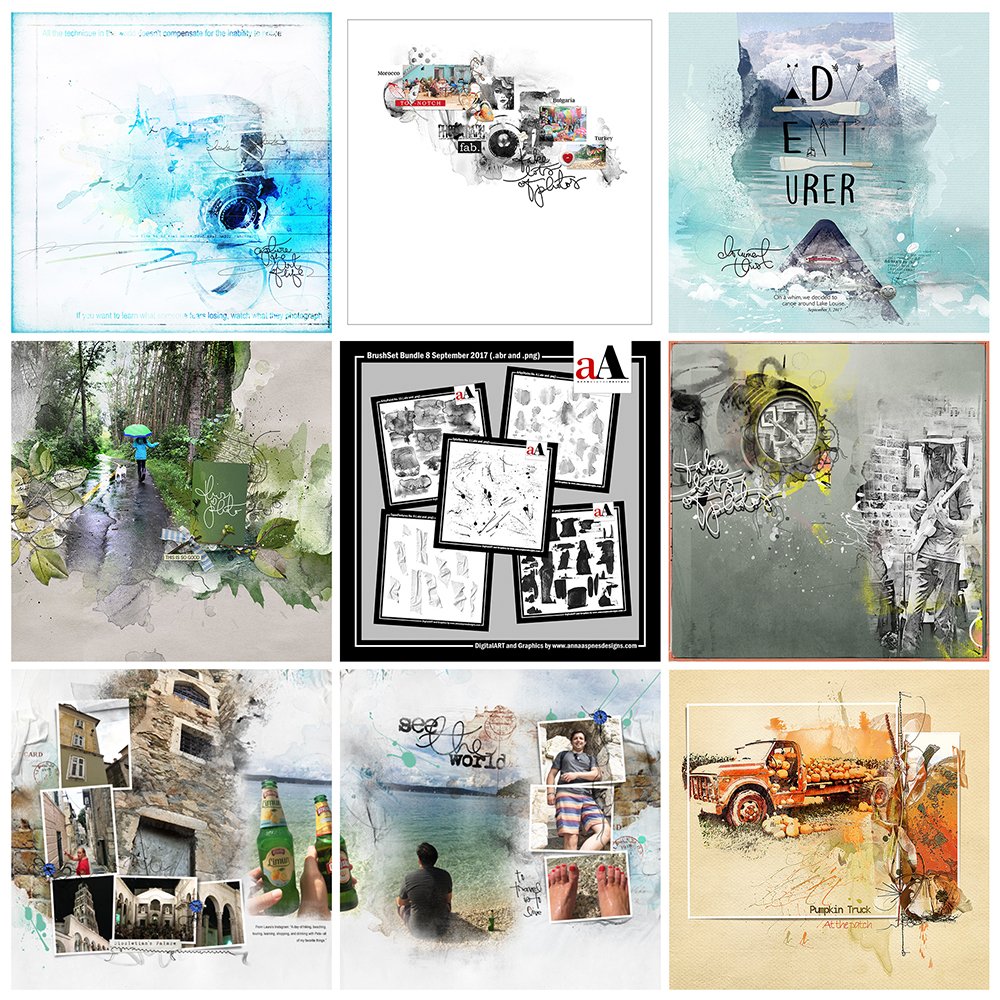 Happy Monday! Today we're sharing digital designs inspiration 09-11.
The aA Creative Team members are sharing their artsy digital scrapbooking and artistry using releases from last week.
More digital designs inspiration can be located in the AnnaGallery.
Each of the MidWeek Digital Designs is discounted by 20% through September 13, 2017 at 9 am EST.
The new BrushSet Bundle may be purchased individually

SAVE 20%

or as a collection

SAVE 47%

 through September 15, 2017 at 9 am EST.
Click on the image below to view more digital designs inspiration 08-14 or visit the AnnaTeam Layouts board on Pinterest.
Digital Designs Inspiration 09-11
See our Gallery HighLights by clicking on the images to access complete digital design supply lists.
You will also find process notes and digital scrapbooking tutorials from each team member to provide new digital inspiration for using aA DigitalART designs.
Enjoy Digital Designs Inspiration 09-11 below:
Best Photo | Marianne
Create a Photo Matte
Use multiple brushes in different colors and textures to create a foundation for your photo.
Stamp the brushes onto new layers so that you have the flexibility to move them as preferred.
Notice how Marianne has stamped a variety of brushes, including the ArtsyCamera No. 4 and TapedTextures No. 8, overlapping them to create a complex matte.
See aA dvanced Brushes in Photoshop or Photoshop Elements for more guidance on using Brushes.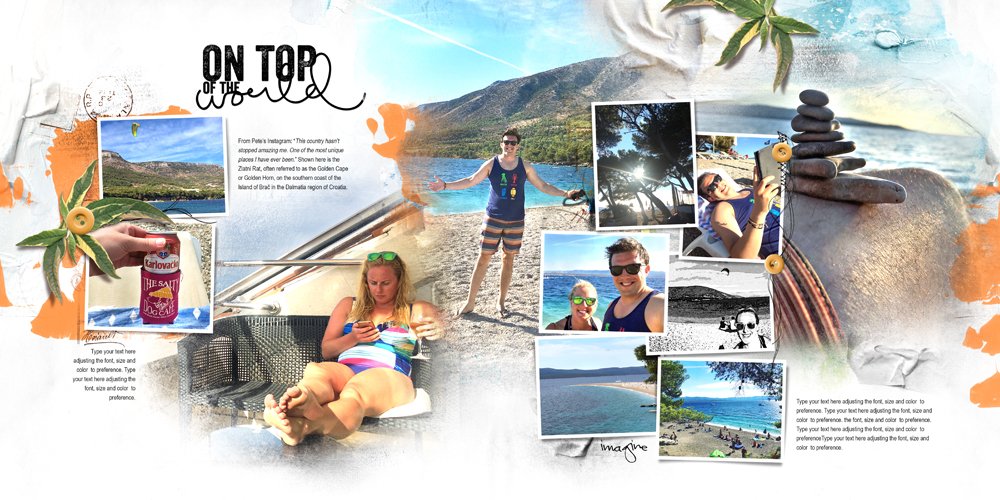 Dobar Dan | Laura
Lead the Eye
Use Brushes in bright colors to move the eye from one side of the page to another, or across 2 pages.
You can use this technique with any style of brush but it works particularly well with simple brushes.
I love how Laura has stamps the blocks of orange using PaintStrokes No. 1 to also draw the eye to certain details on her double page spread.
See aA dvanced Brushes in Photoshop or Photoshop Elements for more guidance on using Brushes.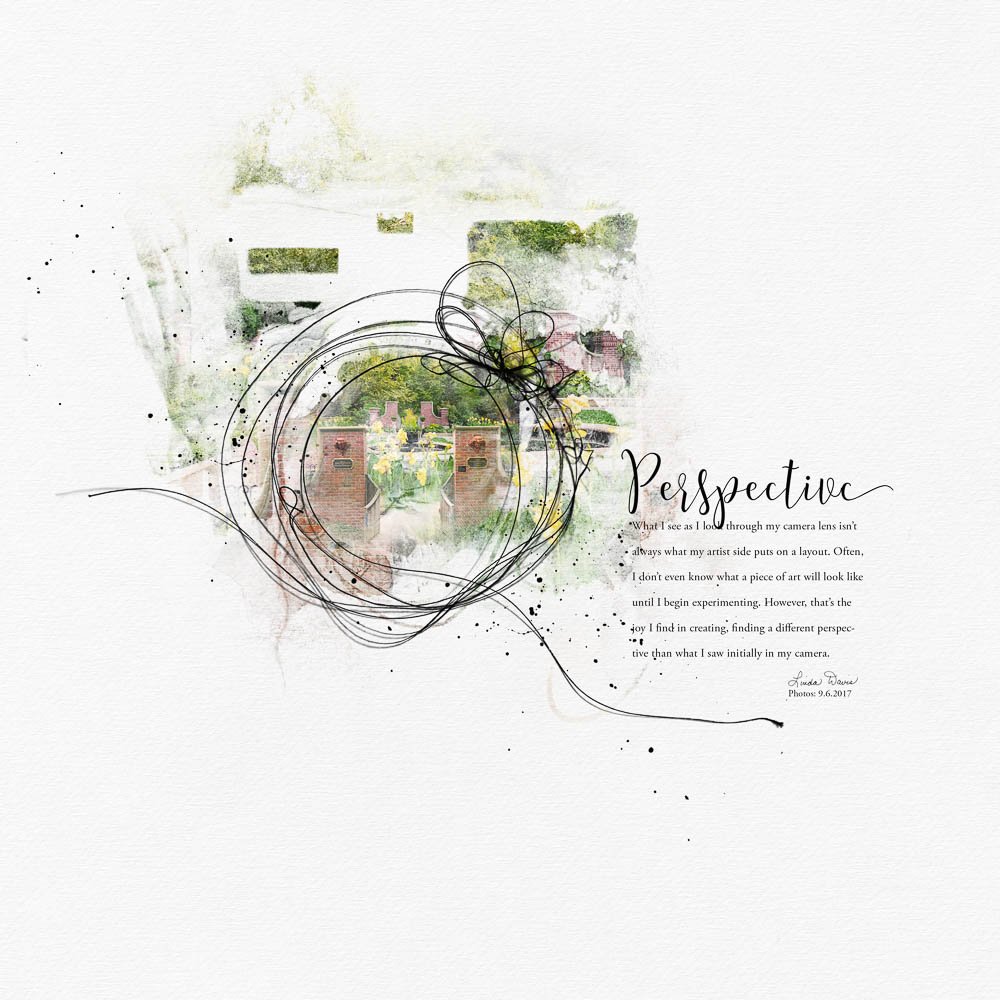 Perspective | Linda
Mask With Brushes
Use the brushes in the BrushSet Bundle to mask your photo.
Each of the BrushSets will yield different effects as demonstrated by Linda.
I love her use of the TapedTextures No. 8 in her blending process.
Learn more about 'Blending with Brushes' in the Year of ArtPlay experience. Each session is also available as an individual class in the aA store.
How are using this week's new products?
Post your layouts in the AnnaGallery and share a link in the comment below, mentioning the product and how you used it.
I'll randomly select one of you to receive a $5.00 GiftKard to the Anna Aspnes Designs store at Oscraps.