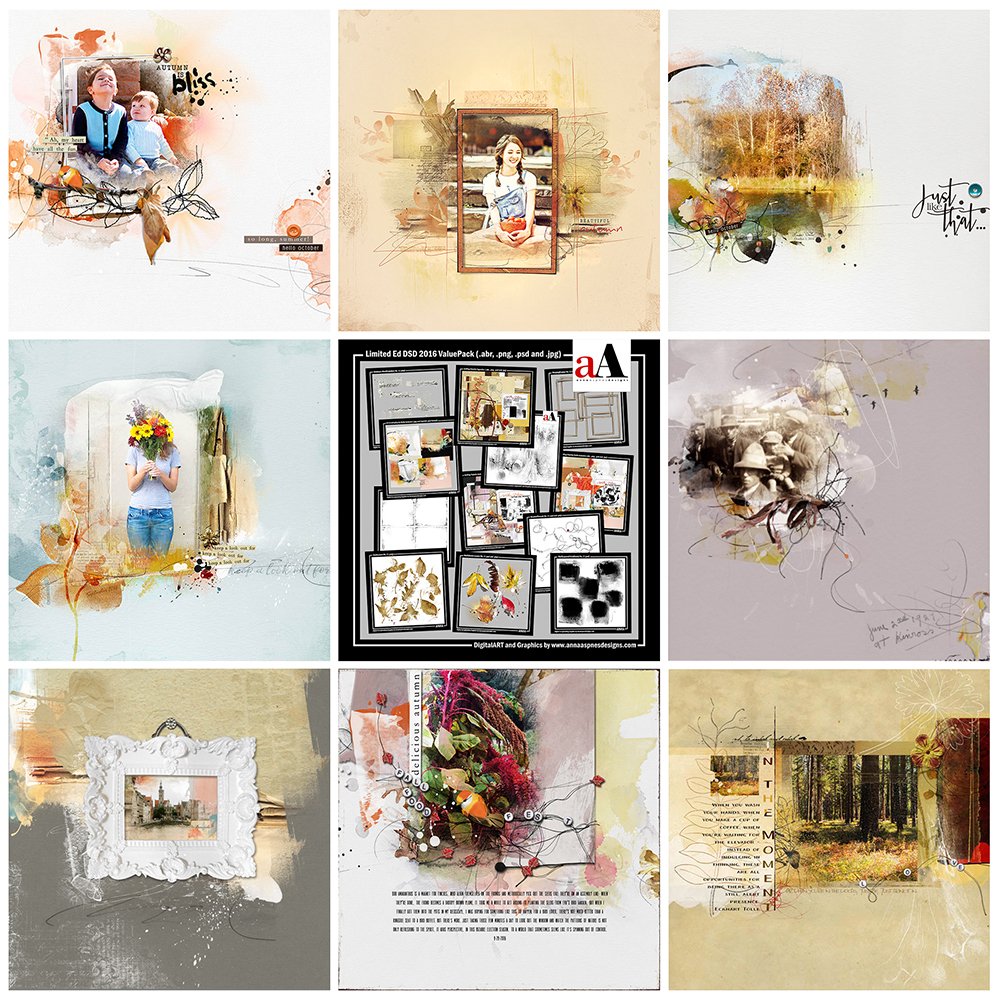 The Digital Scrapboooking Day (DSD) 2016 celebrations continue with a special Digital Designs Inspiration DSD ValuePack.
Limited Edition DSD 2016 ValuePack is the latest collection of digital designs for scrapbookers, photographers, artists and crafters in the Anna Aspnes Designs store.
Limited Edition DSD 2016 ValuePack
The aA Creative Team have been carving out some time this weekend to create some digital scrapbooking and artistry pages using Limited Edition DSD 2016 ValuePack and supporting DigitalART products.
More digital art inspiration for Limited Edition DSD 2016 ValuePack , of course, can be located in the AnnaGallery.
Find all the products found in Limited Edition DSD 2016 ValuePack and save 72% through Friday October 7, 2016 ONLY.
Click on the image below to view more digital designs inspiration DSD ValuePack or visit the AnnaTeam Layouts board on Pinterest.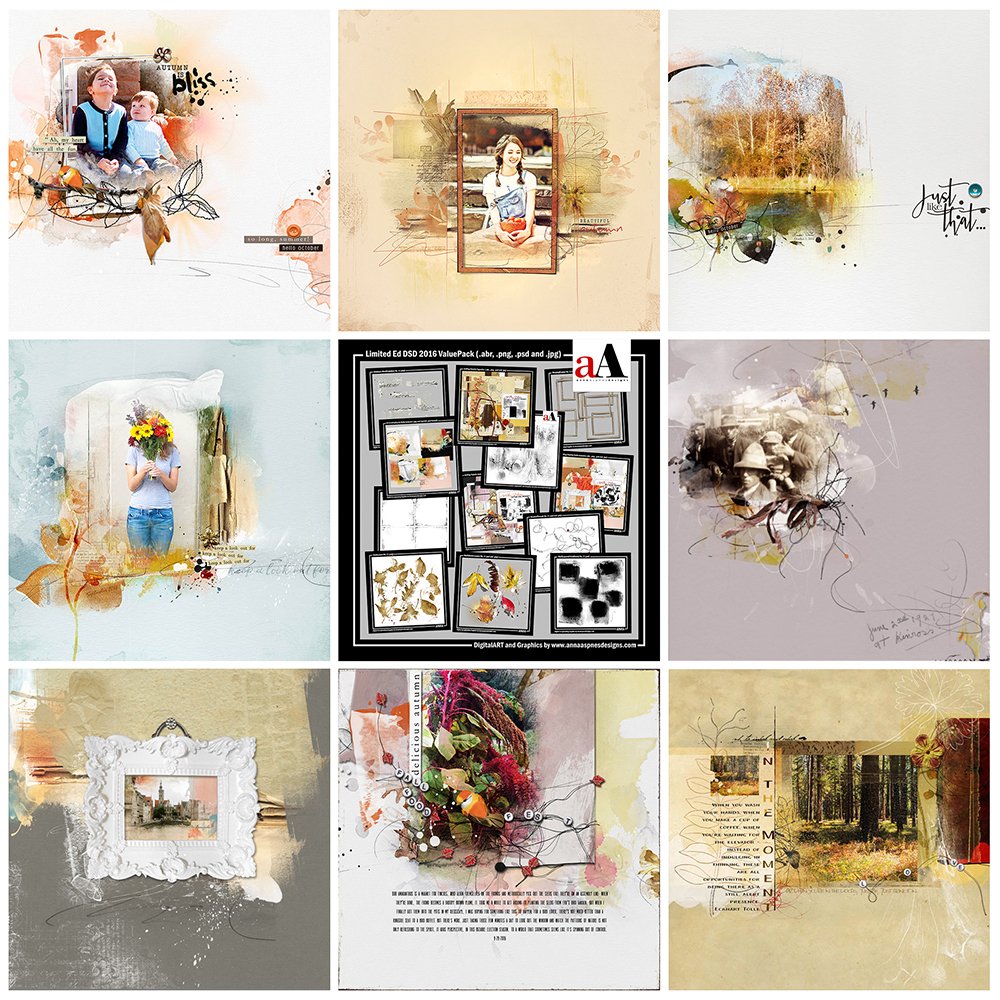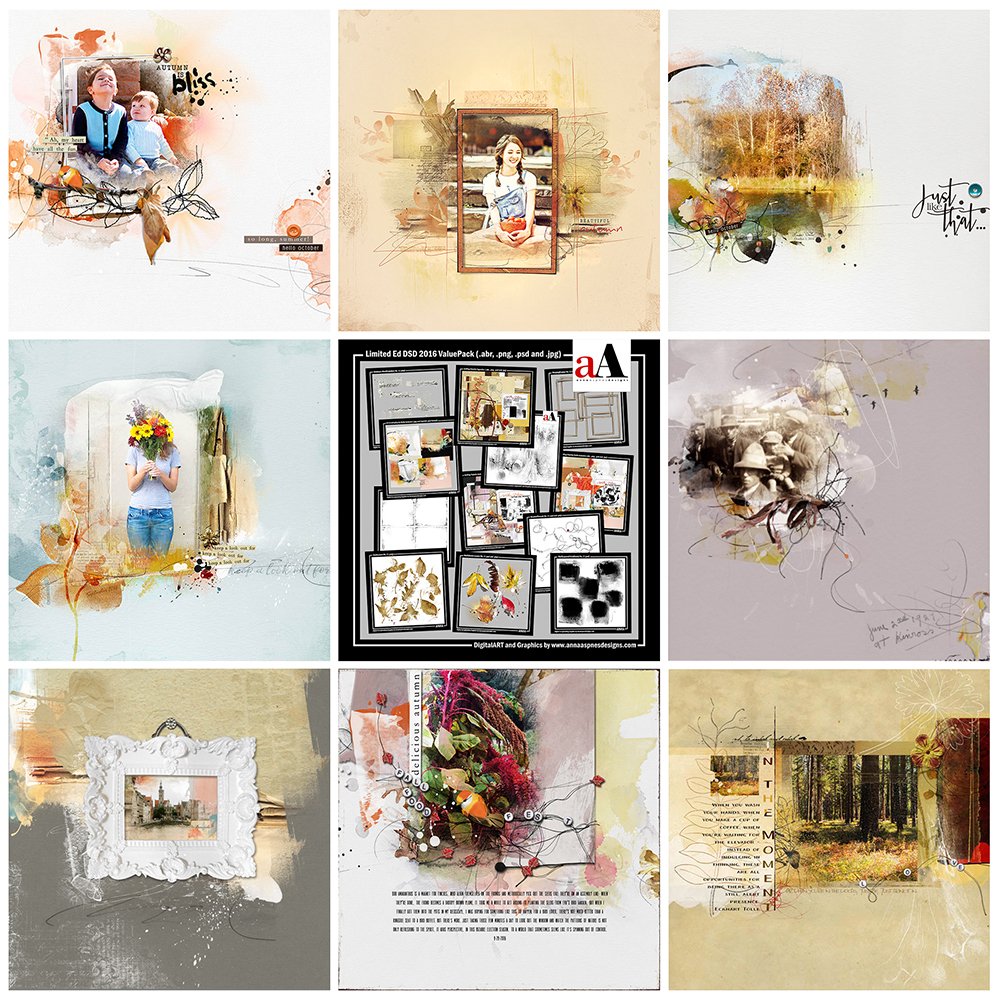 Digital Designs Inspiration DSD ValuePack
See our Gallery HighLights by clicking on the images to access complete digital design supply lists. You will also find process notes and digital scrapbooking tutorials from each team member to provide new digital inspiration for using aA DigitalART designs.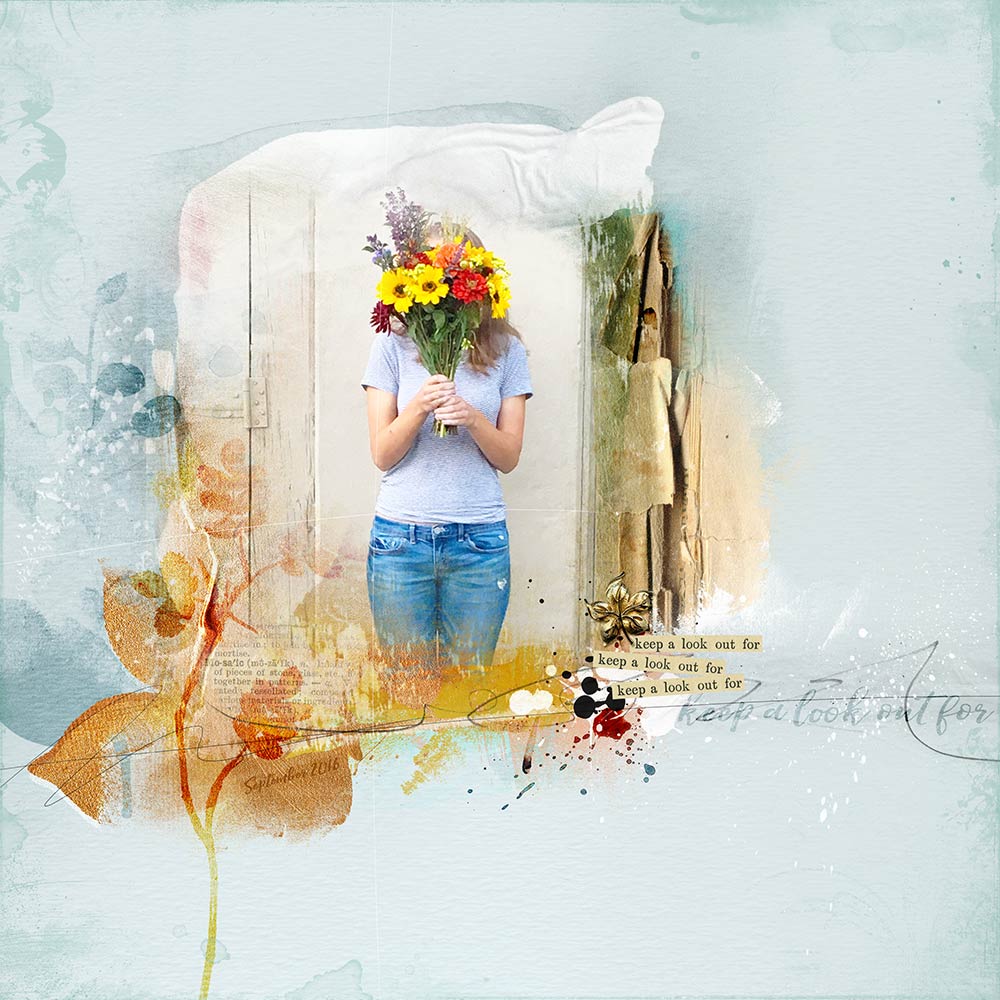 Keep A Look Out For | Barbara
Transfer Foundation. Place one or more Transfers and Overlays over a solid background paper to create a foundation or 'matte' for your blended images as demonstrated by Barbara. I love how she's add additional digital elements around her image to draw the eye to her photo.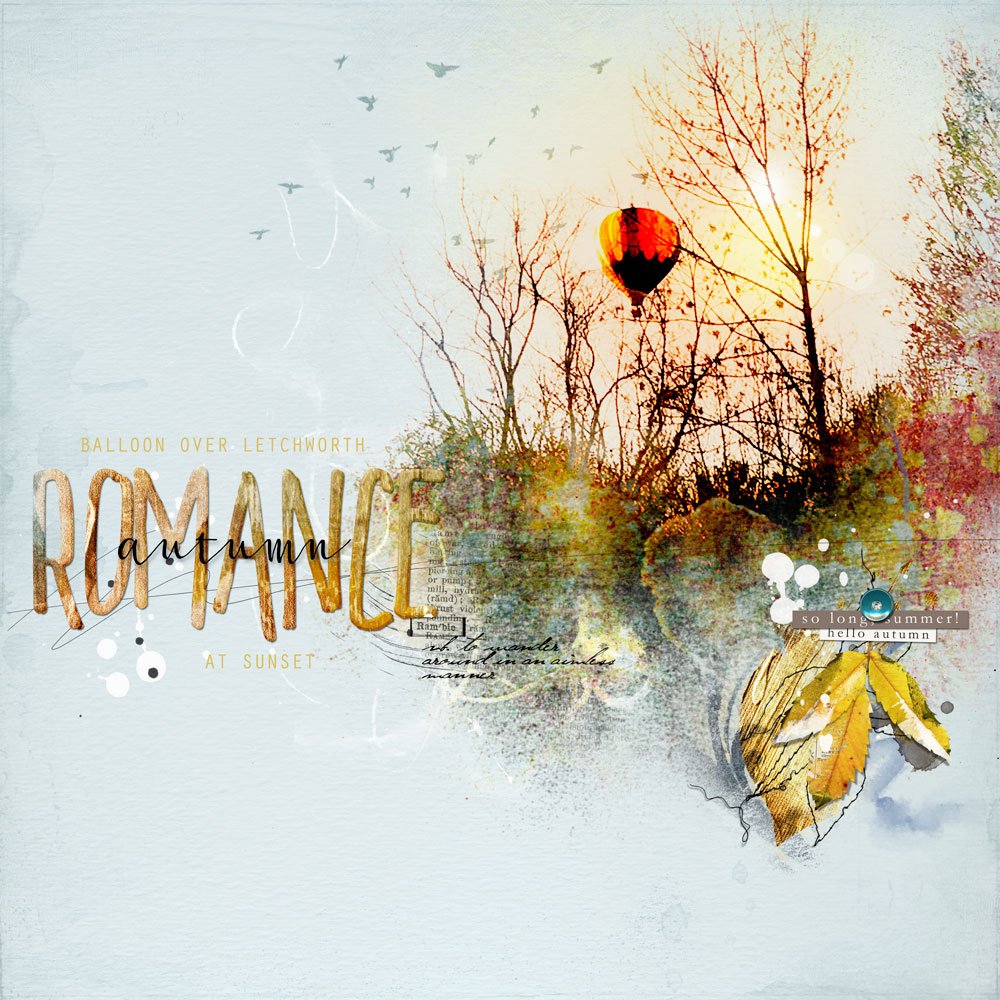 Romance | Miki
Layering Embellishments. Overlapping a variety of digital elements over one another creates a group or 'cluster' of elements that enhances your artistry through color, texture and dimension. Notice how Miki has layered 3 different leaf elements (all showcasing differing element properties) to create visual interest in her pag,e and then anchored them to her layout with the LabeledWords and button.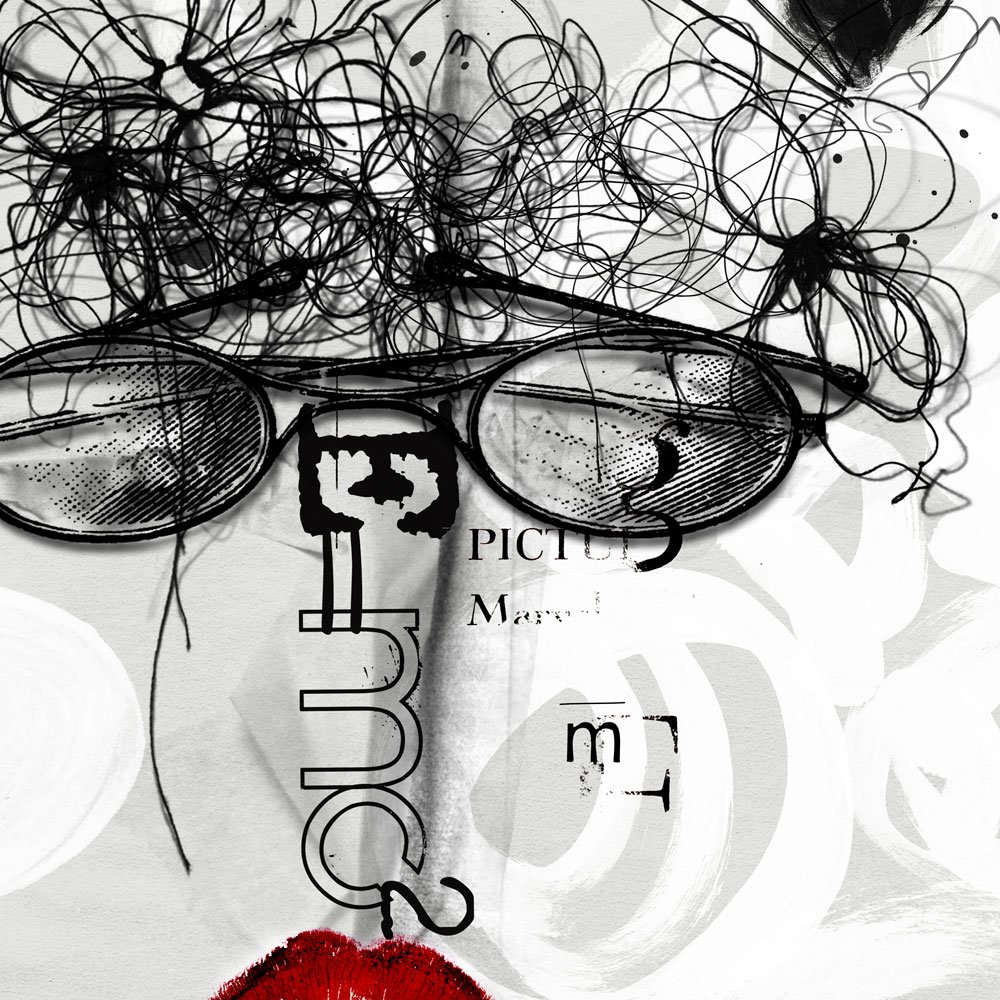 Mirror Mirror | Adryane
Self Portrait. Use your digital art supplies to create a self-portrait for use as a fun wall print or new avatar for the fall season. Look at lines in the designs and identify how they might be used to mimic the features of your face. I love how Adryane has used a variety of stitching to portray her hair and a number of abstract and realistic brushes to recreate her eyes, nose and mouth. Don't be afraid to use the same digital art product twice.