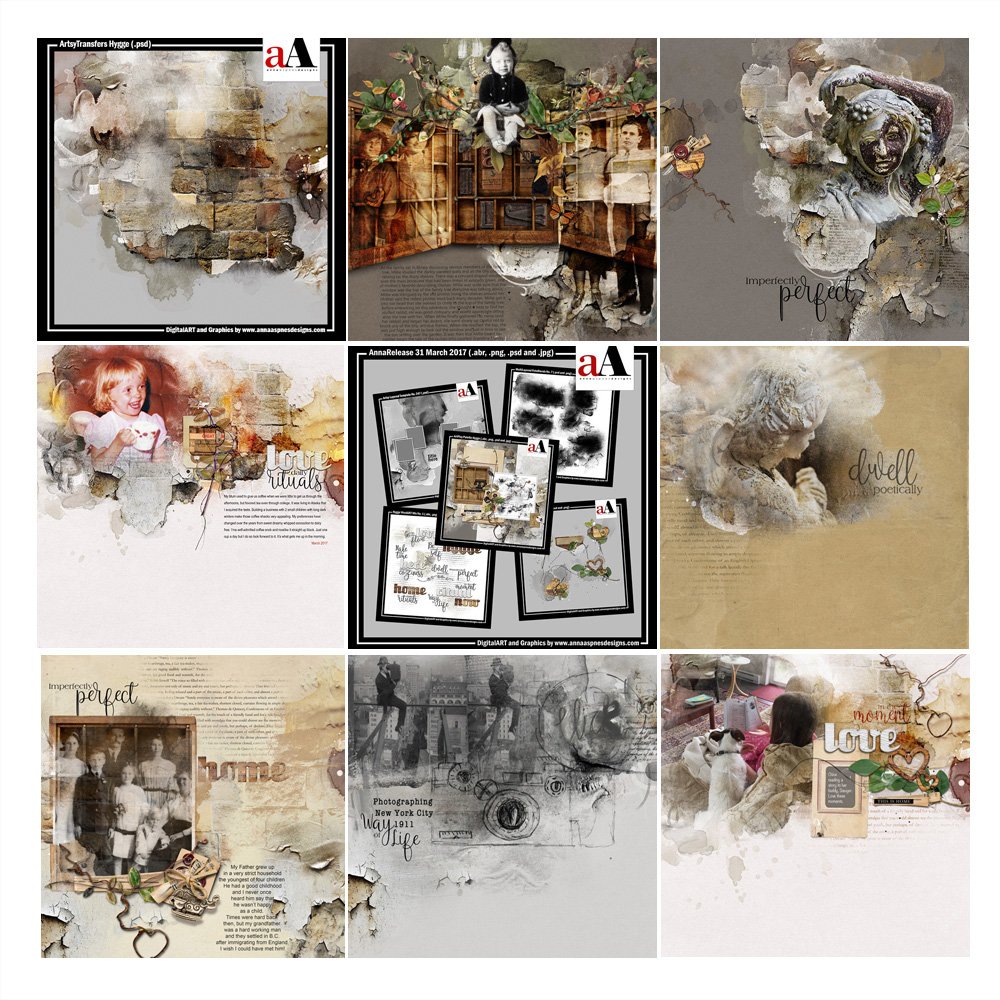 Inspiration for using the ArtPlay Hygge Collection for digital scrapbooking and photo artistry in Adobe Photoshop and Elements
This post is intended to give you guidance on using ArtPlay Palette Hygge, ArtsyTransfers and co-ordinating digital assets
ArtPlay Hygge Inspiration
Click on the images below to access complete digital design supply lists and process notes.
1. Add Vibrant Titles
Apply the Color Burn Blending Mode to gray text to add depth and dimension to your page titles.
Stamp the Color Colour WordART Mix No. 1 title of your choice on a New Layer using the Paint Brush Tool from the Tools Panel.
Apply a Color Burn Blending Mode from the drop-down menu at the top of the Layers Panel.
This will often increase the Vibrancy of Color and allows details from underlying layers to show through the text.
Tip.  Set the Foreground Color in the Tools Panel to gray (or variation of this color with slight hues of red, yellow and blue.)
See Also:
2. A Memory Shelf
Create your own shelf of memories.
Add Photos and Elements that tell your story to the small printer's tray element from ArtPlay Palette Hygge.
Layer and rotate elements to yield Visual Interest and apply Drop Shadow Layer Styles to yield dimension.
We love how Viv has filled hers with a collection of elements that Tell Us about Her.
Note. You could also use the Rectangular Marquee tool from the Tools panel, make a selection around one of the compartments and then press DELETE to create a frame effect.
See also:
3. A Little Perspective
Create a 3D effect by changing the perspective of your dimensional elements and photos.
Go to Edit> Transform> Perspective (Photoshop) or Image> Transform> Perspective (Elements).
Move the corner points of the Bounding Box to 'warp' the image.
Notice how Adryane has Duplicated the printer's tray element twice and changed the Perspective of the copies to create a folded 'frame' effect.
See also:
More Inspiration
Click on the images below to access complete digital design supply lists and process notes.
ArtPlay Hygge Collection
INDIVIDUAL PRODUCTS IN THIS SERIES:
Want More Digital Scrapbooking and Photo Artistry Inspiration?
EMAIL ME AT ANNA AT ANNAASPNESDESIGNS.COM OR POST IN THE COMMENTS BELOW.