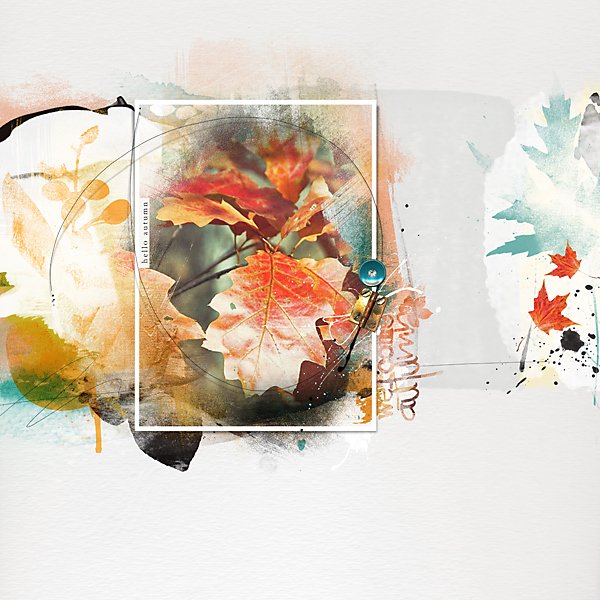 Hi There – Happy Autumn!
It all officially begins today and I'm ready for the change. It feels time to move on from peaches and berries to apples and squashes, enjoy hot tea and cozy evenings indoors, as the days become much shorter. I'm embracing the cooler temperatures and am waiting in anticipation for ski season.
I enjoy all the seasons and what they have to offer – This sort of change is GOOD.
And speaking of change…
There is no MidWeek release today.
Please note that the ArtsyTransfers that co-ordinate with AnnaRelease Wayfaring will be available next week.
In the meantime, I'm using this time to work on a new Artsy Template Album for Friday, and hoping to be able to finish a new *PenPLAY – A Better Way to ArtPLAY* class.
My AnnaBlenders have been so happy with AnnaBlendz LIVE that they're eager for more, providing me with the confidence to make classes an integral part of the aA DigitalART offering.
The next workshop AnnaBlendz LIVE begins in October and is filling up quickly.
Learn more and see what students are saying here.
And there's more…
In Honor of the fall season beginning, Oscraps is hosting a Fall into Savings event. For a limited time, purchase many of the aA Autumn/Fall themed DigitalART products at a 30% discount.
Below are a few of my favorite DigitalART products featured in the sale and some suggestions for using them as we kick off this brand new season.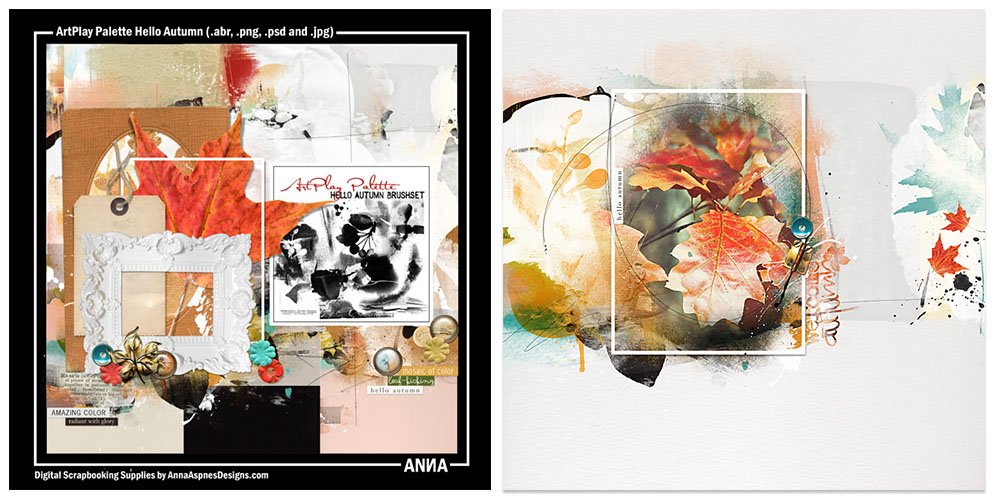 Artplay Palette Hello Autumn | Layout by Lindy
1. Take Time For Gratitude. Summer may be over but there is plenty to appreciate… Be mindful about the changes in your world, photograph them and create some DigitalART. *Hello Autumn* happens to be one of my favorite ArtPlay Palettes because of the vibrant colors and gold paint textures. Gratitude should not just be reserved for the American and Canadian Thanksgiving holidays.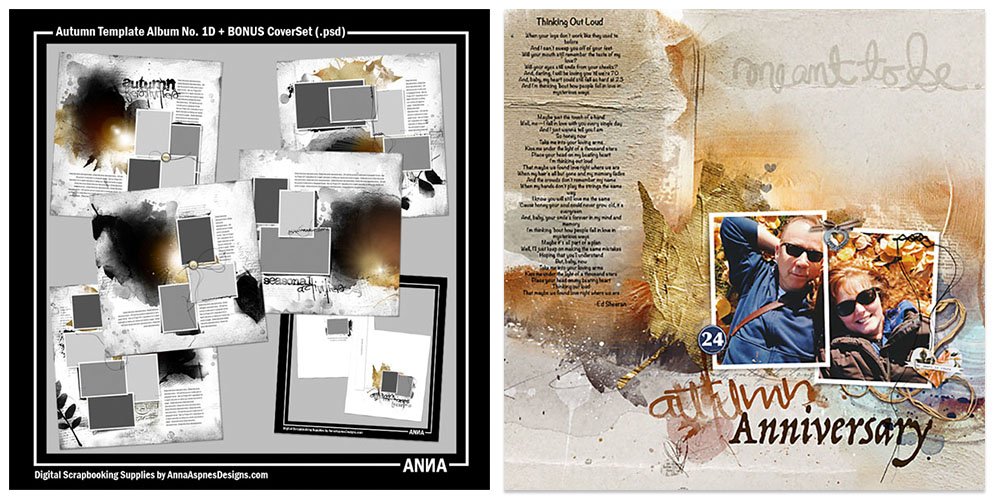 Autumn Template Album No. 1D | Layout by Heather
2. Start a New Project. As the evenings draw in and less time is spend outdoors, now might be a good time to start a new DigitalART project. Focus on a double page spread every week for the next 5 weeks to create a 20-page photo book or album, celebrating favorite photos, memories, stories or anecdotes of the season. Note that this can be past or present, or a combination of both. All parts of the Autumn Template Album No. 1 series are on sale and can be located as follows: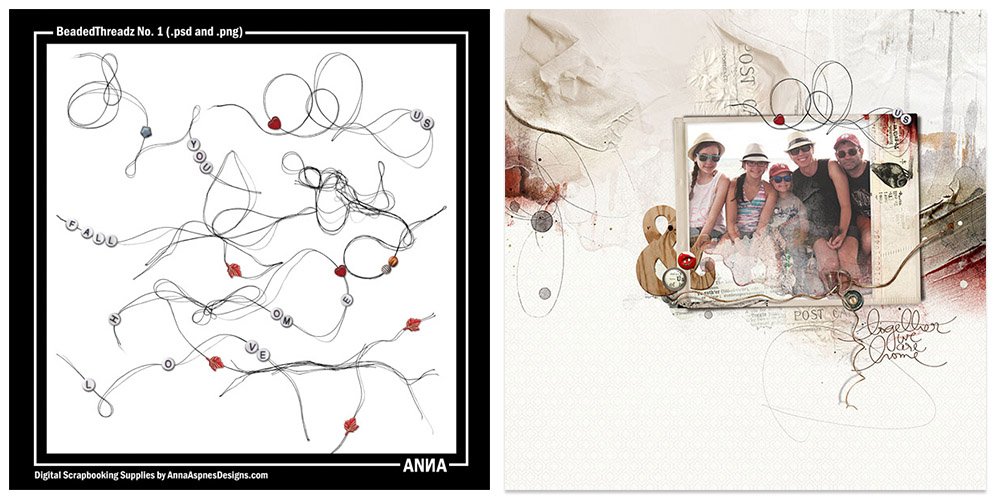 BeadedThreadz No. 1 | Layout by Miki
3. A Different Kind of Title. Quite often we type or add a WordART element to add the words on a layout – Experiment with adding one of these BeadThreadz instead. They are delivered in both .png and multi-layered .psd format enabling you to customize them as preferred. Use as delivered or combine with other text to create longer and more personalized titles. You can also move the beads around forming different configurations, and even words.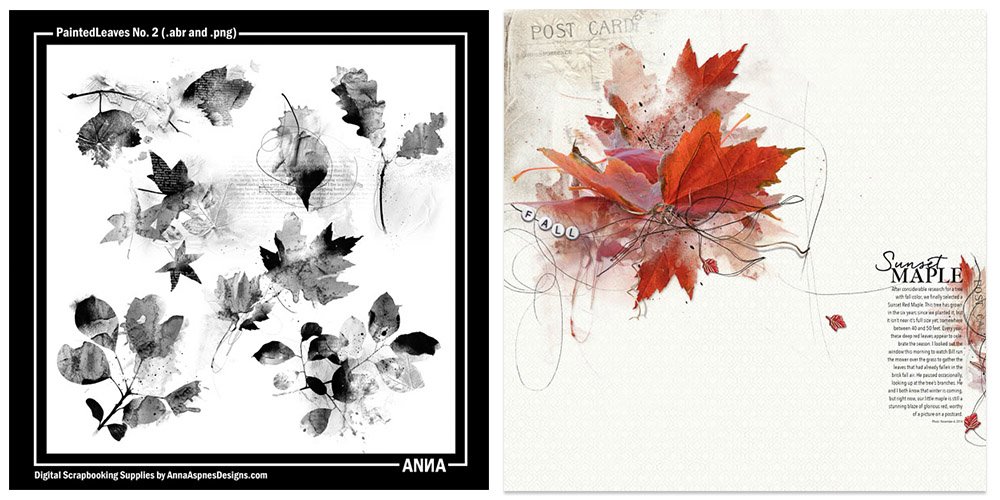 PaintedLeaves No. 2 | Layout by Linda
4. Embrace The Leaves. The falling leaves may not be fun to look at at they litter your garden, but they certainly are pretty to look at – The epitome of the season in my mind. These PaintedLeaves are a favorite and make the perfect element addition to your DigitalART projects at this time of you.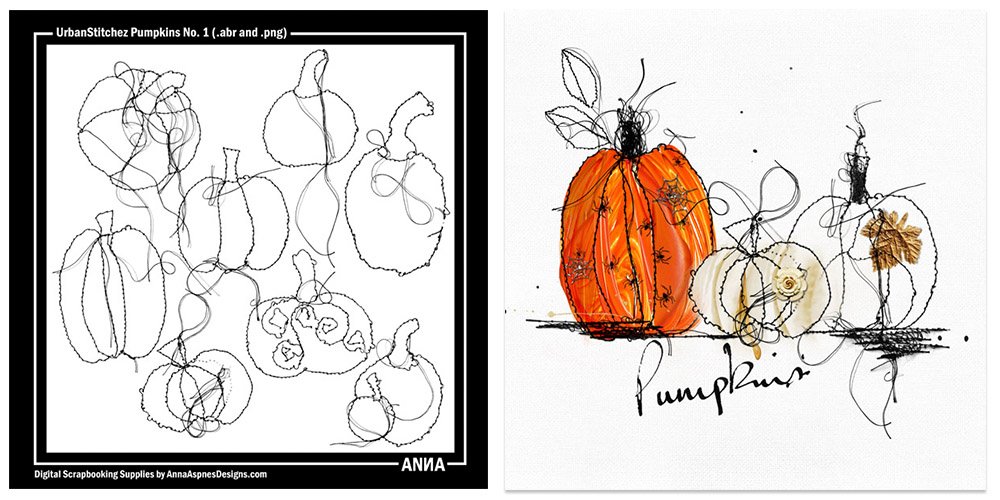 UrbanStitchez Pumpkins No. 1 | Layout by Adryane
5. Share The Season. Create a card or some seasonal decor for your home. This DigitalART page by Adryane would be perfect printed as both a greeting card or one a canvas to be enjoyed year after year. What's not to love about these Stitched Pumpkins!
Autumn is SO much fun.