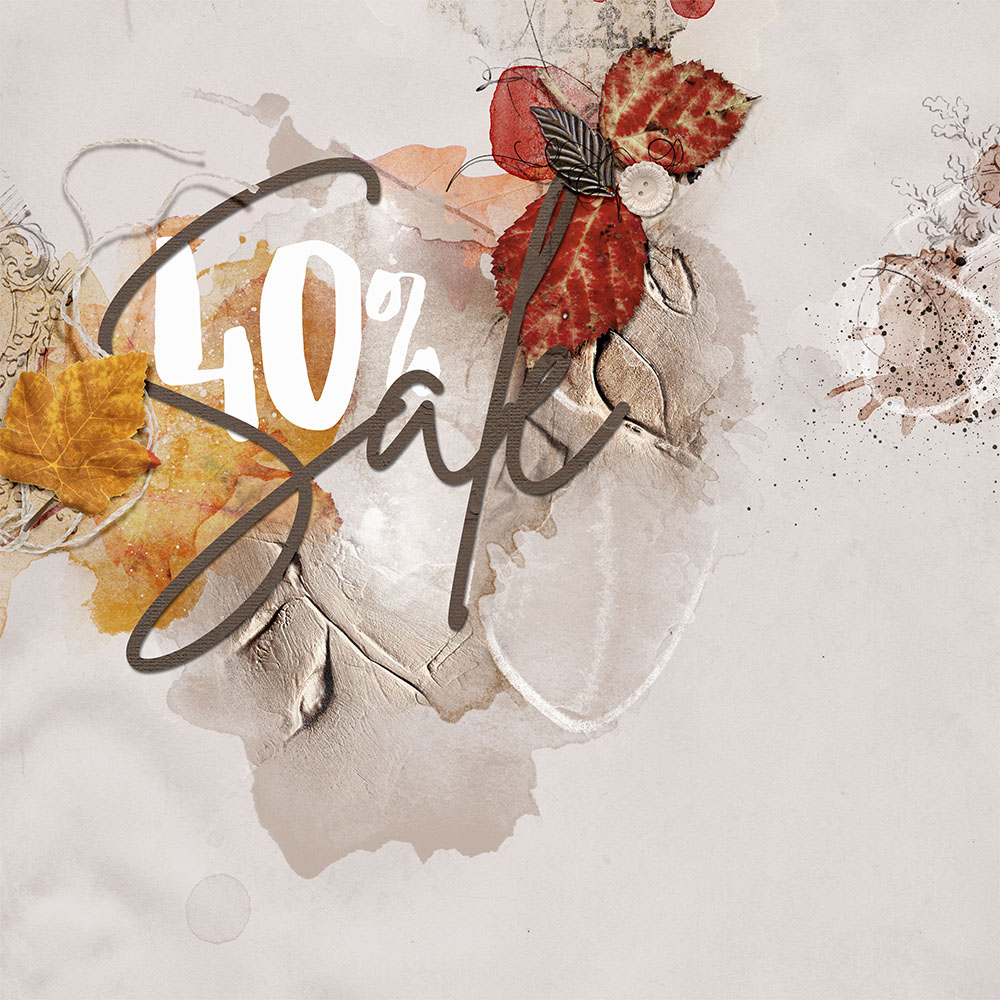 Today I'm sharing the aA iDSD 2020 Digital Designs Sale Event Information.
iDSD 2020 Digital Designs Sale Event Information
SAVE 40%

on DigitalART (Some Exclusions)
It all begins NOW THROUGH October 7, 2020 at Midnight PDT.
EXCLUDES:
a

A

DigitalART products released in the last 12 weeks.
There is nothing more frustrating than purchasing aA DigitalART products and then have them immediately go on sale.
FREE with

$20

Purchase Offer

INCLUDES:
4 Artsy and Solid 12 X 12 background papers
12 – piece BrushSet
11 transfers/overlays
10 dimensional embellishments, delivered in .psd and .png format to allow for maximum customization.
The EXCITING news is that this offer appears to be working as advertised.
MiniPalette will automatically be added to your cart at checkout during the iDSD 2020 Digital Designs Sale.
Minimum $20 purchase.
No coupons or workarounds required.
Valid through October 7, 2020.
SAVE Up to 72%

 on

a

A

Classes and Education

ALL DISCOUNTS ARE SHOWN HERE IN THE STORE.
NOW through Wednesday 7 October, 2020 at Midnight PDT.

Some of the available specials:
GET FREE PURCHASE MINIPALETTE ON CLASS PURCHASES.
Purchase minimum $20 in classes in the Anna Aspnes Designs store.
Email me to let me know you would like the ArtPlay MiniPalette Deciduous.
You will be emailed a coupon to download the MiniPalette for FREE.
Please allow up to 12 hours for delivery.
a

A
 

DigitalART Store Updates 10-02
New Releases
NEW Stitched Template Album No. 1
SAVE 50% now through October 7, 2020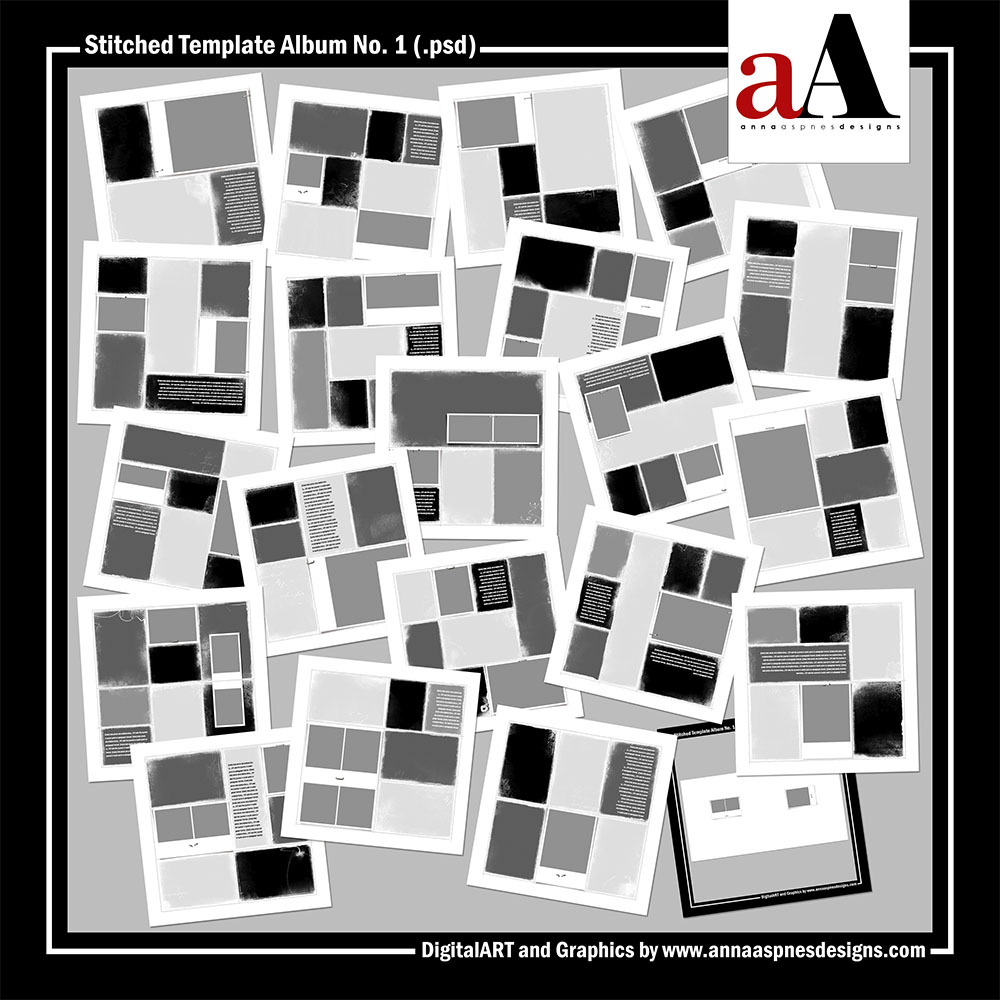 Stitched grid overlays meet FotoInspired in this collection of 20 – 12 X 12 layered templates delivered in .psd format for Photoshop and Elements. The templates are delivered in single-page format but are designed to work together as double-page spreads. The stitched grid overlays are also delivered in 3 layers so you can modify the stitched holes, shadow and stitching individually.You also get a wrap-around BONUS cover set for photo book printing. Use the templates to showcase your favorite event, adventure or vacation photos.
The templates are intended for use with the clipping mask function or for recoloring in Photoshop, Elements and Paint Shop Pro. All layer styles, masks, frames, staples and stitching shown are included. Simply clip your images to the FotoBlendz masks and add your own personalization through DigitalART supplies and words. Further information on using template collections in Photoshop and Elements can be found at Anna Aspnes Designs and a free video tutorials can be found here.
ArtPlay Admist + ArtsyTransfers Bundle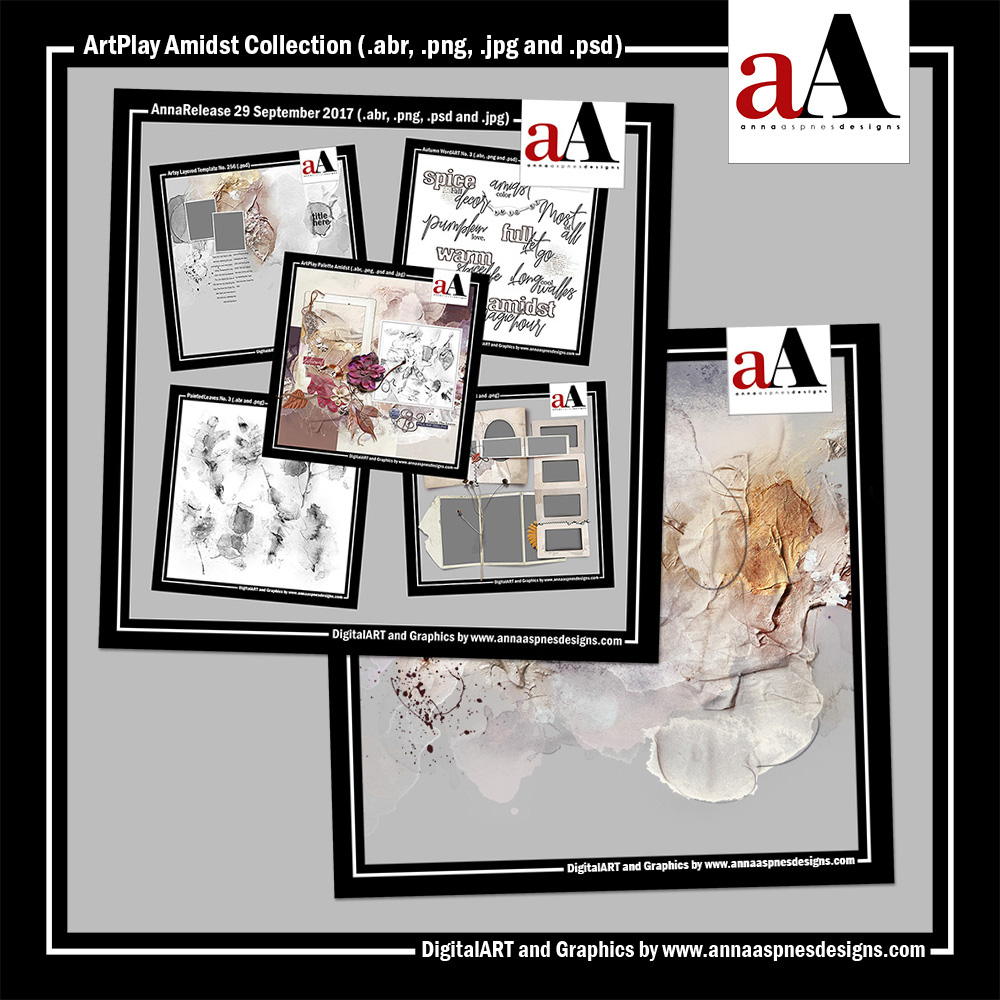 Every Wednesday we bring back a aA CLASSIC ArtPlay Palette Collection.
This limited option is back at a 58% discount and is available for ONE WEEK ONLY.
This collection will no longer be available after October 7, 2020 at 9 am EST.
THE VALUEPACK INCLUDES:
aA DigitalART: PERSONAL AND LIMITED COMMERCIAL USE  –  View the complete Terms of Use for details.
ArtPLAY LIVE iDSD 2020


Join me LIVE on SATURDAY or watch the REPLAY.

Elevate your artistry with 6 Layout Deconstructs in 60-90 minutes.

Learn How To:
Support your BLENDED IMAGES creatively and establish INTENTIONAL TRANSITIONS via Miki Krueger.
Build blended composites using LOTS of  MASKING TECHNIQUES via Adryane.
Create a 'DOUBLE EXPOSURE' effect in Photoshop and Elements via Margo Juhasz (Margeda).
EMBELLISH your favorite people and SUPPORT YOUR BLENDING with DigitalART via Ulla-May Berntsson (Zwyck).
Artsify your FOTOINSPIRED layouts via Viv Halliwell (Profolly).
UNIQUE APPROACHES to elevate your artistry via Dale Botha.