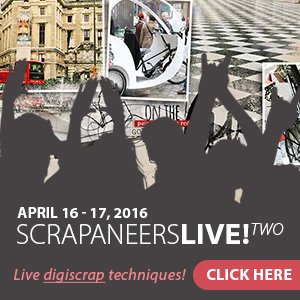 Learn digital artistry LIVE and elevate your digital scrapbooking/art skills in the upcoming Scrapaneers LIVE 2 event.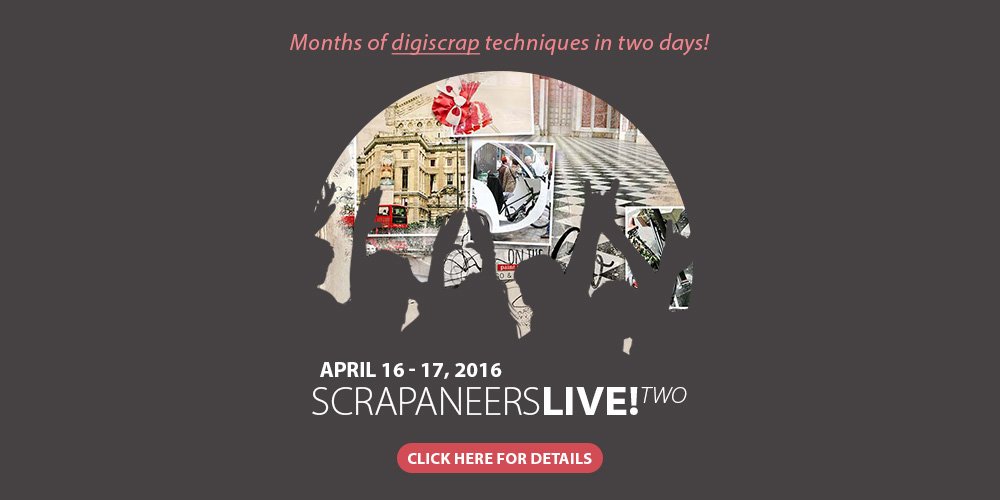 The next upcoming class by aA LIVE education will teach digital artistry hacks for scrapbookers.
Discovering digital artistry hacks are the very next steps in your digital art journey and you have the opportunity to do it LIVE.
Learn Digital Artistry LIVE
In April, I'm honored to be among some of the most recognized digital scrapbooking instructors and designers from around the world.
I will be teaching a 10 ArtsyHacks for Digital Scrapbookers class during the Scrapaneers LIVE 2 event
The previous LIVE on-line digital scrapbooking event previous event took place in October 2015 and can be accessed here.
Scrapaneers LIVE 2 will take place the weekend of April 16 – 17, 2016, in which you'll indulge in 2 days (instead of one) of LIVE technique demonstrations, fun projects, DigitalART downloads, giveaways, plus the chance to be stretched creatively and inspired. And all from the comfort of your creative space.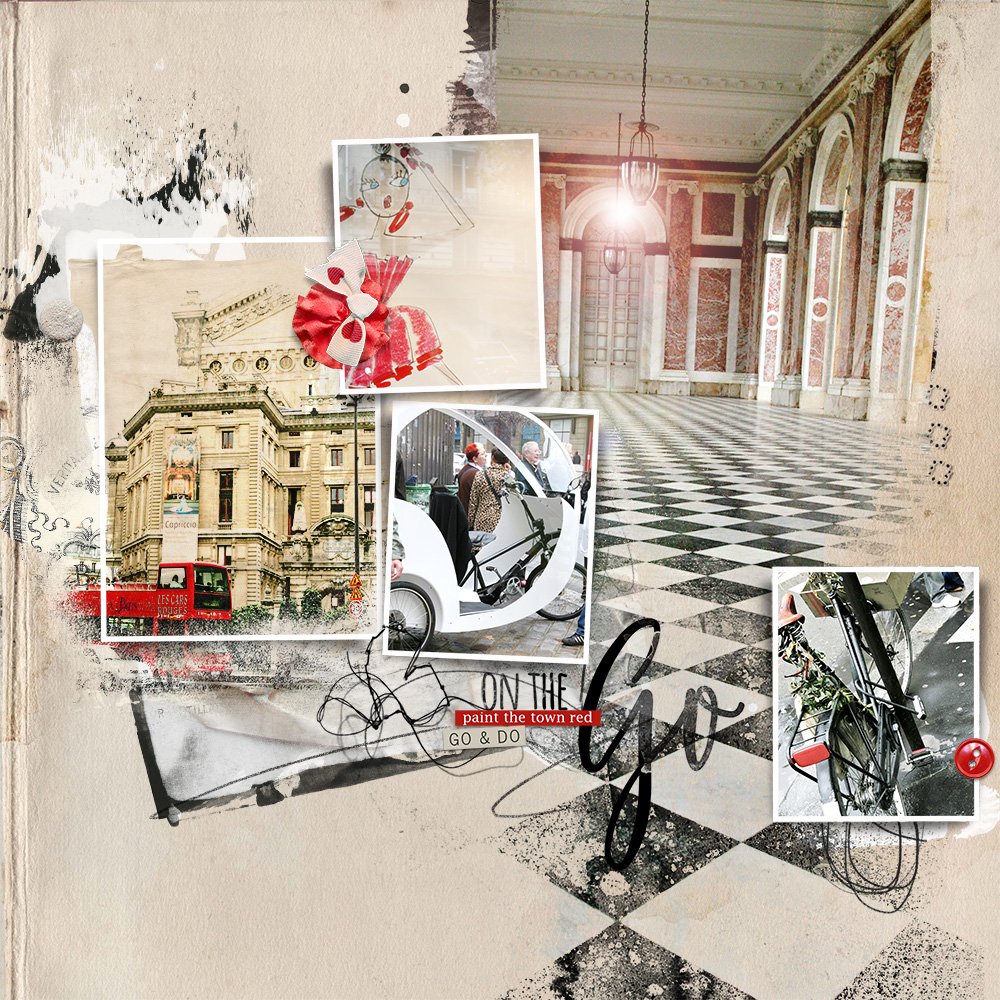 About Digital Artistry Hacks
I will be teaching for about an hour in a LIVE on-line class, 10 ArtsyHacks For Digital Scrapbookers, in which you'll embark on creative adventure with me as I show you step-by-step 10 different ways you can inject artsy into your digital pages. You will learn how to create an artsy design the easy way, implementing a variety of tried and tested methods to take your artistry from good to a 'blow your mind' kind of awesome. From smart DigitalART supply usage, solid design principles, wielding simple modifications and employing the power of Adobe Photoshop and Elements – You'll learn all the digital artistry hacks.
Note that the content of this event is exclusive to Scrapaneers and and it includes the ArtsyHacks DigitalART supplies.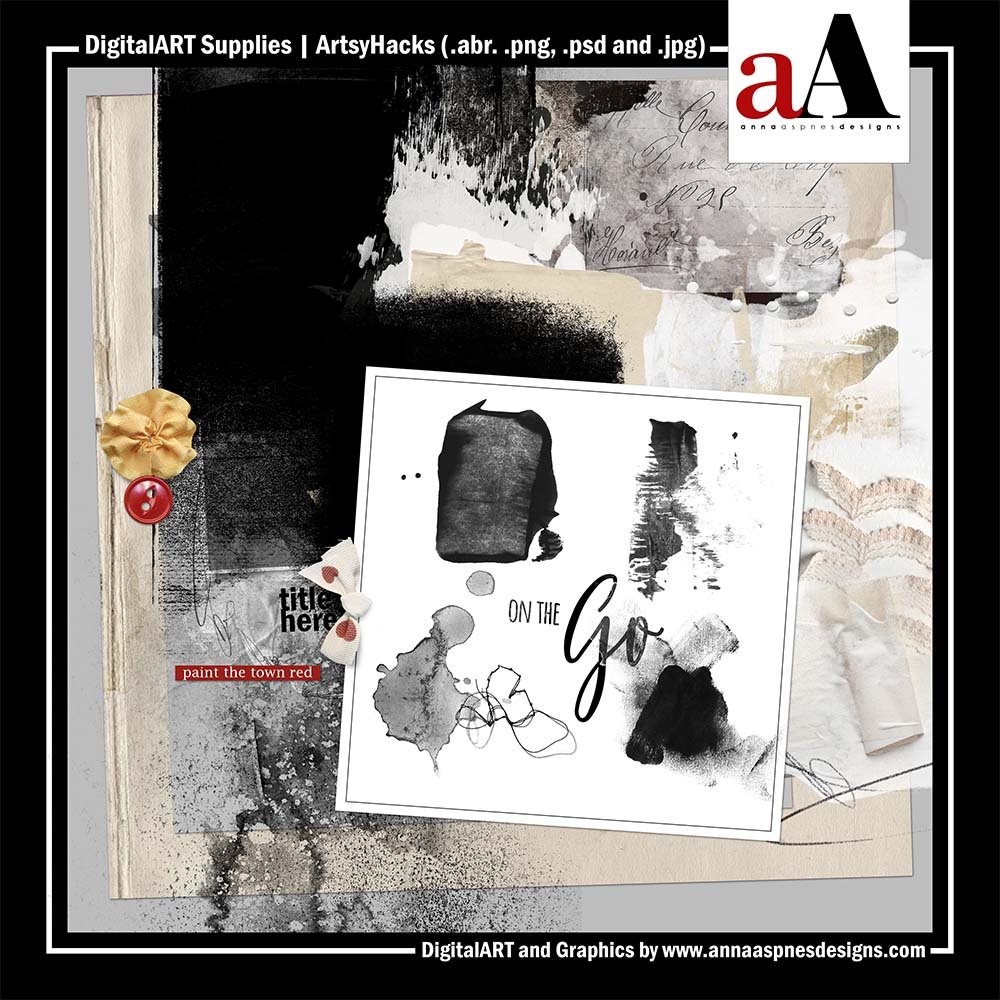 Want a FREE ticket?
Pre-admission tickets go on sale March 1, 2016.
On that day, Scrapaneers will also provide a 10% off coupon so you can save the most on the cost of admission.
Today I'm giving away ONE ticket to this LIVE online digital scrapbooking event.
Simply answer the following question in the comments section below:
What do you love most about LIVE online digital scrapbooking education?
I will select a winner on Friday – Best answer wins so get creative with your comments 🙂
In the meantime, Scrapaneers is giving away one ticket every Friday in the month of February to one lucky VIP lister.
Get on the list here.