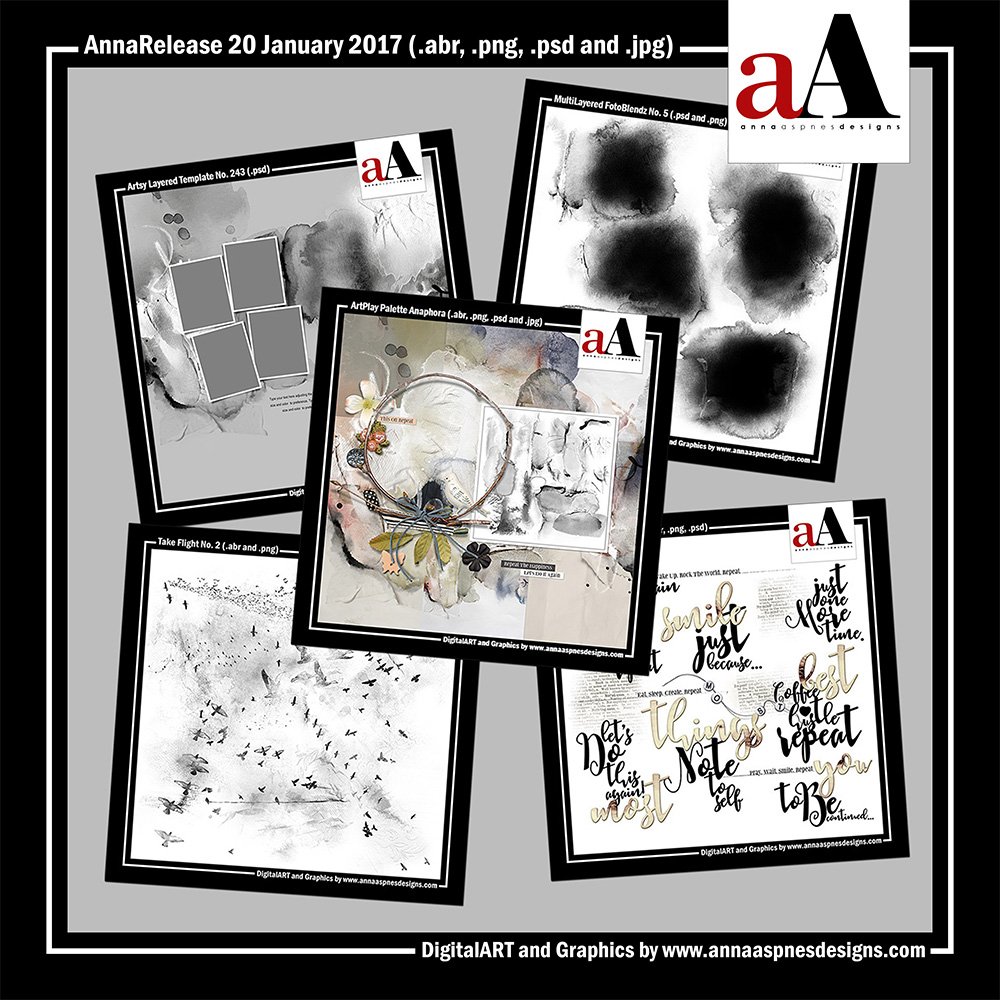 AnnaRelease *Anaphora*
Details. Each of the 5 new artsy digital designs Anaphora is 20% off or available as a collection discounted by almost 50% through January 27, 2017 at 9 am EST.
Please download the free Instructions for Use eBooklet from the Anna Aspnes Designs store for more information on using my various DigitalART products in Photoshop and Elements and check out the videos on the aA Youtube channel.
Origins and Background. The inspiration for this weeks release came from an article, Anaphora: Why Dr. Martin Luther King Jr.'s "I Have a Dream"Was Pure Poetry, I happened upon at the beginning of the week.
To quote the definition at Dictionary.com, "Anaphora is the repetition of a word or phrase at the beginning of consecutive sentences, poetry stanzas, or clauses within a sentence. It can be as short as a single word, such as I, when, or and. It can also involve several words, like Dr. Martin Luther King Jr.'s anaphoral phrase "I have a dream." Anaphoral phrases are rarely longer than a few words."
Anaphora is a form of documenting that is well used in memory keeping and scrapbooking. I use it from time to time, but you'll find it's prevalence in scrapbook pages by Ali Edwards.
It makes for an interesting ArtPlay Palette name and opens up the conversion for other meanings of the word repetition. There is repetition of good experiences, and the desire to be able to relive happy moments. Repetition of similar photos that we take throughout the years. Repetition of techniques in the digital artistry that bring you joy.
Find something you like, then do it again. 
New Artsy Digital Designs Anaphora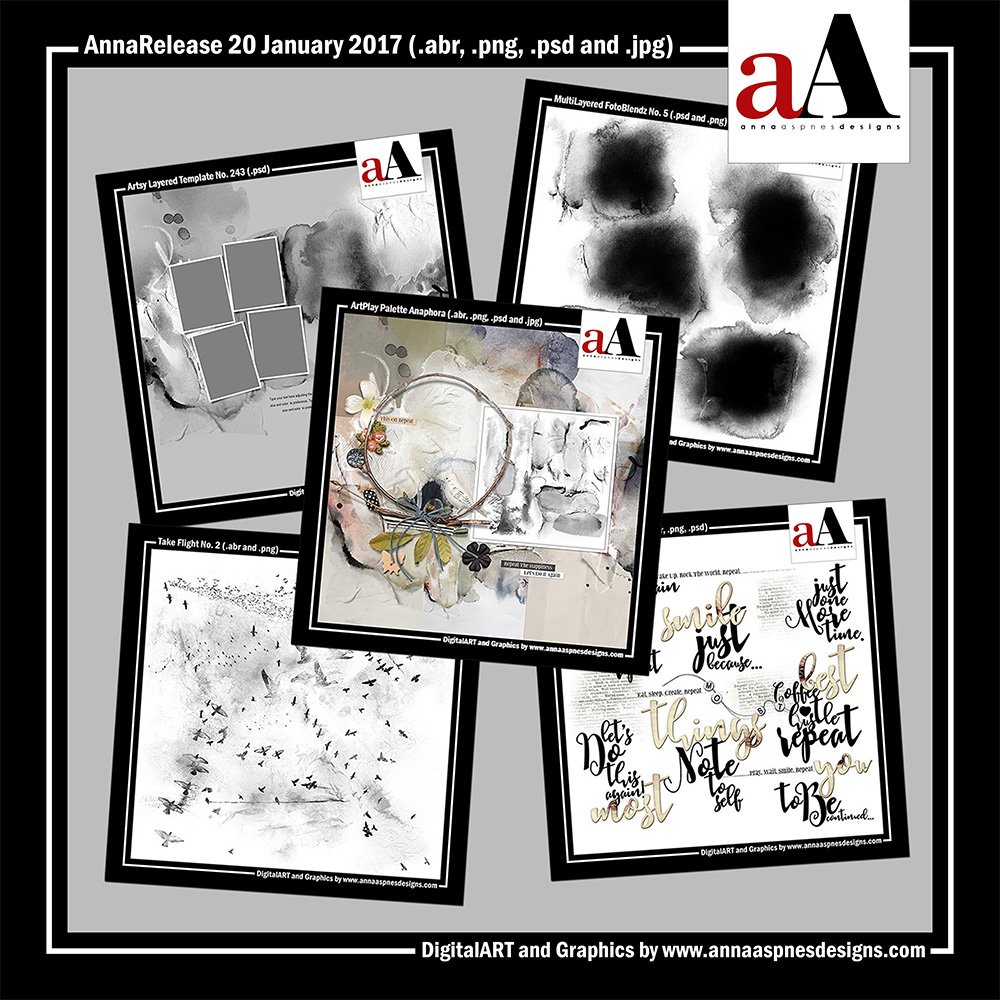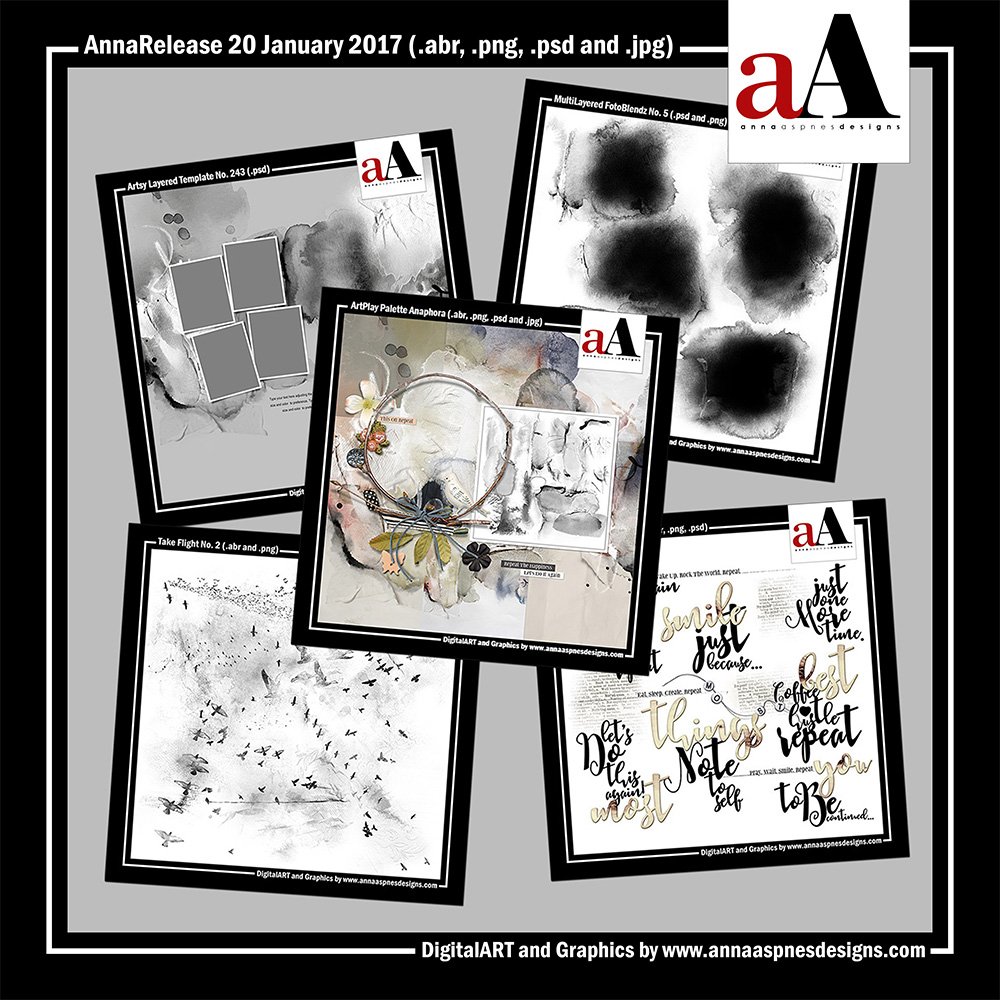 AnnaRelease *Anaphora*. This limited option enables you to purchase my entire release of 5 new artsy digital designs Anaphora products at a almost 50% discount.
Please note that this aA DigitalART collection will no longer be available after January 27, 2017, 2016 at 9am EST.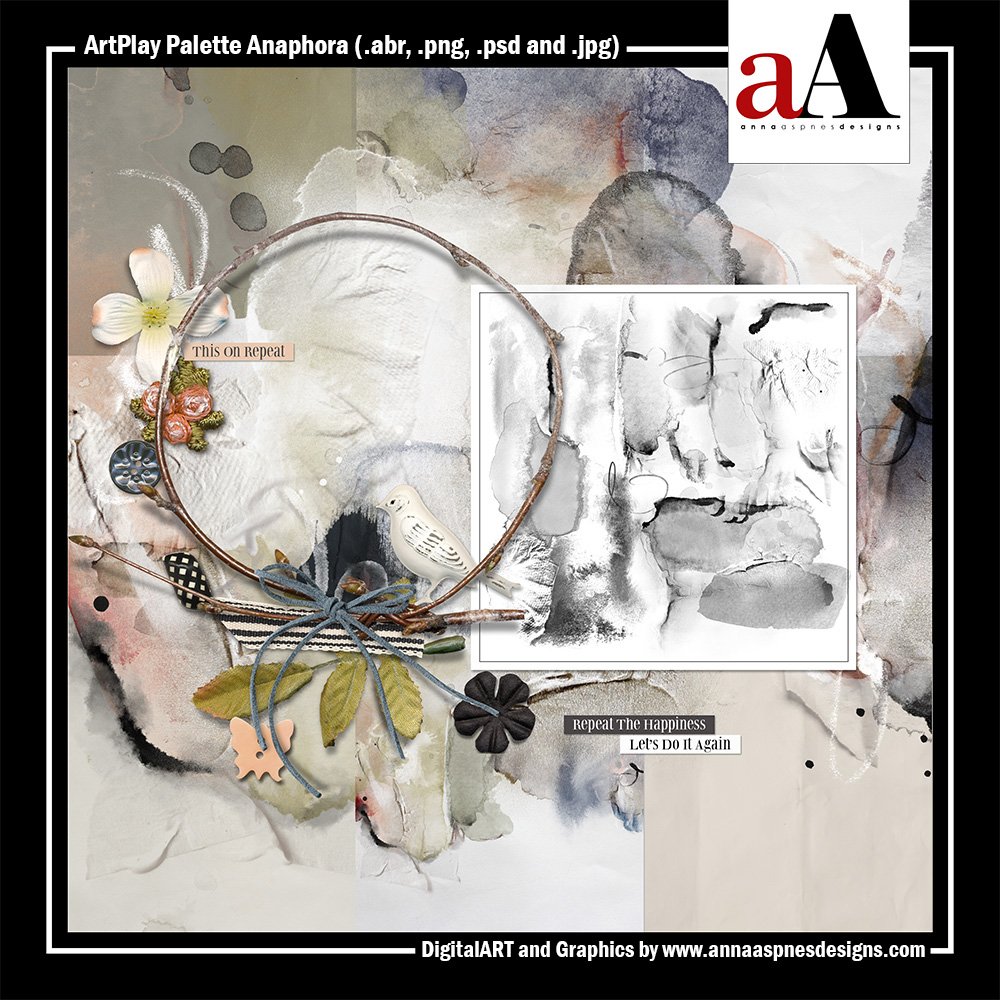 ArtPlay Palette Anaphora. Let's do this again one more time. This watercolor ArtPlay Palette includes 9 artsy and solid 12 X 12 background papers, a 16-piece BrushSet, 12 transfers/overlays and 14 dimensional embellishments delivered in .psd and .png format to allow for maximum customization where appropriate.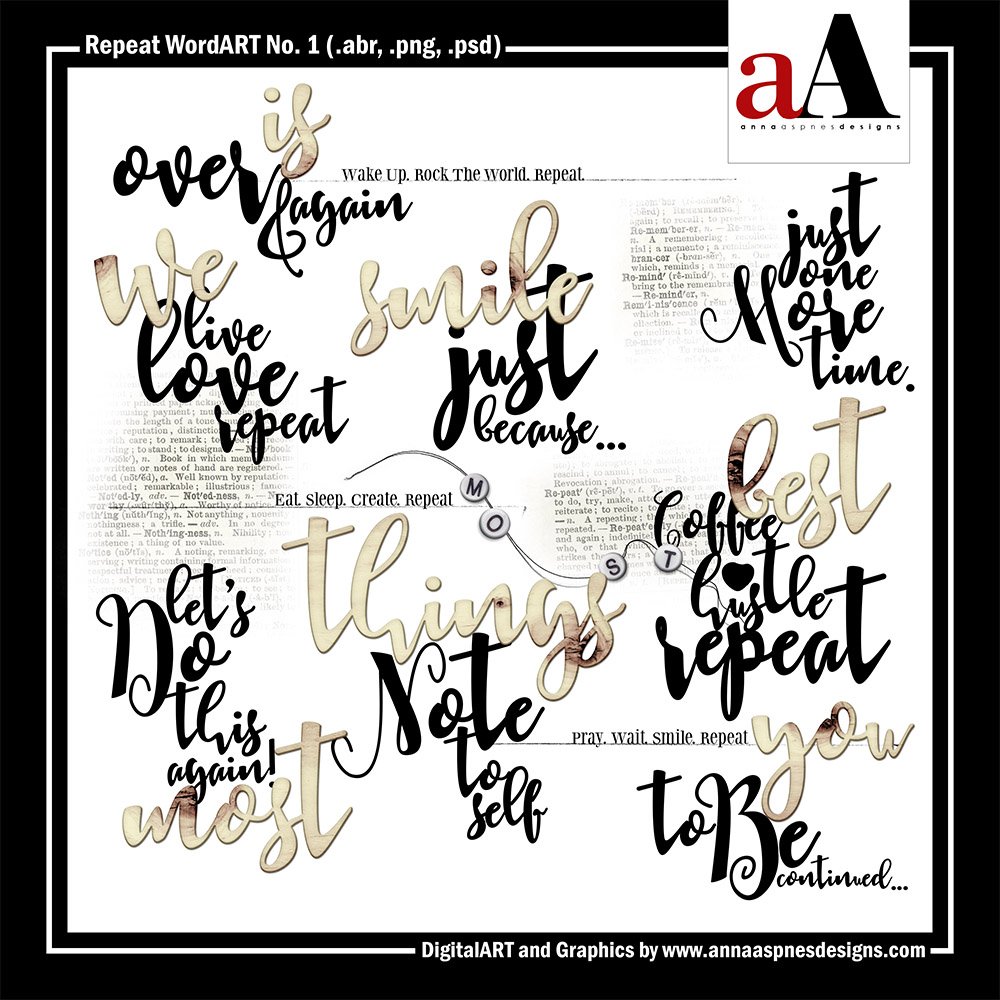 Repeat WordART Mix No. 1. A collection of 22 varied, repetion-themed WordART elements to include 7 WoodWords, 8 WordART quotes/titles, 3 WordTransfers, 3 UnderlinedWords and 1 BeadedThreadz designed to be mixed and matched to create custom WordART titles. I have also included the WordART, WordTransfer and ScriptTease designs in brush .abr format. Files are delivered in .png format unless otherwise noted.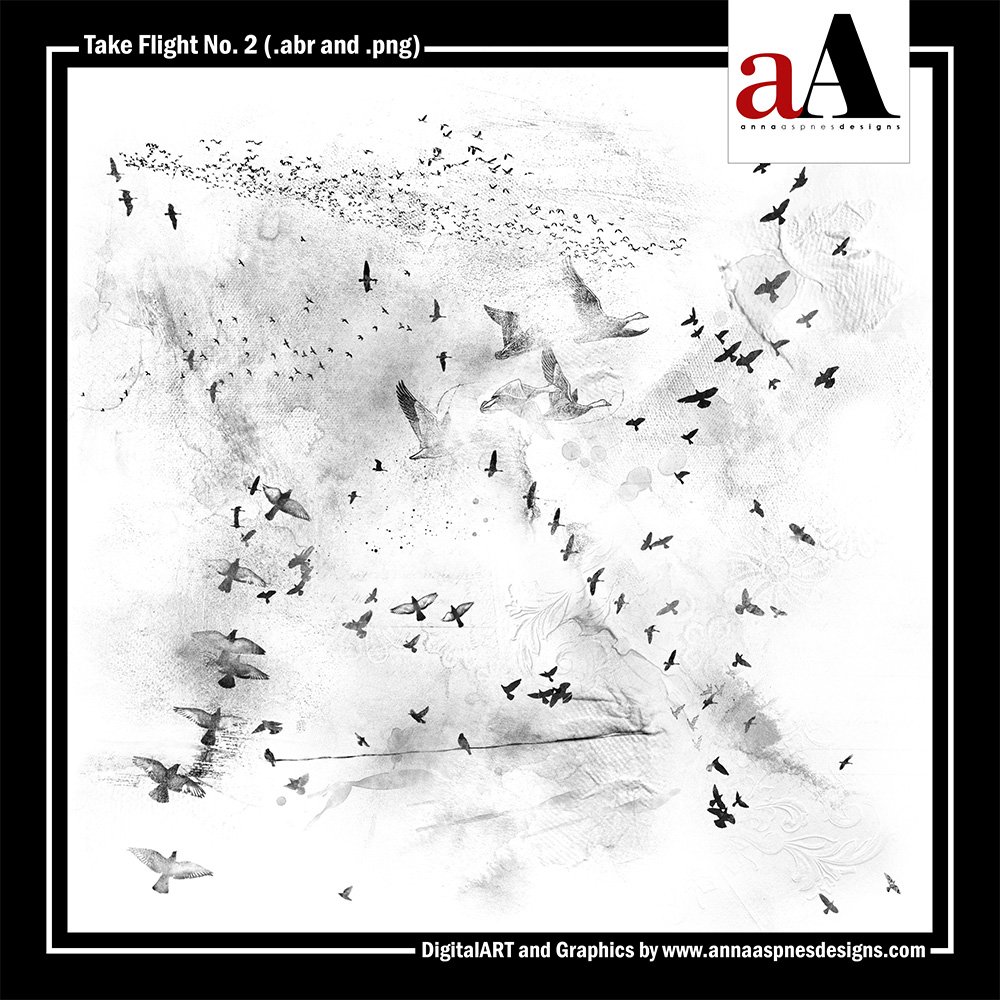 Take Flight No. 2. A collection of 10 distressed flocking birds brushes delivered in .abr and black .png format to enable maximum customization.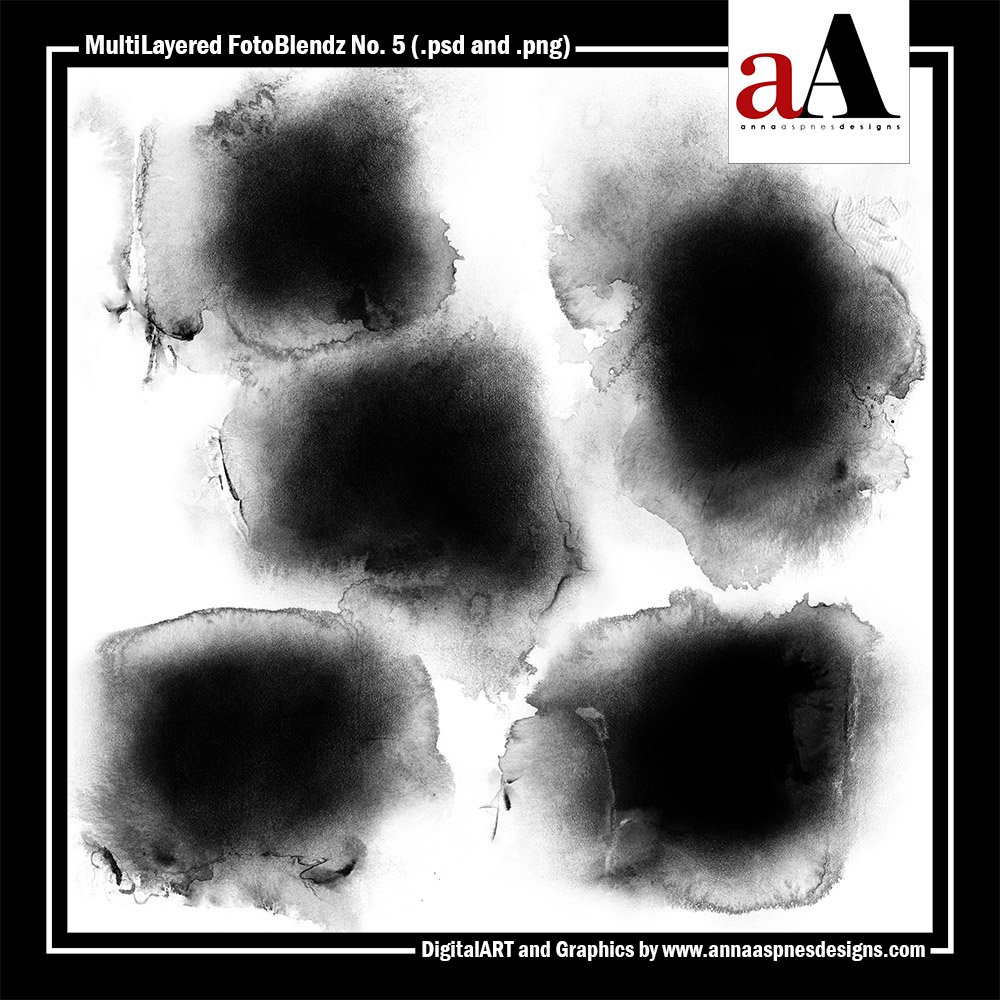 MultiLayered FotoBlendz No. 5. A collection of 5 multi-layered FotoBlendz clipping masks delivered in .psd and .png format. The .psd file allows you to adjust the properties of each layer in terms of visibility, color, opacity and blending mode.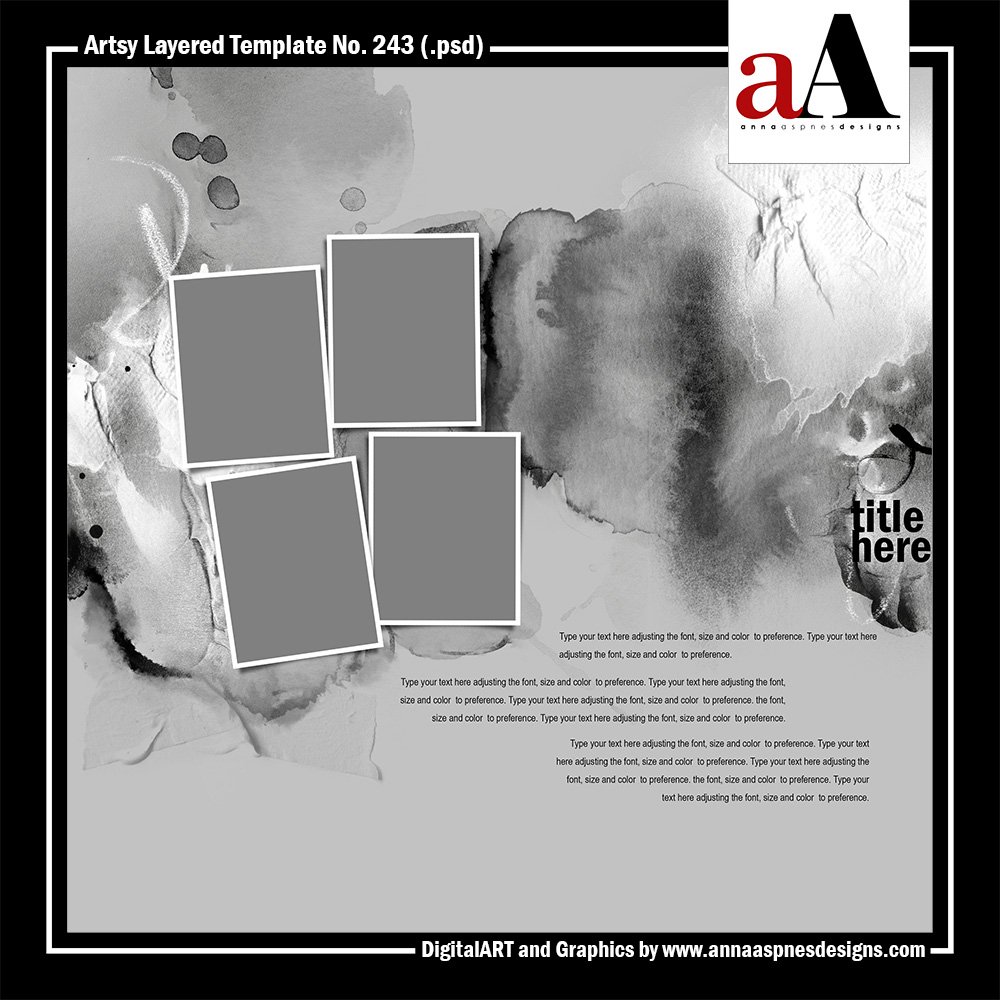 Artsy Layered Template No. 243. A 12 X 12 artsy layered template featuring numerous masks designed for use with the clipping mask function or for recoloring in Photoshop, Elements and Paint Shop Pro. All layer styles, masks, frames, brushwork, title and textboxes shown are included. Simply clip your images to the FotoBlendz masks and add your own words.