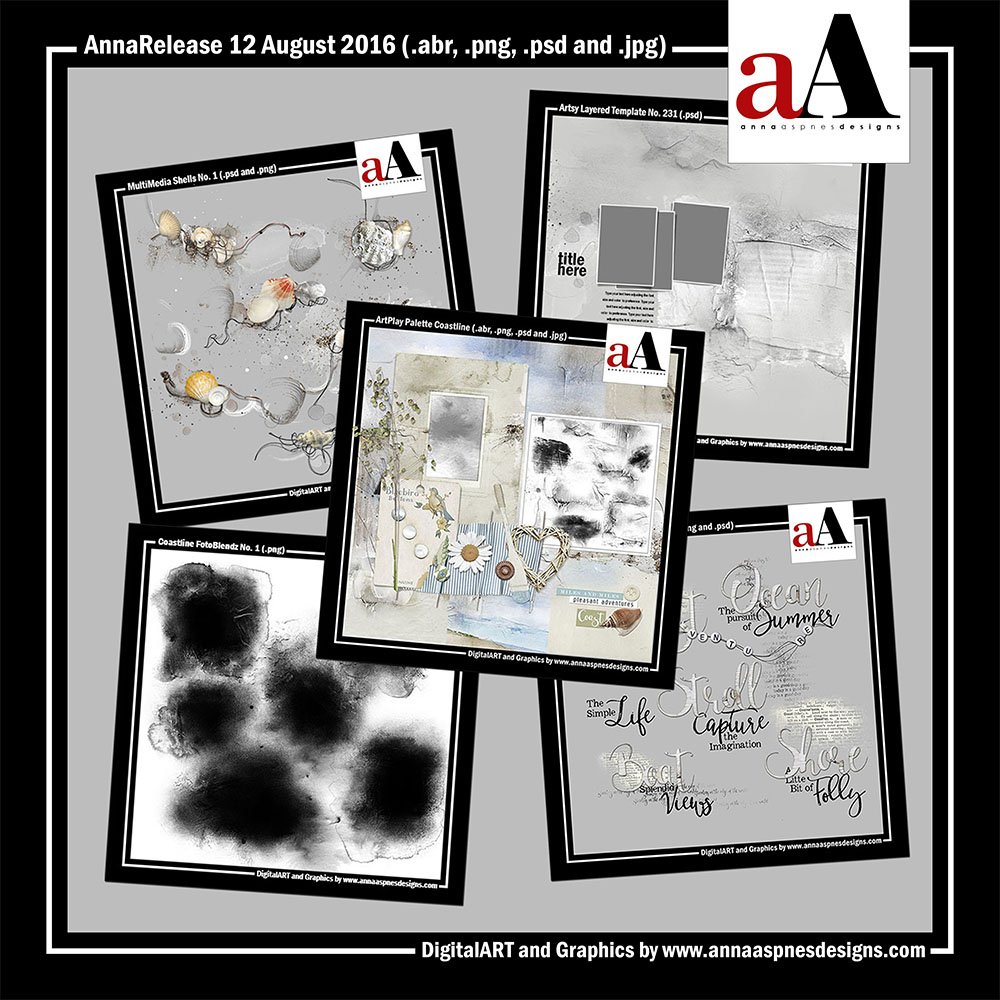 New Artsy Digital Designs Coastline are now available in the aA store.
AnnaRelease *Coastline*
Details. Each of the 5 new artsy digital designs Coastline is 20% off or available as a collection discounted by almost 50% through August 19, 2016 at 9 am EST.
Please download the free Instructions for Use eBooklet from the Anna Aspnes Designs store for more information on using my various DigitalART products in Photoshop and Elements and check out the videos on the aA Youtube channel.
Origins and Background. The children may be back to school but the temperatures are still soaring here in Denver. I think I heard somewhere that we've at 40+ days of temperatures in the 90F range. Makes me want to take a trip to the coast but have been finding myself doing a different type of coasting instead.
You can read more about my recent adventures in 'coasting' in the AnnaNews newsletter tomorrow. Enter your email at the top of the Homepage to be added to the list and score yourself a FREE Introduction to ArtPlay by Anna Aspnes Designs.
I have a Bachelors in German Language and Literature and have always enjoyed playing with words. You will see this in the way I name the aA product range, as well as the way I use different meanings of the same words. It's always my intention to open up each of my DigitalART collections to multiple themes so make them as useful and inspiring as possible.
Enjoy!
New Artsy Digital Designs Coastline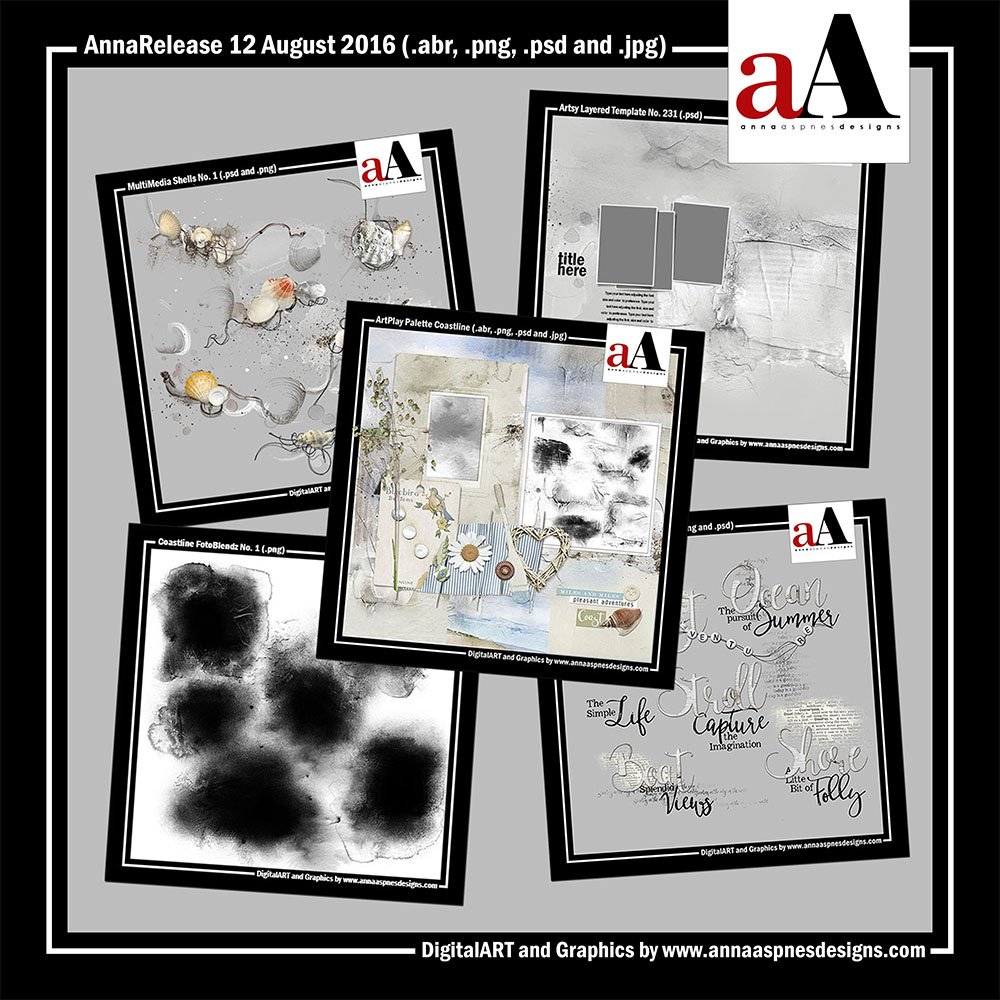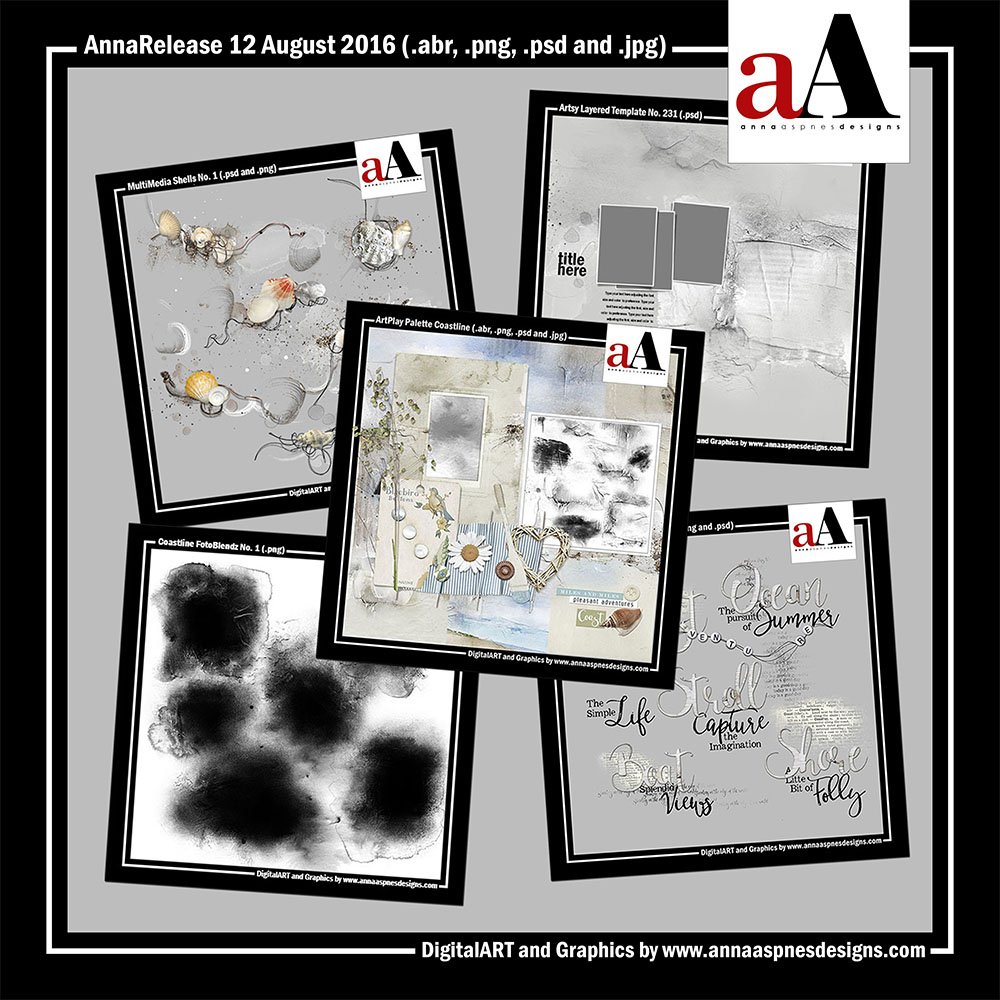 AnnaRelease *Coastline*. This limited option enables you to purchase my entire release of 5 new artsy digital designs Coastline products at a almost 50% discount.
Please note that this aA DigitalART collection will no longer be available after August 19, 2016 at 9am EST.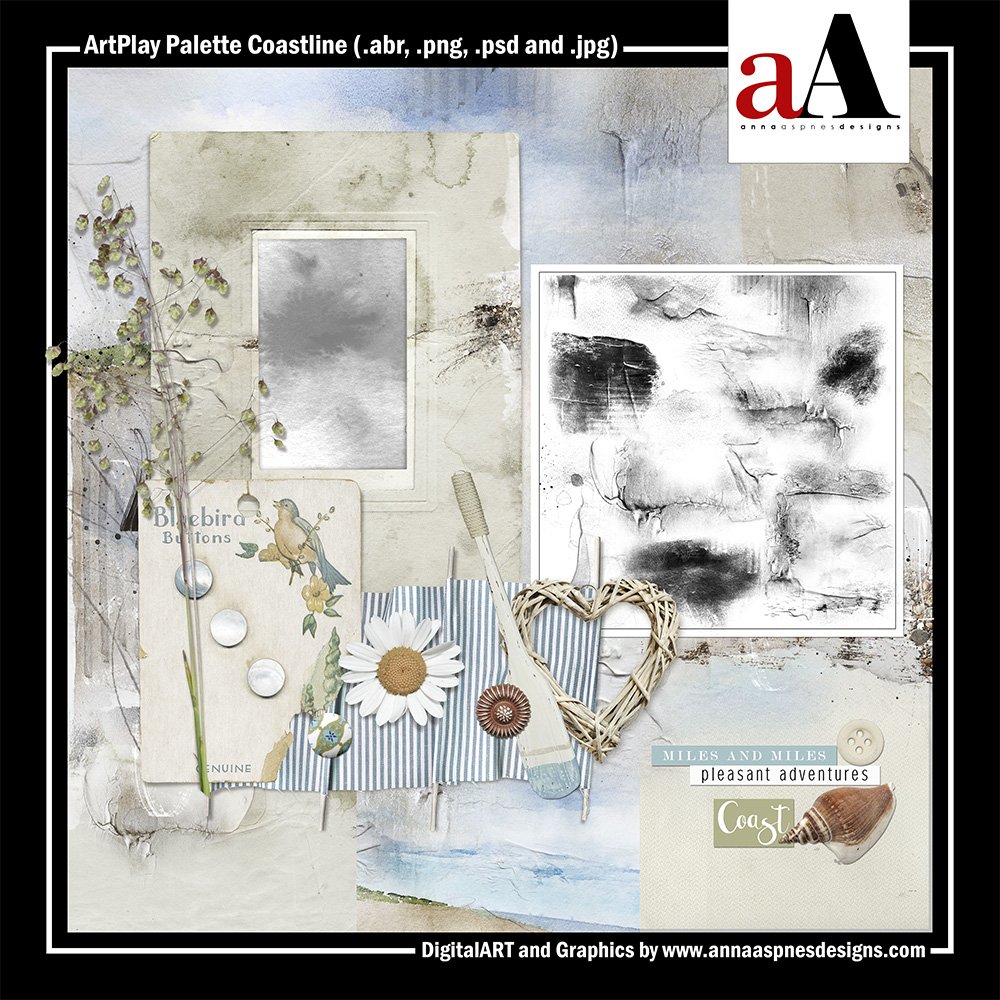 ArtPlay Palette Coastline. Take your pages and adventures to the edge of the earth where land meets water. This ArtPlay Palette includes 9 artsy and solid 12 X 12 background papers, a 15 – piece BrushSet, 12 transfers/overlays and 14 dimensional embellishments, delivered in .psd and .png format to allow for maximum customization.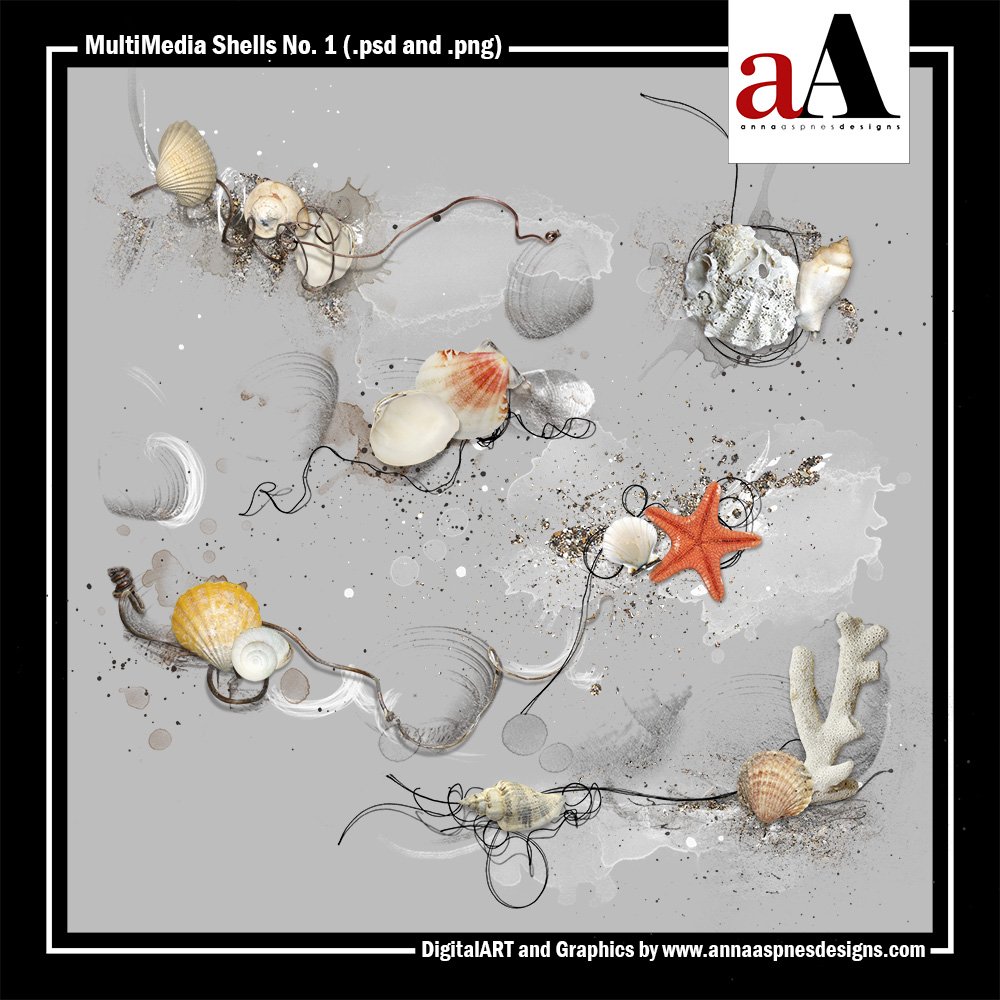 MultiMedia Shells No. 1. A collection of 5 artsy shell elements delivered in .psd and .png format to enable maximum customization. The .psd file allows you to adjust the properties of each layer in terms of color, opacity and blending mode.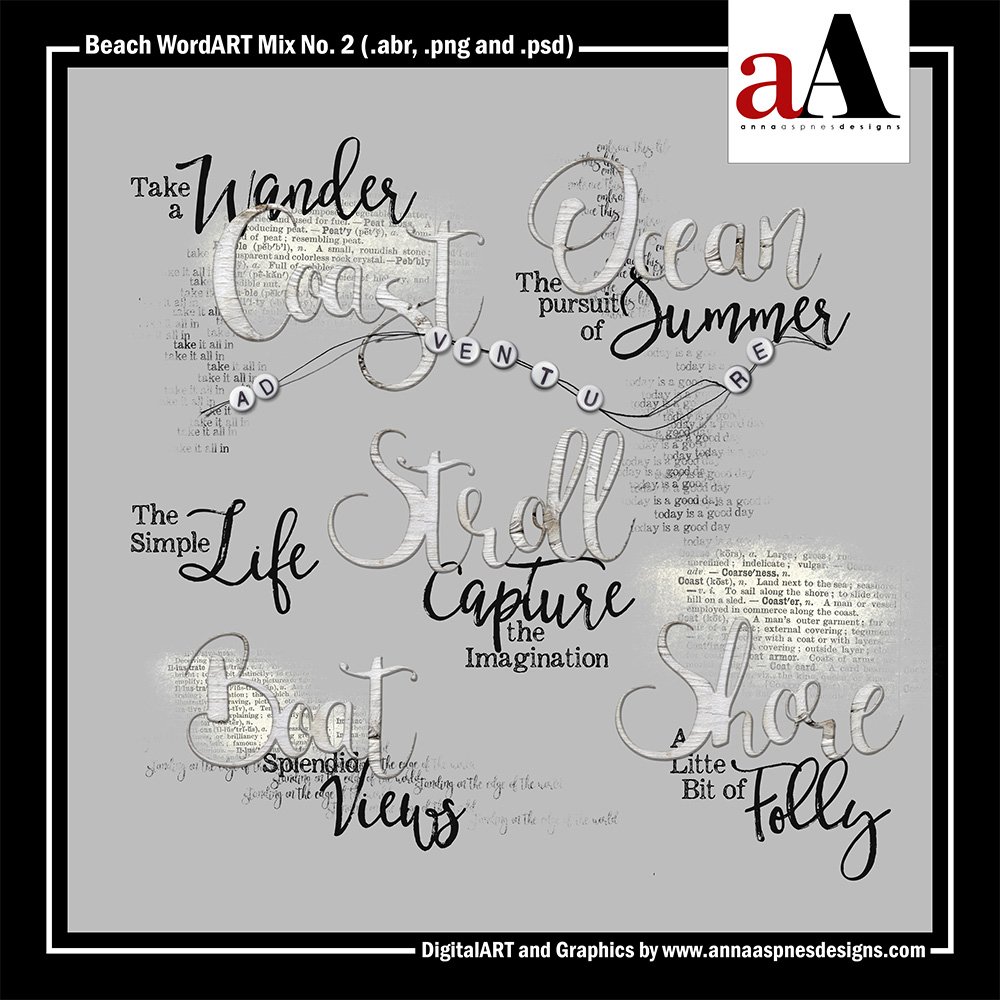 Beach WordART Mix No. 2. A collection of 19 varied WordART elements relating to *antiquity* to include 5 WoodWords, 6 WordART quotes/titles, 3 WordTransfers, 2 FadedWords, 2 ScriptTease and 1 BeadedThreadz designed to be mixed and matched to create custom WordART titles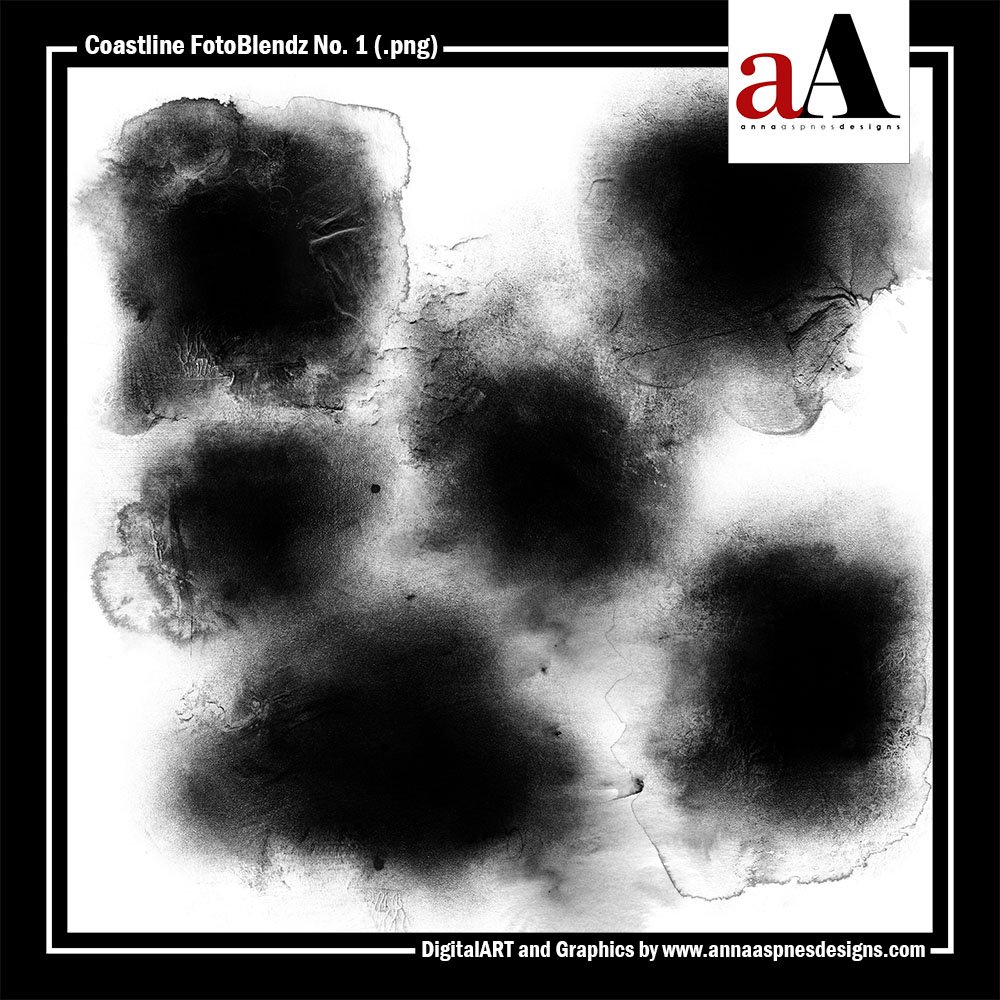 Coastline FotoBlendz No. 1. A collection of 5 FotoBlendz masks delivered in .png format. Clip the image of your choice to the mask using the clipping mask function in Photoshop/Element or recolor and use as a matte to frame the other elements on your page. You can also apply blending modes to the layers to embellish solid background papers.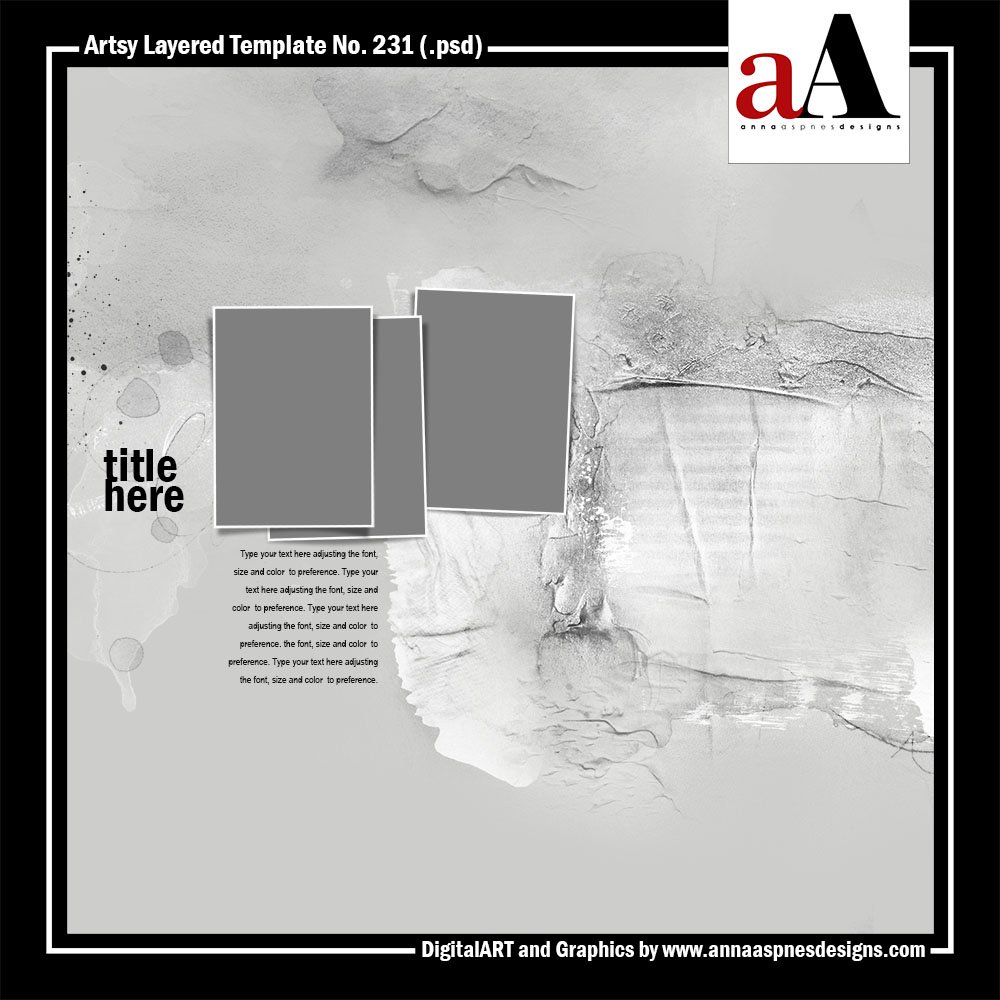 Artsy Layered Template No. 231. A 12 X 12 Artsy layered template featuring numerous masks designed for use with the clipping mask function or for re-coloring in Photoshop, Elements and Paint Shop Pro. All layer styles, masks, frames, brushwork, title and text boxes shown are included. Simply clip your images to the FotoBlendz masks and add your own words.