The Oscraps Birthday Sale 2020 Event has begun and here are all the details.
Oscraps Birthday Sale 2020 Event
The Birthdays are all happening around here, and I don't know about you, but I'll take the celebrations where I can find them right now.
40% SALE at Anna Aspnes Designs
The

a

A

 store is discounted by 40%.
From Friday, March 20, 2020 at 9 am through Friday, March 27, 2019 at Midnight PDT.
Excludes Licenses, GiftKardz, ValuePacks, On Sale and

a

A

DigitalART products released in the last 12 weeks.
NOTE. There is nothing more frustrating than purchasing aA DigitalART products and then have them immediately go on sale.
Free With Purchase Offer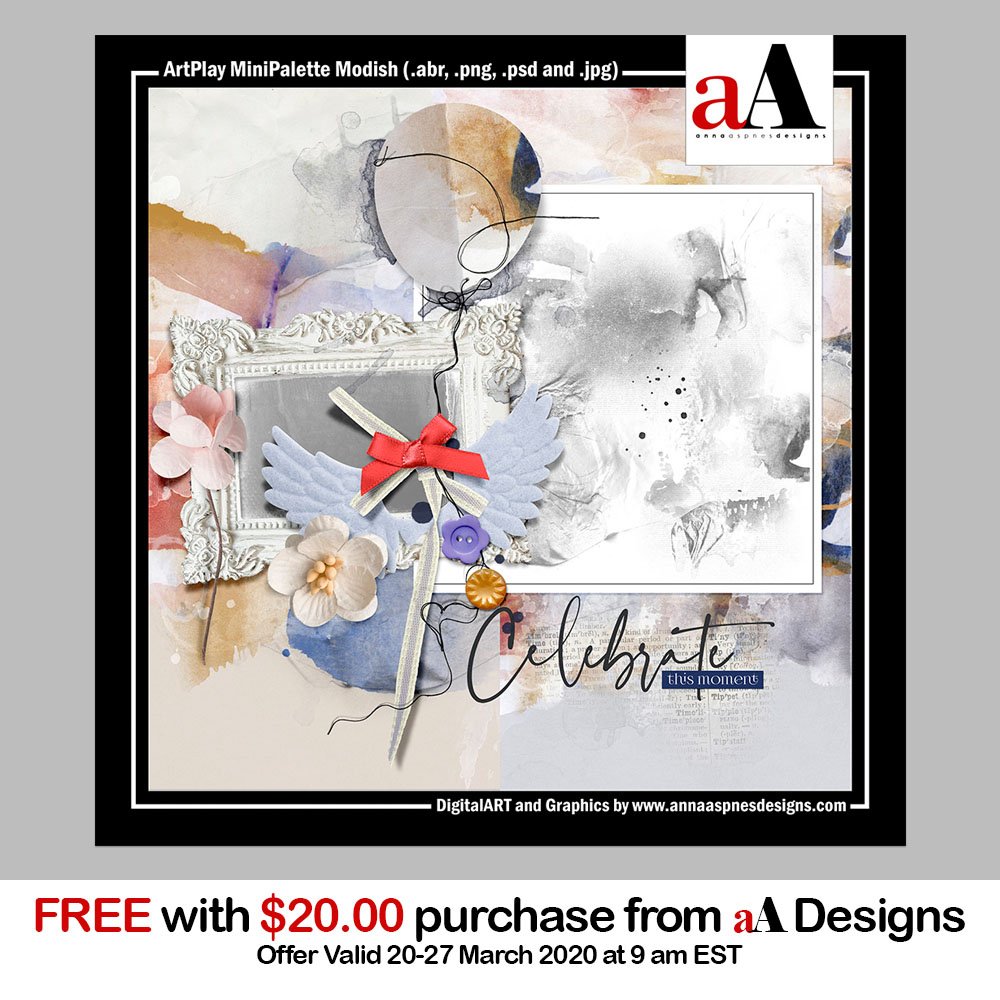 Get this ArtPlay MiniPalette Modish FREE with a$20.00 or more purchase from the 

a

A

 store.
If you have any problems please email support@oscraps.com.
Spring meets celebration with compassion and kindness in an ArtPlay MiniPalette that includes:
4 artsy and solid 12 X 12 background papers
a 12-piece BrushSet
12 transfers/overlays
a variety dimensional embellishments and WordART
delivered in .psd and .png format to allow for maximum customization where appropriate.
Note. This MiniPalette was created prior to the Covid-19 Pandemic. While celebrating is far from our minds at the moment, this Palette brings color to the darkness through which we're living right now and  offers the opportunity to celebrate the small wins each day with love, kindness and compassion. The wings could not be more perfect.
The MiniPalette will be automatically added to your cart at checkout during the Oscraps Birthday Sale 2020 Event.
Save 50% on WaterColor Template Album No. 9 
Offer valid through March 27, 2020 at 9 am EST.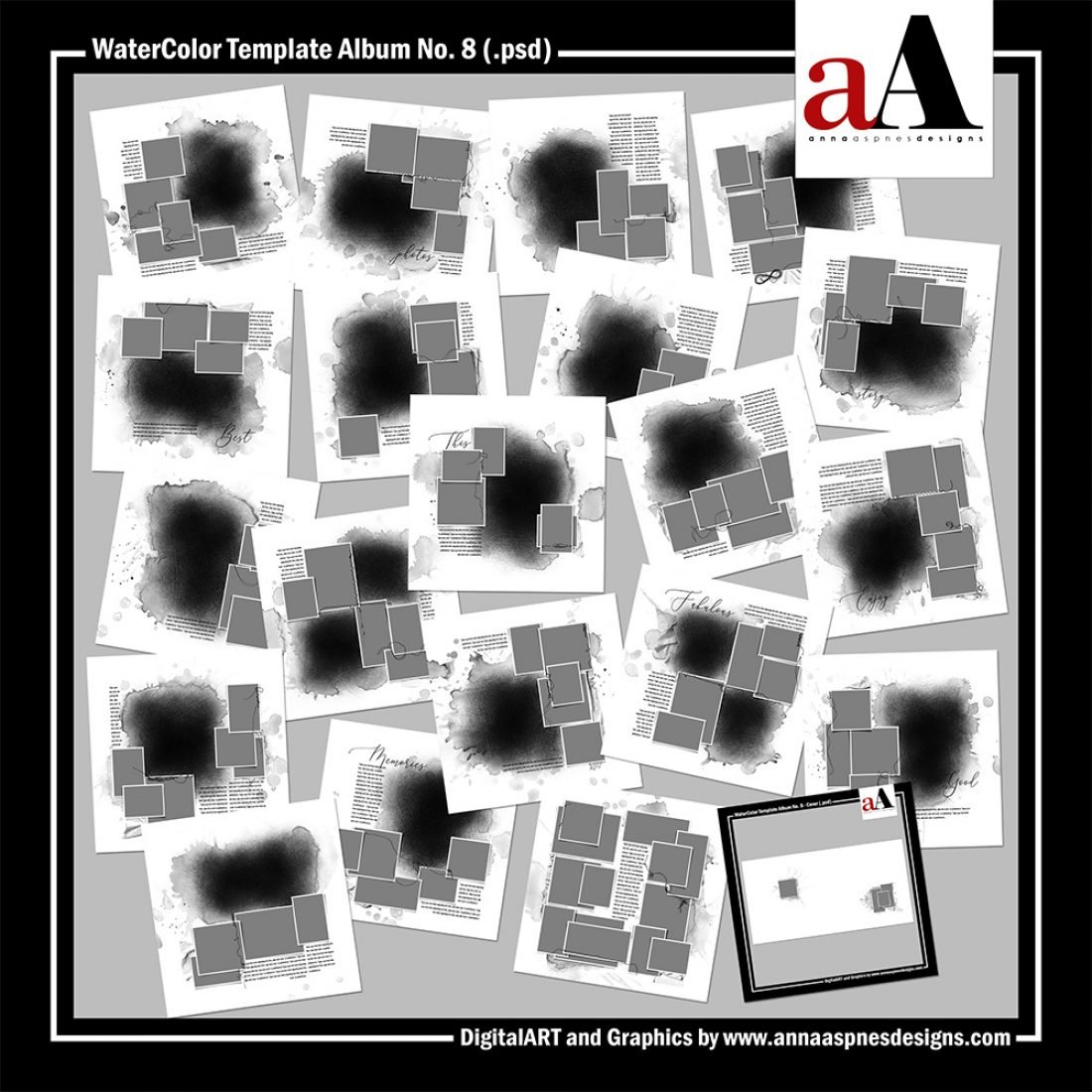 A collection of 10 – 24 X 12 artsy and blended layered templates designed to create a 20-page album.
The templates are intended for use with the clipping mask function or for recoloring in Photoshop, Elements and Paint Shop Pro.
All layer styles, masks, frames, brushwork, stitching and text boxes shown are included.
Includes a BONUS cover set for photo book printing.
Simply clip your images to the FotoBlendz masks and add your own personalization through DigitalART supplies and words.
This template is designed to co-ordinate with WaterColor Template Album No. 9
See this video for further guidance on using double-page templates.
Save 20% MidWeek Releases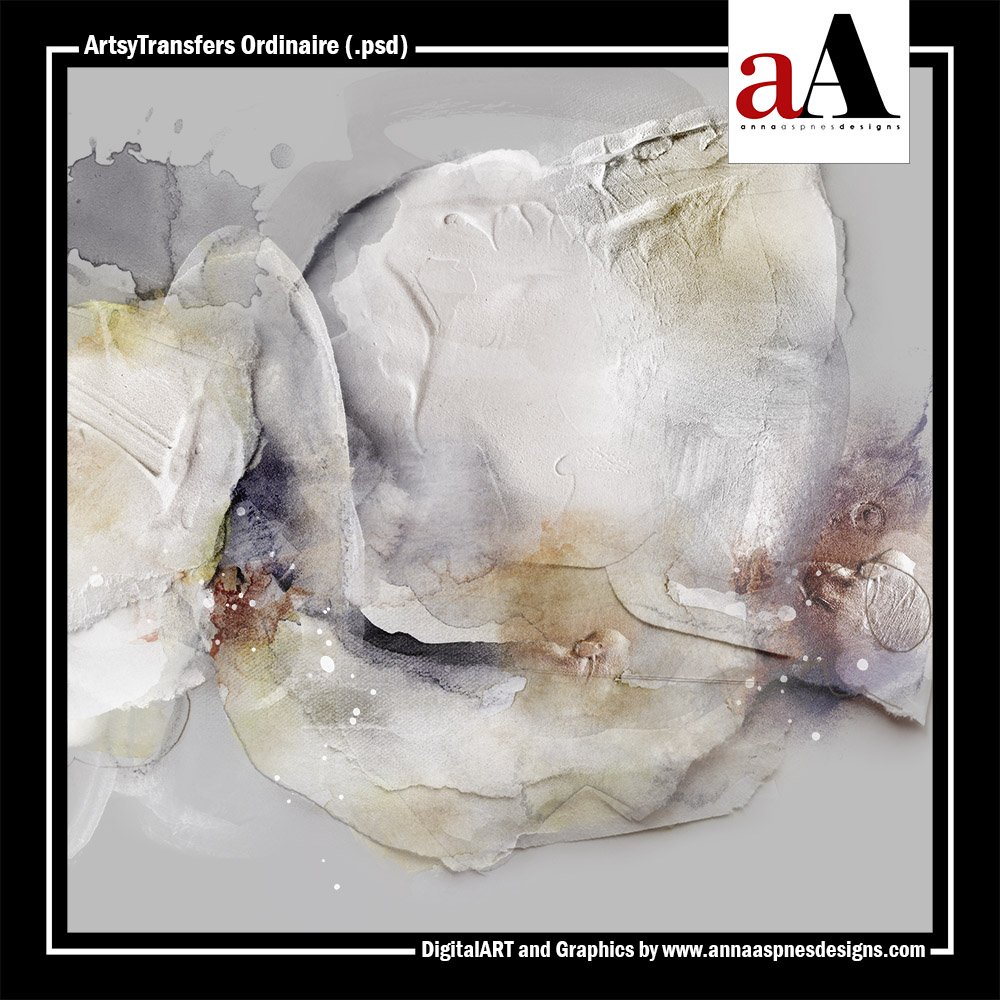 A collection of 5 transfers delivered in layered, multi-color .psd format designed to coordinate with ArtPlay Ordinaire Collection.
Manipulate these elements by recoloring the individual layers, modifying them through the use of brushes and/or using them with the clipping mask function.
2 Collections of ArtsyKardz designed to coordinate with recent ArtPlay Ordinaire and Halcyon Collections.
10 artsy cards designed for use by both digital and hybrid artists delivered in layered .psd and flattened .jpg format.
Each MultiPack includes 2 – 6 X 6, 2 – 4 X 6 and 6 X 4 plus 2 – 3 X 4 and 4 X 3 varieties.
Use them for journaling or clip a photo to them, apply a blending mode to the photo layer or frame them, create a collage with them, add layer styles, or print and cut them out for use in pocket scrapbooking, Project Life or for other paper crafts.
They're great for trading or business cards, as the foundation for greeting cards or as gift tags.
Further information in this Guidance for Using ArtsyKardz video.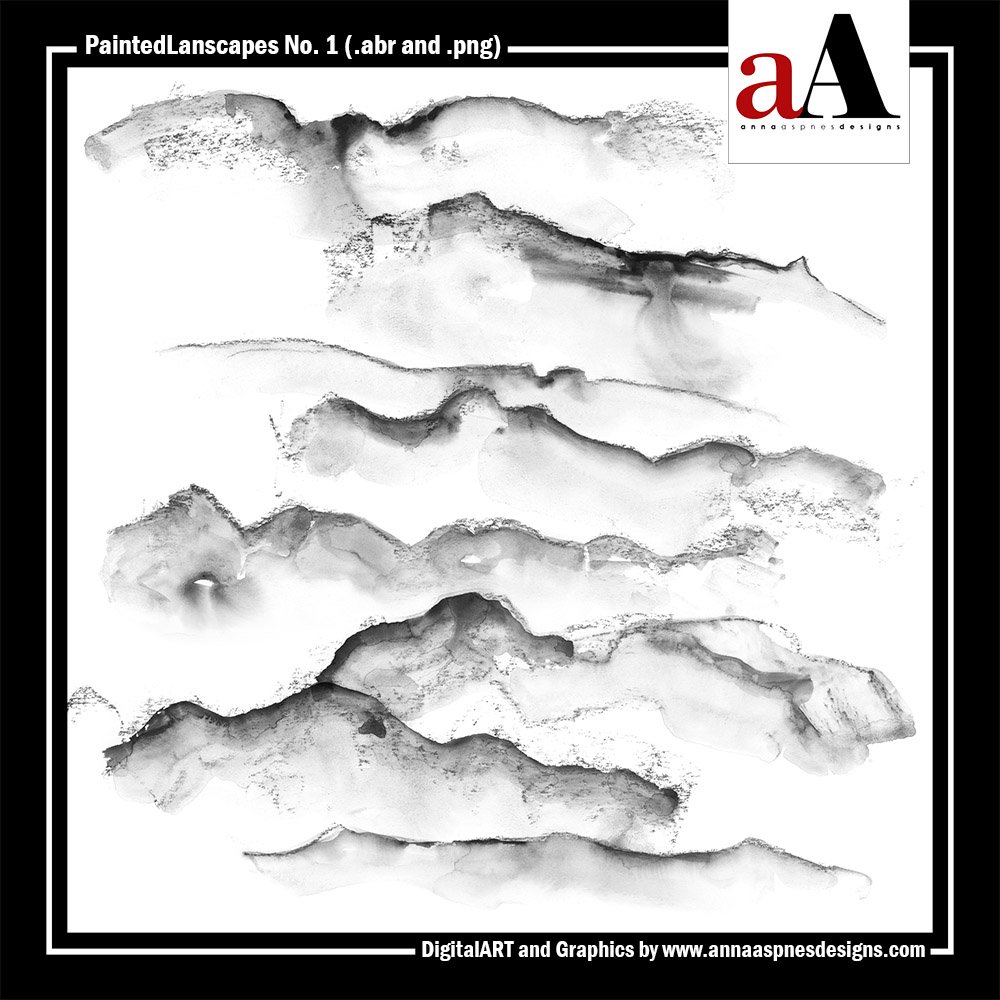 A collection of 8 charcoal and watercolor paint brushes delivered in .abr and black .png format.
There are 2 .abr files to support Adobe Photoshop CC (from 4080 to 4718 pixels) and earlier versions of Photoshop/Elements (from 2467 to 2500 pixels).
Further information can be found in the FREE Basic Brushes video tutorial.
ArtPlay Moorlands + ArtsyTransfers Bundle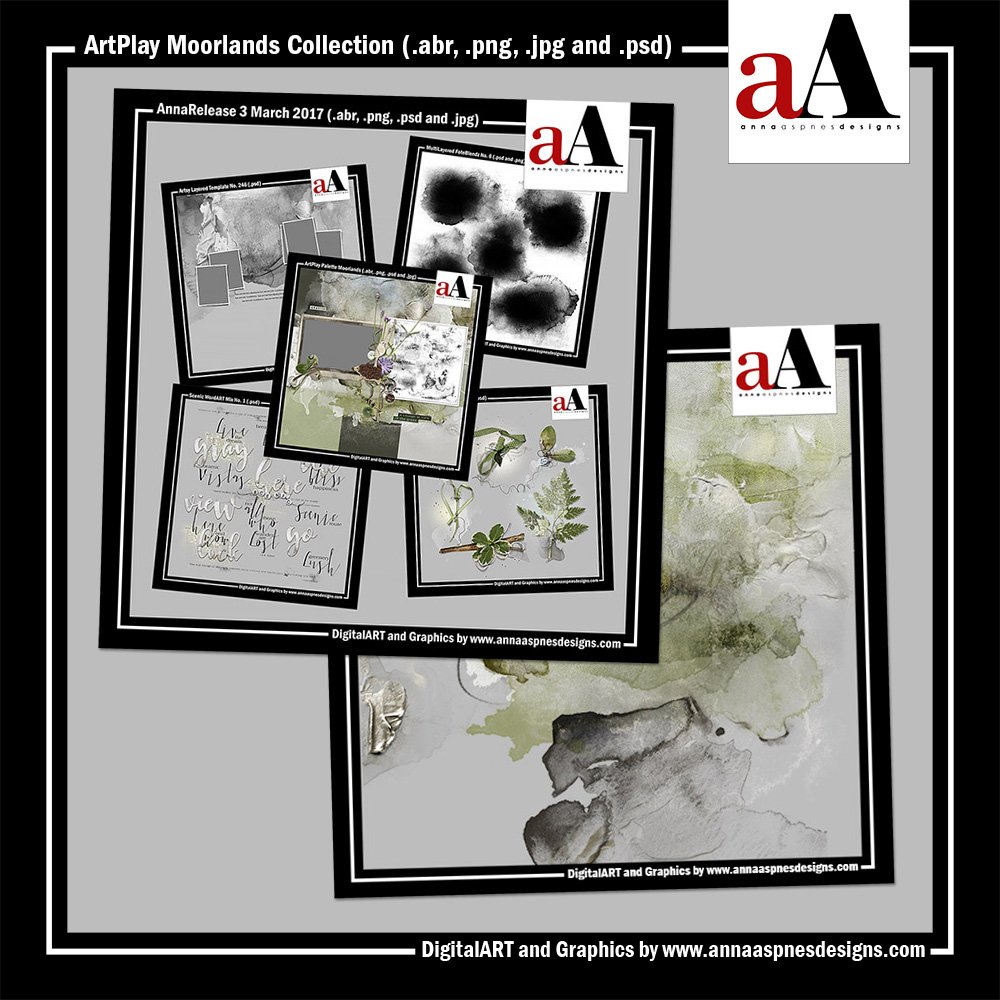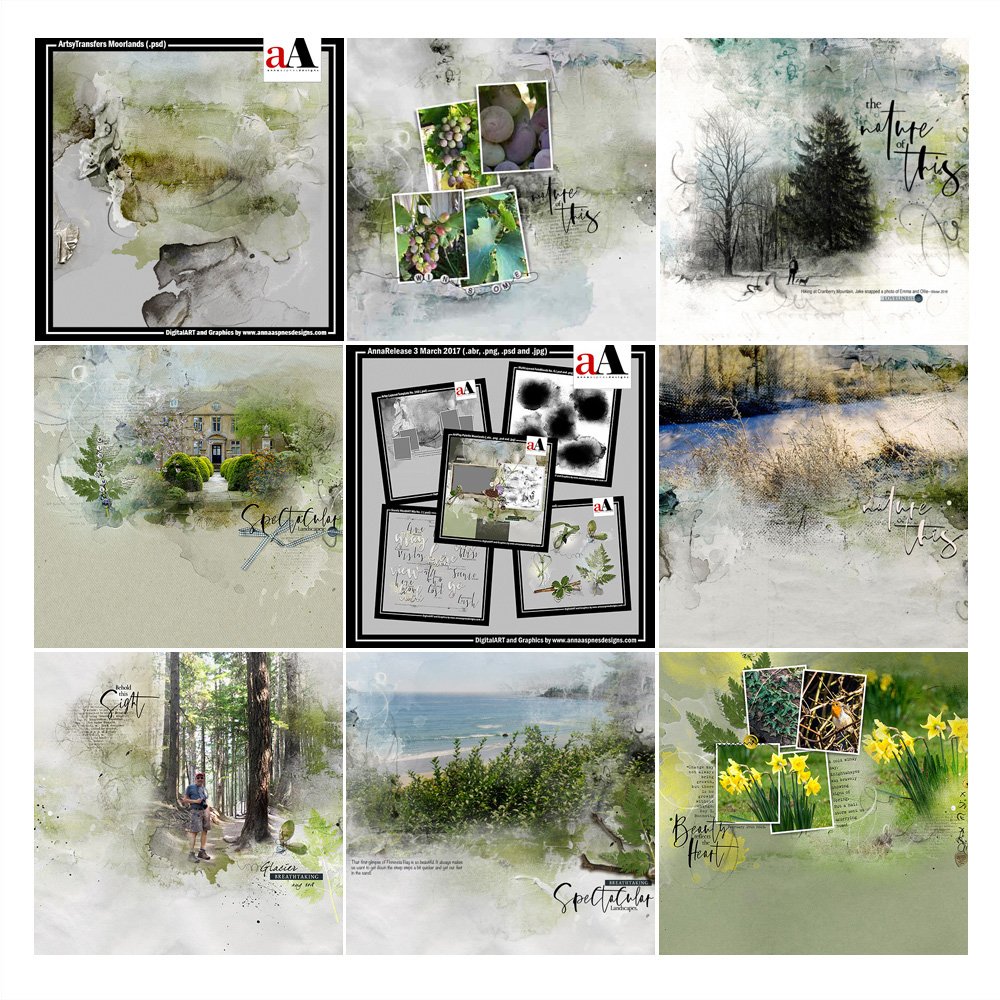 Every Wednesday we bring back a aA CLASSIC ArtPlay Palette Collection.
This limited option is back at a 58% discount and is available for ONE WEEK ONLY.
This collection will no longer be available after March 25, 2020 at 9 am EST.
THE VALUEPACK INCLUDES:
aA DigitalART: PERSONAL AND LIMITED COMMERCIAL USE  –  View the complete Terms of Use for details.