Description
A beautiful opportunity to complete a Travel Photobook Project this summer.
Join me in June/July for a guided LIVE online workshop in making the photo artistry and memory keeping happen.
Transform from Photos You Already Have from a Past Travel Adventure into a sophisticated photo book project.
Learn how to use Template Collections in Adobe Photoshop or Elements to create carefully planned digital scrapbooking pages.
Curate Cohesive and Balanced designs across a collections of photo artistry layouts.
Understand and implement Successful strategies for both Starting AND Completing such a project.
Master the art of preserving and Documenting Vacations using a variety of Imagery and travel Memorabilia.
Glean encouragement and Inspiration from this in-depth Step-By-Step interactive course.
Not Interested in Travel Photos? No problem
You could also choose a Staycation photo book project.
Take Photos Along the Way of your own summer adventure.
Or come along with me and I'll help you adapt the lessons to a Theme of Your Choice.
One of the BEST

a

A

LIVE Workshop Experiences of the Year.
Take Your Photos From…
THIS:
To THIS: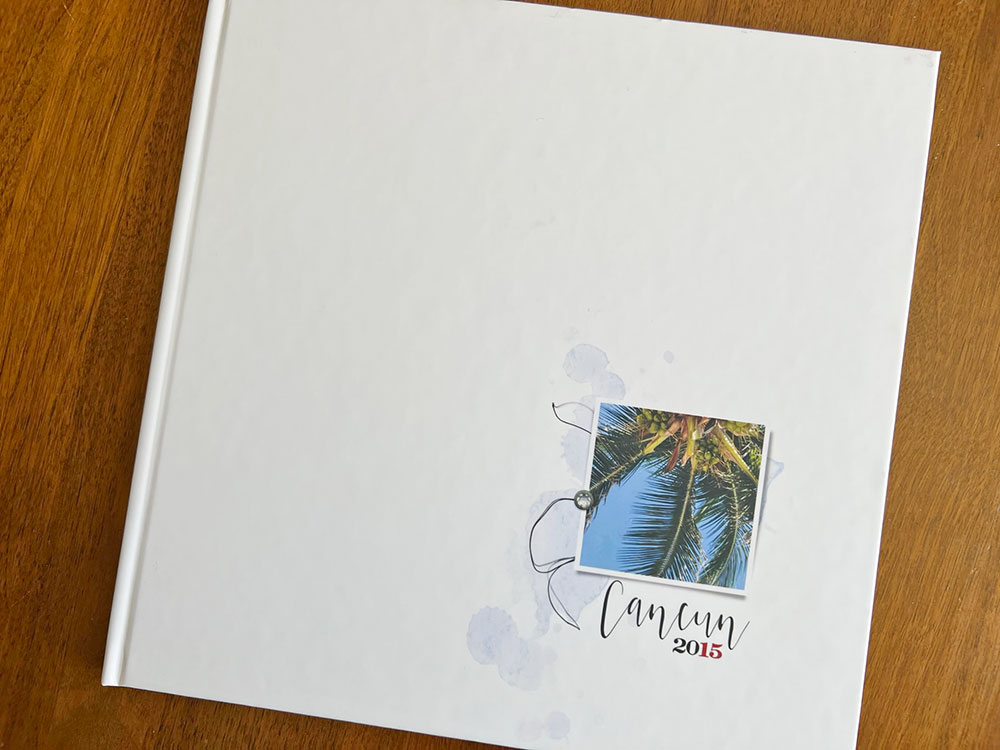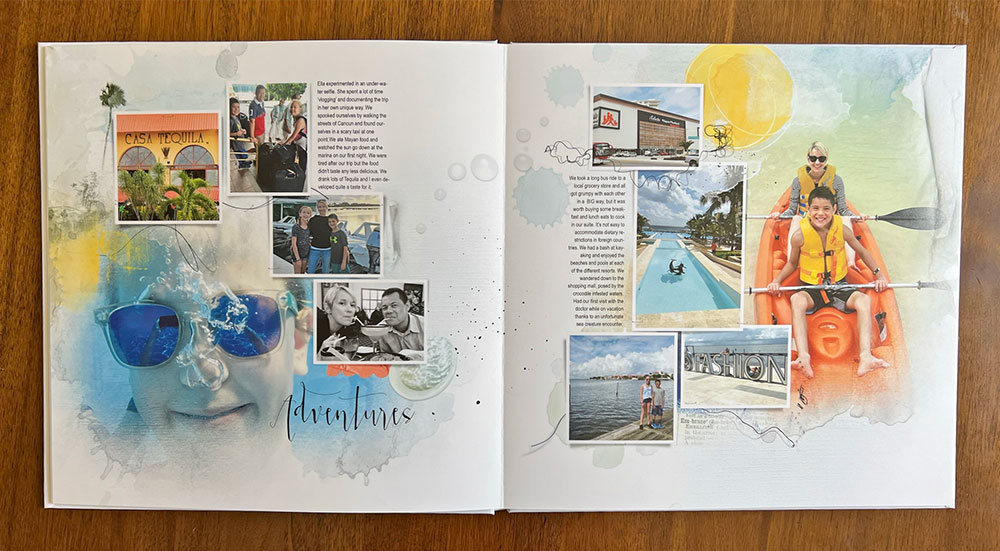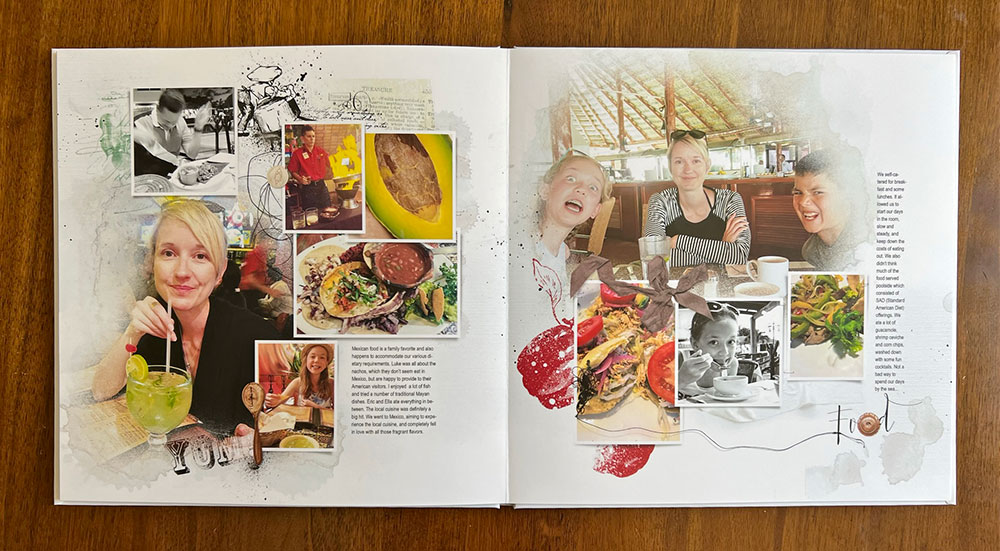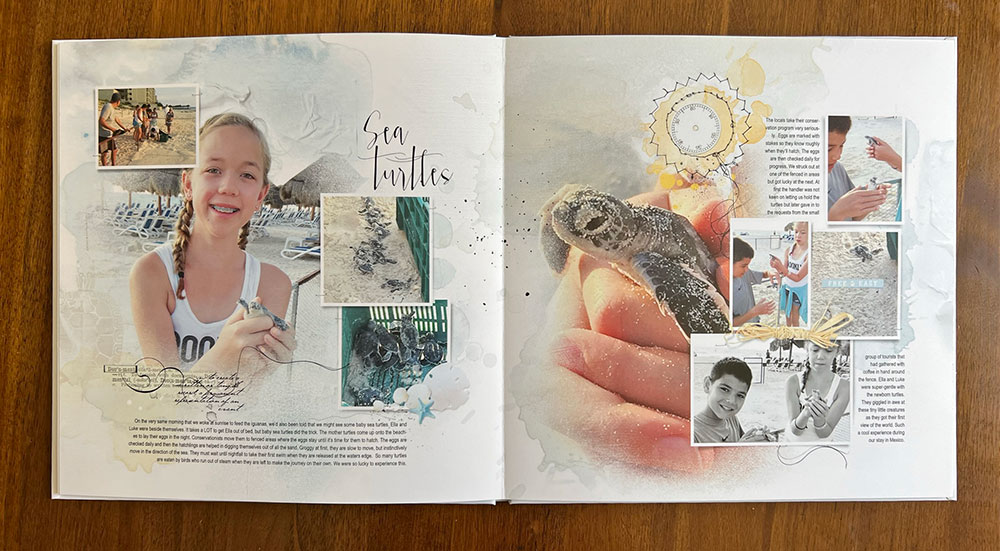 What YOU Will Learn:
What a Photo Book Project is and how to Successfully Complete one.
Understand the importance of Planning and how it will help you become more Efficient in your memory keeping.
Everything you Need to know about where to to start and Avoid the Overwhelm of tackling a large photo project.
Choose the right Approaches to guide the Structure and layout foundations for your photo book.
Master the art of supporting your photos with Engaging and Authentic Storytelling.
Inspiration and guidance for Selecting a Theme using an interactive worksheet approach.
Organize your Project for simple and efficient photo artistry layout creation.
Best practices to Choosing Photos that Best Support your stories and appropriate Placement in your page designs.
How to Pair Down your images to create an efficient and engaging project that does not 'blow the bank account.'
Step-by-step guidance for Selecting The Right Digital Supplies to enhance the artistry and create a Cohesive Photo Book Project.
Considerations and recommendations for Printing your Project and when to make such decisions.
All my favorite Techniques for working with Template Collections and Digital Assets by Anna Aspnes Designs.
What You CAN Expect
1. Written Content Support
A step-by-step Proven approach for planning ANY photo book project.
Start Here – A Photo Project Guide with Theme Inspiration (.pdf)
Travel Project Worksheet for Choosing a Theme (.pdf)
Printing Guidance – Considerations for choosing Printing Mode and Format for your layout designs (.pdf)
TWO Travel Project Plan Examples – Inspiration for your own Project Plan (.pdf)
Project Plan Printable Worksheet –  Guidance for creating your own Project Plan (.docx so that it's editable)
NOTE.
The Start Here .pdf is a 20 pages workbook guiding you through Everything you Need to Know about planning a Photo Book Project.
Every section prompts you with Action Steps to instill confidence and guide you through the decision-making process.
A separate worksheet is included to help you choose your Travel Theme with a Summary Checklist to ensure feasibility.
What's Included:
An Introduction to creating artistic photo projects.
The importance of  Planning with Step-By-Step approach.
The 5 Steps to being successful and efficient in project
Guidance and support in Selecting a personalized theme.
Establishing Parameters for your project.
Choosing an Approach that supports your Preferences.
Master Selection and Organization for any artistry project.
A HUGE list of Travel Theme and Staycation ideas to inspire and challenge you.
Comprehensive guidance and advice for Printing your layouts.
Project Plan examples PLUS printable worksheet for your own use.
In other words, EVERYTHING you need to do this thing!

2. LIVE Inspiration Sessions
Join me for each of the LIVE sessions or watch the video REPLAYS.
6 pre-scheduled LIVE sessions, approx. 1 -1 1/2 hours in length for a total of 9 Hours of Viewing.
Each session will be conducted via the Zoom platform and include Guidance, Explanations, Demonstrations and Techniques.
The Interactive Format also allows you to ask Questions and Submit Your Requests to get maximum personal gain from this opportunity.
Replays of ALL sessions will be available for Download in .MP4 format from your account at Anna Aspnes Designs shortly after each event.
Demonstrations will be conducted in Adobe Photoshop CC, but support will also be provided for Photoshop Elements where techniques may differ.
Session Content:
Layout Deconstructs of my own project PLUS sharing of previous Travel Photo Books.
Includes layouts from the

a

A

Creative Team both past and present.
Sharing 'artsy' Techniques and Approaches for creating your layout designs.
Special guidance specific to working with Travel Photos AND Memorabilia.
This LIVE workshop provides the best way to Immerse yourself in a photo project process.
Schedule of Events:
A Schedule of Events PLUS Session Access Links will ALSO be available in .pdf format in your account immediately following registration.
Monday 20 June 2022 at 2pm MDT (Choosing a Theme and Planning Your Project)
Monday 27 July 2022 at at 2pm MDT (Q&A, PLUS Looking at Previous Travel Projects )
Tuesday 5 July 2022 at 2pm MDT. (Layout Deconstructs & Demonstrations)
Monday 11 July 2022 at 2pm MDT. (Layout Deconstructs & Demonstrations)
Monday 18 July 2022 at 2pm MDT. (Layout Deconstructs & Demonstrations)
Monday 25 July 2022 at 2pm MDT. (Layout Deconstructs & Demonstrations PLUS Printing Guidance)
Note.
Each session will be approx. 1-1/2 hours in duration.
You will also receive a REMINDER email the morning of each session.
3. The Templates
You are invited to use ANY Template Collection of your choice in this project.
Note.
You are 'free' to select the Template Collection that best supports your photos.
I will be using the NEW! Travel Template Album No. 6.
The intention is to create a Tandem Project.
This means 2 Photo Book Projects from the SAME set Template.
The goal is to demonstrate MULTIPLE approaches for the best photo book workshop experience.
4. Private Facebook Group
A DEDICATED COMMUNITY FOR THE

a

A

Travel Project COMMUNITY.
Get your Questions and queries answered.
Share your layouts and be Inspired by others.
Receive critique and Feedback on your layout designs.
Enjoy Accountability and encouragement.

Got a Question?
Email me and I would be happy to answer it for you.