Description
ArtPlay LIVE REPLAY includes trio of classes inspiring you to elevate your artistry.
Master a variety of creative techniques to uplift your layout designs with eye-opening ways to use the

a

A

DigitalART product range.
Stack simple simple techniques to create intricacy and complexity in your artistry.
Learn ALL the secrets and maximize your use of

a

A

DigitalART products
Step-by-step written and video instruction for enhancing your projects.
3 CLASSES BASED ON LAYOUT DECONSTRUCTIONS BY ANNA ASPNES, 2 OF YOUR FAVORITE aA CREATIVE TEAM MEMBERS
Elemental Blending by Adryane
Adryane shares and provides guidance on how to blend a photo and select/place aA DigitalART elements to bests support her layout designs.
Learn how to:
Create photo artistry using a heritage or old photo.
Use a template as a starting point for your design.
Select digital element that not only support your story, but have personal meaning.
Adapt, modify and age

a

A

DigitalART elements to better support your theme.
Consider the application of 'hidden elements' in your layout design.
Use Groups and Layer Masks to seamlessly blend your photos with the artistry.
How to blend a photo with using Transfers by Anna Aspnes Designs.
Build Visual Triangles with WordART and other

a

A

DigitalART elements.
Peek inside Adryane's system and approach to  product organization.
Duration: 30 mins with Q&A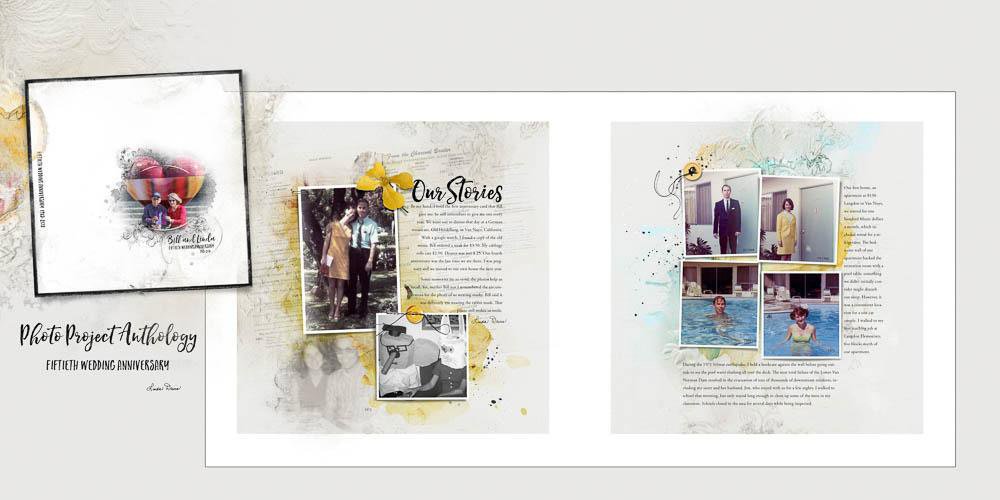 Photo Project Anthology by Linda Davis
In the last aA LIVE event, Linda shared simple technique stacking to elevate artistry complexity in her incredible heritage project. During here 6 month sabbatical from the aA Creative Team she has completed this project and is sharing guidance for bringing it ALL together.
Learn how to:
Organize and arrange a large photo book project.

Heritage project ideas and inspiration you can implement in your own designs.
Consider story perspectives and family connections spanning different generations
Use templates, your photos and

a

A

DigitalART to create meaningful keepsakes.
Learn the HOW to create the last page of your project and WHY it matters.

Edit your completed layouts for photo book printing.
Duration: 30 mins with Q&A
Blending Modes Magic by Anna Aspnes
Anna will share ALL the ways to up-level your photos and aA DigitalART supplies using the Blending Modes in Photoshop and Elements.
Learn how to:
Design endless NEW layouts using FotoInspired Templates as your foundation.
Create a Double Exposure effect with multiple photos using Blending Modes.
Discover Clipping Sets with multiple elements and layers to yield complexity in design.
Use

a

A

DigitalART products as Overlays with Blending Modes to elevate Visual Interest.
Re-use and re-purpose via editing techniques to maximize the usage of your

a

A

DigitalART supplies.
Master Multi-Layering photo artistry effects to elevate your layouts.
Guidance for dynamic photo placement and cropping.
Duration: 60 mins with Q&A
What to Expect 
This workshop took place via the Zoom meeting platform in March 2020.
This is the edited REPLAY of the event divided into 4 sessions: Introduction, Adryane, Linda and Anna.
The 4 sessions are delivered in .MP4 format.
.MP4 format files may be uploaded to iTunes for viewing on your smart phone or iPad devices.
FREE DigitalART Downloads
Supporting detailed .pdf handouts for each.
DigitalART Downloads for Blending Modes Magic by Anna Aspnes included in ArtPlay LIVE March 2020 DigitalART BONUS (below.)
This

a

A

DigitalART Bundle also includes a substantial selection of supplies to be showcased in Adryane and Linda's classes.
Please note that NOT ALL DigitalART supplies are included.
This ArtPlay LIVE March 2020 DigitalART BONUS has a $96.92 VALUE available immediately on registration.

Software Requirements
Demonstrations are conducted in Adobe Photoshop CC, but guidance is provided for Adobe Photoshop Elements users in Anna's classes.
Got a question?
EMAIL ME OR POST IN THE COMMENTS SECTION BELOW.