Description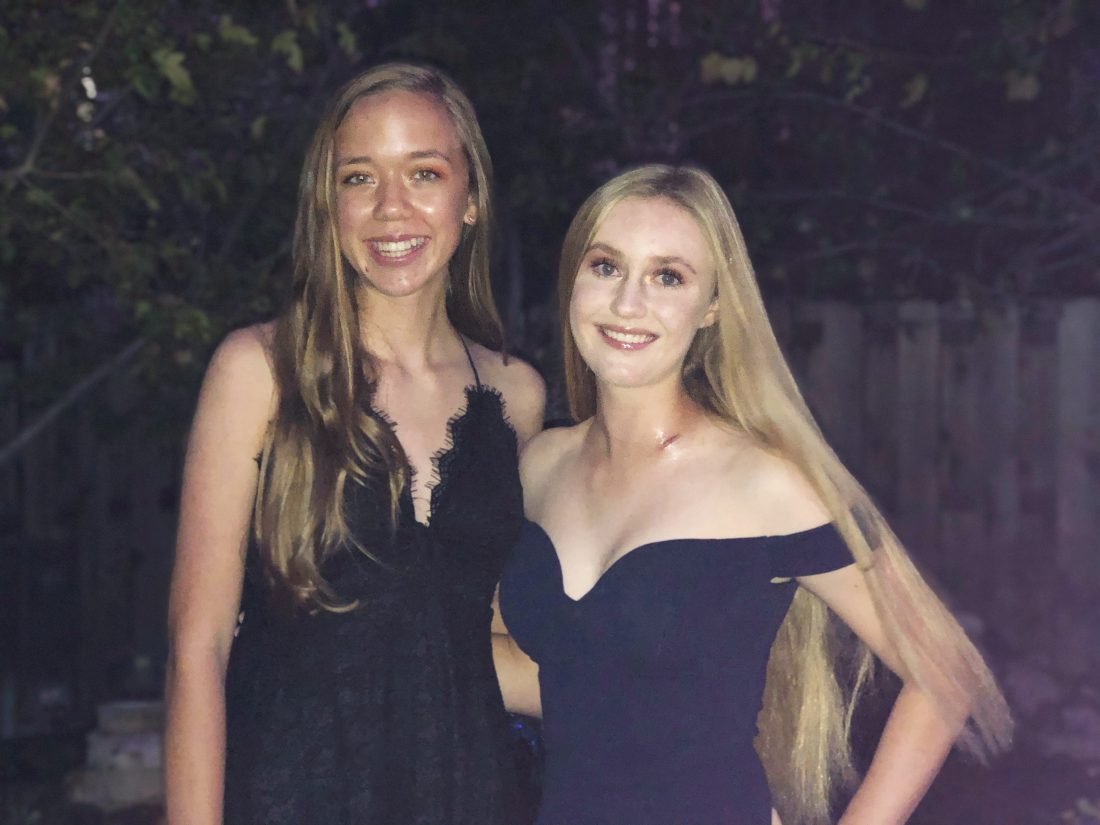 My daughter, Ella (left), and Delaney (right) at Homecoming 2019, just a few days after surgery and hospital release.
Life can change in a moment.
And it did a few weeks ago for our close friends, and us.
We were literally slammed with Delaney's Stage II Hodgkin's Lymphoma diagnosis.
Her Mom is like family to me and our children have grown up together over the past 12 years – That's a LONG time when you've moved as often as I have.
I'm in the business of capturing and celebrating moments and so I know just how much each one matters.
Read more about Delaney's story here.
They say cancer touches everyone at some point.
It has for me many times in my life, but it never gets any easier.
Since Delaney's diagnosis, I've learned more about chemotherapy than I ever wanted to know, and sadly how prevalent cancer is in children and teens.
But I have also been exposed to the kindness of humanity and the power of connection.
Stories offer insight, hope, encouragement, compassion and commonality, as well as a million other things.
They're proof that what we do around matters and make a HUGE difference. 
The story of this 'Do It for D' Artistry Bundle
Art is powerful.
I know it can help Delaney.
And perhaps some of the other children with cancer this Holiday season.
That's it.
I reached out to some designer friends in this community and asked if they were interested in collaborating with me.
The response was so overwhelming.
I have been able to create 2 ENORMOUS 'Artistry for a Cause' bundles:
Fall/Autumn
Holiday/Christmas/Winter
THE FIRST IS NOW AVAILABLE.
The Designers
In addition to a complete ArtPlay Palette Collection PLUS Template Album by Anna Aspnes Designs.
I offer a big THANK YOU to the kind and generous souls behind the additional AMAZING artistry included:
100% Charitable Donation
To Delaney and other childhood cancer organizations I have connected with.
LL's Baytoevan's Love provides support to children and families fighting cancer.
Jenny is the founder, and mother to a little boy, who is a 3 X cancer fighter in his short life.
She reached out to me after Delaney's diagnosis and I would love to get involved with what she is doing.
The hope is our community can sponsor all these children and more.
What You Get:
Massive collection of DigitalART and Designs for Photographers, Memory Keepers, Artists and Scrapbookers.
$185 VALUE for ONLY $28 
Anna Aspnes Designs

ArtPlay Rudeneja Collection PLUS ArtsyTransfers
Rudeneja [ROO-den-AY-HA] is a Lithuanian verb which means to feel a vibe of autumn in the air. This ArtPlay Palette includes 9 artsy and solid 12 X 12 background papers, a 16-piece BrushSet, 12 transfers/overlays and 14 dimensional embellishments delivered in .psd and .png format to allow for maximum customization where appropriate. See videos on the aA Youtube channel for guidance.
A collection of 19 varied WordART elements relating to change and/or the season of Autumn. Includes 6 WoodWords, 7 WordART quotes/titles, 2 SubtleQuotes, 3 WordTransfers one BeadedThreadz designed to be mixed and matched to create custom WordART titles. I've also included the WordART and WordTransfer designs in brush .abr format. Add a drop shadow layer style to WoodWord elements for best results. Learn how to combine title elements in this video tutorial.
A 12 X 12 artsy layered template featuring numerous masks designed for use with the clipping mask function or for recoloring in Photoshop, Elements and Paint Shop Pro. All layer styles, masks, frames, brushwork, title and textboxes shown are included. Simply clip your images to the FotoBlendz masks and add your own words.
A collection of 4 artsy branch elements delivered in .psd and .png format (Fotoglows, Splatters and Element are divided into 3 separate files) to enable maximum customization. The .psd file allows you to adjust the properties of each layer in terms of color, opacity and blending mode.
A collection of 7 frames with artsy edges delivered in a variety of sizes and formats. The 3-layer .psd file is intended for use with the clipping mask function. Each frame is also delivered in 3 .png layers. Change the color and/or blending mode of the artsy edge layer, clip your image to the FotoMask and adjust the color/opacity of the drop shadow layer as desired. You can also use the .png element to quickly and easily drag and drop onto your layout to frame a blended image or direct focus to journaling/WordART. Also included are just the artsy edges in both .png and .abr format as a bonus to this set.
A collection of 5 transfers delivered in layered, multi-color .psd format designed to coordinate with ArtPlay Palette Rudeneja. Manipulate these elements by recoloring the individual layers, modifying them through the use of brushes and/or using them with the clipping mask function.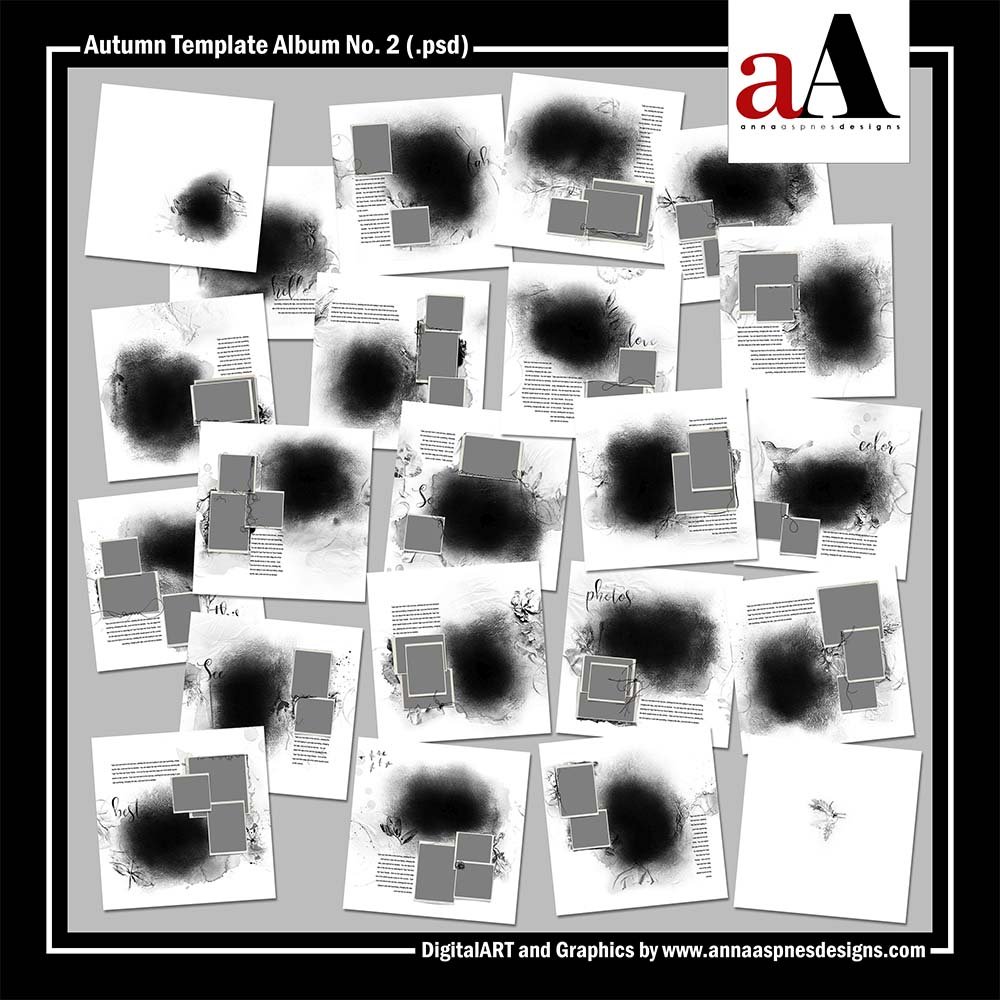 A collection of 12 X 12 autumn-themed artsy and blended layered templates designed to create a 20-page album plus a BONUS cover set for photo book printing. The templates are intended for use with the clipping mask function or for recoloring in Photoshop, Elements and Paint Shop Pro. All layer styles, masks, frames, brushwork, stitching, title and text boxes shown are included. Simply clip your images to the FotoBlendz masks and add your own personalization through DigitalART supplies and words. Guidance on the use of clipping masks and recoloring in Photoshop and Elements can be found in the Instructions for Use eBooklet which is available as a free download from the store or view this video.
After Midnight Designs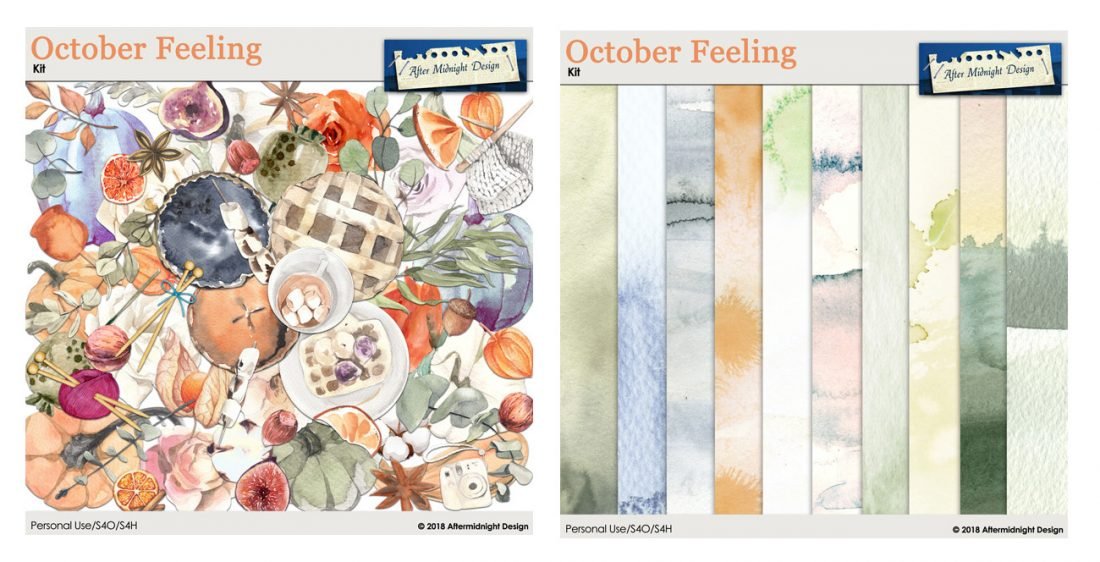 October makes you want to take a walk in the woods among the red leaves and then go home and have a cup of hot chocolate with marshmallows – 66 digital elements in high resolution 300 DPI .png format.
10-12 X 12 inch painted papers in 300 DPI high resolution .jpg format.
The Committed Crafter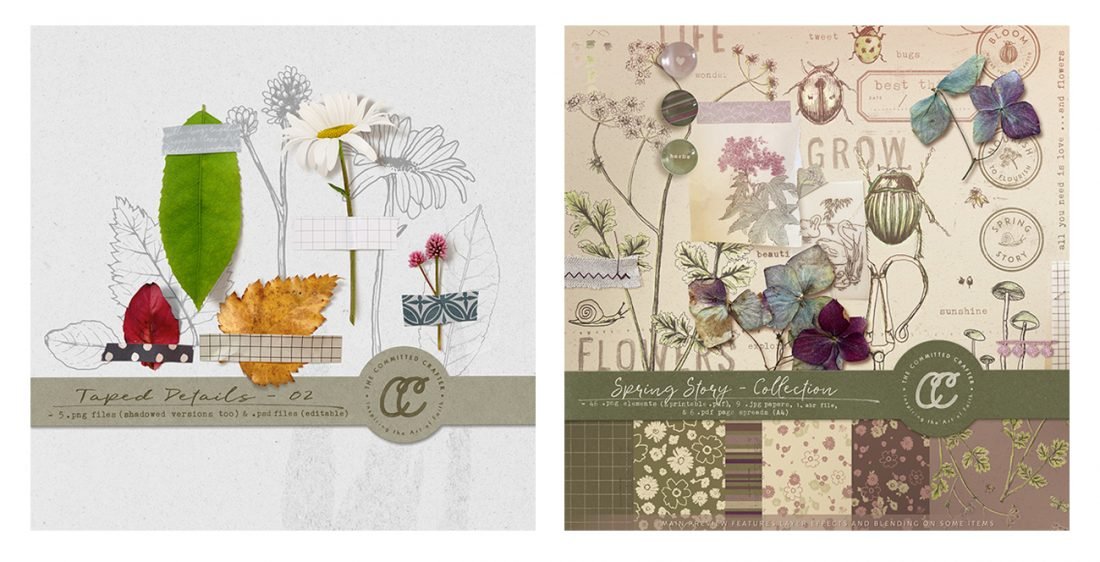 5 taped flowers (plus shadow versions for light backgrounds) in .png format
5 BONUS doodles in .png format
5 editable files in .psd format
46 .PNG elements (printable .PDF format also)
9 .JPG papers
1 .ABR file
6 .PDF page spreads
Sahlin Studio
Autumn is a wonderful time to nostalgically look back on life's journey. As the hazy summer heat gives way to golden afternoons, our recollections just seem all the sweeter! If you have cherished moments just waiting to be scrapped- childhood memories of running through fields of Queen Anne's lace and black-eyed susans, of walking down the road, hand in hand, with your high school sweetheart- my Country Road kit is for you! With its mix of masculine hardware, feminine florals and an on trend color palette of warm grays & goldenrod yellow, this versatile kit can be used for anything from nature inspired layouts to heritage albums without skipping a beat! Use it to scrap a hike in the mountain air, or a beautiful day spent collecting leaves with the kids outside. Hybrid or digital, "pocket style" or exploding with clusters- no matter what you make with it, this kit is sure to help you take a trip down memory lane!
Kit includes: 1 Uppercase Alpha, 9 Papers, 45 Unique Elements.
Included Within:
1 alphabet label

1 bokeh overlay

1 brass button

2 blank labels

1 50 cent sale tag

5 flowers

1 string

5 newsprint word arts

1 bird themed filler card

1 embroidered flower cluster

1 iron scroll work

1 floral filler card

1 cork frame

1 & image

3 chevron arrow graphics

1 gemstone button

3 stitched frames
1 newsprint envelope

1 journaling spot

2 push pins

2 leaves

1 paper frame

1 vintage shipping ticket

1 iron gate

1 numbered washi tape

1 cork cutout word art

2 ribbons

1 gem scatter
Lynn Grieveson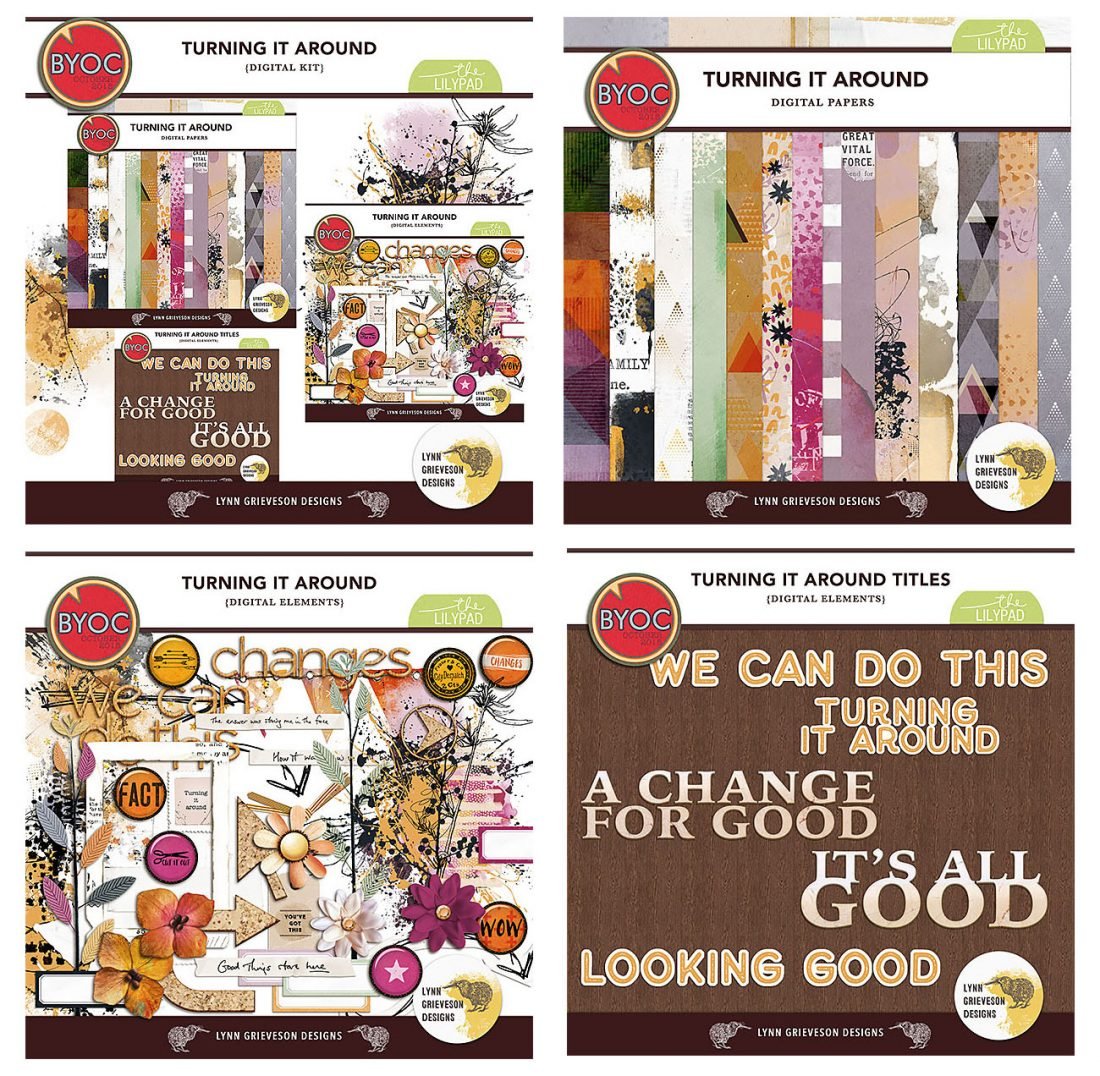 Turning Around Kit
This kit comprises: 17 papers, 1 banner, 5 flowers, 5 journal tags, 2 sets leaves, 3 paint transfers, 4 phrase tags, 2 titles, 1 frame, 1 postage stamp, 3 cork arrows, 2 scribbed arrows, 1 bow, 1 gesso transfer, 1 luggage tag plus bonus 3 sticker titles and 2 titles.
These digital products have been saved at 300 dpi. This product is for personal use only.
Wendyzine Scraps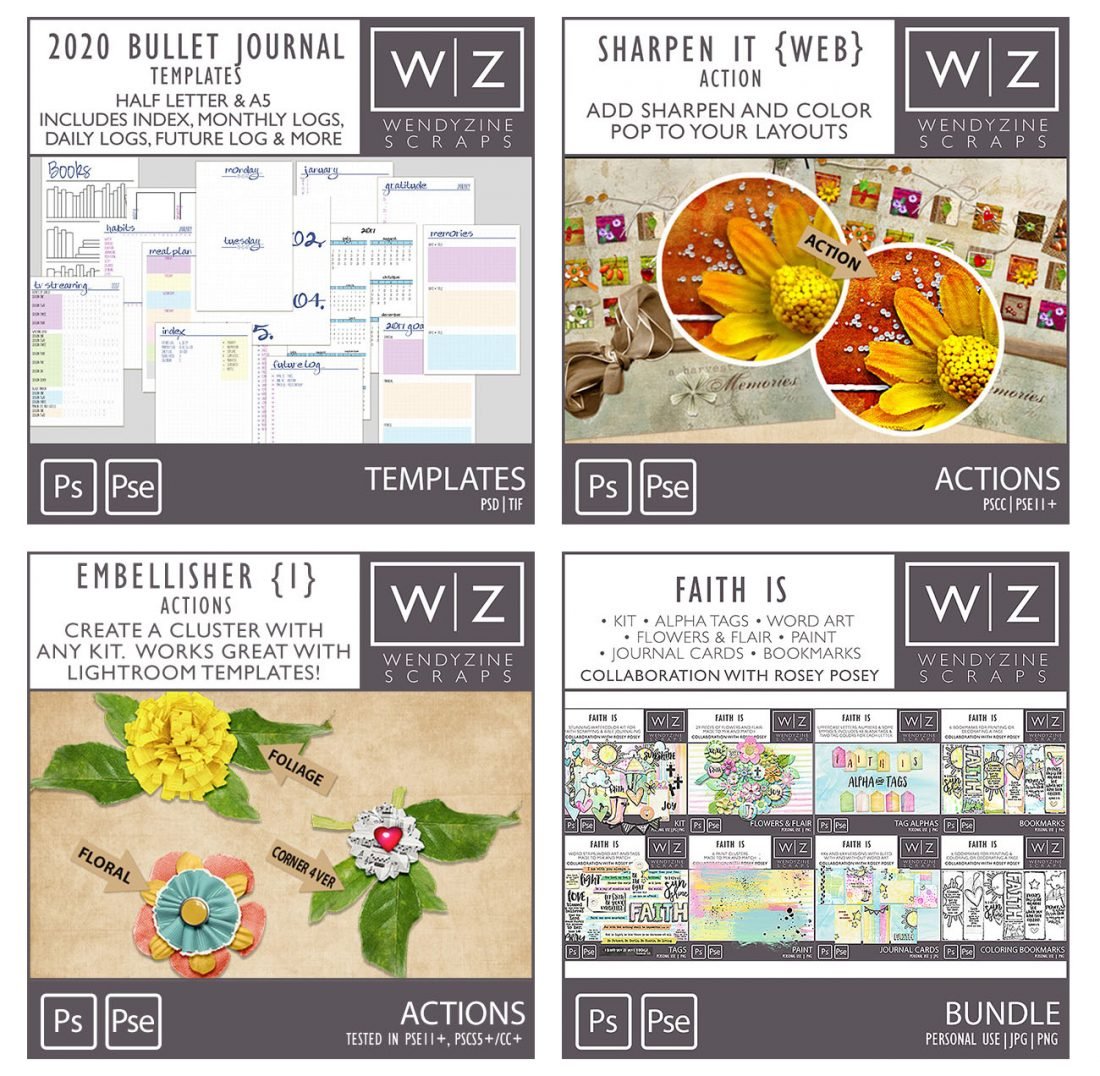 Planners are popular, but I have had the hardest time making one work for me. Until now that is! I stumbled across Bullet Journaling after hearing about it on a podcast. I had no clue what it was so I did a little research. The flexibility of the plan made a lot of sense to me. I can track all kinds of things in one journal, and the concept behind it just makes sense to me! The basic idea is to create a monthly log, daily log and future log. Then create an index page that allows you to easily find your logs within your journal.
These three logs lay the foundation of the planner system, but the beauty is it's completely flexible and customizable! So you can track almost anything! In my journal, I'm currently tracking books read, tv shows watched, story ideas, goals, movies, podcasts, and birthdays and holidays. I have plans to add a habit tracker as well. I can doodle in there, add coloring pages, and even enjoy some of the fun planner supplies if I want. I used Washi Tape to make color coded tabs for my different logs, so they are easier to locate. I've printed a calendar and pasted it in the front of the book too. This is the first planner that has resonated with me and I'm actually using it! Once I decided this was going to work for me, I set out to make my own templates. I'm making these printable templates available to you.
INCLUDES: (Both Half-Letter and A5)-Index Page -Future Log
Daily Logs (2 versions)
Monthly Log
2020 Calendar Pages (mo-su, su-sa, two versions of each)
Birthday Log -Goals
Habit Log
Gratitude Log
Meal Plan
Memories Log
Shopping List
TV Log
Book log
Grids and Lines (multiple options in most logs)
PeaSqueaker and PeaBev fontsLayered PSD format Personal Use OnlySpecial thanks to Fonts for Peas for use of their fonts.
This action has one purpose, to add a little pop to your layouts for uploading to galleries. Simply open your layout (layered or flattened), run the action. It will resize to 600px, then add some sharpening, and color pop. All layers are left intact so you can adjust the opacity of each layer or even duplicate them for added sharpness or pop. When you are done, run the bonus Flatten It or Flatten It Export action to flatten and save a full-size copy. This action uses the high pass filter for sharpening and the overlay method for color pop.
INCLUDES:
Sharpen It Web Action
Flatten It Web Action
Flatten It Action
This action pack is S4H and designer-friendly at no additional cost. TESTED in PSCC+, PSE11+ ONLY.  Mac and PC Compatible.
This set of 6 actions leads you through creating small element clusters. Use them to add a quick cluster to any page! These also work great along side my Lightroom templates, or to add a special touch to pocket page layouts.Each cluster is completely customizable. Use The Foliage, The Floral or the Corner (4 versions). How does it work? Simply gather your digital items together, as listed in the supply list. Then, run the action to open, position and place each item. When you are done, you will end up with a quick and easy cluster. Each layer is left separate so you can adjust shadows or tweak placement when finished.Includes instructional video.
INCLUDES:
6 cluster actions
1 Supply List (PDF format)
1 Installing Actions Tutorial (PDF format)
1 Video Tutorial (.MV4 format)
TESTED in PSCS5+ and PSE7+ ONLY. Mac and PC Compatible.
With this special collaboration, Studio Rosey Posey and Studio Wendy created beautiful watercolors and hand-drawn doodles, ready to help you tell your faith story.
INCLUDES THE KIT:
Personal use only. This Bundle inclues the Extras Pak!
G& T Designs

Beautiful vintage creation inspired by old journals and diaries with their elegant handwriting and hidden secrets…..
83 Elements – png's
12 Papers – jpeg's
10 Word Arts – png's
300 dpi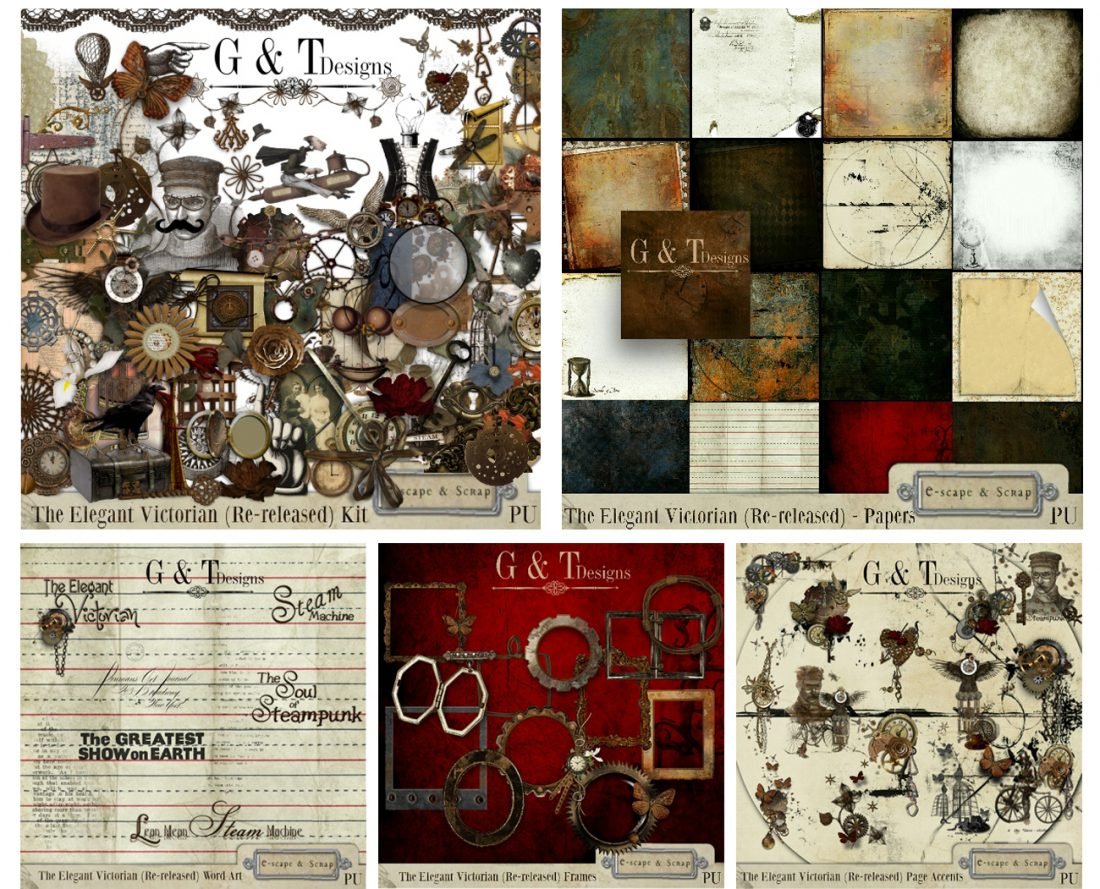 118 Elements – png
17 Papers – jpeg
14 Page Accents – png
8 Pieces of Word Art – png
12Frames – png
300 dpi
Paula Kesselring

A collection of 4 transparent overlays in .png format designed to blend your papers or photos into the background. You can recoloring, use different blending modes, different opacity levels, layering to create different effects or use as a matte for one or more images.
Includes: 4 images in 2 versions.
Brighten up your layouts with this easy-to-use, Grungy Alpha.
Add a messy , grunge feel to your pages, altered art and art journaling!
With letters A through Z and numbers 0 trough 9 and some extras.
Each piece is in separate .png file.
19 brush images in 2 versions: in .png and .abr files
'Do It for D' Artistry
100s of DigitalART/Designs for photographers, artistist, memory keepers and scrapbooking.
Document the moments of Fall/Autumn, Gratitude and Thanksgiving.
Create art because you can.
100% charitable donation to children with cancer.
$185 VALUE for ONLY $28