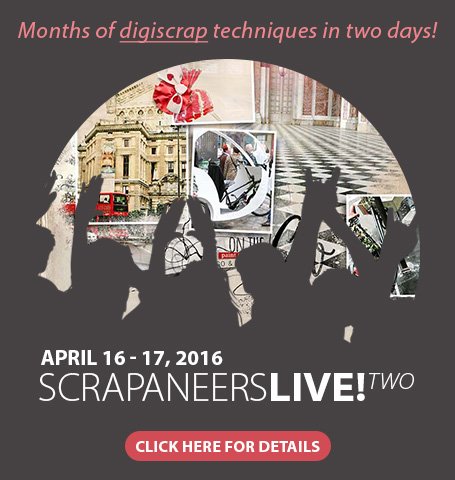 Registration for the digital scrapbooking event is now open and you can save BIG for a limited time.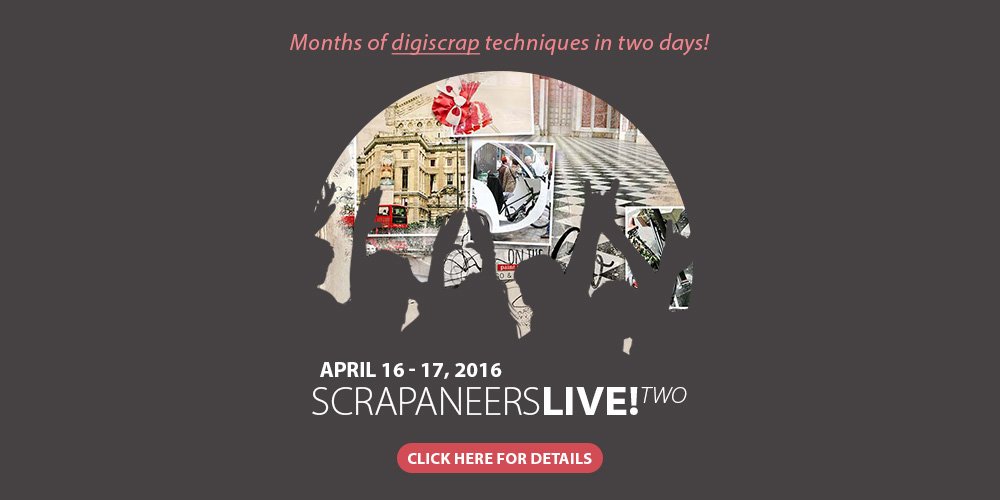 The Digital Scrapbooking Event
Pre-admission tickets for Scrapaneers LIVE! 2 are now on SALE.
Save $54 on the cost of attendance. Click here to reserve your ticket today.
Registration includes the opportunity to attend ALL 5 classes in this one-of-a-kind digital scrapbooking event.
You will receive exclusive digital scrapbooking supplies and handouts, plus forever access to video replays of each class.
Make-and-takes, BONUSES, plus automatic entry into over $1200 of giveaways and prizes are also on the agenda in the digital scrapbooking event of the year.
Your biggest win, however, will be all the techniques you'll learn to make your digital scrapbooking pages better and faster.
Scrapaneers LIVE 2
Your ticket spanning 2 days will enable to take it all in.
Artsy digital scrapbooking techniques by Anna Aspnes
Digital mixed media with Nancie Rowe Janitz
Custom handwritten sentiments with Karla Dudley Noel
Go mobile and make the most of Adobe Lightroom with Katrina Kennedy
Go hybrid with your digital scrapbooking supplies by Mari Koedelberg
Get ALL of these amazing classes for less than $18 per class for a limited time.
I hope to see you there.
Click here to learn about the different classes and reserve your ticket today.
Please note that your purchase through Anna Aspnes Designs compensates my participation in this digital scrapbooking event.