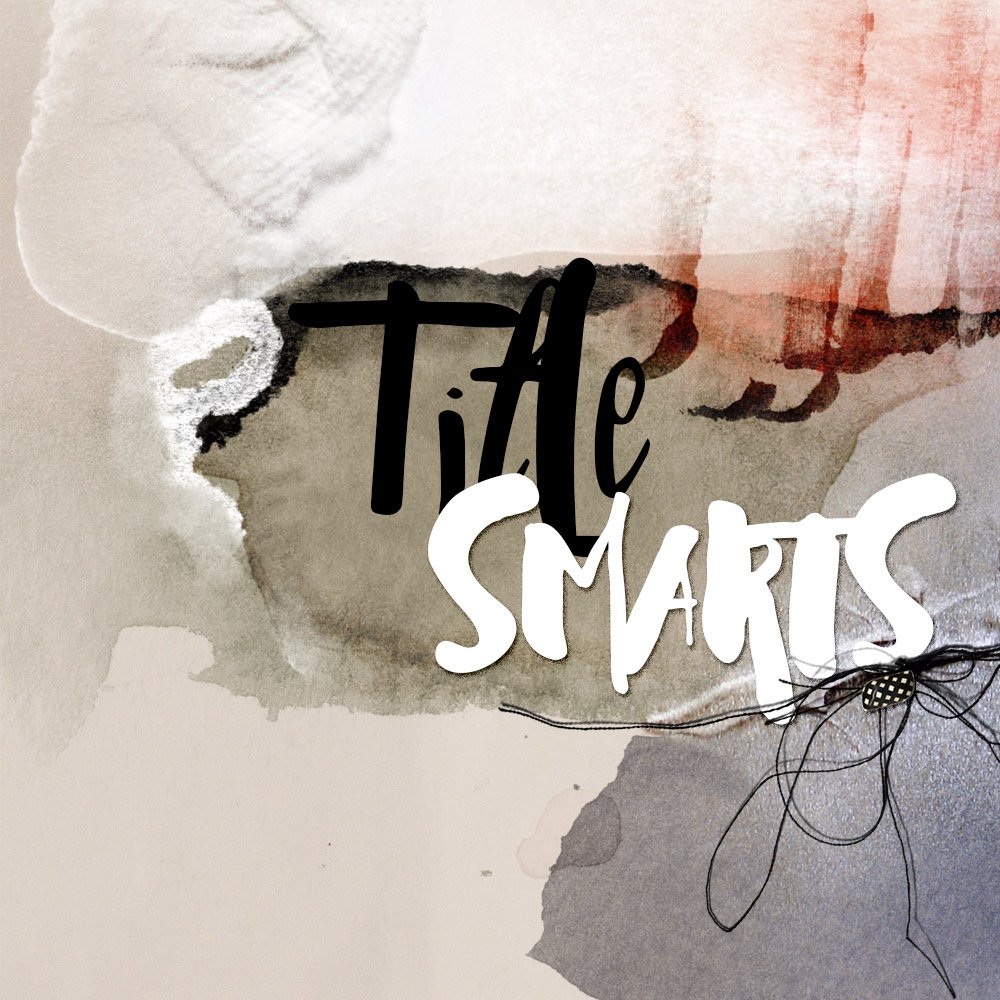 Today I am so HAPPY to announce that TitleSmarts Class is HERE and available in the Anna Aspnes Designs store.
TitleSmarts Class is HERE
Thank you for your patience.
I worked non-stop on this in May, through an entire weekend.
Just when I had announced it's completion my computer crashed and hard drive failed the very next day.
Never thought I'd see the day that I'd have all these files back in hand and be able to share them with you.
Master The Art of Fabulous Titles
A SELF-PACE WORKSHOP PROVIDING GUIDANCE AND BEST PRACTICES FOR GETTING 'SMART WITH TITLES'
This workshop was inspired by a clear need to help you identify the right types of fonts and place them appropriately on your pages.
Content is delivered via a total of 92 layout examples and demonstration of my 5 Step process to creating a title in Adobe Photoshop CC.
THE AIM OF TITLESMARTS IS TO HELP YOU UNDERSTAND AND STREAMLINE YOUR OPTIONS, LEARN TO MANAGE YOUR FONTS, AS WELL AS PROVIDE RECOMMENDATIONS AND GUIDANCE FOR CONSISTENTLY CREATING WINNING TITLES.
Course Content
1. Introduction
BUILDING AND MANAGING YOUR COLLECTION OF FONTS.
Why fonts are like clothing
Build a functioning library of fonts
Thoughts on font organization
Demystifying font terminology
2. Font Basics
CONSIDERATIONS FOR CHOOSING FONTS FOR YOUR LIBRARY.
How to select fonts
What to look for in a functioning font
Understanding Practicality, Commonality, Functionality, Hierarchy and Storytelling components in font selection
Sans v. Sans Serif fonts
3. Timing Matters
WHEN TO ADD TITLES TO YOUR PAGE.
Topics for consideration.
4. Anatomy of a Title
A STEP-BY-STEP GUIDE TO CREATING AN WINNING TITLE EVERY TIME.
Where to place a title
Formatting/How to arrange words
Creating focus
Special Effects (Drop shadows, Sticker Effect, Styles, Distressing, Clipping Masks and Blending Modes)
Title embellishment and revision
4. Font Selection
CHOOSING THE RIGHT FONT FOR YOUR TITLES.
Using words to identify style
Difference in Artistry and Layout style
Thoughts on communication
Establish style via story
Font properties and classification
Personal favorites
5. Conclusion
And of course classes by Anna Aspnes Designs are ALWAYS jam-packed with additional extras
Who Is This For?
TITLESMARTS IS DESIGNED FOR BOTH NOVICE AND ADVANCED DIGITAL ARTISTS/DESIGNERS, SCRAPBOOKERS, AND MEMORY KEEPERS WHO HAVE A DESIRE TO IMPROVE THEIR TITLEWORK.
Learn everything you need to know about building an managing a functioning font library.
Employ my own personal 5-step title process to create winning titles on every layout.
Be empowered by words to add meaning to your artistry and scrapbooking pages.
What to Expect from TitleSmarts
Self-paced workshop.
3 hrs  20 mins hours of videos  delivered in 10 sessions.
MP4 format sessions range from approx 2 -30 minutes each.
Dedicated Facebook group to connect and share with other students of this course.
Complementary Downloads
Supporting detailed .pdf handout (40 pages including images).
Software Requirements
Demonstrations are conducted in Adobe Photoshop CC, but can easily be followed by Adobe Photoshop and Elements users.
SAVE $15 through Friday 3 August 2018 at 5 pm MDT.