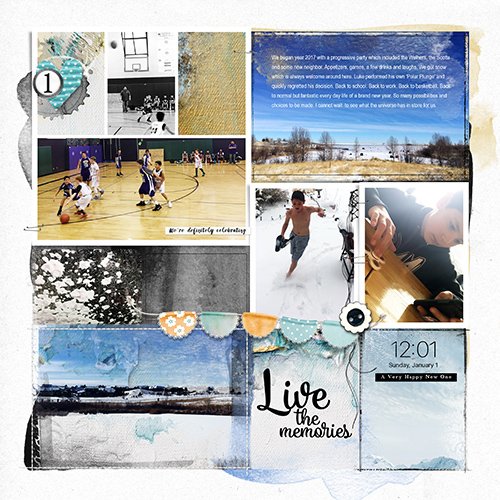 Today I'm kicking off a new series of posts aimed to inspire you with 5 Daily Documentation Success Tips.
It's so easy to get caught up in the artistry of photos that we often forget to record nuts and bolts of memory keeping, i.e. the details.
5 Daily Documentation Success Tips
I started the FotoInspired project several years ago as a way of taking artsy approach to capturing the everyday, and finding a place to organize and have fun with all my iPhone photos.  Inspired by Becky Higgin's Project Life, I wanted to create something that was both digital and more aligned with the artsy style.
There was a brief hiatus for about 18 months, when I 'fell off the wagon', but have slowly been catching up as and when I find the time. I'm always amazed at how many stories can be found within these snapshots. The details begin to fade for sure but the basic memory always seems to be attached the images.
You can read more about my journey, and celebration of photos in this organic and messy approach to art, in the following posts:
A more regular production of pages is a personal goal for year 2017 and apparently I am not alone. Many of the members of the aA Creative Team have also expressed an interest in playing along with their own variations of the project.
Every month we'll be sharing our progress as well as tips for making a project like this happen.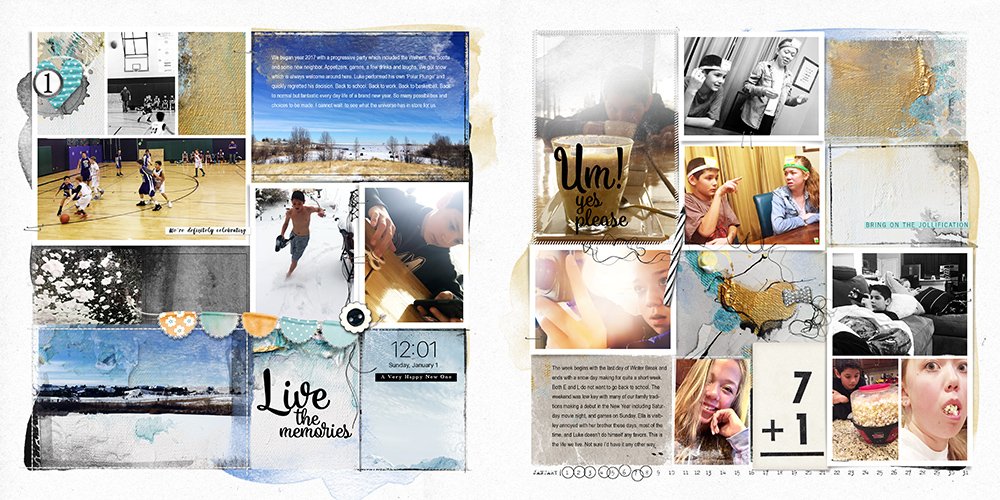 FotoInspired 2017 Week 1 | Anna Aspnes
The entire project is based on a series of double pages in which I select and showcase the random photos I have taken throughout the month, along with the stories they tell, and a little art thrown in for good measure.
I spent 2 years creating a suite of products which can be found in the Project Life/365 category of the Anna Aspnes Designs store, and may add to this as the year progresses.
An Approach That Works
A double-page spread for each week is how most follow this product but have identified that this is a restrictive approach that may have contributed to my brief hiatus. Sometimes there are not enough photos to fill the pages, and occasionally there might be more. This structure is not really flexible enough.
And with 52 weeks in a year – That amounts to 104 pages which is quite a commitment.
These days, I'm a lot more flexible with the format. Sometimes there are 4 double pages (or more) in a month while in others there will be just one. I had plenty of images and stories for the first week of year 2017, for example, but weeks and 2 and 3 will likely be included together in the next spread.
5 Daily Documentation Success Tips
A few more of my top tips for getting your FotoInspired pages done:
Select Your Photos. It's much easier to manage your photos when you narrow down your choices before your start adding them to your template or page. Create a temporary FotoInspired folder for each page you are working on, within your photos folder. You can then copy image contenders into that folder to separate them from the masses and curb overwhelm.
Create a Blueprint. This is a plan for how you will create your layout and will include predefined steps such as Clipping your Photos or Papers to Masks, Adding Elements such as Titles or Stitching, and Completing with Journaling, for example. Repeat these steps in all the layouts you create to take the guess work out of the design and promote consistency in your pages.
Minimize Digital Art Supplies. The more products you use, the more choices you will have to make. Decision making takes time so try to stay within the realms of one AnnaRelease or ArtPlay Palette in the colors of your photos to speed up your process. Keep your selections paired down and simple.
Keep an Eye on your Goal. Not every layout you create has to be a work of art. Have this in mind when you create your spreads to get through your pages quickly and save the 'play time' for your artsy pages.
Schedule a Time. Make an appointment with yourself, put it in your planner, and make time every week to make this goal happen. Having a this commitment to create your pages will form a habit that you are more likely to stick with over time.
a
A
Creative Team Member
Lindy
has also finished her week one below.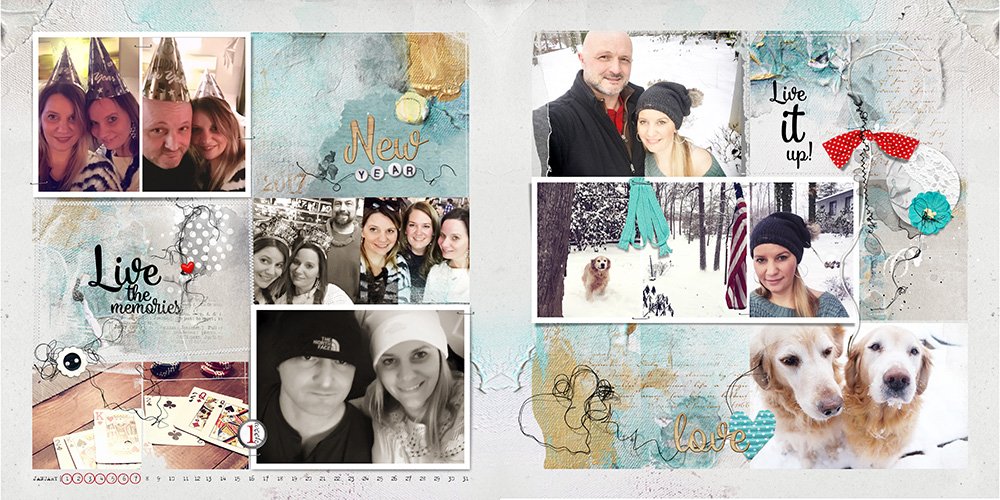 FotoInspired 2017 Week 1 | Lindy Krickbaum
Mix Photo Techniques/Colors. A steady flow of repetition and change creates visual interest and prevents photo overwhelm. Notice how Lindy has used a mix of monochrome and color photos to allow the eye to rest as it moves across the page creating balance in her design.
What are you 5 Daily Documentation Success Tips for staying inspired and keeping on top of your different projects?