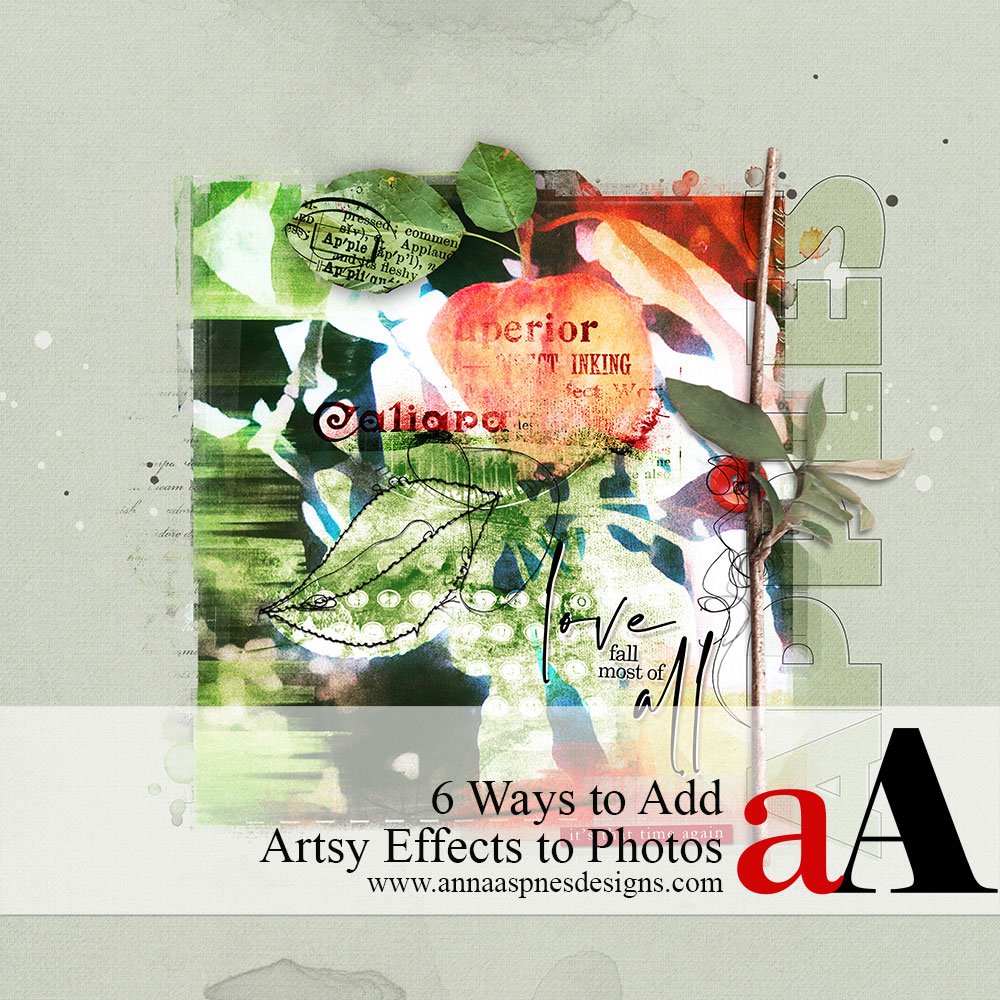 Miki Krueger is sharing 6 Ways to Add Artsy Effects to Photos  in both Photoshop and Elements.
6 Ways to Add Artsy Effects to Photos
Introduction
Learn a variety of ways to make your photos and pages more visually interesting.
Using Smart Phone Apps
Incorporating

a

A

DigitalART assets.
Wielding a Hue/Saturation Adjustment
Applying Blending Modes
1. Smartphone Apps
Use Smart Phone on your phone to process and apply special effects photos before importing them into Photoshop.
Some are free and some have a minimal charge.

Each one is a unique artistic adventure.

Just a few are listed here.
Snapseed (iPhone, Android) free
29 Tools and Filters, including: Healing, Brush, Structure, HDR, Perspective.
Waterlogue (iPhone, Android) $3.99
Captures the essence of your photos in brilliant, liquid color.
iColorama (iPhone, Android) $2.99
Over 300 effects from simple adjustments to complicated transformations.
TinType (iPhone/iPad, Android) $0.99
Inspired by daguerreotypes, tintypes, and other photographic processes from

over a hundred years ago.

Four authentic TinType effects: classic B&W, hand-

painted color, high contrast dark B&W, and sepia stained ambrotype.
Prisma (iPhone/, Android) free, extra filters $$
A photo-editing mobile application that uses neural networks and artificial

 intelligence to apply artistic effects to transform images.
It takes your photos and turns them into unique pieces of art.
Hipstamatic (iPhone, Android) free
It uses the phone's camera to allow the user to shoot photographs, to which it

applies a number of software filters.
This makes the images look as though they were taken with a vintage film camera.
The lens and films can be changed to yield different effects.
Ps Camera (iPhone, Android) free
Allows you to add filters and effects for your photos.

Over 100 aesthetic, Insta-

worthy lens effects and filters
Stackables (iPhone, Android) $0.99
An excellent multiple layer, multiple texture blending app.

Layers include

grunge textures, light leaks and bokeh textures, painterly textures, abstract weather and clouds textures, grit and grain textures, vintage filters, gradients, geometric patterns and more.
Mextures (iPhone, Android) $1.99
 Easy-to-use app for applying textures, light leaks and more to your photos.
It also includes a solid collection of basic photo editing tools, but it's better known for its ability to layer textures and other effects.
2. Dimensional Embellishments
Use dimensional embellishments to add textural visual interest to your digital scrapbooking and photo artistry layout designs.
Dimensional elements are NOT flat and provide Texture to a layout design.
The 3D component adds Tension and Visual Interest to your digital scrapbooking.
They are defined by the Element Properties of Color, Shape and Size.
You can use them to to Lead The Eye to a specific Focal Point in your pages.
As well as complement your chosen Theme.
Examples of dimensional embellishments:
Buttons

Brads

Ribbons

Branches

Leaves

Flowers

Stitching
Find them in the following categories: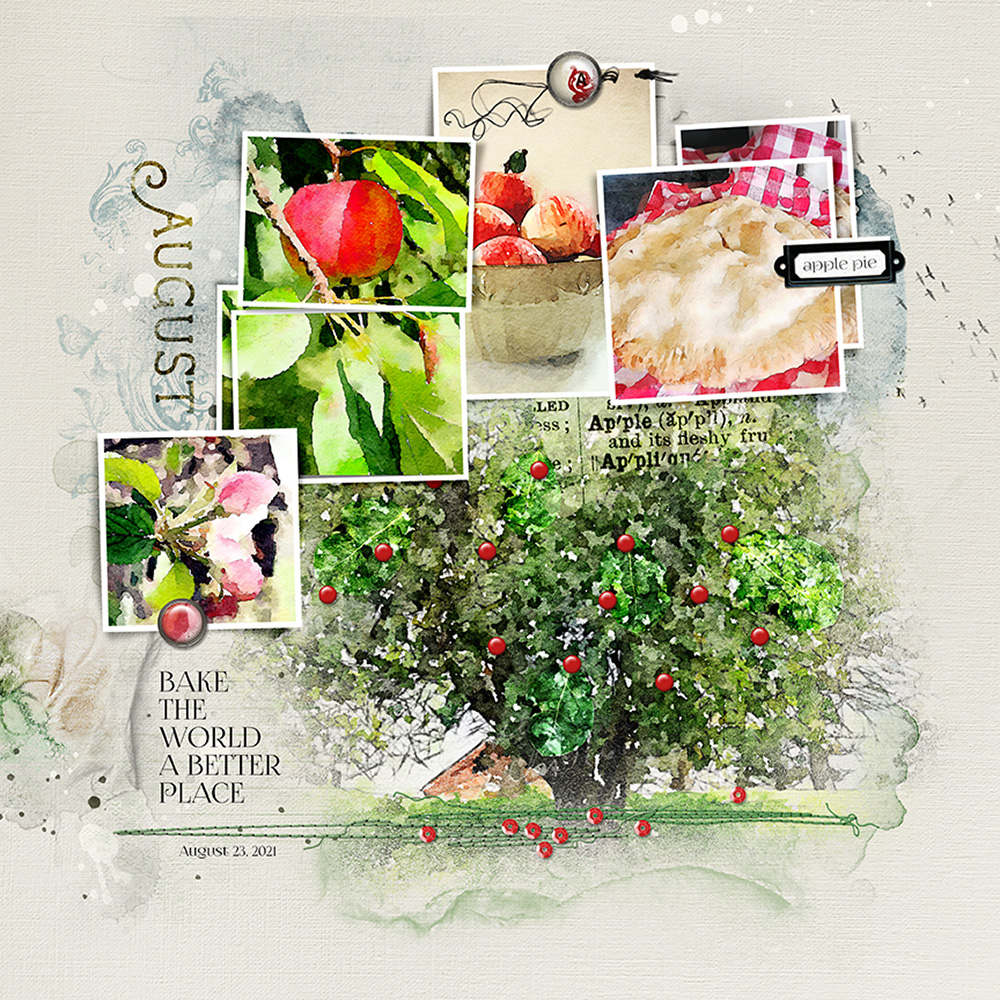 Techniques: Waterlogue App, Dimensional Embellishments, Blending Modes.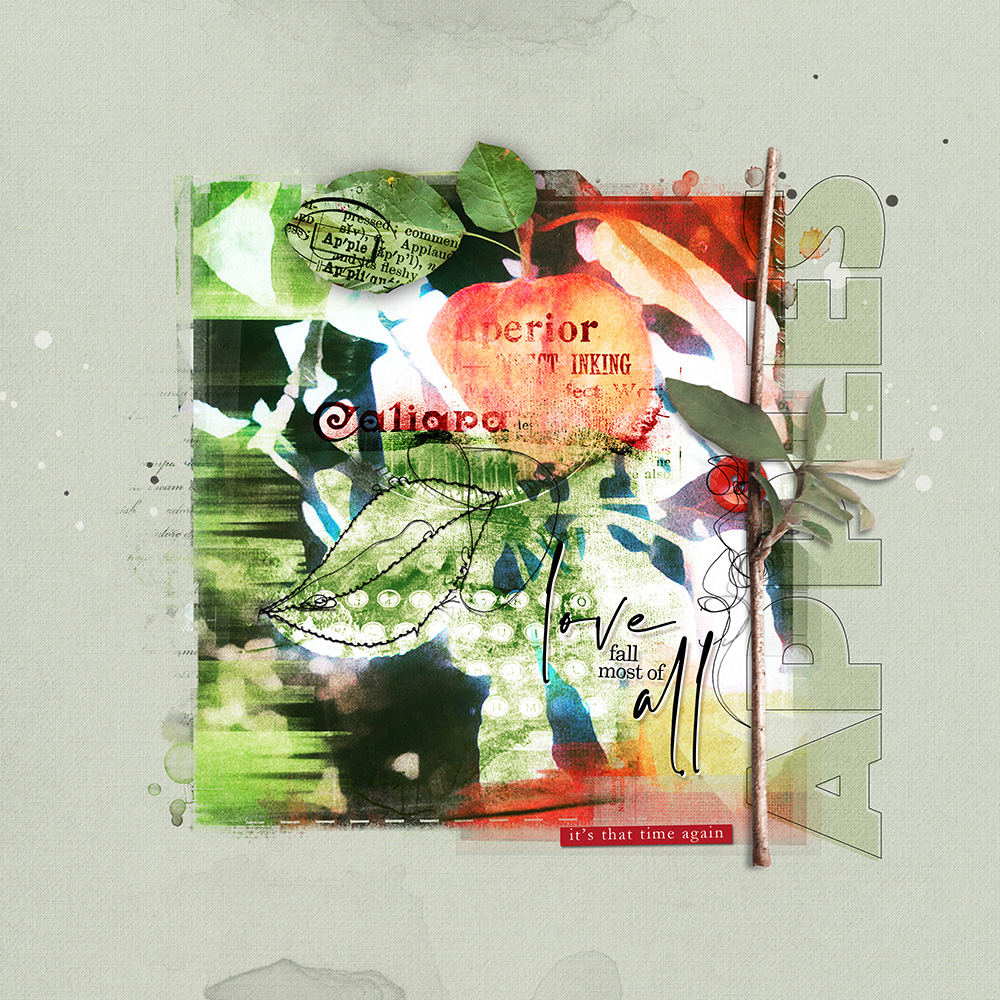 Techniques: Prisma app (Golden Hour), Dimensional Embellishments, Brushes, WordART and WordTransfers.
3. Blending Modes
Enable you to blend layers according to their element properties defined by algorithms in Photoshop
Located at the top of the Layers Panel.
Click on Normal to activate the fly-out menu of 15 Blending Modes.
Select to apply any of the Blending Modes to a highlighted layer in the Layers Panel.
Note.
"Working with blend modes is almost always an experimental process. Because it's nearly impossible to predict the results, you always seem to end up experimenting with different modes and Fill Opacities until you get the results you're looking for." Robert Thomas
Techniques: SmartPhone App Stackables, 'Difference' Blending Mode applied to BOTH the photo and FotoBlendz Clipping Mask, ArtsyTransfers. 
Tip.
Invert the image by pressing CMD/CTRL + I buttons on your keyboard to yield a dramatic look.
Play with the Hue/Saturation Tool to change Color and Saturation.
Combine

a

A

DigitalART with Blending Modes to add depth, texture and color to any photo.
a) Artsy Papers
Clip an Artsy Paper to a photo via Layer> Create a Clipping Mask. 
Apply a Blending Mode such as Color Burn or Hard Light to allow the image to show through the paper layer.

Move the paper over the image to yield best results.
b) ArtsyTransfers/ArtsyKardz
Use ArtsyTransfers and ArtsyKardz with the Clipping Mask Function in Adobe Photoshop.
Make your selection based on the Colors in your photos and digital scrapbooking or photo artistry layout design.
The .psd fomat nature of the files allows for manipulation of the individual layers such as paint layers, ArtStrokes, Splatters, ArtsyStains and Textures
You can adjust properties such as Size, Color, Rotation and Position of each layer as preferred.

Apply different Blending Modes to any of the layers to yield varied effects.
Tip.
Extract part of the photo using the method of your choice.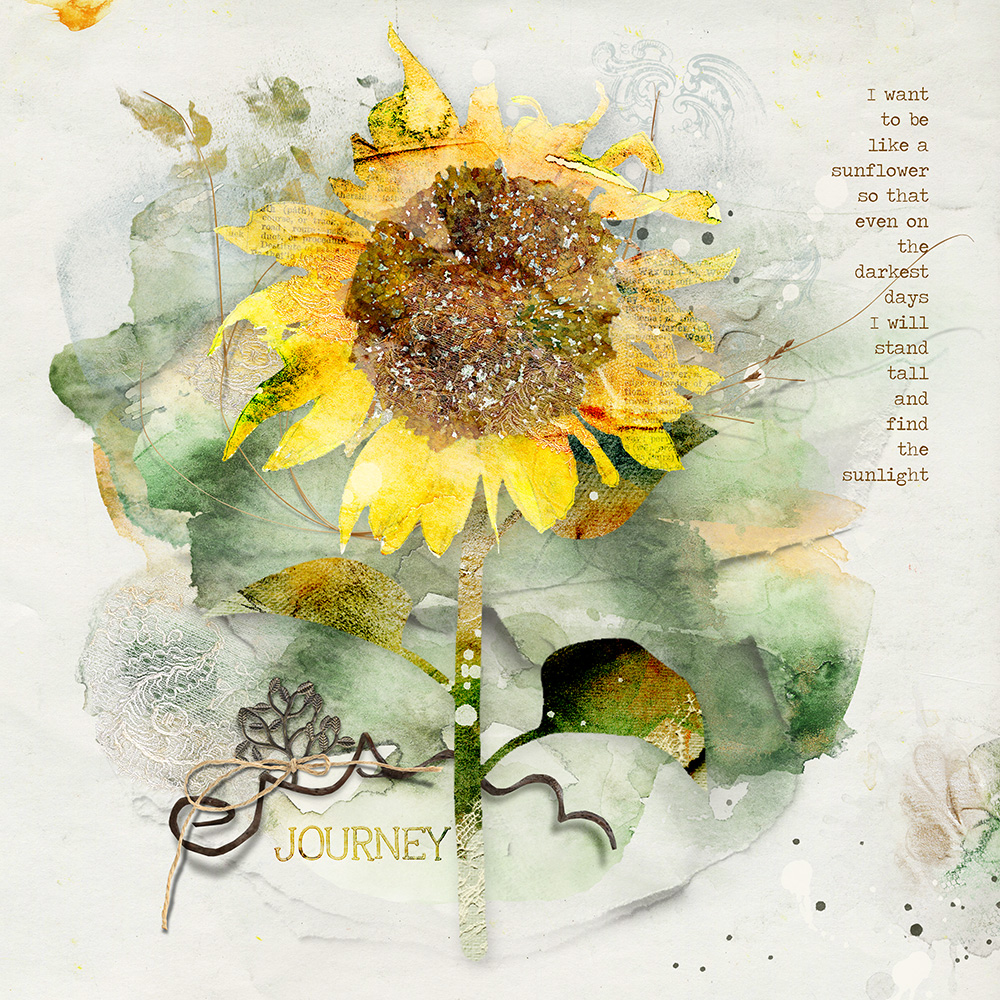 Techniques: Extraction, Artsy Papers, Blending Modes.
4. Photoshop Brushes
Use with the Paint Brush Tool to paint or stamp on your digital scrapbooking and photo artistry designs.
Hand Color areas.
Apply realistic Texture
Support your Theme.
Embellish White Space.
Enhance Visual Interest.
5. WordART
Add context to your layout design through the use of words.
Apply 'drag and drop' WordART  or use the Type Tool (T) from the Tools Panel.
Manipulate words via a stretched/skewed text or fit type within a preset shape (CMD/CTRL + T).
Use to embellish, Emphasize and Lead The Eye.
Support the Story with words.
6. Textures
Add depth and dimension through the use of textural brushes and transfers.
Textures can Lead The Eye or add subtle visual interest to White Space.
They add Dimension, Volume and

 

Depth to transform a flat design into one with Texture.
Creates Tension and excitement in a balanced digital scrapbooking and photo artistry design.
Examples of textures:
Paper
Tape
Paint/Spackle
Scratches/Distressed
Wood
Foliage
Clouds
Tip.
Apply different Blending Modes and adjust the Opacity slider at the top of the Layers Panel to perfect the results.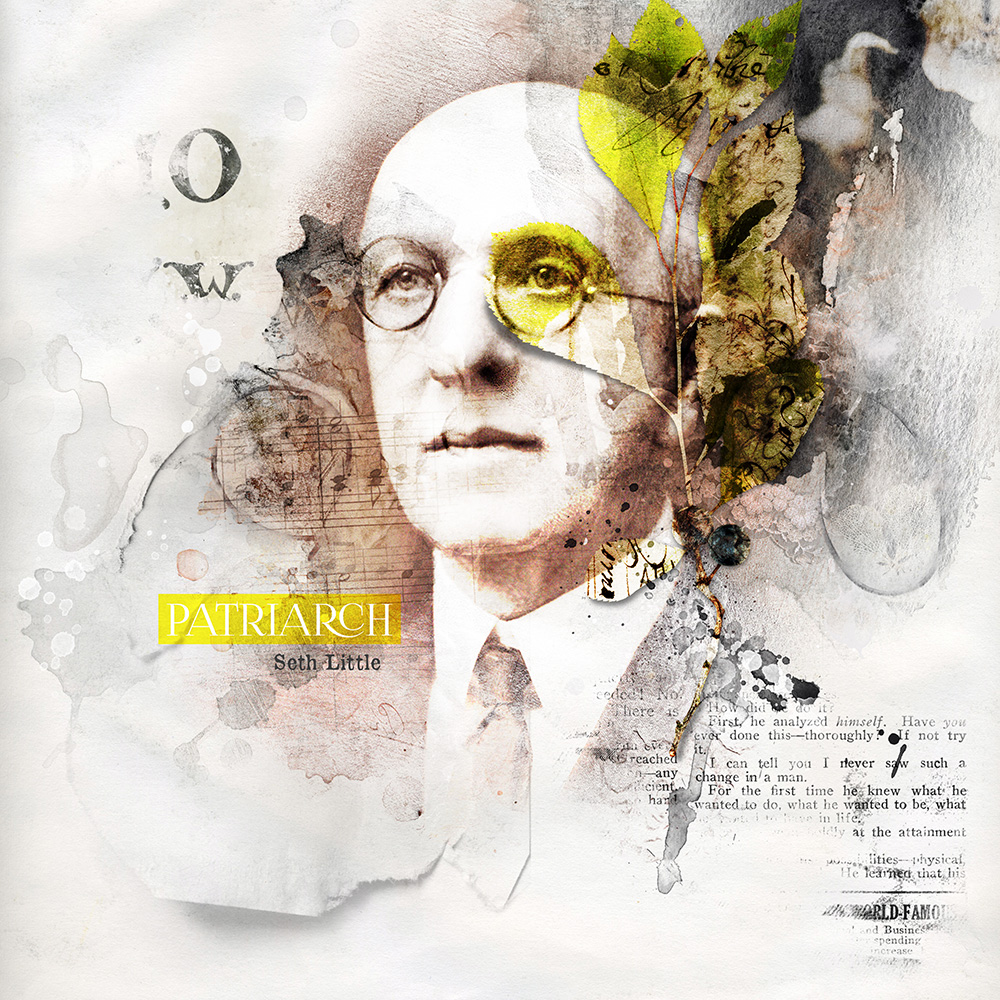 Techniques: Scanned vintage photo, brushes, artsy transfers, word art, dimensional embellishments, blending modes
Summary
There are many ways you can add artsy effects to your photos.
Try each technique with your photos to Learn and Master each approach.
Practice and pay attention to the techniques you Enjoy using most.
Incorporate the ones you like Best into your digital scrapbooking or photo artistry process.
See also:
If you like this 6 Ways to Add Artsy Effects to Photos tutorial post, try this technique in your next photo artistry and or digital scrapbooking layout design, and share your layouts in the AnnaGallery.