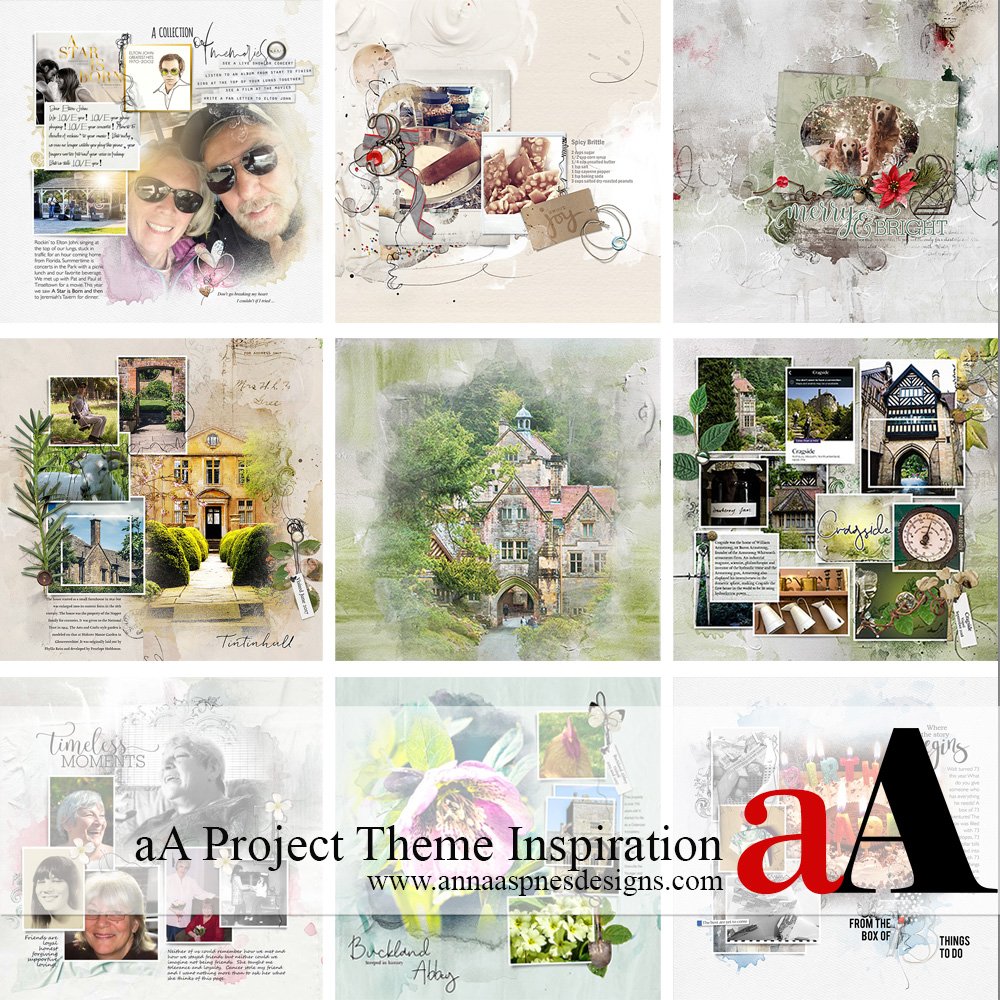 Today, I'm sharing aA Project Theme Inspiration and introducing you to the Creative Team Members joining us on this 2019 creative adventure.
a

A

Project Theme Inspiration
Introduction
There will be more themes than ever in

a

A

Project 2019.
In previous years, the Project has been solely based on just my process which provides limited inspiration.
A tandem project in which I work on a Holiday and Non-Holiday, has been both successful and unsuccessful in the past, but also leaves me with little time to appreciate the season.
This year some of the Creative Team, veteran to the

a

A

Project,  have stepped in to elevate your experience and provide more variety in the process.
We also have some newcomers inspired to create a photo book by the end of the year too.
Below a little insight into their previous experience with the Project and their plans for 2019.
We hope this will inspire you to also join us in the Project and create one more photo book before the end of the decade.
Miki Krueger

This will be my fourth year participating in the

a

A

Project.
The first two years I followed a Christmas theme:
Christmases of the Past
The 12 Days of Christmas
Last year I took a different approach to the project.
My daughter gave my husband a box of 73 things to do for his birthday.
I documented each of the adventures and activities we did throughout the year – It was really a fun project and we love looking back at all 'stuff' we did!

Oh, the places we will go and the things we will see.
My aA Project theme 2019 is inspired by a project that Donna Carroll did last year, documenting her family's trips to National Parks.
We have visited many and plan on visiting more.
I have single pages of our trips, but would like a cohesive documentation of all the parks we have seen, thus far.
My focus will be gathering hundreds of photos from the last 40 years and organizing them in a collection of stories and memories.
Trish Hoskins
The

a

A

Project has been a part of my December many times but last year I really grasped the value of this experience.
The concept of creating a piece for each of the 25 days is a challenge which develops habit and consistency.
The commitment encourages you to 'show up' to your artistry each day and all the pages just seem to come alive before your eyes.
The end goal of a completed book or collection of pages enables me to enjoy the 'fruits of my labour'.

A couple of projects have been considered for

a

A

Project 2019.
Locate images from each day in December over the past several years and do a walk down 'memory lane'.
Revisit forgotten and 'lost' photos that 'have yet to see the light of day' and be celebrated in my artistry.
Find random interesting photo captures and create a page for each of the 25 days.
Note. I am a self-proclaimed 'photo-a-holic' and have 61,000 plus photos on my iPhone. A recent upgrade to the iPhone 11 Pro Max enables me to take advantage of all the new camera features and I love to find forgotten photos on my camera roll.
Tip. Have a notebook (or 2) to jot down ideas for layouts. This provides a logical place to start and guides the layout design process.
Viv Halliwell

a

A

Project 2019 is a fun and quick way to capture memories.
With a template system and some extra supplies you can be as artsy as you like.
And by the end of the process you have a finished collection of layouts that can be printed and looked at again and again.
Last year I documented National Trust properties I have visited.

I really want to do this before I forget all the details!
I have for some time wanted to preserve the memory of some particularly fantastic holidays that my family and I took between 2000 and 2012 in the USA and Europe.
Some of the early photographs were taken with our first digital cameras so the quality leaves a lot to be desired.
This is where the template collections can prove to be particularly useful.
There are so many photographs and memories that I may have to create 2 projects.
I aim to be a bit adventurous in combining the templates with

a

A

DigitalART supplies.
Note. Next year I have a significant birthday and I want to move onto new projects.
Joan Robillard

Most of my photos and scrapbooking pages are unseen in digital format.
I like the idea of having some of them printed books.
This enables me to share with artistry with friends and family who come to visit.
My first project was a centered around a special summer when my sister came to visit.
I have also created an album about my family, with a double-page spread dedicated to a different person.
And a collection of my favorite photos.
Note. I apply keywords to all my photos in Adobe Lightroom so I can easily locate them. These keywords and the images associated with them will usually spark an idea for a layout design.
This year my project will be about my favorite places.
I have several sites that I go to repeated to get pictures for my 365 Project.
I would love a book that would be the best pictures I have of these places.
Some places are in my town, and others are from travels.
I am already gathering the photos and tagging them according to their location.
Your  project does NOT have to be about people and/or about the holidays.
I have included people in all three of the books I have done but, only one was specifically about people.
This is your project, and it can be anything you want it to be.
Nancy Adams
I am NEW to the

a

A

Project but excited that the templates will help me complete my goal.
I will create a vacation project as a means of organizing my photos to share with friends and family.
The process of working with vacation photos will hopefully go more smoothly than some of my other themes (memory keeping by events and year).
Vacation photos tend to provide a variety of images and topics for the page designs.
I love the idea that I will have a completed album by the end of the process.
Note. In the past, I have been intimidated by the speed of production, but having become more comfortable with the technology and with my design choices,  I believe  I will be able to inspire others to finish an album of their own.
What will your theme be?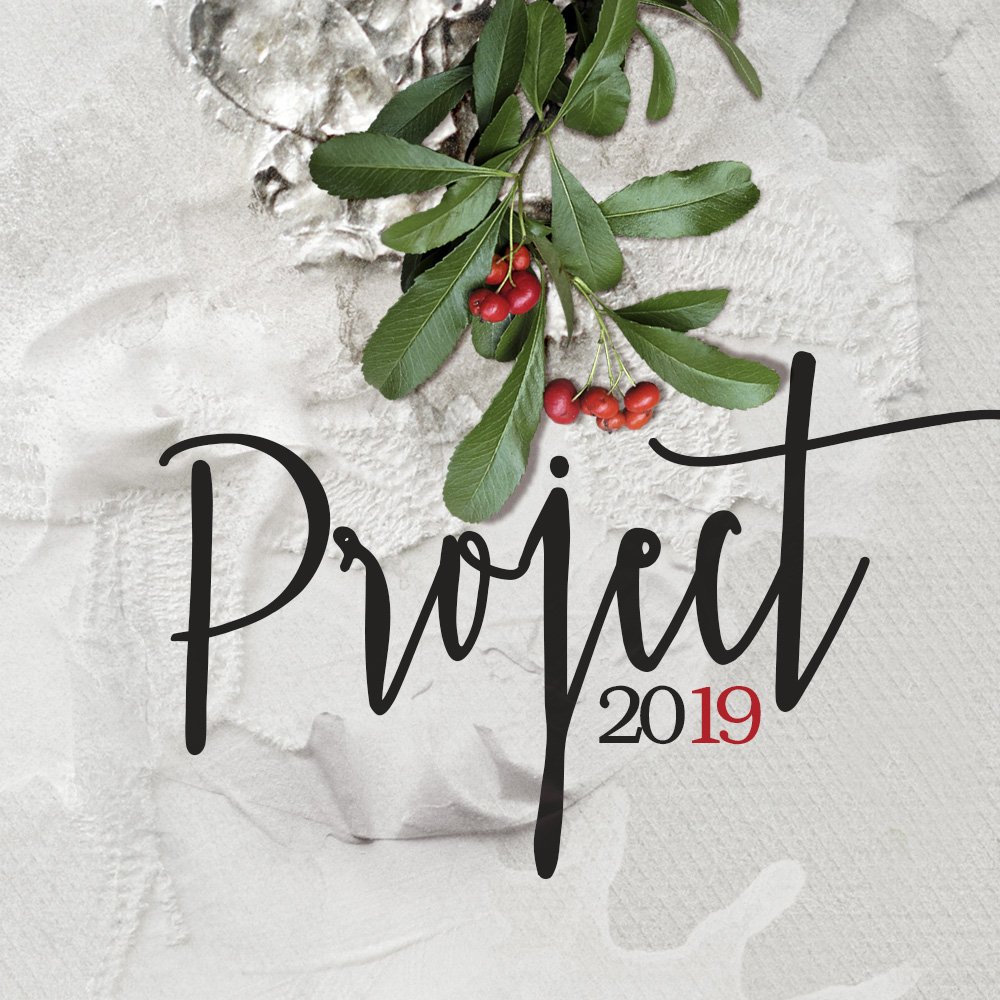 We're getting a head start on our Projects.
a
A
Project 2019 officially begins
1 December 2019
but we've already starting the most important part of the project.
Don't wait to join us for

a

A

Project 2019:
Learn why Planning Your Project is key to your success.
Get step-by-step instructions to achieve this ALL important process.
Also receive the comprehensive BONUS Themes Master List (over 40 theme ideas) that I sent to all participants over the weekend.
Don't miss the opportunity to ask questions and connect with me in our upcoming LIVE Meet-Up.