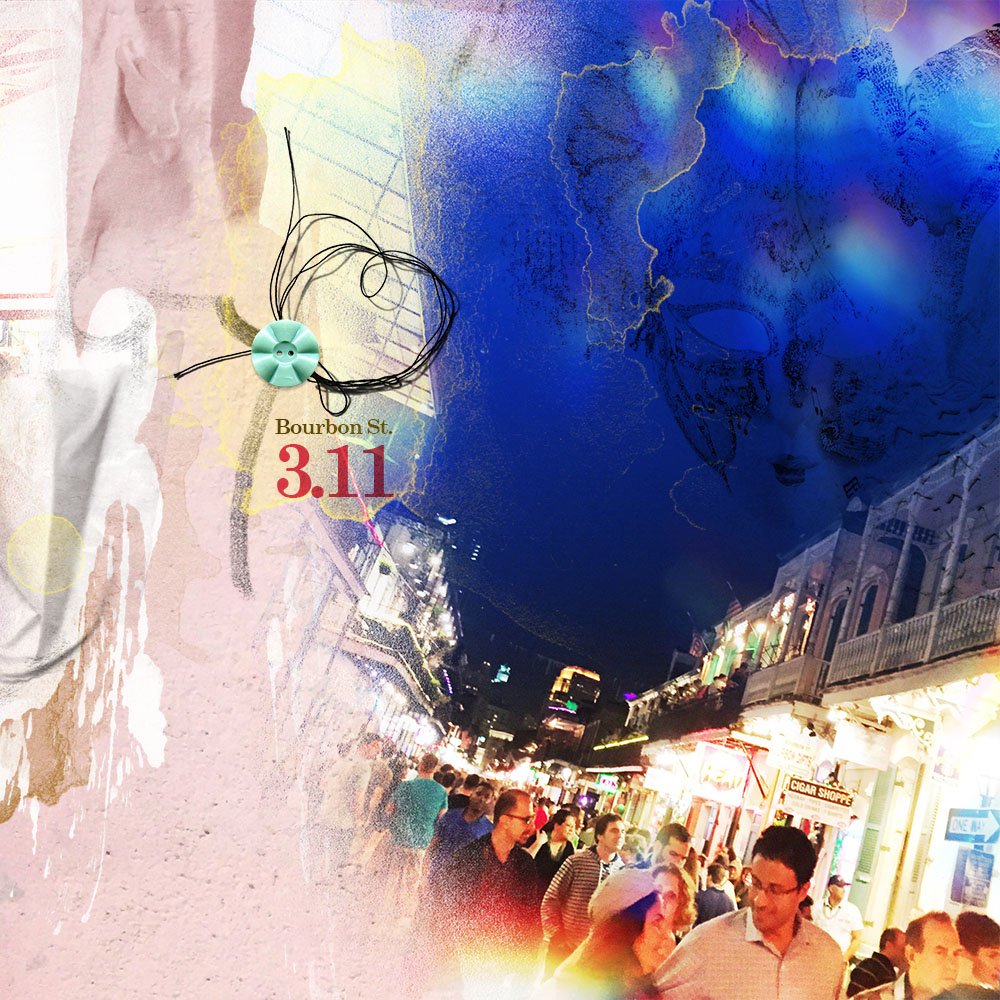 Let's talk artsy digital scrapbooking mini albums or books.

Artsy Digital Scrapbooking Mini Albums
A couple of weeks ago Eric and I went to New Orleans, Louisiana for a weekend.
We had such an amazing time.
This little trip is part of an initiative to have more adventures.
We are both used to moving. The military has taken care of this for us for a long time, but now Eric is retired, we have to move ourselves. Just not so permanently.
Eric's parent live in Asia. Mine are located in the United Kingdom.
When the stars align and we can get both our children, not to mention the dogs, cared for –
We intend to pick up and go.
As as digital scrapbooker and artist I naturally want to take photos and document these adventures.
I have spent some time thinking about the best way to celebrate this particular weekend and I think I may have found an 'almost perfect' approach.
Photo books are my go to solution for telling the story of events with a definite beginning and end.
I typically create at 12 X 12 inches to accommodate all my photos, but finishing a project is quite an undertaking. I know this because I have just uploaded two books for printing which I have been working on since November 2015.
And because this particular project will be one of a series. Hopefully.
I have decided to take the artsy digital scrapbooking mini albums approach.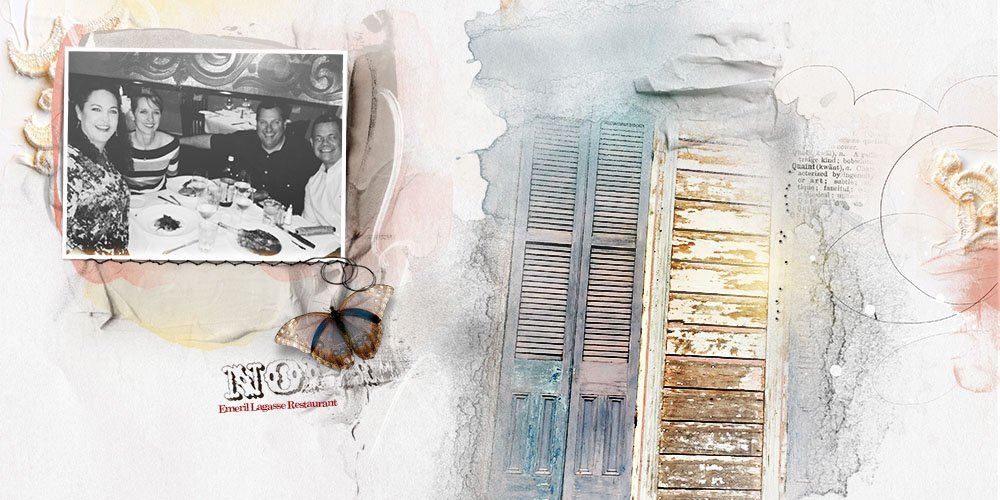 Why go with a mini album?
I have created a number of paper mini albums in the past but not for some years.
A different size album offers a fresh way to create, and I love how quick and fun they are to put together.
Quick being the operative word.
I also agree with Ella, that anything small happens to be somewhat 'adorable.'
And there's definitely more opportunity to include more ArtPLAY when you have fewer photos to work with.
This is, of course, also a potential downside of creating artsy digital scrapbooking mini albums.
There is limited space for multiple photos or journaling.
Mini album suitability depends on how many photos you have to work with.
All my photos were captured with the iPhone 6, and I was able to process 17 favorites at the airport, en route home.
It occurred to me that I would only need to add 3 more to complete a 20-page album mini album, if I have one photo per page.
I edited the photos using The Color Story app. It's easy to use and I love the flares and lighting effects with co-ordinate well with the aA DigitalART product range.
What is the best mini album for artsy digital scrapbooking projects?
There is no best approach, just one that suits your needs.
I personally like the quality and value for money offered by Picaboo and fancy the look of this 6 X 6 Premium Mini Book with it's durable lay-flat pages.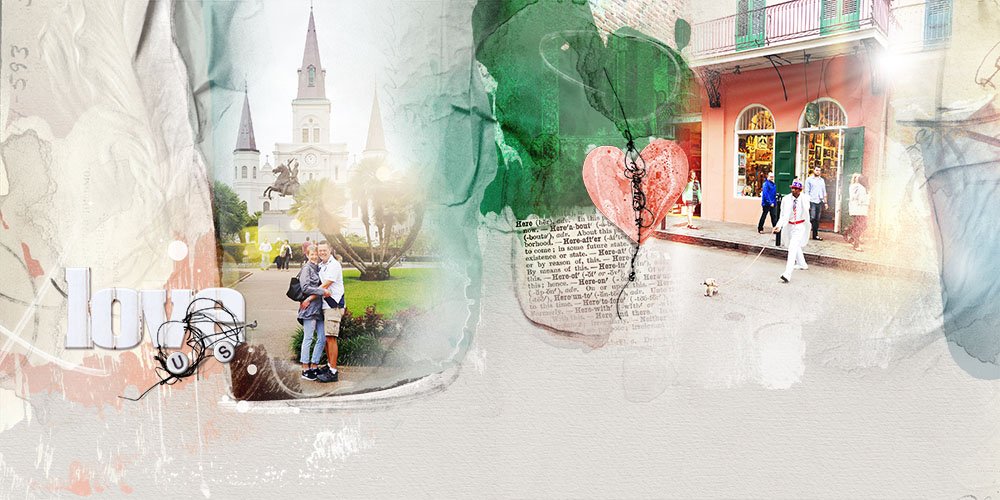 Now it's just a question of making the project happen.
I am creating the pages on a 16 X 8 inches canvas. This enables me to work on two pages at a time, which not only increases speed of completion, but also ensures flow of design across a double page spread.
This is most important when working with lay flat pages.
Essentially my pages are being created at 8 X 8 inches. This is partly because I want to eventually make this album available for purchase in the aA store, but also it gives me greater flexibility in my printing options.
Even though I intend to print at 6 X 6 inches, I can change my mind. It's easier to size down, than it is up, without resolution considerations.
I save the working image in .psd format to allow for edits in Adobe Photoshop CC. The layers are then flattened into one layer, before being moved onto a an 8 X 8 inches new file.
Place the layer so that the first side of the spread completely fills the page. Save as a .jpg file before sliding image across the new file to reveal the second page.
Repeat the same saving process so that you have two single 8 X 8 inches versions of your original 16 X 8 inches working file.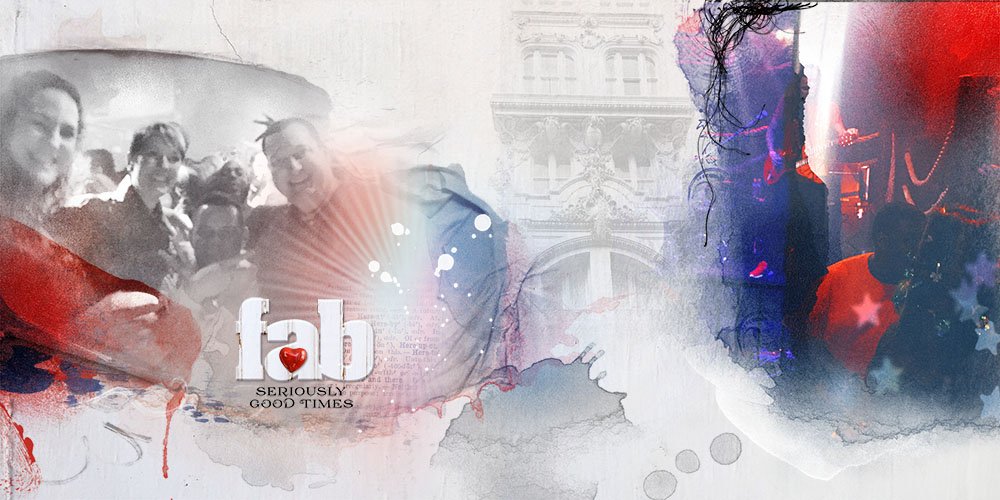 Above all. I'm keeping the process simple.
One of my favorite ways to get an album project completed quickly is to pre-select my aA DigitalART supplies.
You'll be amazed at how long you can spend looking for the 'right' digital element for a particular layout.
Again there is no perfect digital design for your page. One that suits your needs is good enough.
I create a temporary folder and copy my limited aA DigitalART supplies selections in to that folder.
Such a time saver in this process.
What about you?
Do you create artsy digital scrapbooking mini albums? If so, what is your process and where do you get them printed?
Are you consistent with you photo book printing, and if so what is your favorite size?
Please share in the comments below.