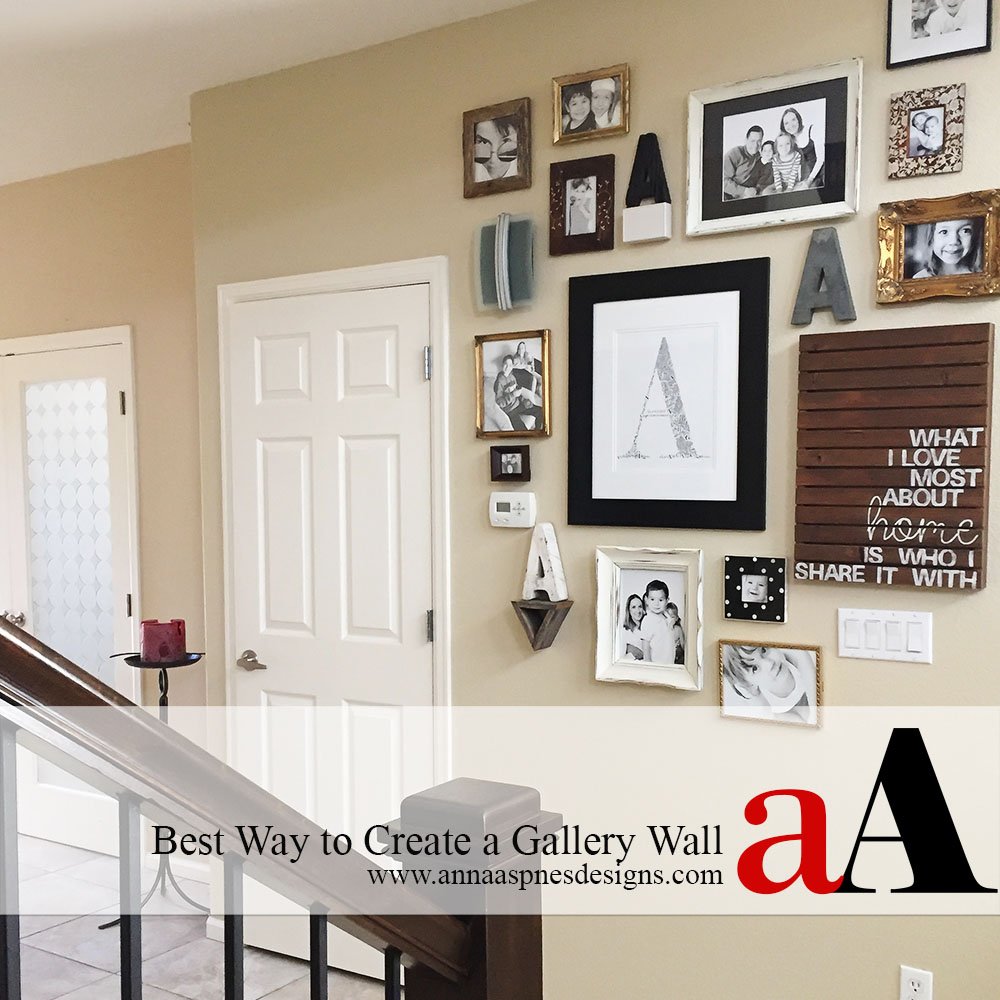 Today, I'm taking a bit of a departure from the norm and sharing my best way to create a gallery wall tips and approach.
Best Way to Create a Gallery Wall
A gallery wall has been in the works for a LONG time.
I have been talking about a gallery wall for as long as we have lived in this house – which is coming up on 9 years.
The goal was to showcase family photos with some of my favorite 'collectables', while minimizing the visibility of a wall in house that 'houses' the doorbell, light switches and thermostat.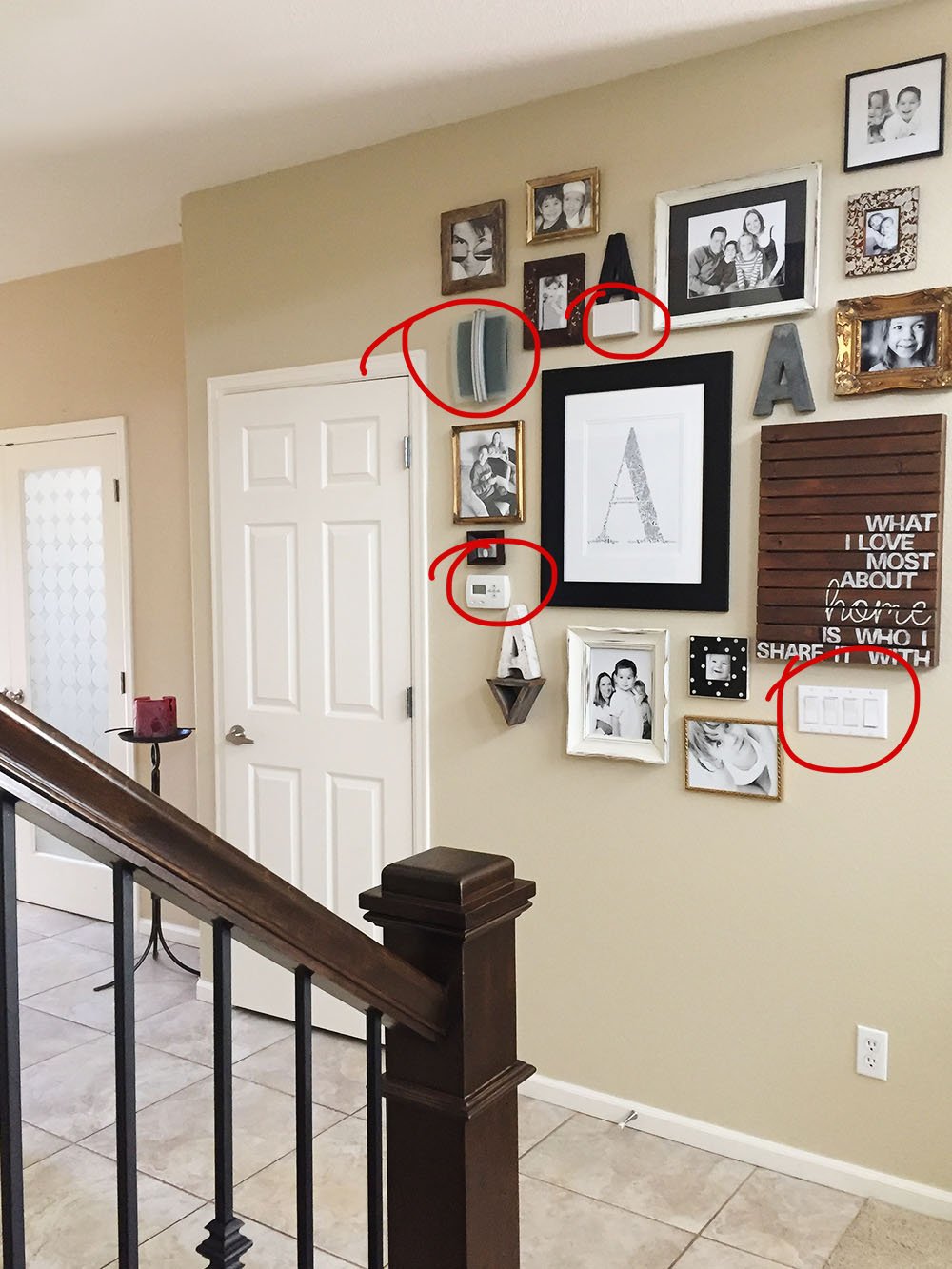 Aside from a full life with work, home and teens…
Procrastination, overwhelm and not really knowing how to go about it, have all been big factors in my delay.
The gallery wall was finally completed last week, and I love how it turned out so much,  I want to share my Best Way to Create a Gallery Wall process (especially as I took so long in completing each of the steps).
A gallery wall is also such a great way to share your photos and art.
Gather Ideas
You will find that there are SO many different ways to create a gallery wall.
Pinterest, is of course a great place to start. Simply enter 'Gallery Wall' into the search box to yield endless results.
You many also choose to create a vision board for more tactile approach.
1. Be Selective in Your Inspiration.
Ideas are helpful, but too much choice can create overwhelm, and prevent you from moving forward in your project.
2. Create a Pinterest board
'Pin' just 10 of your favorites to the board, or images that catch your eye.
3. Look for Visual Cues.
Notice shapes, colors and styles that are prevalent in your selection.
This can be helpful in determining either a specific style, or wall location for your gallery.
For example, I have a Homebody board, to which I pin all home decor ideas.
In looking through the images I notice pattern that suggest I gravitate toward an eclectic mix of vintage and modern (not dissimilar from my DigitalART practice).
Select a Theme
Themes provides a cohesive approach to your project and are a simple way to organize and group your design ideas.
You are essentially establishing commonalities in your choices so that the elements look as though they belong together.
You are also fostering repetition with variation to avoid monotony.
1. Theme Inspiration.
A theme can be based on style, color, shapes or art to be showcased:
Style of frames e.g. Modern, vintage, traditional or a combination.
Color of frames e.g. Black, white, gold or a mix of all three.
Size of frames e.g. The same or different.
Placement of frames e.g. A row, column, uniform or non-uniform.
Style of prints e.g. Art prints, photos or both.
Theme of prints e.g. Tie your selection together with a common theme such as family, a particular pattern (circles) or subject matter (favorite travel spots, animals etc…)
Color of images e.g. Black and white, color or both.
I selected a combination of ornate and modern frames in black, white and gold to co-ordinate with my home, with the intention of adding black and white photos. 
2. Your House Style.
Your home decor should reflect your personal style, but MUST be in-keeping with the style of the house in which you live.
This is HUGE.
ALL modern furniture and accents in a traditional home does not work, and vice versa.
Mix a little of what you love, here and there, to maintain the integrity of your home design.
My home is traditional but I LOVE modern, so I have learned to make selections based on what works for the overall design of my home. This in turn creates a space that I LOVE as much as my preferences.
3. Consider Balance.
Balance is crucial to our existence as human beings, creating a sense of calm and well being.
When the balance is off – We literally topple over, and the same is true in design.
One design decision MUST be balanced by another to avoid visual overwhelm, preventing competition between the focal points.
For example:
Simple modern frames in one color work well with a brightly colored varied art/photo selection. The simplicity of the frames allows the complexity of the art to take center stage.
More ornate or brightly colored frames demand more attention, and need to be balanced with simpler prints or black and white photos, to prevent competition for the primary focus.
Larger or unusually shaped frames command more attention that smaller ones, so it's a good idea to keep large frames simple and and the smaller frames more interesting in terms of pattern, shape or color.
Notice how the red and blue is just too much against the gold and patterned frames.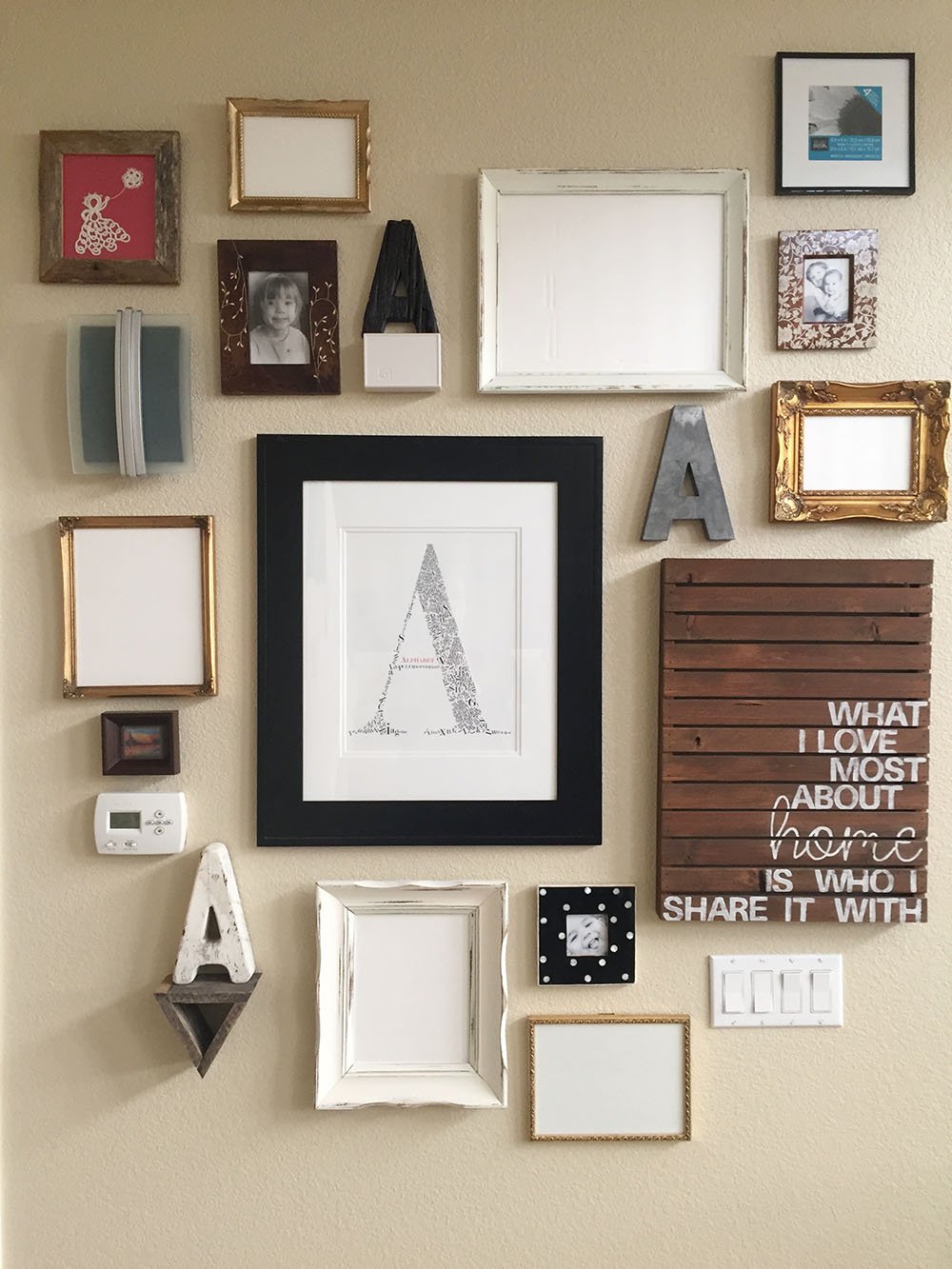 Finding Frames
Where you find and purchase your frames will depend on style.
And the style of frames offered will depend on where you shop and much you want to spend.
Sources below are found in the United States.
A few ideas to get you started:
Target
Ikea (Modern)
Michaels
Home Goods
TJ Max/Ross
Ebay (Vintage)
Etsy (Vintage)
Charity organizations
Garage Sales
Gallery Wall Collections
You can sometimes find frames in collections which helps with the decision making process.
When shopping on Ebay or Etsy look for frame collections using the search feature. Try using the words 'lot', 'bundle(s)' or collection(s).'
Also consider re-purposing frames from your home.
You can paint them, switch out prints or change the hardware to suit your needs.
I found a set of gallery frames here for a fraction of what I might have paid elsewhere. This provided a great foundation to which I added a few modern frames from Michaels (with a coupon) and re-purposed frames and art pieces from around my home.
Hanging the Frames
1. Location and Arrangement.
Decide on a location for your gallery wall and how you would like to hang your frames (uniform or non-uniform).
Then find a willing victim if possible to to handle the hammer and nails – Big thanks to my dear husband.
2. Consider Hardware.
Select hardware that is appropriate for the weight and style of the frames you want to mount (as well as the amount of damage you want to do to your walls).
I change my mind a lot (ask my husband) and so we use the less invasive option available for each frame. Usually just a single nail.
Larger frames will obviously need more support.
The following is the 'dotted' frame which we converted from standing to hanging.
Note that the backing can be replaced with thick card bard from a shipping box if the 'stand' inhibits how the frame hangs on the wall.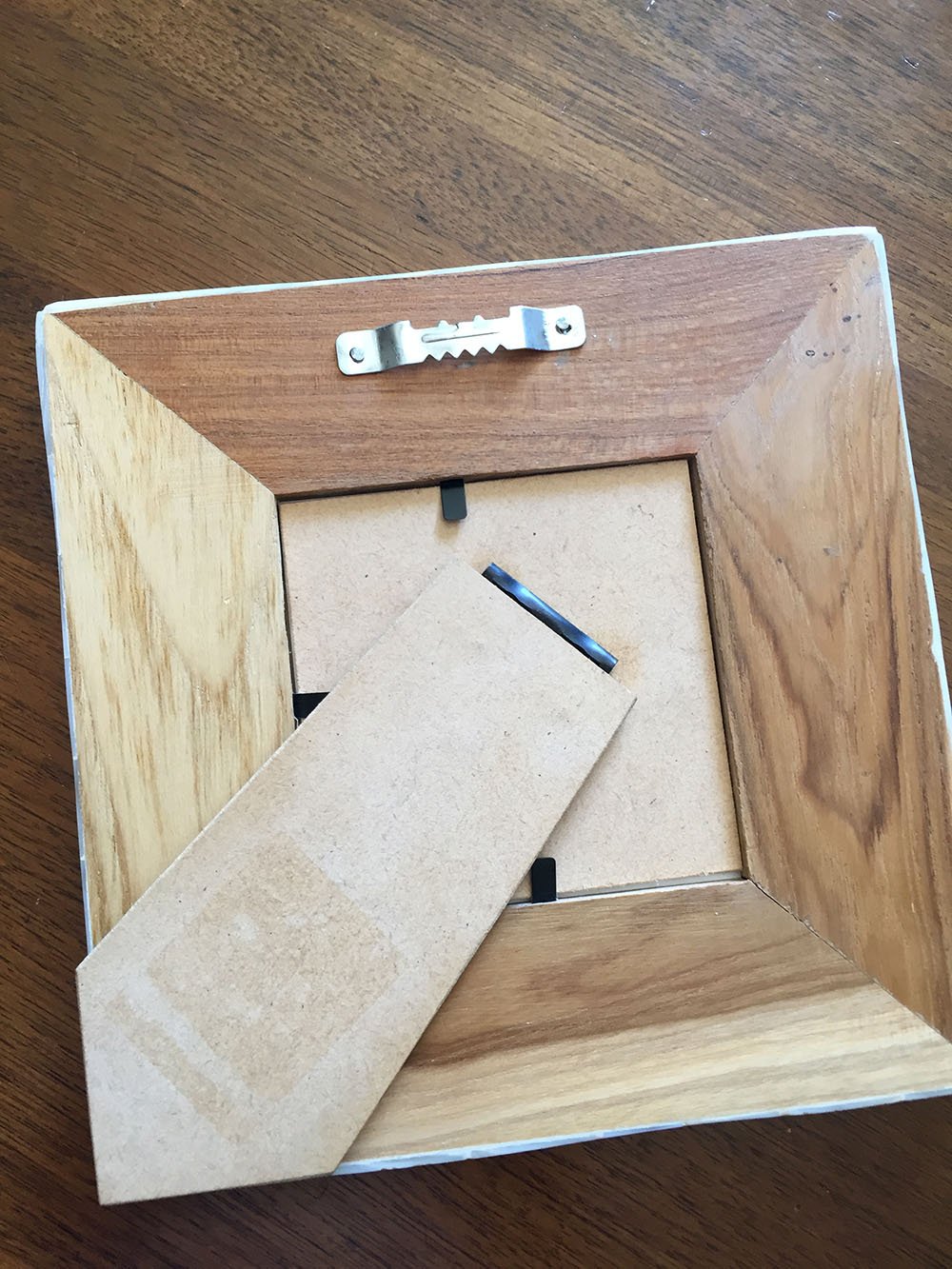 3. Create a Map
Trace all frames and elements of the proposed gallery wall onto packing paper or old gift wrap, cut out and then tape temporarily onto your wall location.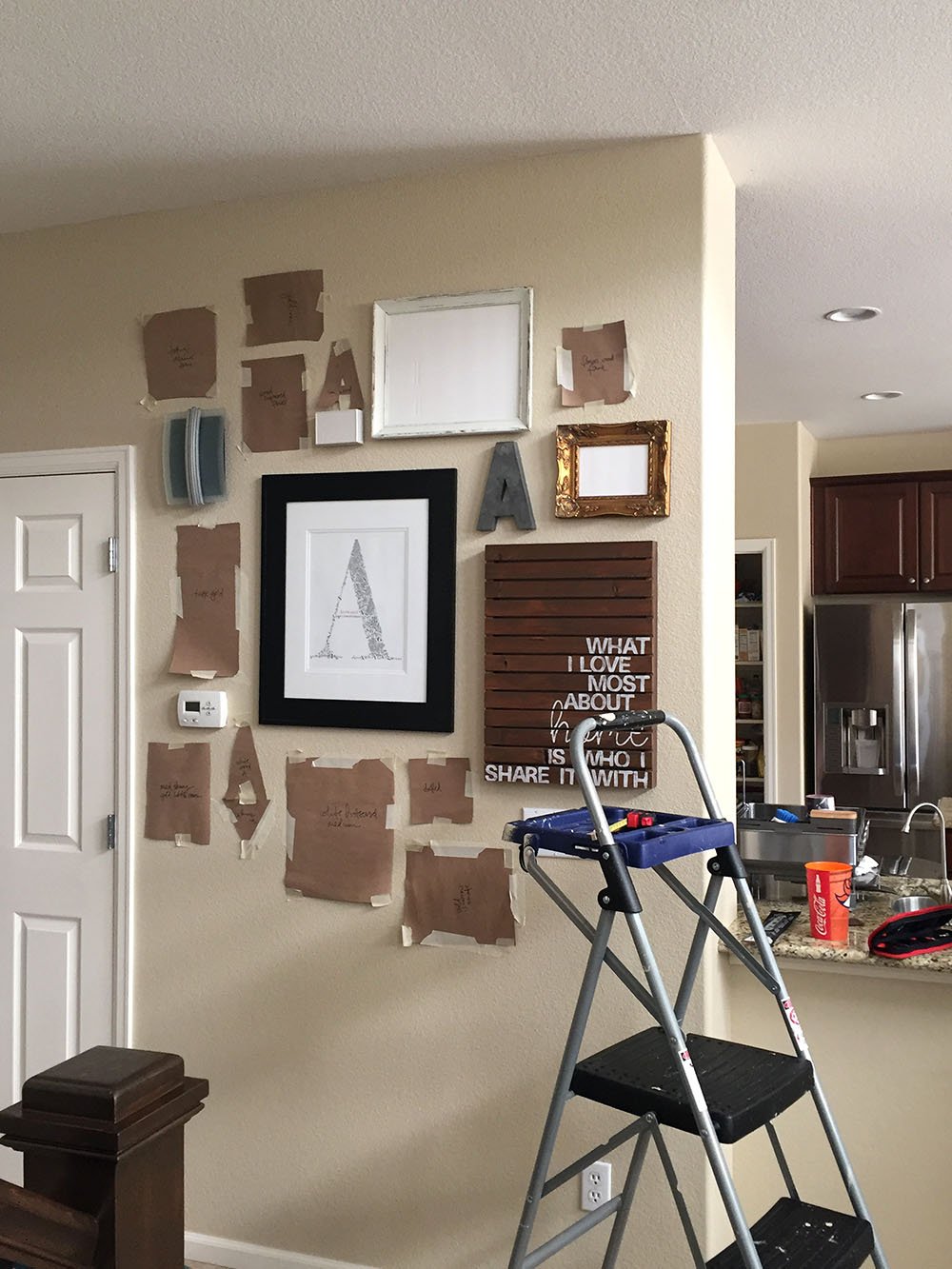 I opted for a non-uniform design around the largest frame accommodating the other already existing eye-sores.
This enables you view the scope of the project in it's entirety and modify the placement as needed BEFORE you start hammering nails into the wall.
Consider using the top edge of a frame as shelf for other gallery wall elements.
Insert the nails directly over the paper them remove or use a pencil and leveler as preferred to mark the placement of each nail.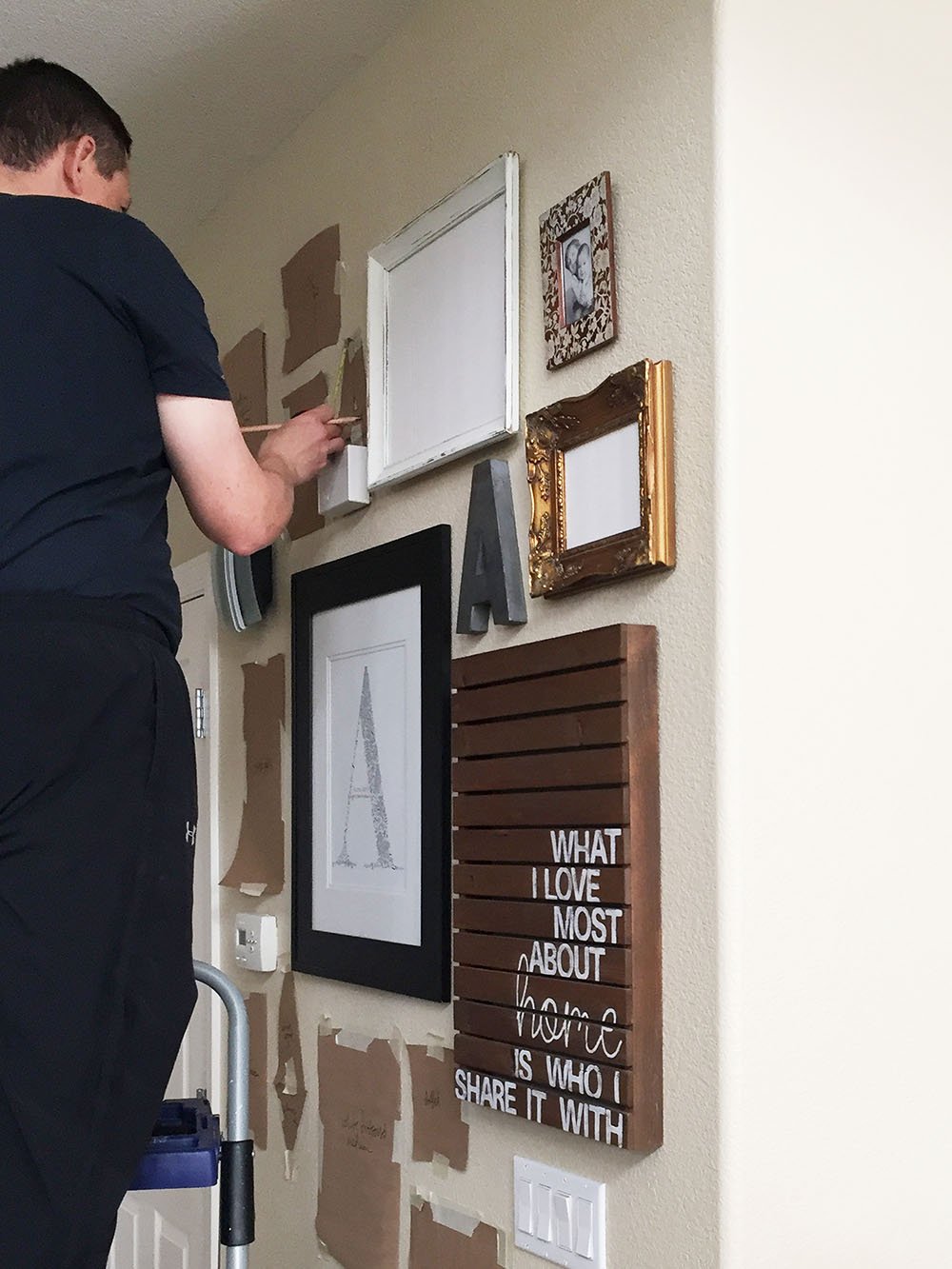 Choose Your Prints
1. Select based on Frames.
Or choose your frames based on a preselected collection of images.
Choose from simple photos, digital artistry layouts, collected elements and art prints.
If you don't want to use your own art/photos:
I considered a mix of color and black/white photos, as well as some of my digital artistry, but this approach was visually overbearing with my choice of frames – Had I chosen simple black frames, I would have had a lot more leeway with my art selection. The frame constraint actually served to narrow my choices and therefore the time needed to make the selection.
2. Make a decision to avoid inertia.
Just select a collection of your favorite photos or art prints.
This process does not have to be perfect and you can make a pact with yourself to switch them out at any time.
Don't make a bigger deal of it than it needs to be.
Remember this is just art. You not married to your choices.
Exactly the same advice I offer to students in my digital artistry and scrapbooking classes.
3. Printing Images
You can do this at home, if you have quality paper and a good printer on hand, or outsource.
There are lots of options for on-line printing.
I highly recommend Persnickety Prints who offer unparalleled service and quality.
Many of my prints were of standard size, but I also had some custom dimensions.
It was a matter of a quick call and they were more than happy to accommodate my needs.
They hand-trim all their prints so the finally product as exactly as specified.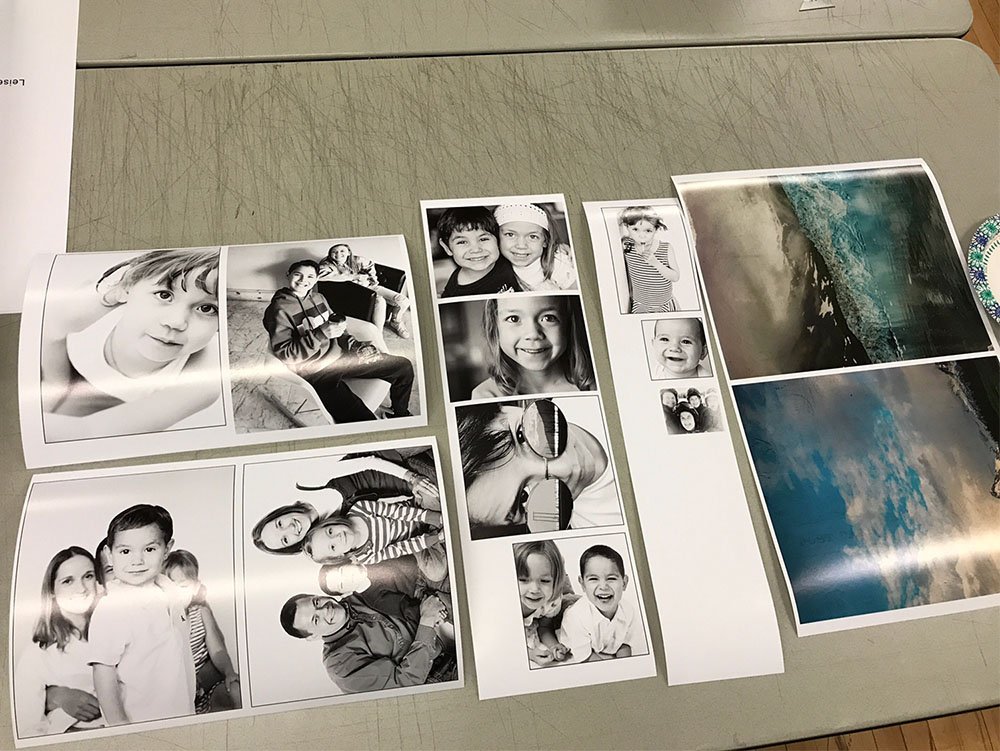 4. Fill the Frames
Pop the prints into your frames and watch all your 'hard' work come together.
The process wasn't actually that hard at all  – I just made it more difficult than it needed to be.
And I'm sharing my Best Way to Create a Gallery Wall experience in the hope it will both inspire and save YOU time.
If you liked this post, do us a favor and please share it using the social media buttons below.