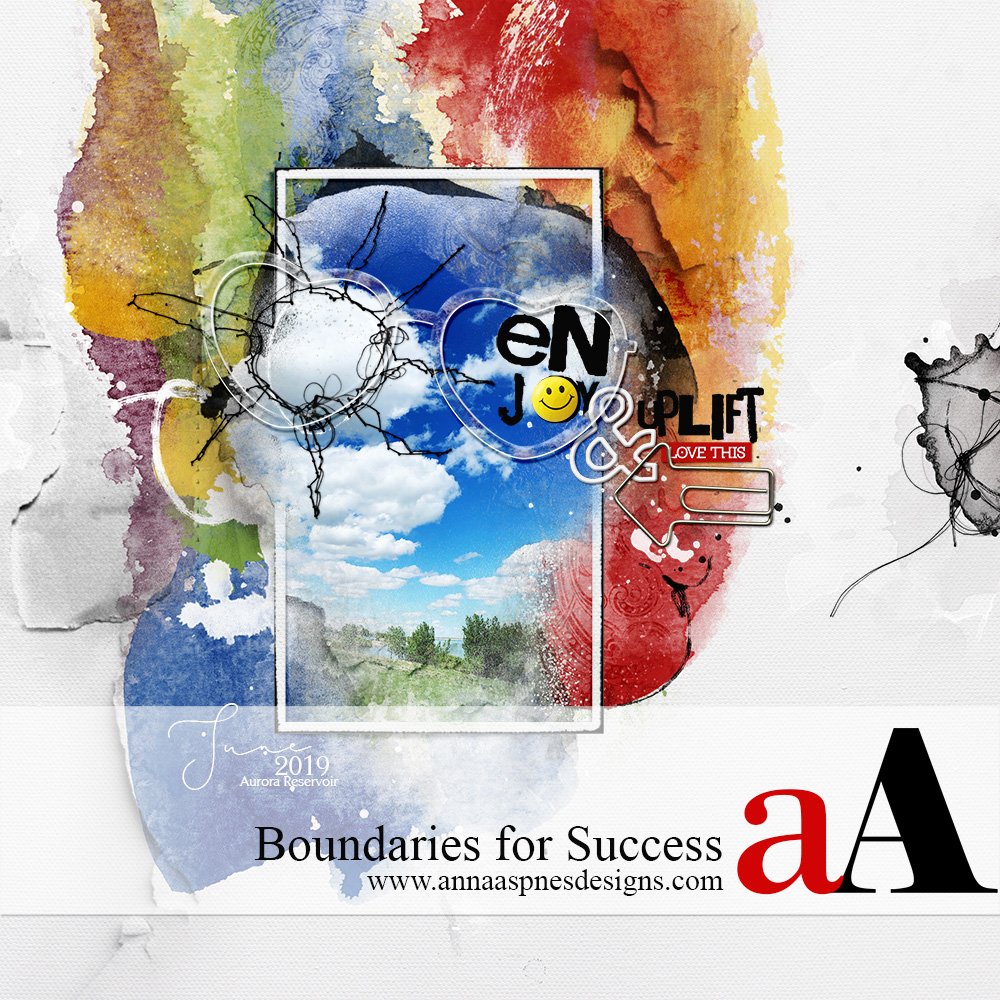 Today, I'm sharing some thoughts on Boundaries and Success in order to help you with your scrapbooking and photo artistry goals.
I'm also announcing some changes at Anna Aspnes Designs based on these principles.
Boundaries for Success
Yes to Boundaries
They protect us and enable us to have what we want most.
Last week in my Beginner Lessons in Artistry post, I mentioned setting boundaries and how this can help in making the magic happen in your scrapbooking and artistry.
The idea is to:
Let some things go.
And simplify.
So you can focus on what matters.
Create space for something else.
To really make an impact.
To do what is most important.
And it's super-hard if you happen to be an empath, highly sensitive person and/or people-pleaser, which many creatives are – We usually want to do it ALL which leaves us depleted, overwhelmed and completely unproductive.
Boundaries are necessary to take care of yourself and remove a LOT of the frustration you may be feeling in your craft.
Simply Simplify

You can can only do so much. Period.
For years, have been trying to fit more into my day.
Just recently, I have been waking at 5 am every day in attempt to become more efficient, only to find myself still working until 8.30 pm or later.
It's only taken me 44 years, but I have FINALLY accepted the fact that there are time limitations to what I can achieve on any given day.
Everyone gets the same amount of time.
And this can quickly be consumed by life commitments such as jobs, family and and all those things that creep into your life due to 'not having boundaries.'
So it's REALLY important to protect ANY of that remaining time for YOU.
Decide what is MOST important.
Prioritize.
Make the space for the THINGS you NEED/WANT to do.
This results in:
Reduced depletion.
Minimization of frustration.
Enabling you to actually feel like you have the time, to do the things you need and want to do, in order to be a balanced and happy Human.
Take an inventory, remove excess and make space.
Look at what you do in a day.
Prioritize in order of importance.
Trim the stuff that matters LESS by letting some things go.
Say 'No' sometimes.
Find yourself some FREE time.
How This Relates to You

Apply this same theory to your artistry/scrapbooking.
The dilemma of being a creative is that there is just SO much we could be doing in our artistry and scrapbooking.
But just because you CAN, does NOT mean you SHOULD.
Frustration happens when you are not achieving your scrapbooking/artistry goals.
No matter how much you create, it might not feel like you're making progress.
Perhaps you are paralyzed by the overwhelm of there being too much.
Or you simply don't think you have the time?
The truth is your're trying to do TOO much.
When you narrow your focus.
Set realistic expectations.
Identify what is truly important in your memory keeping/photo artistry.
Remove what is LESS important.
You create the space for the 'stuff' that REALLY matters.
Try it and let me know how it goes.
How this Effects Anna Aspnes Designs

Boundaries are universal.
They work for life – personally, creatively and professionally.
Having successfully integrated some of these principles at home,  for a much happier Anna, I am now actively creating space in which I can better serve the aA community.
Change leads to Change.
Lots of changes have been implemented over the last few months at Anna Aspnes Designs.
I have embraced these changes and LOVE nothing more than listening to the aA community.
My number #1 aim is to ALWAYS create and inspire you, so that you can make the magic happen.
What I LOVE:
New ideas revive and refresh the process..
Always provide the opportunity to learn.
Ultimately lead to growth regardless of success of failure.
The problem with change is that it's perpetual.
Nothing is ever static or stays the same.
And while I am always HAPPY to try something new.
I also need to recognize when those changes are, not working for me, or the majority at Anna Aspnes Designs.
I can only do so much in a day and it's one of my core values, to do those takes as well as I am able.
Everything Comes at a Cost.
In implementing all these new ideas, I have been pulled away from the greater ways I  can serve the aA community.
This has led to some frustration in feeling there is no TIME to:
Create the ever-growing list of classes/blueprints/e-books,  I want to share with you.
Get to the core of helping you with your scrapbooking/artistry.
Revisit the Heritage project series I started last year.
Walking the Talk.
Last week I applied the 'setting boundaries' principle to Anna Aspnes Designs.
I did a 'inventory' on all the things I do around here in any given month.
It's a LOT when you write it down.
Hard decisions then had to be made for the better good of this community.
And ensure I am taking care of myself in the process.
Letting some things go to make way for the new.
This leads some immediate changes at Anna Aspnes Designs:
1. ArtsyKardz and DoubleMaker Paperie.
Sadly these will no longer be added to the store.
Not because I don't enjoy making or using them.
But because they consume so much of my time.
And there is simply not enough community support for them.
There will be a Creating ArtsyKardz from ArtsyTransfers video at some point sharing how you can create your own ArtsyKardz.
I am also percolating ideas on creating a class for the Double Maker Paperie if there is enough interest.
2. Fewer MidWeek Release DigitalART Products
Do less in general in this area, so that I can do MORE with classes and other projects I am passionate about.
The idea here is to free up some time for class creation and other projects that will advance your scrapbooking and artistry.
Relieve me from working all weekend as well as during the week (I currently work 7 days a week and have done for the last 17 years.)
Please STILL send me your requests, however, as it's the only feedback I have on the offerings I provide at Anna Aspnes Designs.
3. The Blog
Simplify without sacrificing content.
I recently lost my admin assistant which has it's pros and cons.
This change has, however, enabled me to reconnect with some of the tasks I previously delegated.
You will notice some simplification in the Monday inspiration posts, and these will sometimes be combined with the ArtPlay Videos I have been doing over the past couple of months.
This change is in response to a recent poll, what community members want, and the simple fact that I can provide more information in less time in video format.
Thursday tutorial posts will be more detailed to provide you with more information in the techniques shared.
I realize that all these changes will create some disappointment, and for that I apologize.
But let's focus on the positive here, however, and that's the 'space' to bring you perhaps something better?
I'm hoping that what I create in place of these offerings, will bring you even GREATER joy.
Again, please continue to share your ideas and connect with me.
While I realize I cannot please everyone.
I will ALWAYS listen to YOU.
Make changes that are most aligned with the community.
Modify any of those decisions when needed.
Remember that nothing ever stays the same.
If you have any concerns/comments/questions about this post, please feel free in the comments section below or email me. I am always happy to hear from you.