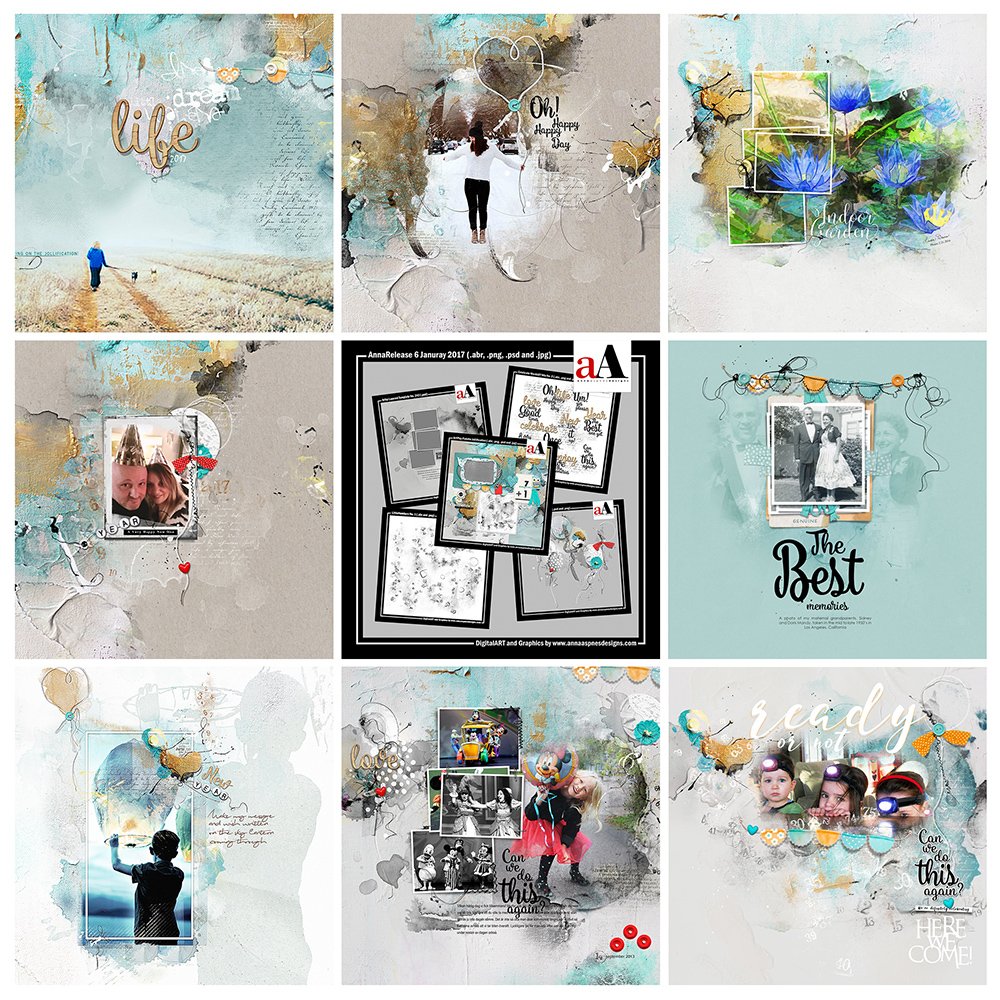 Today we're sharing digital designs inspiration Jollification.
AnnaRelease Jollification is the first 2017 collection of digital designs for scrapbookers, photographers, artists and crafters to be released into the Anna Aspnes Designs store.
AnnaRelease Jollification
The aA Creative Team have amazed me once again with their digital scrapbooking and artistry pages using ArtPlay Palette Jollification and supporting DigitalART products.
More digital art inspiration for AnnaRelease Jollification, of course, can be located in the AnnaGallery.
Note that the AnnaRelease bundled option is available for ONE week only.
Click on the image below to view more digital designs inspiration 'Jollification' or visit the AnnaTeam Layouts board on Pinterest.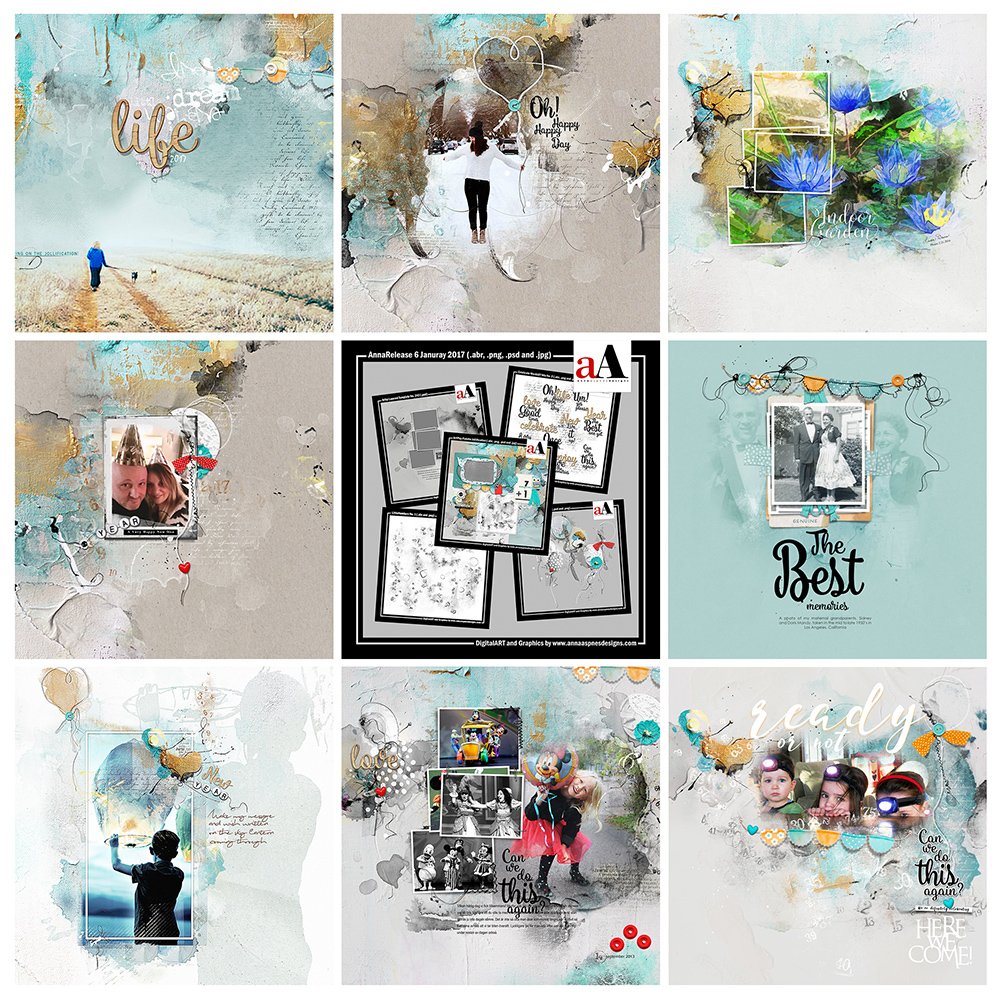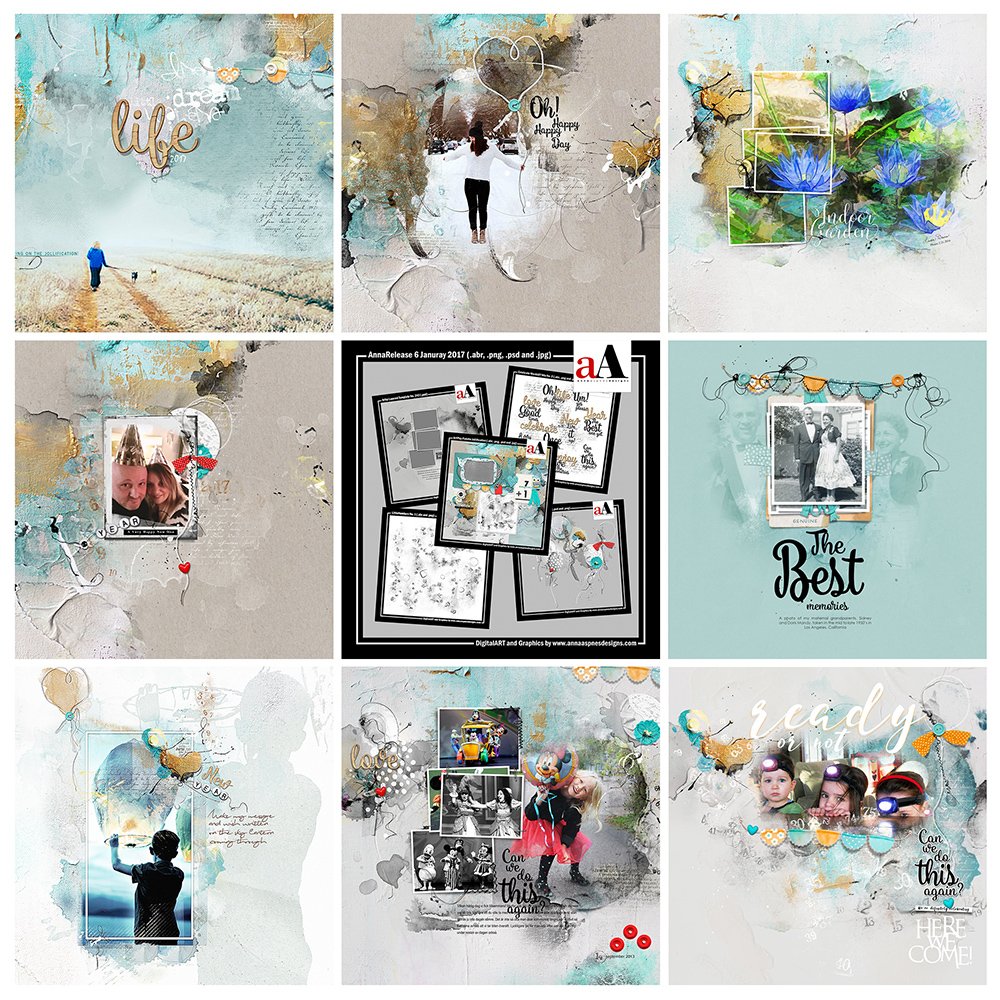 Digital Designs Inspiration Jollification
See our Gallery HighLights by clicking on the images to access complete digital design supply lists. You will also find process notes and digital scrapbooking tutorials from each team member to provide new digital inspiration for using aA DigitalART designs.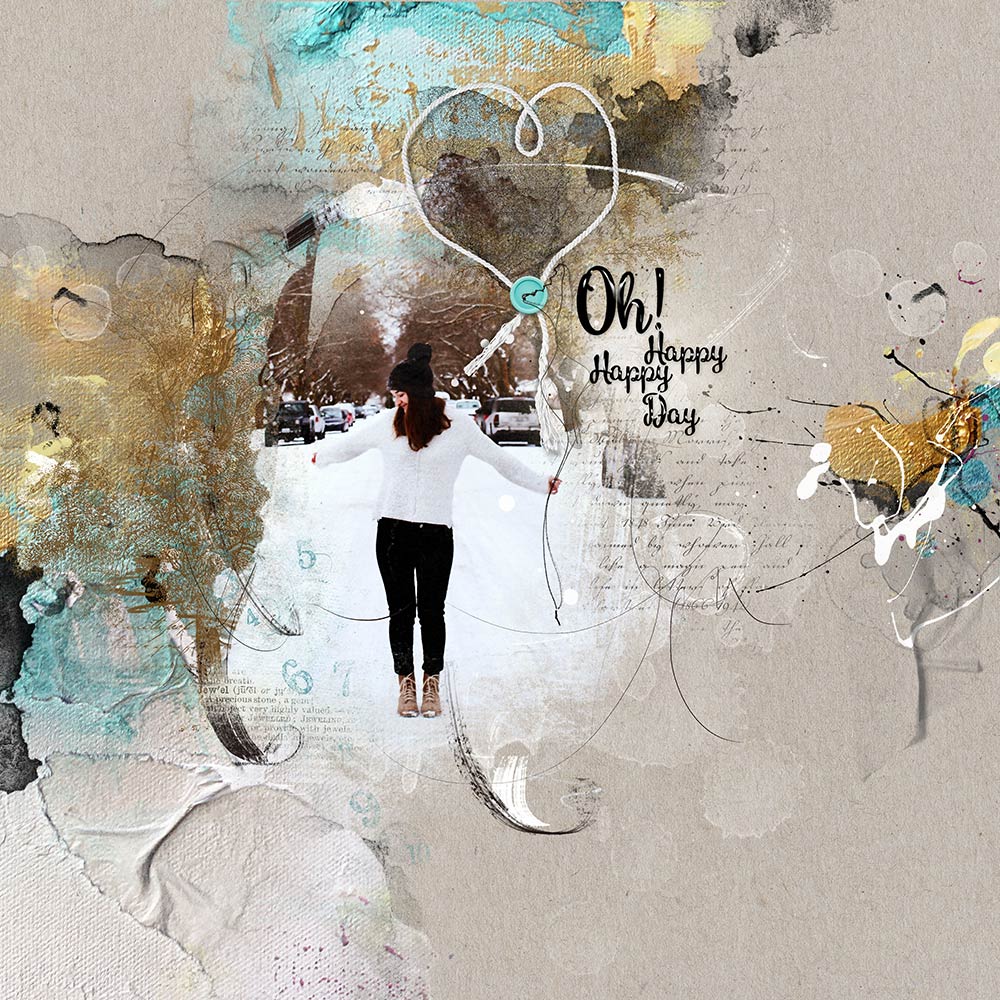 Oh! Happy Happy Day | Barbara
Create with MultiMedia. Often we think of embellishment as a way to just add visual interest to our layouts and have a little fun with the art. Consider making MultiMedia elements part of your design as demonstrated by Barbara. Her subject is holding one of the MultiMedia Balloons No. 3 as if were part of the scene.
MultiMedia elements are a collection of dimensional and transfer-style element pre-arranged for easy addition to your pages. The .psd file format of each element enables you to rotate, resize, recolor and manipulate each of the layers as preferred to maximize their usage in your artistry.
See the aA Glossary of Terms, a FREE .pdf download, outlining and providing a description of the language used at Anna Aspnes Designs.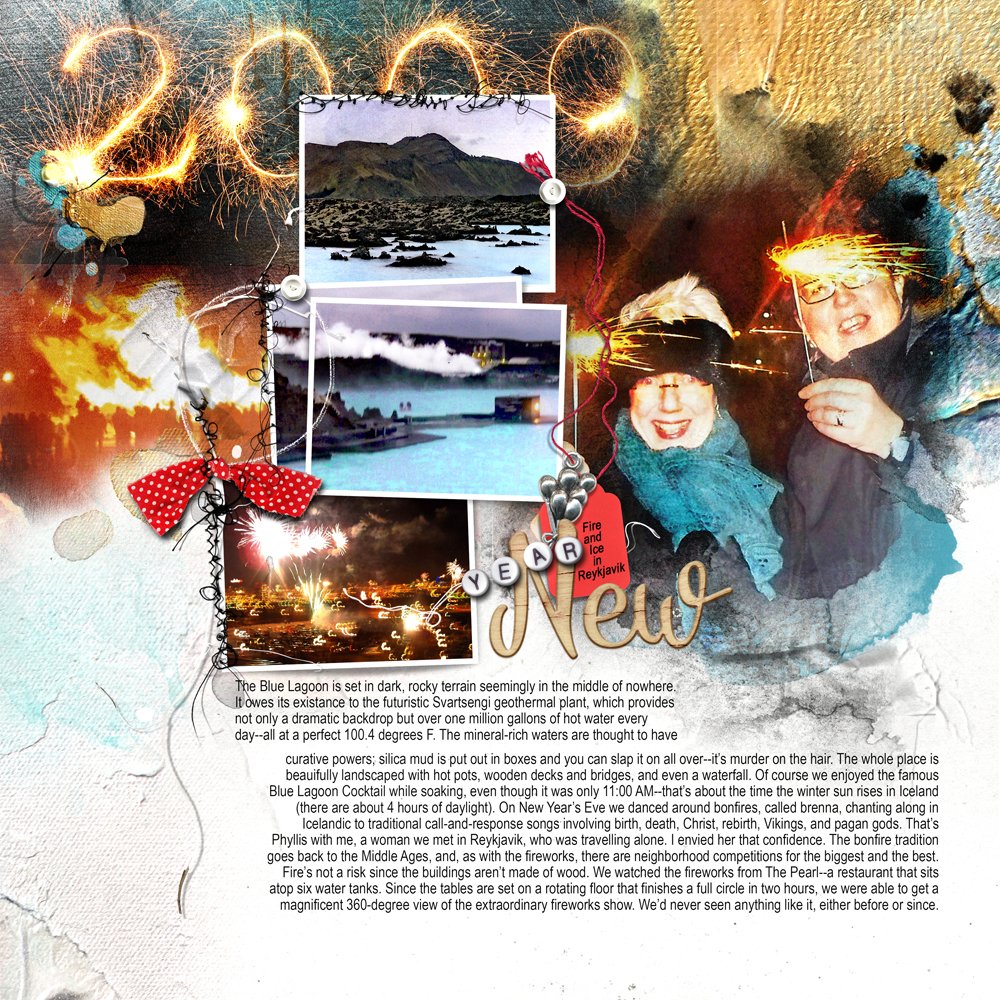 Fire and Ice | Laura
Lead The Eye With Red. Adding a splash of red to you pages adds visual interest and can lead the eye around a design. It also happens to be my favorite color and features a lot in my personal pages. Use it to support an inkling of red in your photos as shown by the glare of lights in Laura's images and place your elements to create a Visual Triangle.
Visual Triangles are created when 3 common elements are arranged on a page, so that if they were connected by invisible lines, a triangle shape would be created. Commonalities include similarity in shape, size, color and or type of element.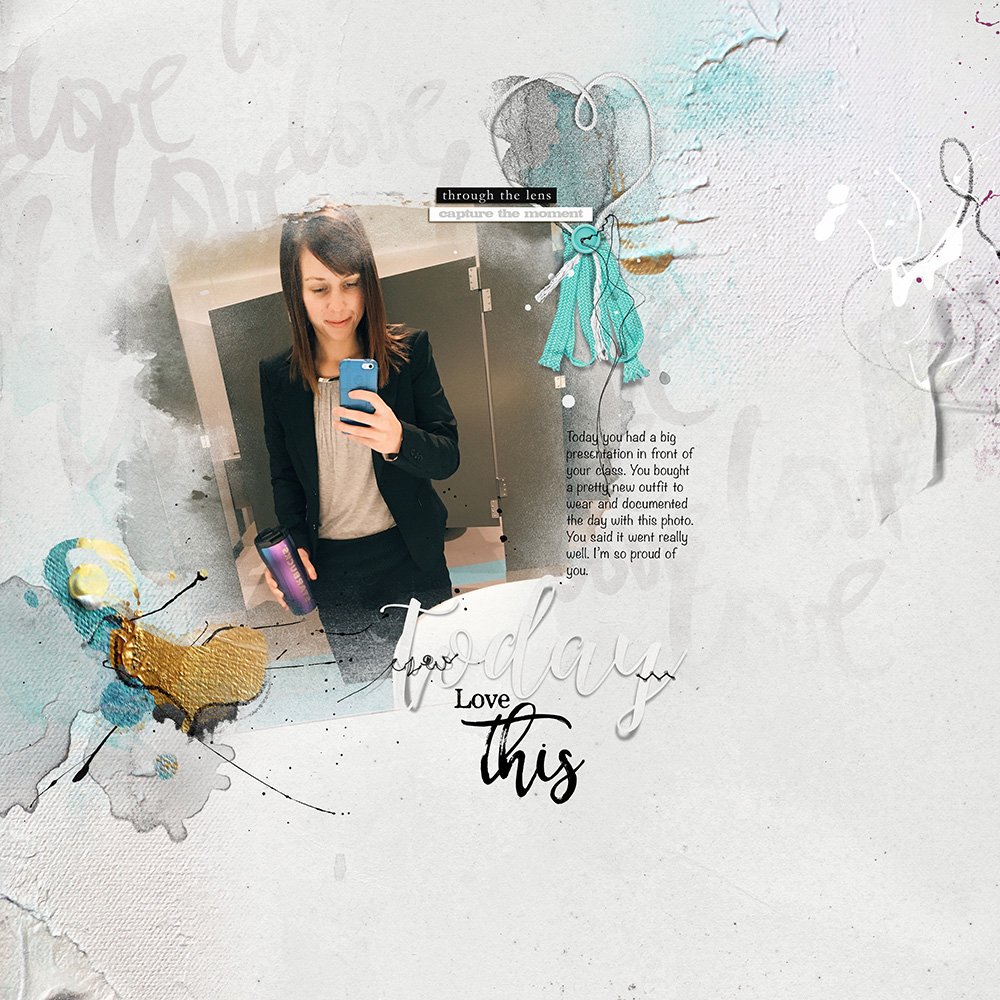 Her Big Day | Heather
Easy Blending With Masks. Blending an image into your background does not have to be a complicated or time consuming affair. Clip a photo to a FotoBlendz Clipping Mask to take the headache out of blending.
Move the image layer on top of the mask layer in the Layers panel, ensuring the photo completely covers the mask. Go to Layer> Create Clipping Mask or press CTRL + G (Elements) or CTRL + ALT + G (Photoshop) to make the photo conform to the shape of the underlying mask layer.
Want to learn more about Blending? Get involved with the aA Year of ArtPlay. This year-long workshop will keep you inspired and engaged in blending every month through out the year. Learn more in the updated FAQ and register here.