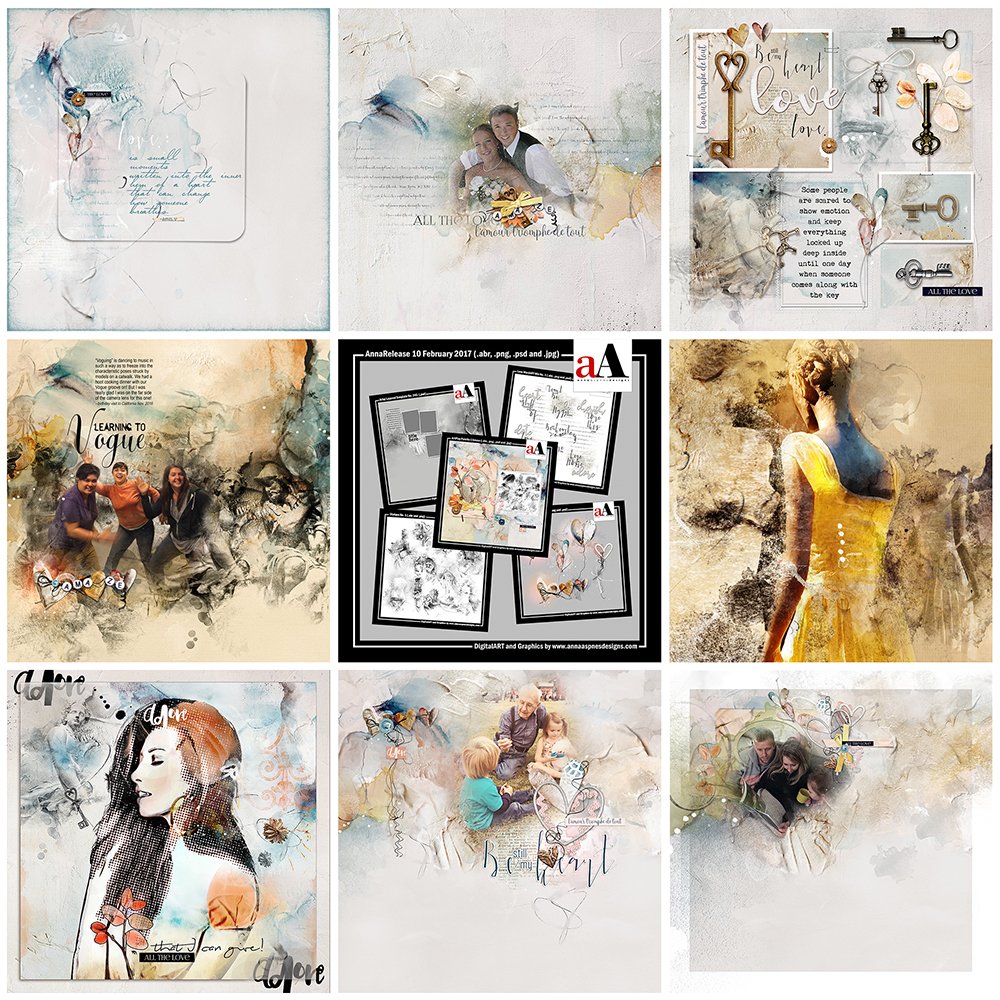 Today we're sharing digital designs inspiration L'Amour.
AnnaRelease L'Amour is the newest collection of digital designs for scrapbookers, photographers, artists and crafters to be released into the Anna Aspnes Designs store.
AnnaRelease L'Amour
The aA Creative Team are going to have you falling in love this week with the new ArtPlay Palette L'Amour and supporting DigitalART products.
More digital art inspiration for AnnaRelease L'Amour, of course, can be located in the AnnaGallery.
Learn the Background and Origins behind this collection in this post.
Note that the AnnaRelease bundled option is available for ONE week only.
Click on the image below to view more digital designs inspiration 'L'Amour' or visit the AnnaTeam Layouts board on Pinterest.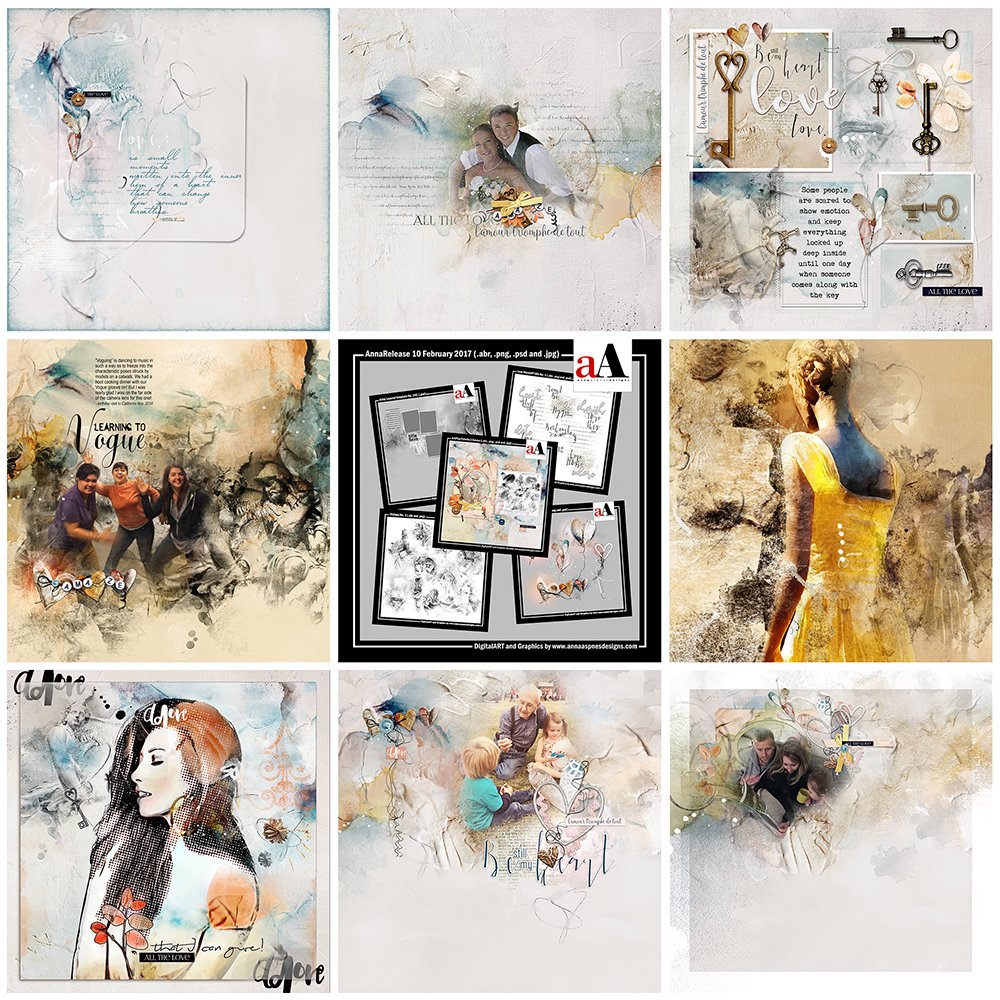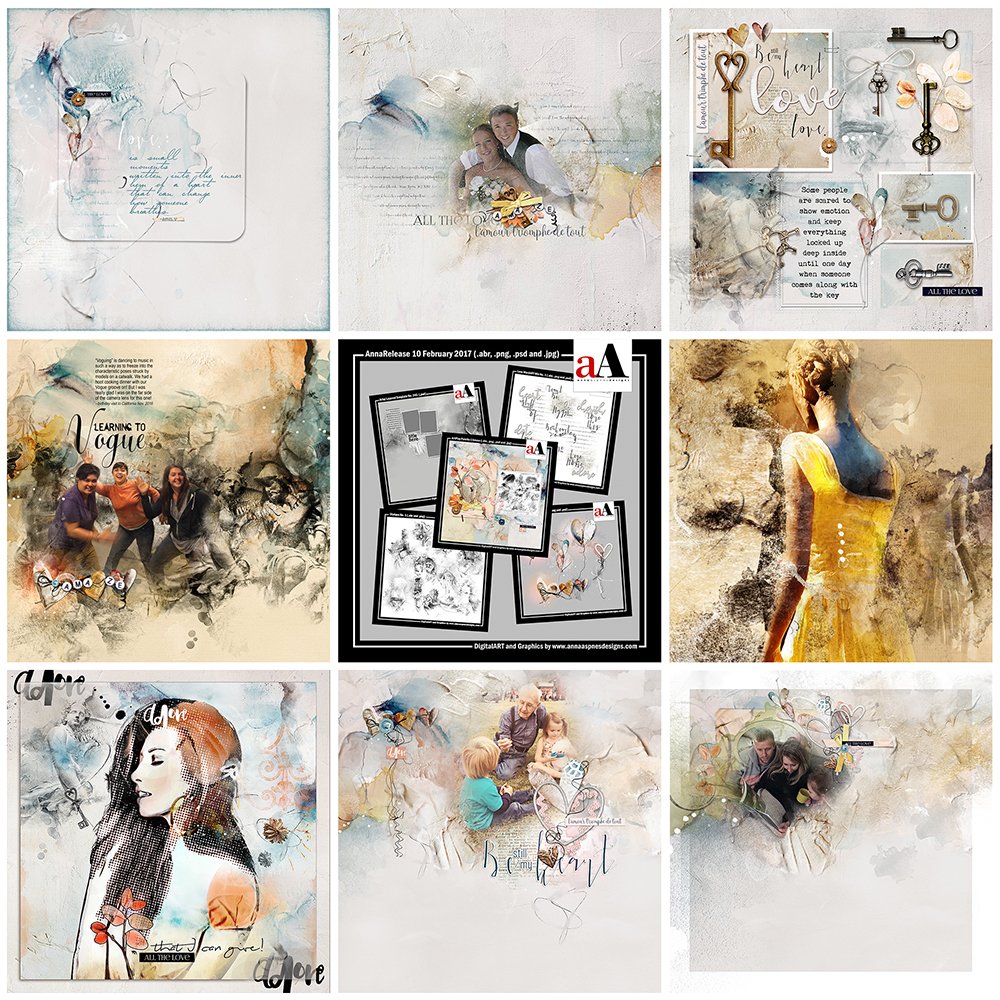 Digital Designs Inspiration L'Amour
See our Gallery HighLights by clicking on the images to access complete digital design supply lists. You will also find process notes and digital scrapbooking tutorials from each team member to provide new digital inspiration for using aA DigitalART designs.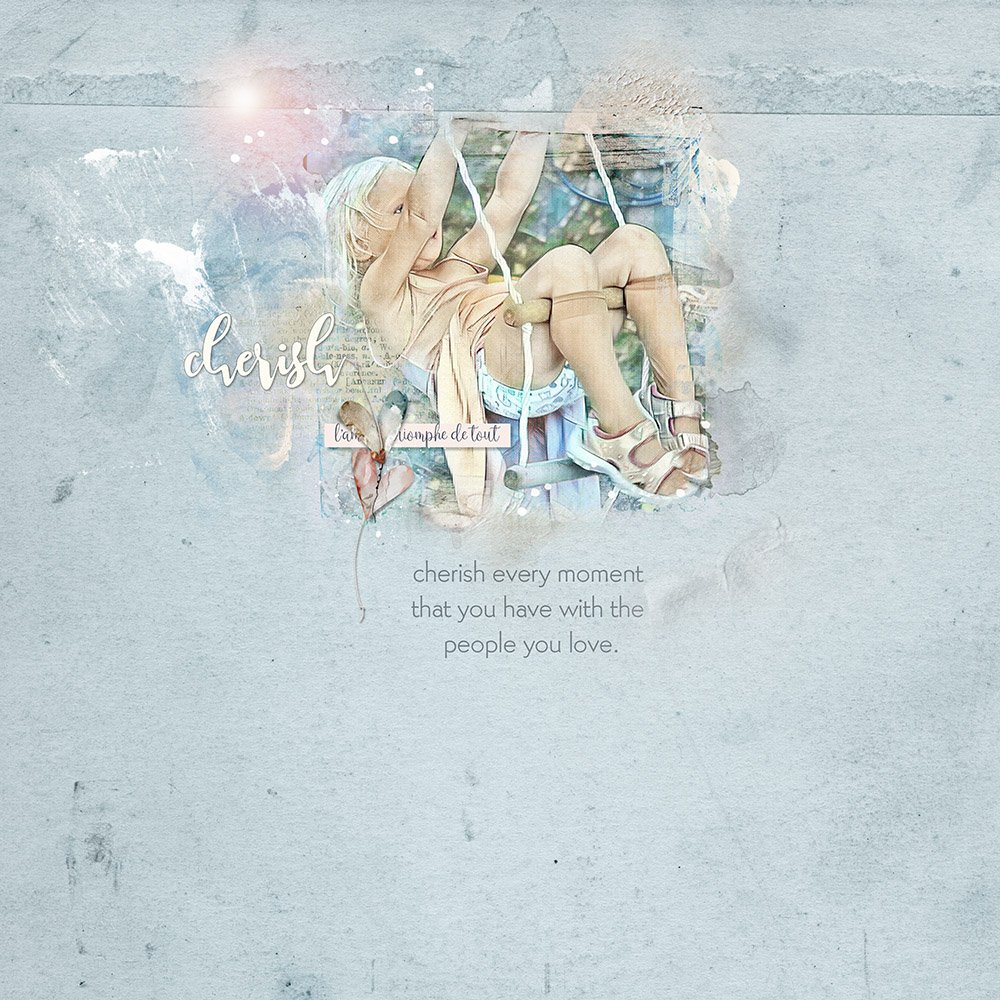 Cherish | Ulla-May
Split and Group. The embellishments from MultiMedia Hearts No. 3 are delivered in .psd and flattened .png (with separate FotoGlow layer). The former enables you to use the elements from each file either together as delivered, or independently.
You can also create your own MultiMedia style elements or groups of embellishments by mixing and matching the layers as demonstrated by Ulla-May. Notice how she has used the FotoGlow element by it's self and grouped the hearts with a LabeledWord from ArtPlay Palette L'Amour. Moving elements closer together according to the principle of Proximity creates a relationship and sense of belonging together.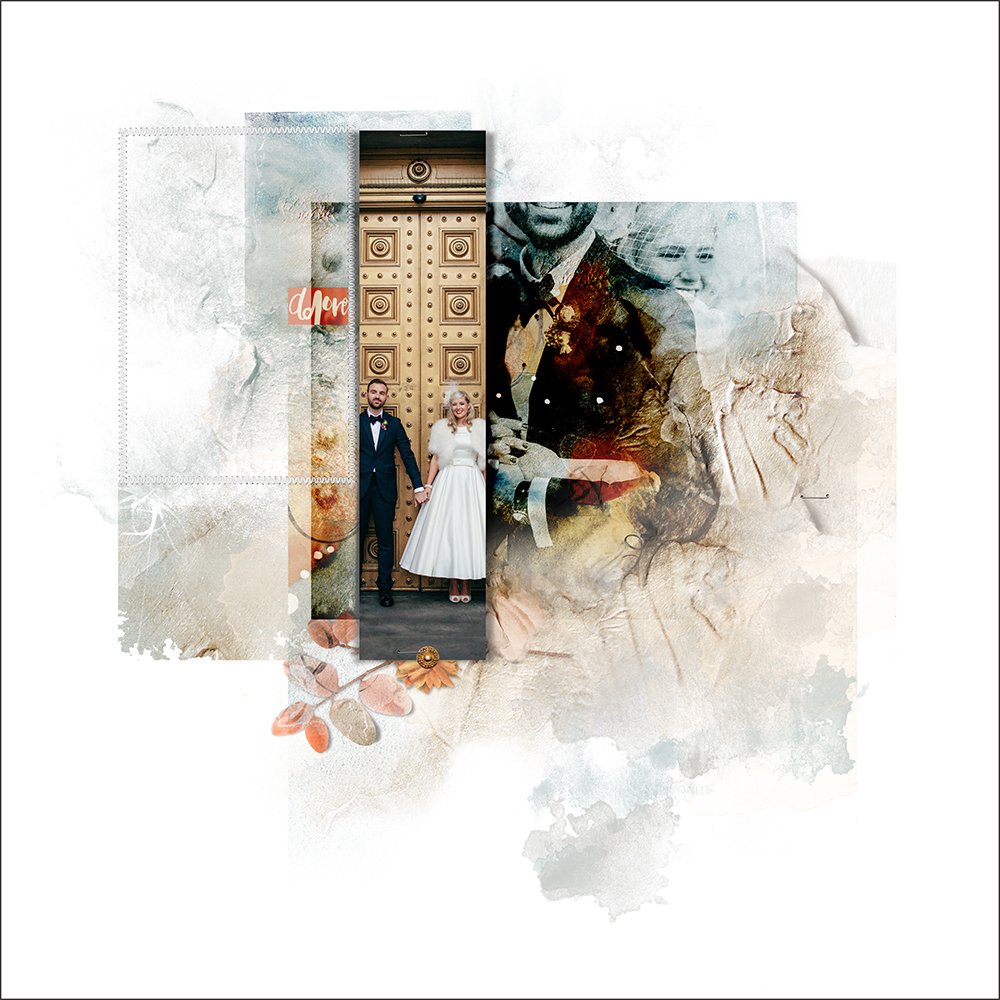 Amour | Fiona
Graphic and Artsy. Create excitement or Tension in your design by adding an element that is completely unexpected. Fiona has incorporated straight lines into her image that add a suprise departure from the fluid and organic lines found in both the artistry and blending.
The introduction of a more graphic approach creates visual interest and moves the eye in a logical fashion around the design. Consider supporting these lines with ArtStrokes, Stitching and/or Drop Shadow Layer Styles.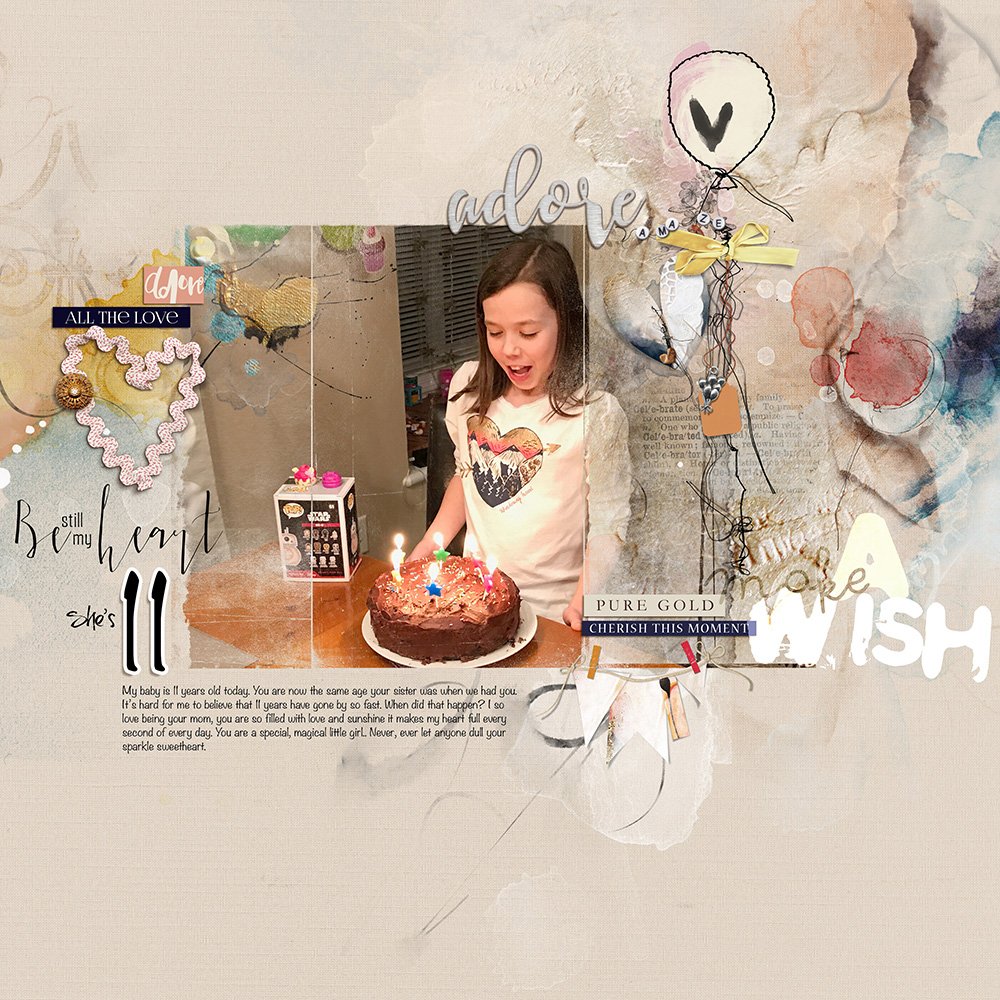 She is 11 | Heather
Old and New. Dig back into your aA DigitalART supplies and look for common colors and thematic elements to combine with ArtPlay Palette L'Amour as demonstrated by Heather. She has taken elements from the Birthday ValuePack No. 3 collection to support her theme.
Also notice how she uses and groups her elements in here artsy meets traditional digital scrapbooking style.
Want to learn more about Design? Join the aA Year of ArtPlay 2017 which begins this week. You can learn more and register here.
Share and connect with other artsy digital scrapbookers by posting your own Digital Designs Inspiration L'Amour in the AnnaGallery.