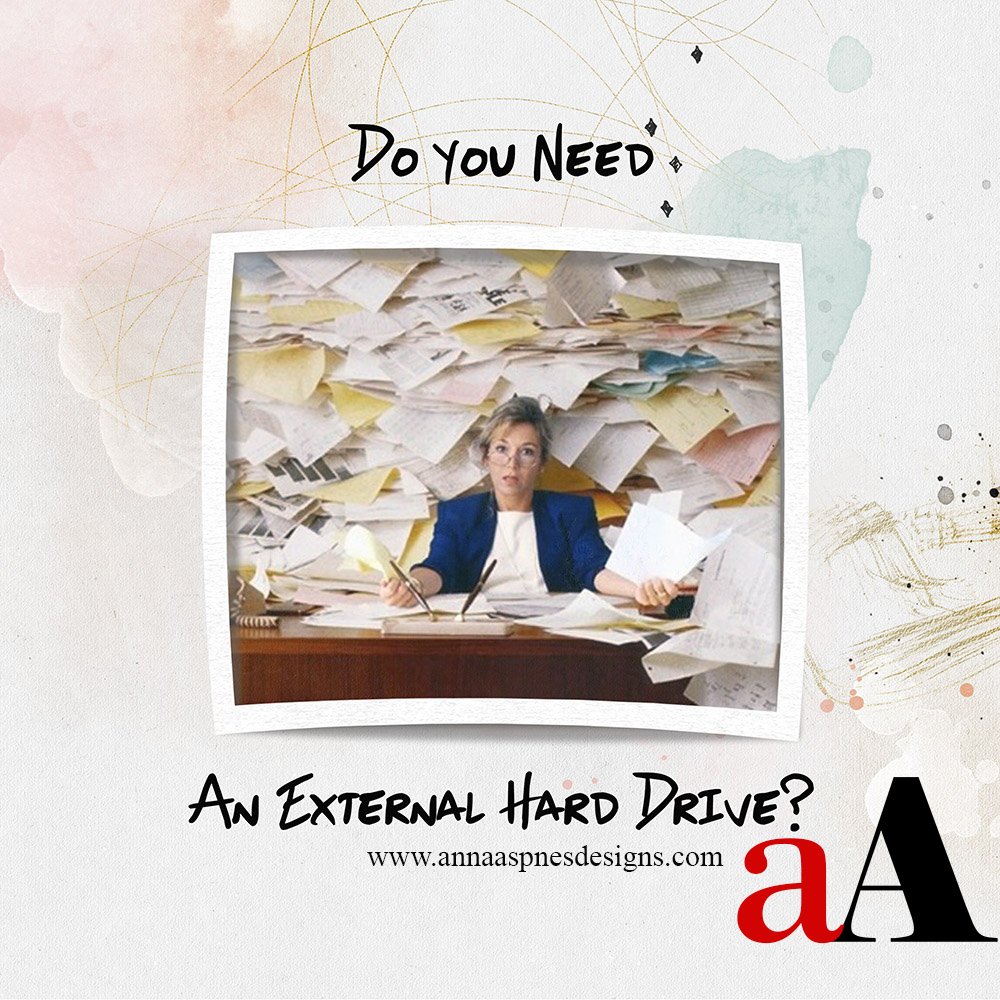 Creative Team Member, Trudy, shares her advice on using external hard drives for digital scrapbooking in storing digital art supplies.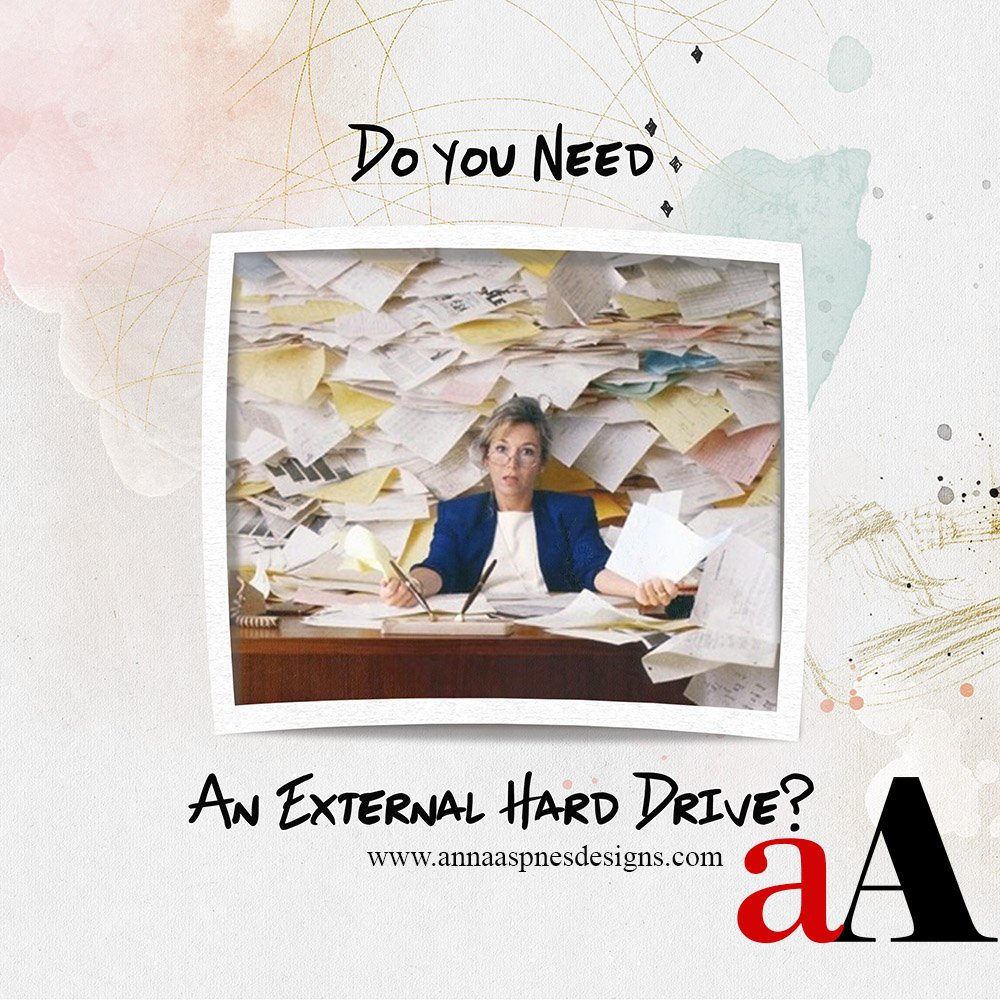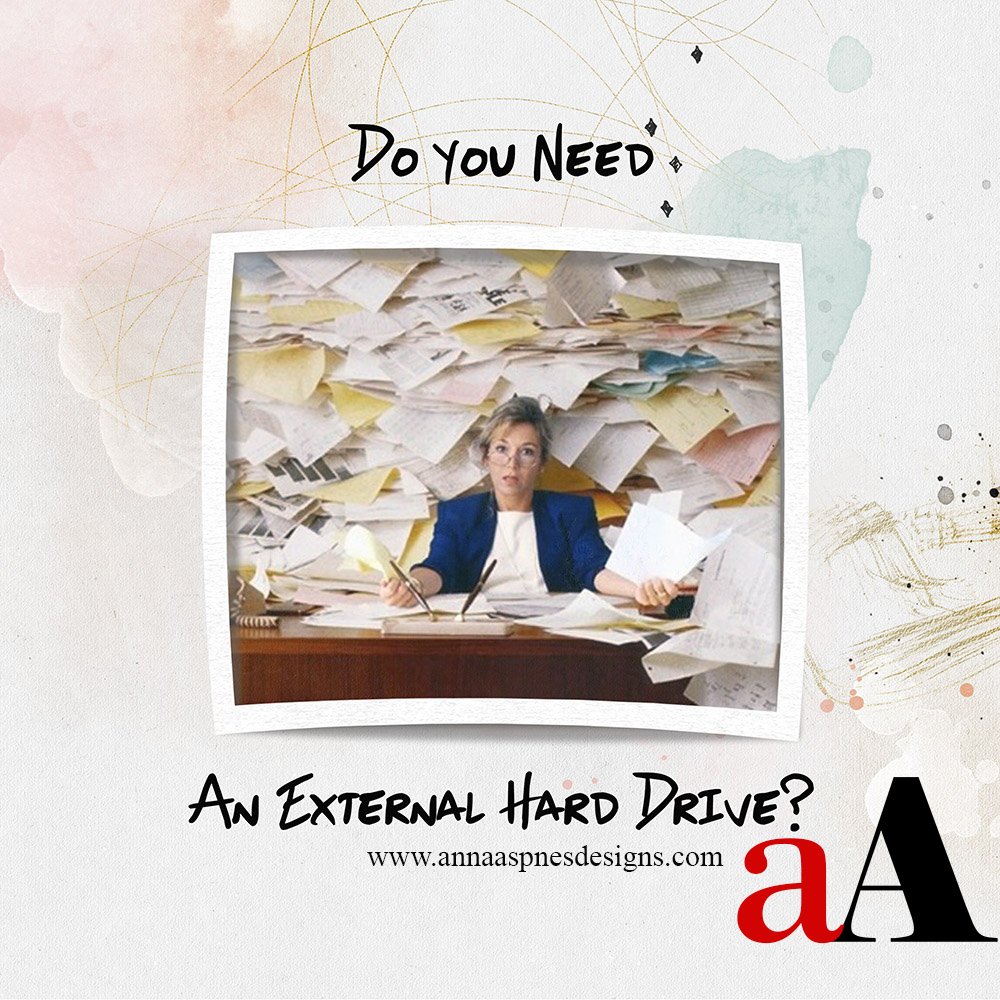 External Hard Drives for Digital Scrapbooking
When it comes to Digital Scrapbooking, we have to admit that we are hoarders.
Most of us, myself included, still have every single artsy digital scrapbooking file that we ever downloaded or photo captured.
And that's OK – As time goes by, technology becomes cheaper and more available meaning that we don't have to choose which files we keep and discard anymore.
External hard drives are no exception. These days you get more space for less investment making them the perfect solution for backing up your computer, storing files you do not use as frequently or simply to provide a little extra file space to work with.
External Hard Drive Options
Before you determine what size hard drive you need, you will want to choose between a Portable EHD and a Desktop EHD.
The difference between the two is simple.
Portable Hard Drives are lightweight and easy to take with you if you are on the go.  They are great for Photographers, or for Scrapbookers who travel and love to create wherever they are.  The connected computer powers most Portable EHD's, so you can use them on the move without the need to plug into a main power supply or battery pack.
Desktop Hard Drives are larger and typically less expensive.  They are built to last longer and are a good choice if you have large amounts of high definition data to store, or to backup everything on your computer. If you are considering a Desktop EHD make sure you choose one with a built in fan. The extra cooling will extend its life expectancy.  They are designed to stay in one place, usually on your desk at home or at the office and require a power adaptor.
How much storage do you need?
Typically the rule of thumb is that you should purchase an EHD with at least twice the amount of storage space as your internal hard drive on your computer.  For most of us, a 1 TB or 2TB EHD would suffice.  Of course, if you are storing something like movies, you might want to go a bit bigger. There are some models out there that will give you up to 8TB worth of space, but also come with a huge price tag.
It's tough to say definitively which manufacturer makes the most reliable hard drives. While there's a big difference between the technology used in traditional Desktop EHD's and Portable EHD's both have a limited lifespan, and this is why warranties are relatively short – typically two or three years.
What's important is that you have a well-thought-out backup process and you don't rely on any single drive to store precious files. Ideally you should have three copies: one on a PC or Mac, one on a backup drive (such as one of these portable or Desktop drives) and one in the cloud.
Using external hard drives guards against drive failure, losing or breaking your laptop, plus theft and fire. You may consider doubling up on your hard drives and creating copies to be stored with family or another secure location.
Let me know if you have any questions about external hard drives for digital scrapbooking the comments below.