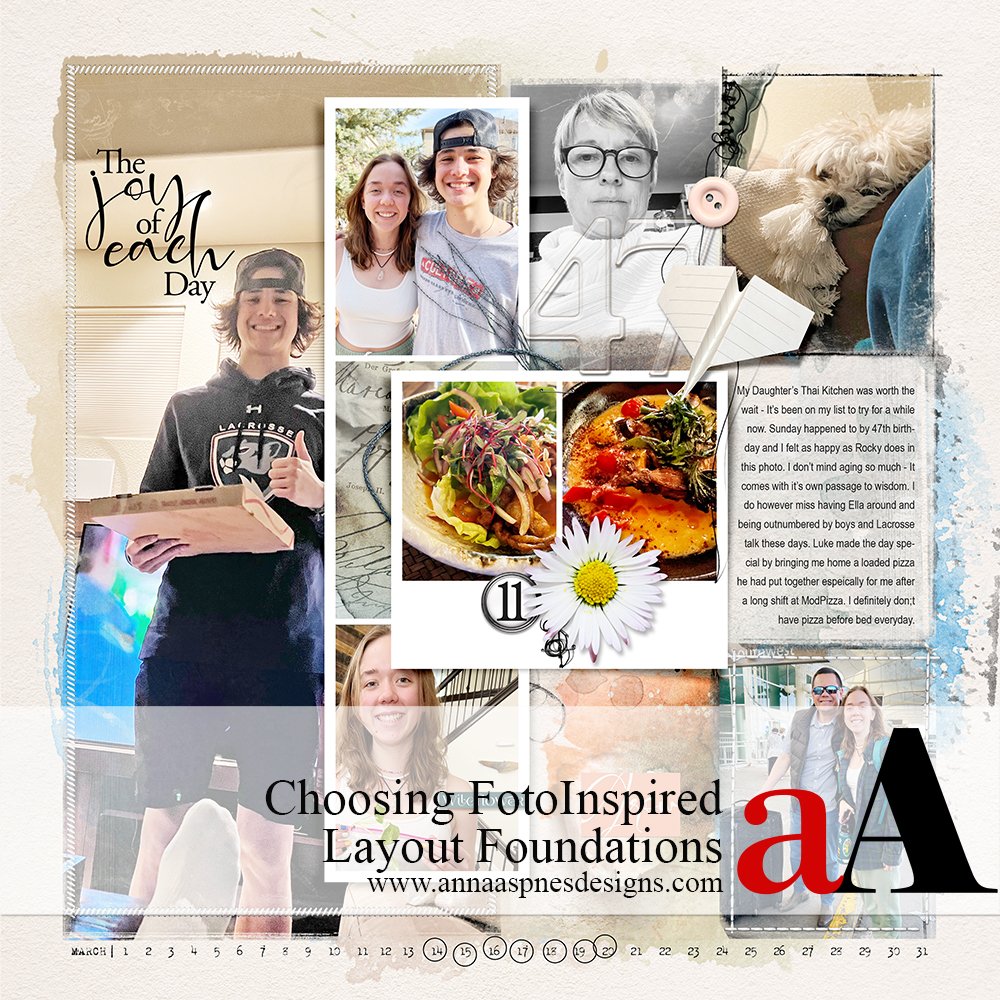 Today, I'm sharing my FotoInspired March 2022.
FotoInspired March 2022
New to FotoInspired?
Join the dedicated FotoInspired community on Facebook.
The FotoInspired Stats
A total of 4 double-page spreads.
Everyday photos
Spring Break + My Birthday
Here are my layouts PLUS some thoughts on Choosing FotoInspired Layout Foundations.
March 2022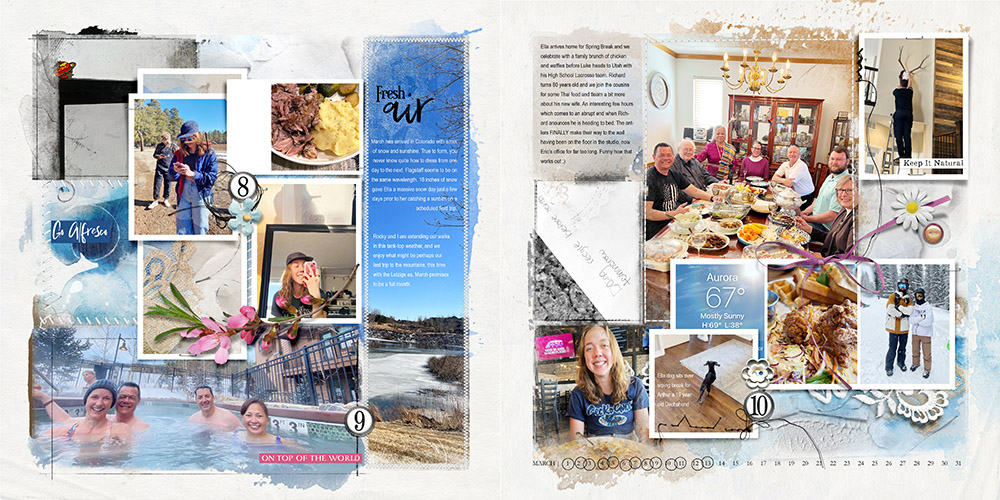 Week 8,9 and 10 | Random Photos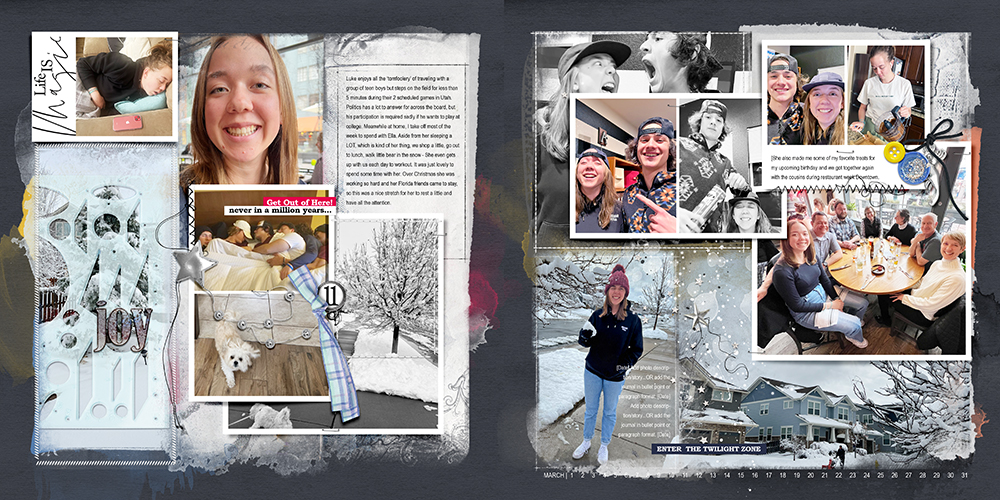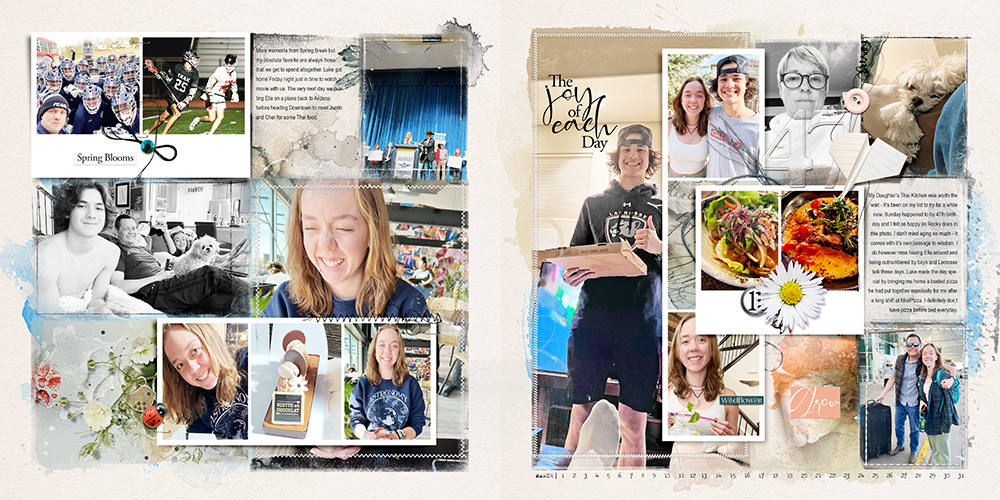 Week 11 | Spring Break + My Birthday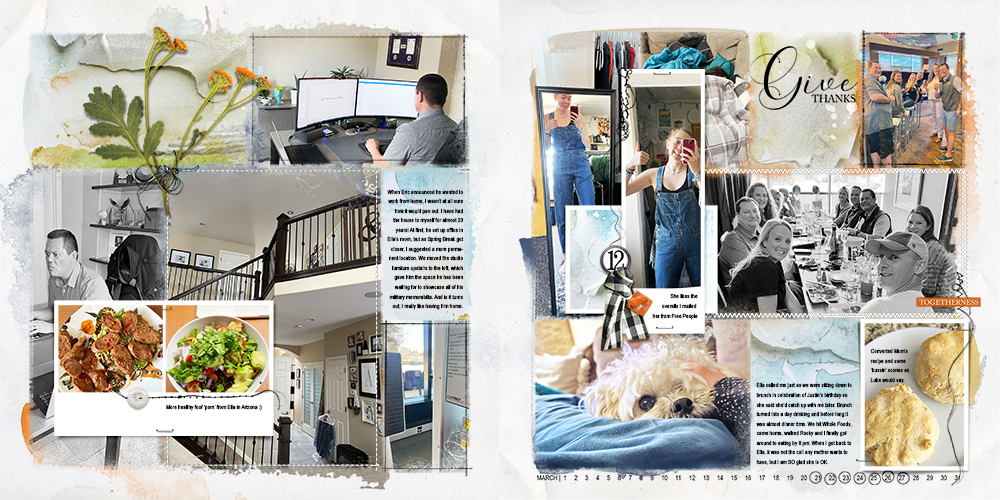 Week 12 | More Everyday Photos
Choosing FotoInspired Layout Foundations
Personal preference for my layout foundations.
Solid cardstock style backgrounds with Uniform and Subtle Texture.
This means the chosen Solid Background can be duplicated easily without having Repetition of a fold/crease or stain at the edge of my digital scrapbooking design.
The foundations are nearly always Light in color as I have found this the most Simple approach for supporting multiple photos that differ in subject and color.
I typically use Neutrals, such as white, cream, beige or tan, but also tend toward blue and green which coordinate well with outdoor photos.
Small, unobtrusive patterns add Tension to your digital scrapbooking pages when the Theme is appropriate.
Photos that include a lot of white or Light Colors, such as our Colorado winter photos, create Contrast against Dark navy, brown and gray backgrounds.
Ultimately, the choice of Solid Paper for your FotoInspired Template Backgrounds will be determine by the Colors in your photos.
Try This.
Assess the Colors of your photos and determine which color(s) is/are most Prominent.
Choose a Neutral Solid Paper and a one of a Lighter Shade of the identified prevailing colors.
Drag the 2 papers directly above the Background layer of your digital scrapbooking layout using the Move Tool from the Tools Panel.
Position the papers on one side of the foundation then Duplicate by dragging the 2 layers down to the New Layer icon in the Layers Panel.
Reposition the 'copy' paper layers to the other side of the digital scrapbooking layout foundation.
Now add a Darker Solid Paper and repeat the duplication steps above.
You should now have 3 Different Layout Foundation options.
Click on the 'eye' icon next to each of the paper layers to see which works best with your photos.
See also: