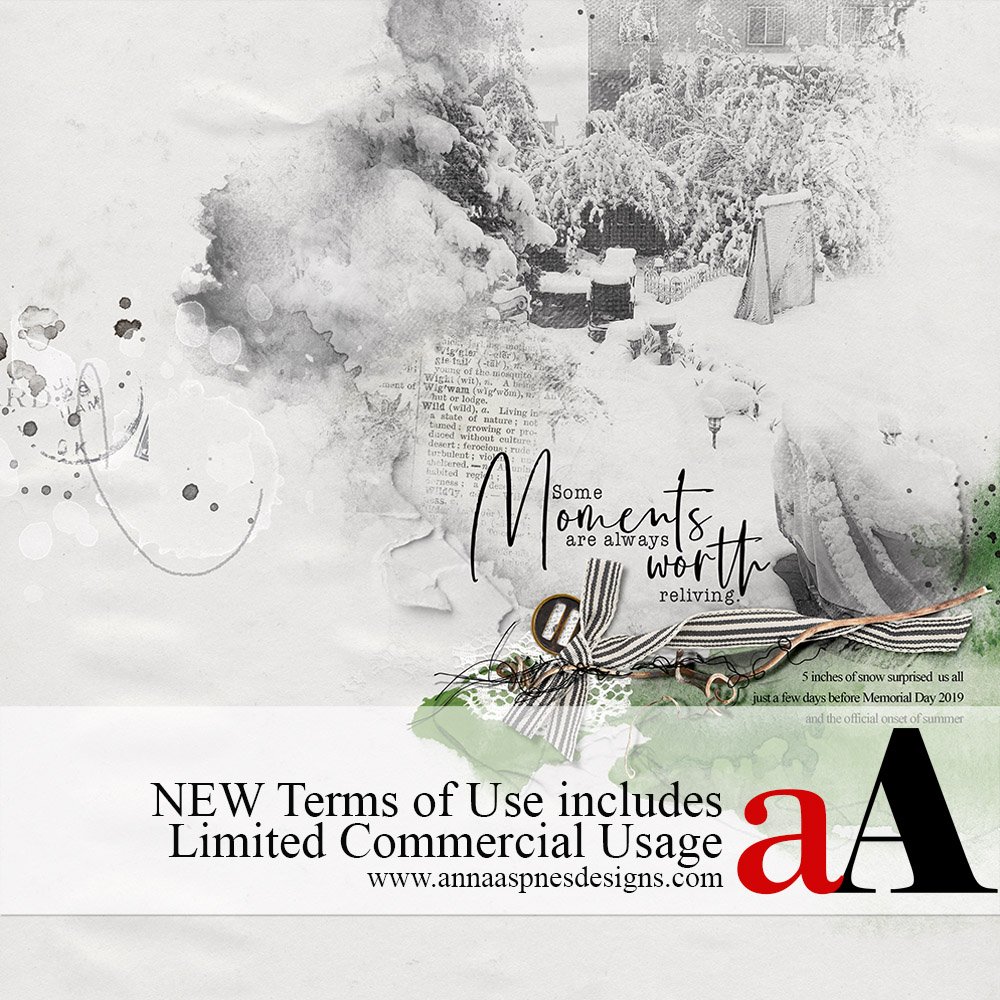 Today I'm sharing the NEW Terms of Use includes Limited Commercial Usage.
NEW Terms of Use includes Limited Commercial Usage
There is a NEW Terms of Use at Anna Aspnes Designs valid from 19th May 2019.
This is intended to make:
a

A

 DigitalART more accessible to you.
The Terms of Use easier to understand.
Please note that the new license is included the latest product releases and is located on the Homepage, in the footer of this website, here.
The NEW Terms of Use grants you permission to use

a

A

DigitalART in BOTH personal AND commercial projects in a limited capacity.
Subject to the limitations outlined in the NEW Terms of Use, highlights are as follows:
You may now incorporate

a

A

DigitalART into your own original work for print and it may be used by photographers, S4O (Scrapbook for Others)/Scrap 4 Hire, web designers and digital/photo artists for sale to their clients.
You may NOT redistribute Anna Aspnes Designs products or claim any material or its derivatives as your own work nor can 

a

A

 DigitalART be used for promoting or creating other digital or paper scrapbooking/crafting products or designs.
Please read the NEW Terms of Use carefully and let me know if you have any questions.
The terms apply to ALL the DigitalART products in the Anna Aspnes Designs store at Oscraps.
We will not be replacing all the individual terms of each product in the store.
This license supersedes all licenses prior to this date, including those included within each product purchased from this store.
This license applies to products you have already purchased from Anna Aspnes Designs.
Intended for small runs ONLY.
Most of you will no longer need to purchase additional licenses for

a

A

 DigitalART as long as your usage aligns with the NEW Terms of Use
The Licenses category has been removed from the Anna Aspnes Designs store.