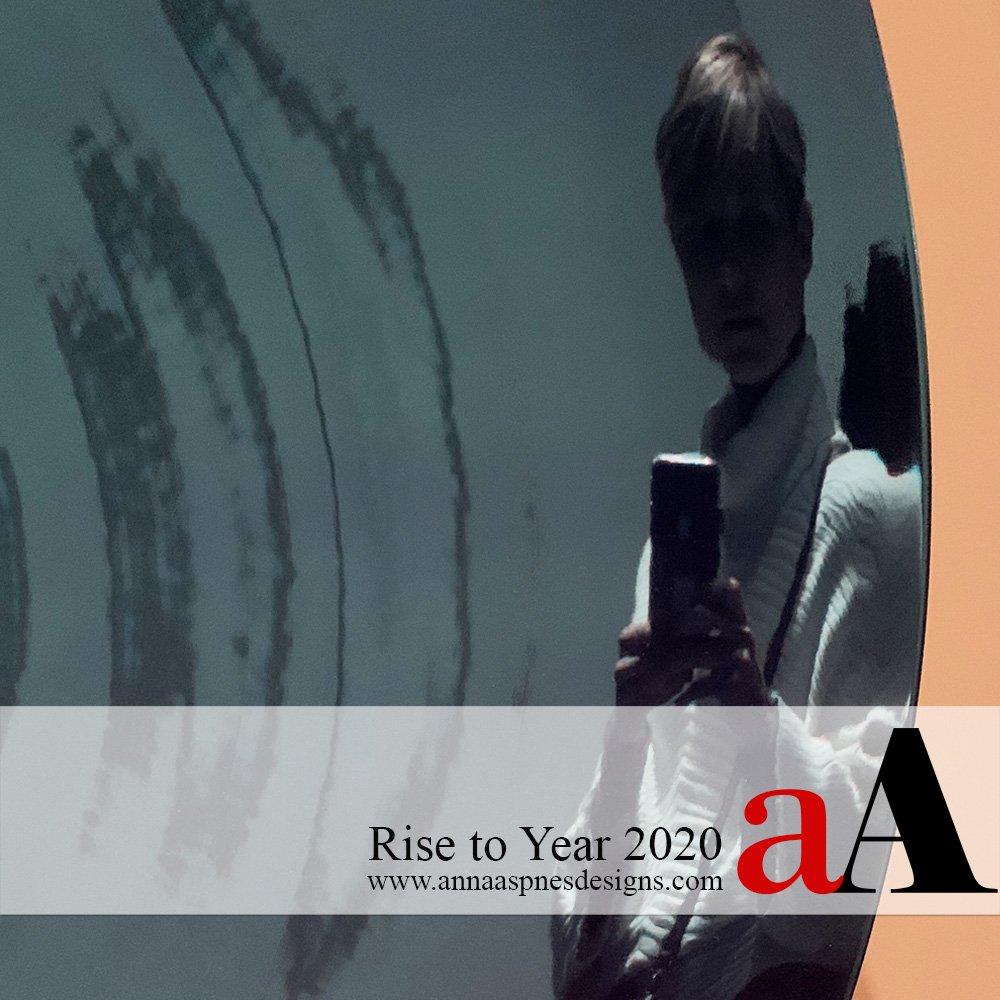 Today, I'm sharing thoughts about how we will Rise in Year 2020.
Welcome 2020
Create Your Life
We're almost a week into the New Year
Last week, I released updates the NEW Anna Aspnes Designs.
And we've been working behind the scenes to fix 'all the things' ever since.
Note. Please Clear Your Cache if you have problems accessing any part of this website.
So today feels like the beginning of 2020.
And a new decade?
In theory it's not, but if you've been around here long enough, you know I march at the beat of my own drum.
Ella is back to school today, with Luke following tomorrow.
Monday is a much 'tidier' way to start the week.
And I've never been good at being told what to do [insert big grin]
So, I'm going with it.
Aim to Make Mistakes
Messing up is GOOD
These words left a timely lasting impression.
During my last yoga class of the year on New Year's Eve:
"I hope that in this year to come,
you make mistakes.
Because if you are making mistakes,
then you are making new things,
trying new things,
learning,
living,
pushing yourself,
changing yourself,
changing your world.
You're doing things you've never done before,
and more importantly,
you're Doing Something."
Neil Gaiman.
Member of the Scaredy-Cat Club
Yes I am
I am a HUGE introvert.
I play it safe most of the time.
I do not like to be seen.
I'm most certainly NOT a risk taker.
I'm an A-Type who hates to fail.
Which basically means I could be SO much MORE in my art and life.
Rise to the Challenge
Revisiting the One Little Word movement
I haven't chosen one in several years.
And I wasn't intending to do so this year either.
But RISE sort of found me.
I'm using it to push through those moments where I am scared.
To have a more 'YES I CAN' attitude.
Are you with me?
Intention to Act
Writing it ALL down
The idea is that you bring to life what you have in mind.
FOCUS leads to AWARENESS which then stirs ACTION.
My List:
Start my weekdays at 5 am.
Aim for 8 hours of sleep.
Move my body daily.
Continue practicing yoga.
Nurture my creativity.
Paint at least once per week.
Eat at least 10 servings of veggies/fruits a day.
Stay innovative in my Digital Artistry.
Create MORE

a

A

Classes.
Listen to my intuition but brave the FEAR.
Learn from mistakes.
And Your List?
List your Top 10.
How will you make your life and artistry better in year 2020?
Now create a photo artistry or scrapbooking layout to memorialize your intentions.
Post a link here in the COMMENTS to your layout.
Chance to win a $10 GiftKard to the Anna Aspnes Designs store.
Random winner to be selected Monday January 13, 2019 around 11 am EST.
Maybe I can also help you reach your artistry goals.
***Edited***
And the winner is:
Congratulations Carol Gary! Emailing you your $10 GiftKardz.
Thank you all for participating!
I hope this little challenge helps you manifest some good intentions.