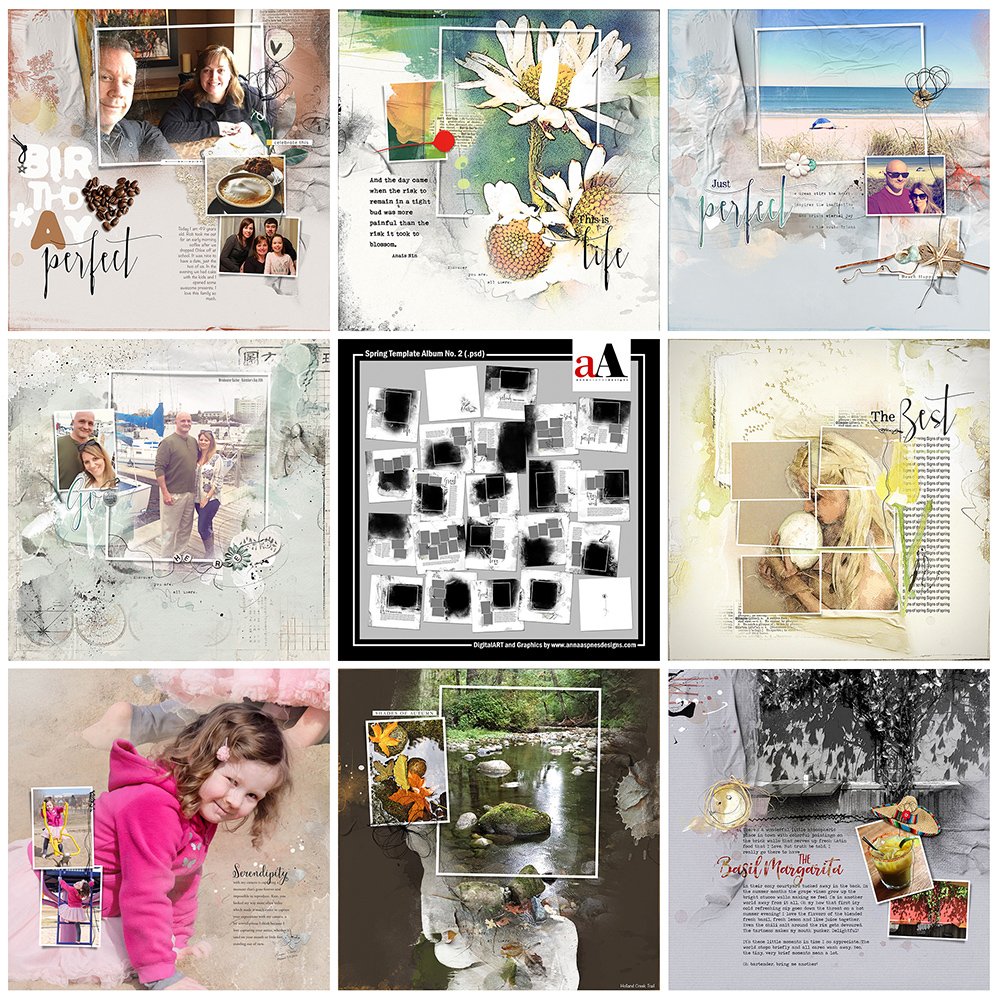 Spring Template Album No. 2 inspiration has arrived on this fine Monday morning.
Spring Template Album No. 2 is the latest collection of digital designs for scrapbookers, photographers, artists and crafters to be released in the Anna Aspnes Designs store.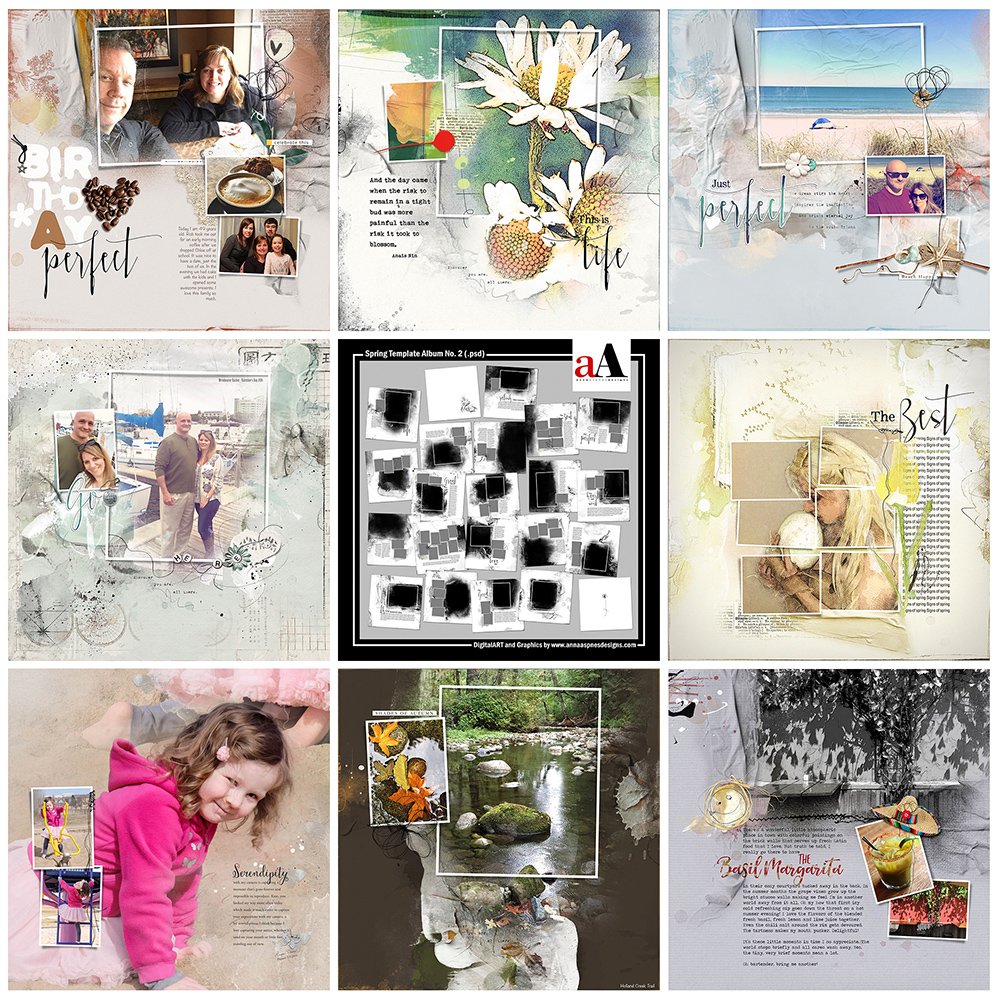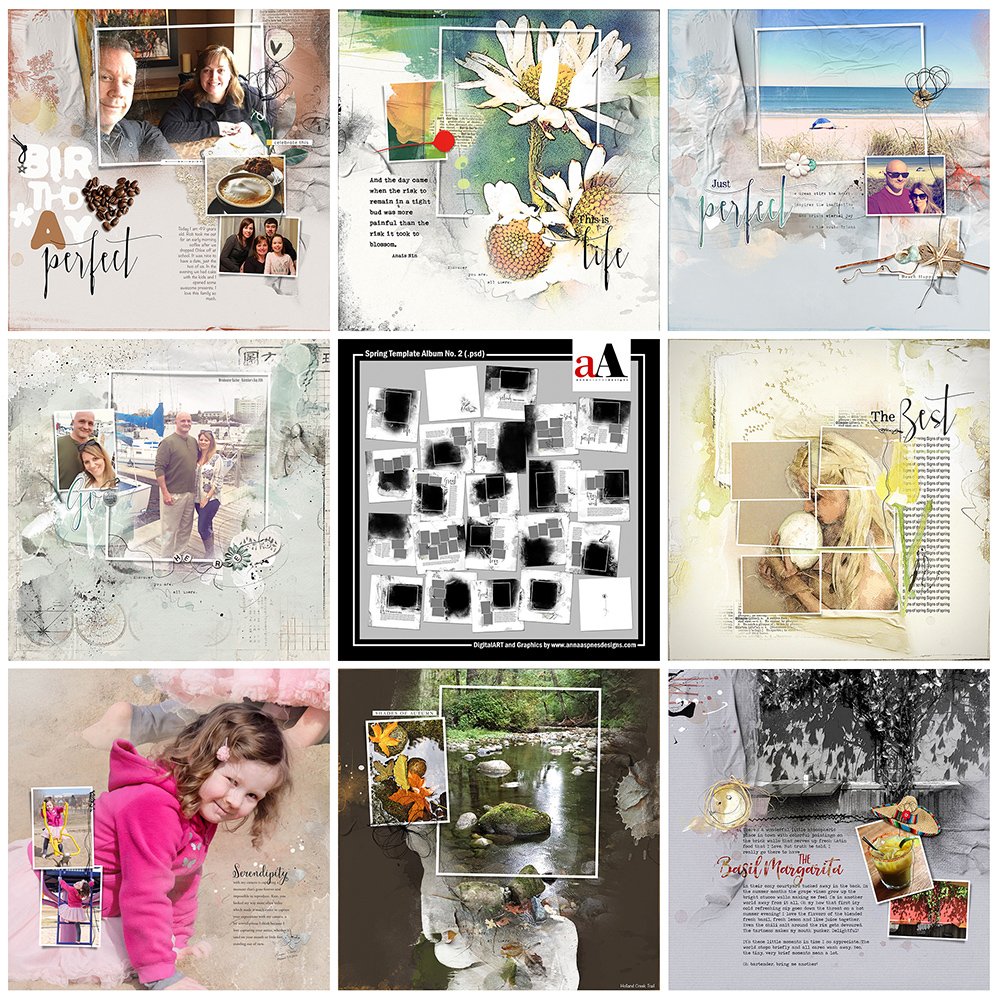 Spring Template Album No. 2 Inspiration
The aA Creative Team are have been getting artsy with their digital scrapbooking using Spring Template Album No. 2.
You can save 50% on this collection of digital scrapbooking and artistry templates for a limited time.
Click on the image below to view more new digital art inspiration for Spring Template Album No. 2, or visit the AnnaTeam Layouts board on Pinterest.
See our Gallery HighLights by clicking on the individual images to access complete digital design supply lists. You will also find process notes and digital scrapbooking tutorials from each team member to provide new digital art inspiration for using aA DigitalART designs.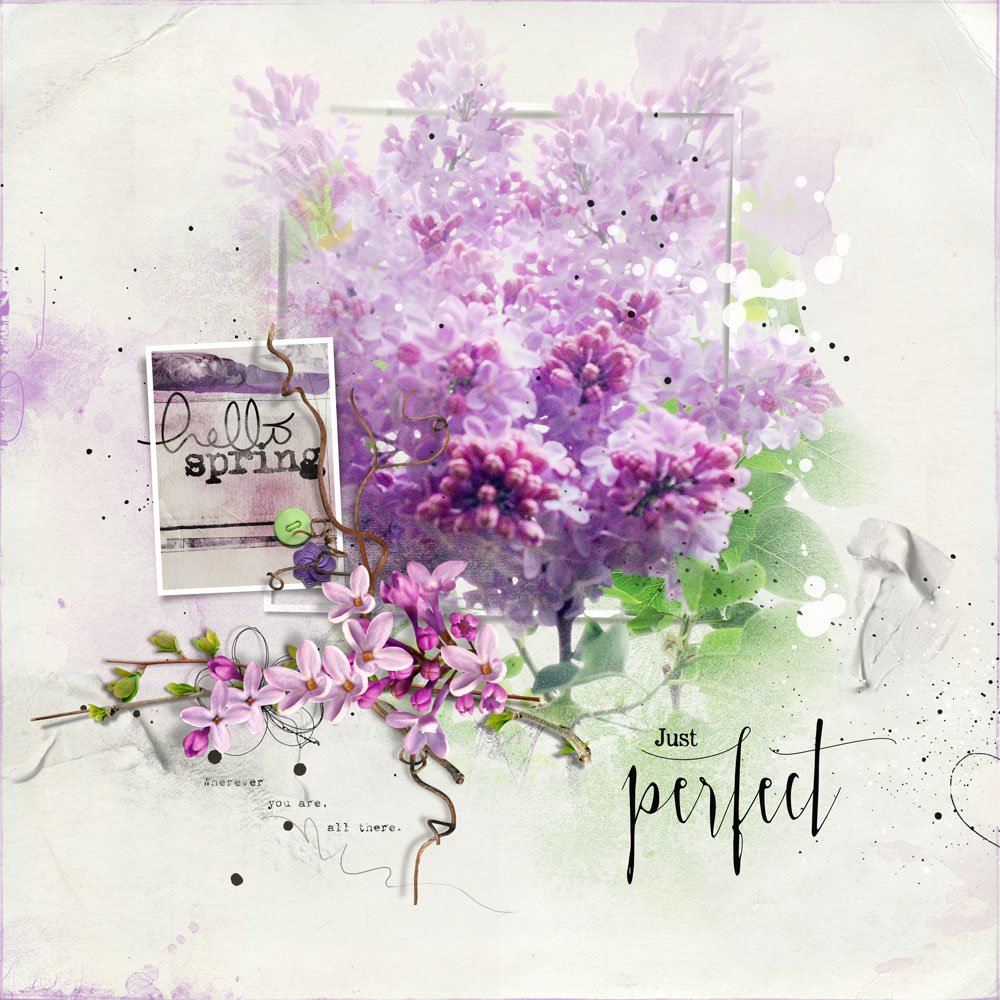 Lilacs | Miki
Dimension Creates Visual Interest
There are many ways to add dimension to your pages through the use of brushes, transfers and application of layer styles in Adobe Photoshop and Elements. One of the easiest ways to enhance the basic design of your digital artistry and scrapbooking pages is to add a dimensional embellishment. Miki has added dimension to her digital scrapbooking design by adding branches and flowers that support the imagery in her digital artistry layout.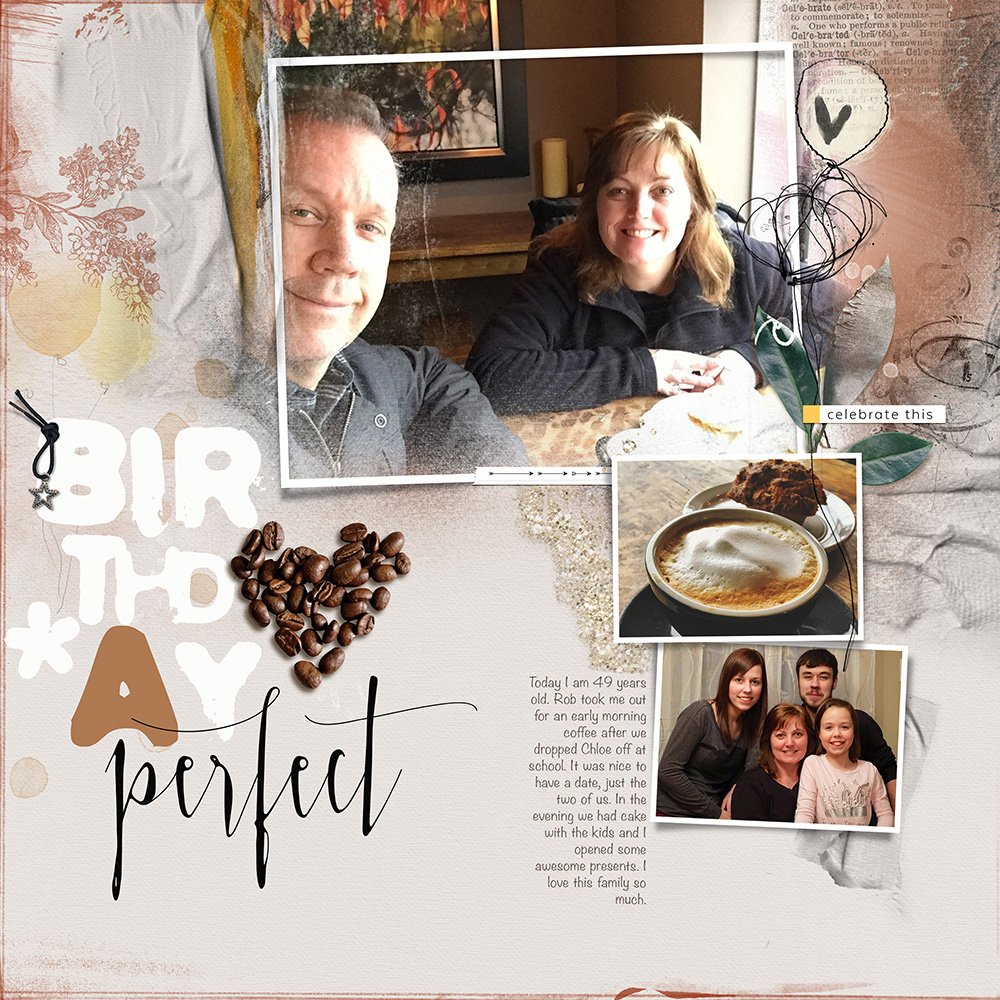 A Perfect Birthday | Heather
Color Coordinated Designs
Use the colors in your photos to determine your choice of aA digital art supplies. Heather let the neutral and brown tones in her photo guide her ArtPlay Palette select then recolored elements such as the edge overlay and title to pull the design elements of her digital scrapbooking page together. Also notice how the coffee bean heart and stitching add another visual component to the page as outlined above.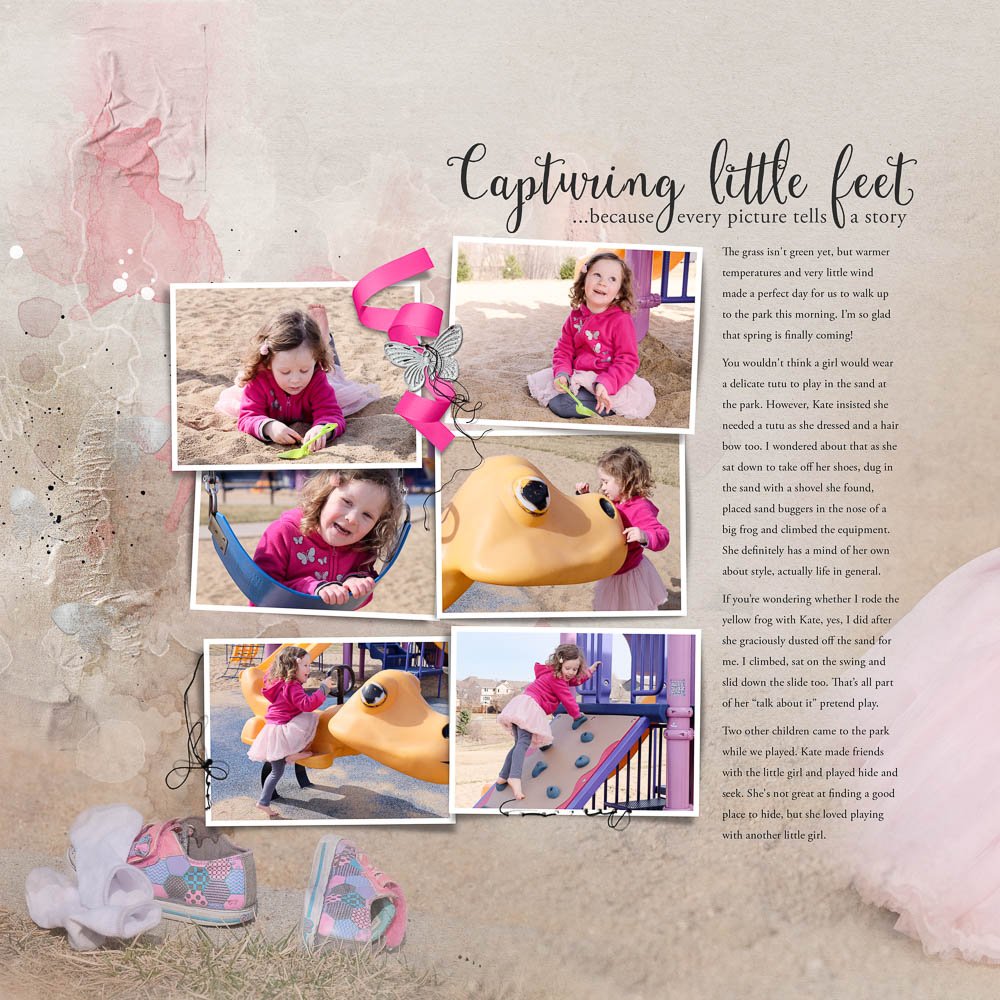 Capturing Little Feet | Linda
A Series of Photos
Fill the frames of your templates with a sequence of photos from the same event or from different time periods o tell your story. A collection of photos depicts a visual story which requires fewer words to explain the focus of the story. I love how Linda had paired several shots of a trip to the park with a few paragraphs of written detail.
More digital art inspiration for Spring Template Album No. 2 can be found in the AnnaGallery.