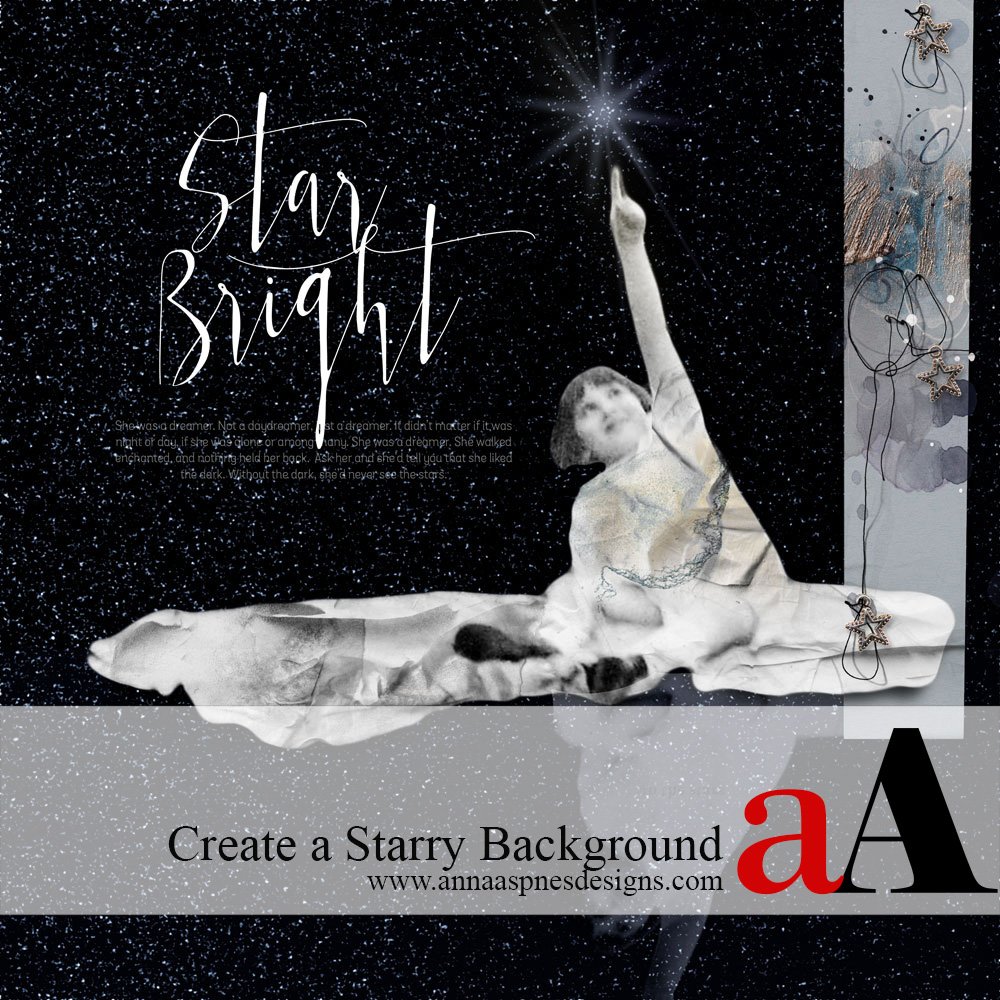 Creative Team Member, Adryane, shows us how she creates a Starry Background in Adobe Photoshop. This tutorial was created by Lindy Krickbaum from her process notes.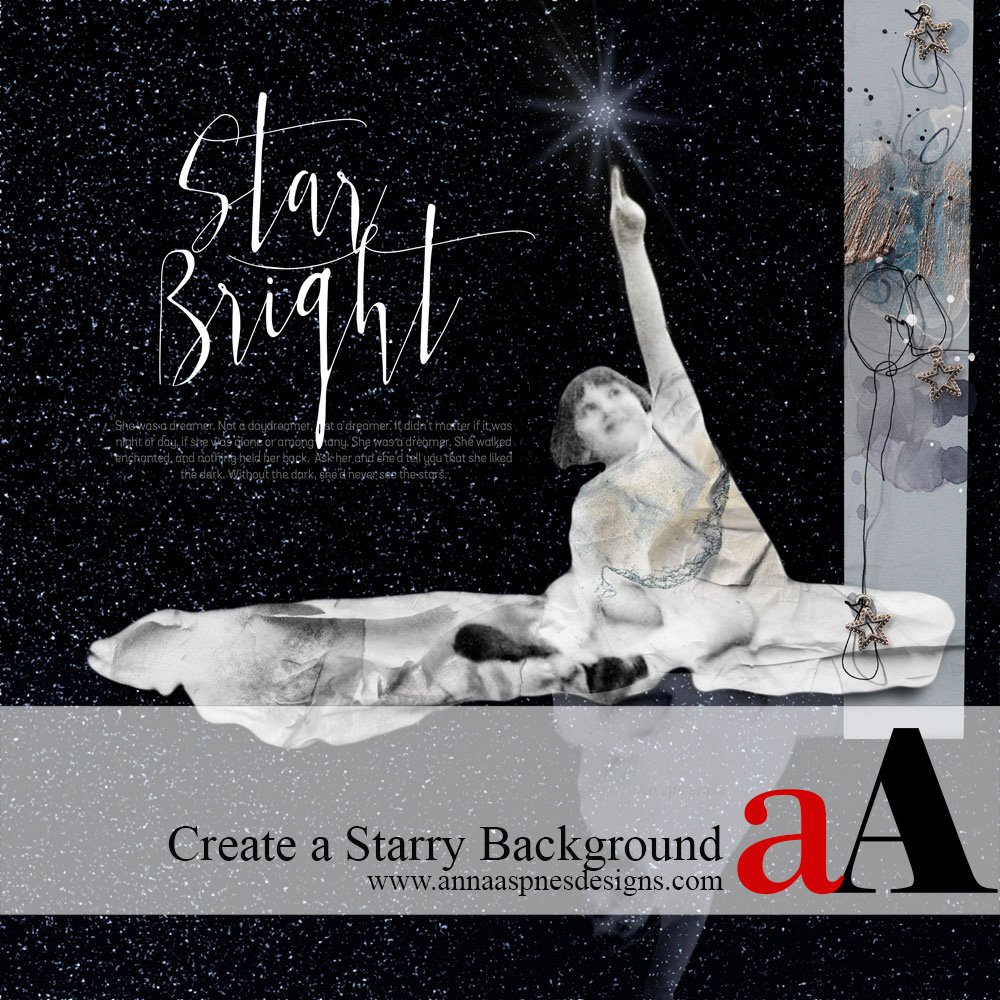 1. Create a new layout with a dark colored background. I used SolidPaper1.jpg from Artplay Palette Aspera. Add a new layer above your photo layer.
2. Fill your new layer with black (Edit> Fill). Your photo won't be visible for a little while.
3. Convert the newly filled layer to a Smart Object if your program allows. Using a  Smart Object provides a bit more flexibility in modifying your filter layers at any time during this process (see below). If Smart Objects are not an option with your program/version of software, your only disadvantage is that you might have to play a little longer to achieve desired results.
4. Go to the Filter menu and choose Noise, then Add Noise. I set the amount to 30%. Check Gaussian and Monochromatic, then click OK to close the dialog box. You should see a black layer with random white dots.
5. Go back to the Filter menu and choose Blur, then Gaussian Blur. I chose a radius of 3.0 Pixels.
6. Add a Level Adjustment Layer (Layer> New Adjustment Layer) above your new black star layer. Clip the Adjustment Layer to the black star layer. Now, drag the white slider over to the far left until your numbers look something like 24 1.00 40. Basically, all three sliders (black, gray, and white) will be very close together on the left side of the dialog box.
7. Add a Layer Mask to your black star layer. Then turn the layer visibility off.
8. Click on your photo layer. Using either the Magic Wand tool, Quick Selection Tool, or Lasso Tool (whichever works best for you and your photo) outline the area of your photo were you DON'T want the stars. Go back to your star layer, and with the Layer Mask selected click delete.
9. Turn the star layer back on and change the Blending Mode to Screen.
Note: You can play with your stars by adding different colors (Hue Saturation Layer or maybe a Light Leak) to change the look.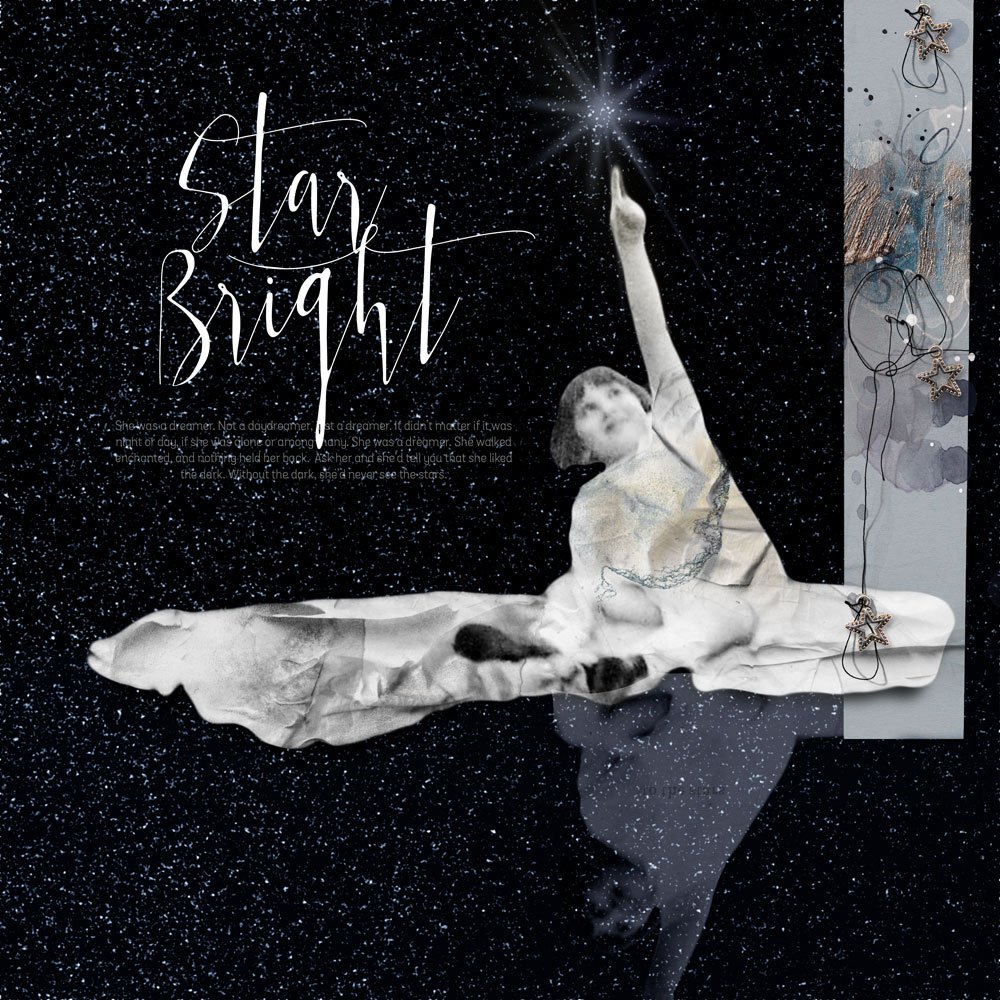 Click on the above photo for additional process notes and supplies used.