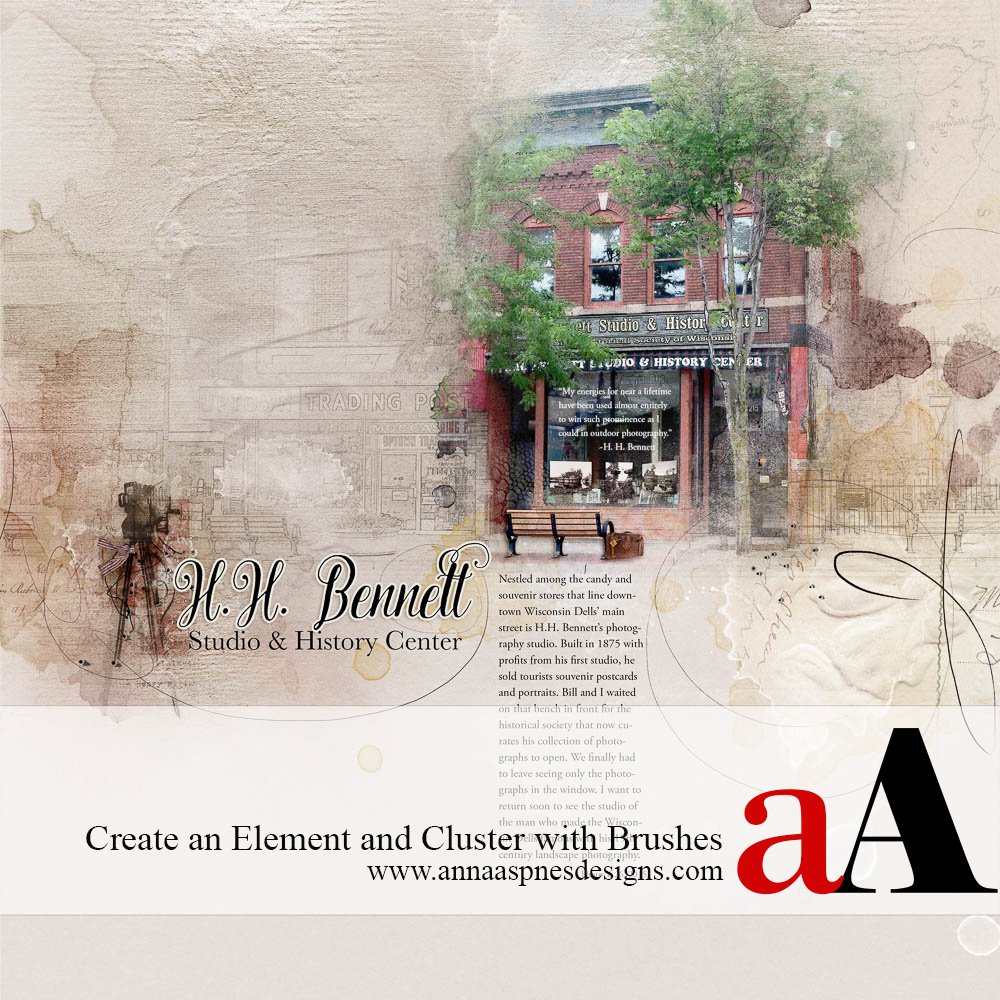 Creative Team Member, Linda, shares how she layered brushes to create an element and build a cluster to anchor the title in Adobe Photoshop.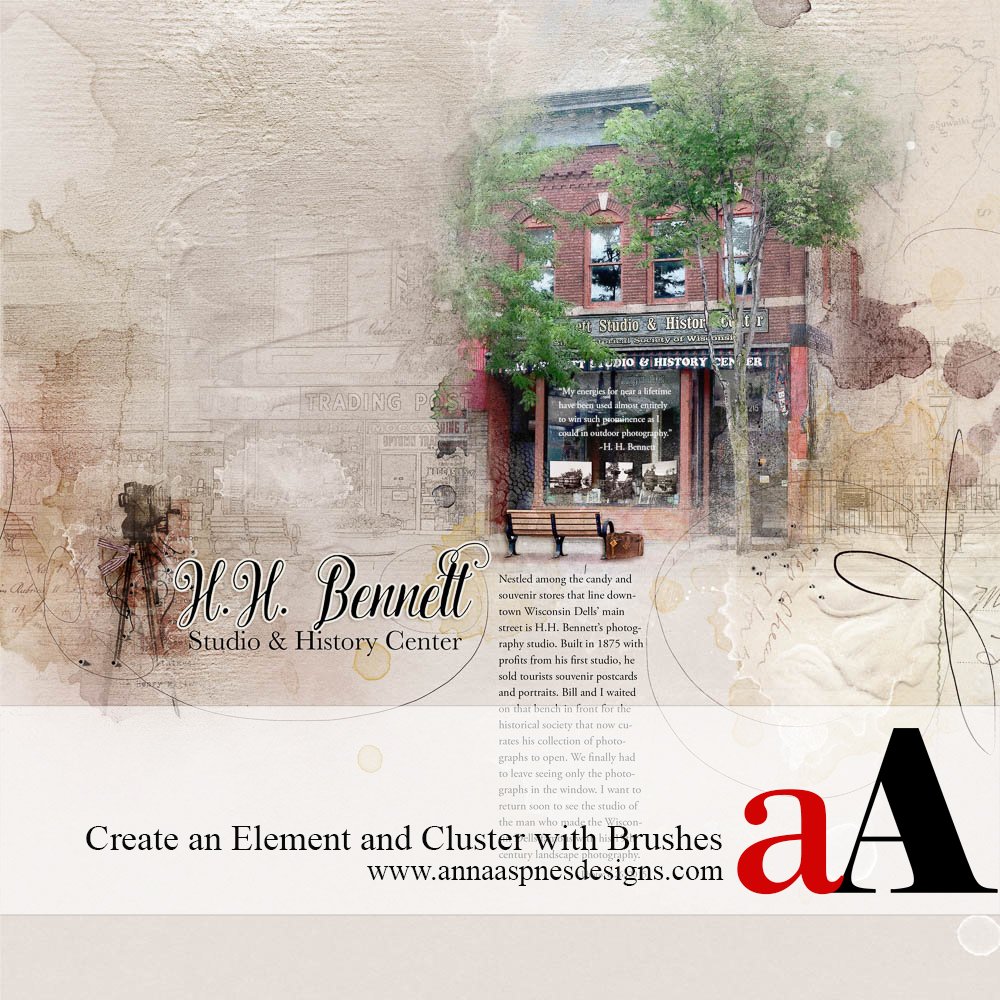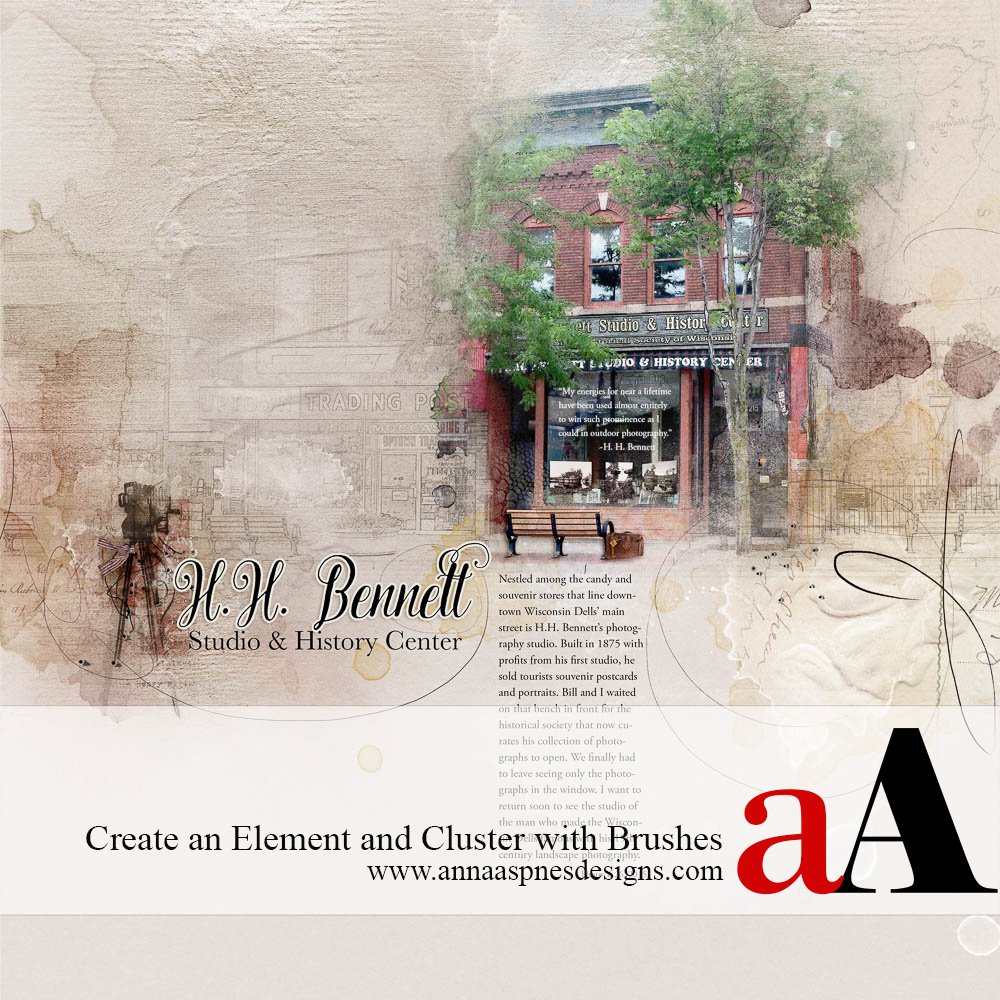 1. Choose a Pictorial Brush. For this layout, I chose Brush 6 from SnapShot No. 1 to compliment my layout's theme, the studio of an early 20th century photographer. I stamped Brush 6 on a new blank layer just below my title and added a drop shadow to the layer.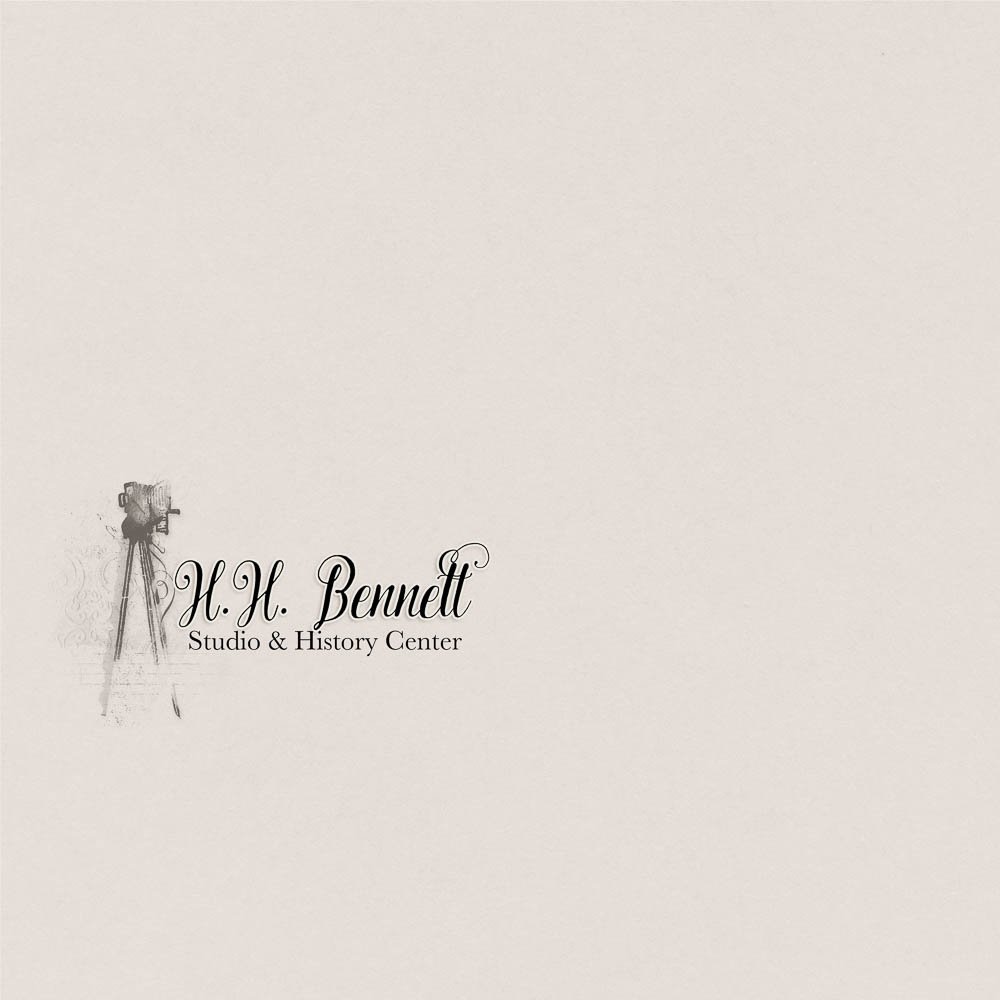 2. Add Stitching and Text Brushes. To create dimension so that the camera brush looked more like an element, I stamped Brush 7 from UrbanStitchez Misc No. 1 and Brush 7 from UrbanStitchez No. 9 on new blank layers above Brush 6 from Snapshot No. 1. Below that layer, I began creating a foundation by stamping Brush 7 from SubtleQuotes Travel No. 1 on a new blank layer.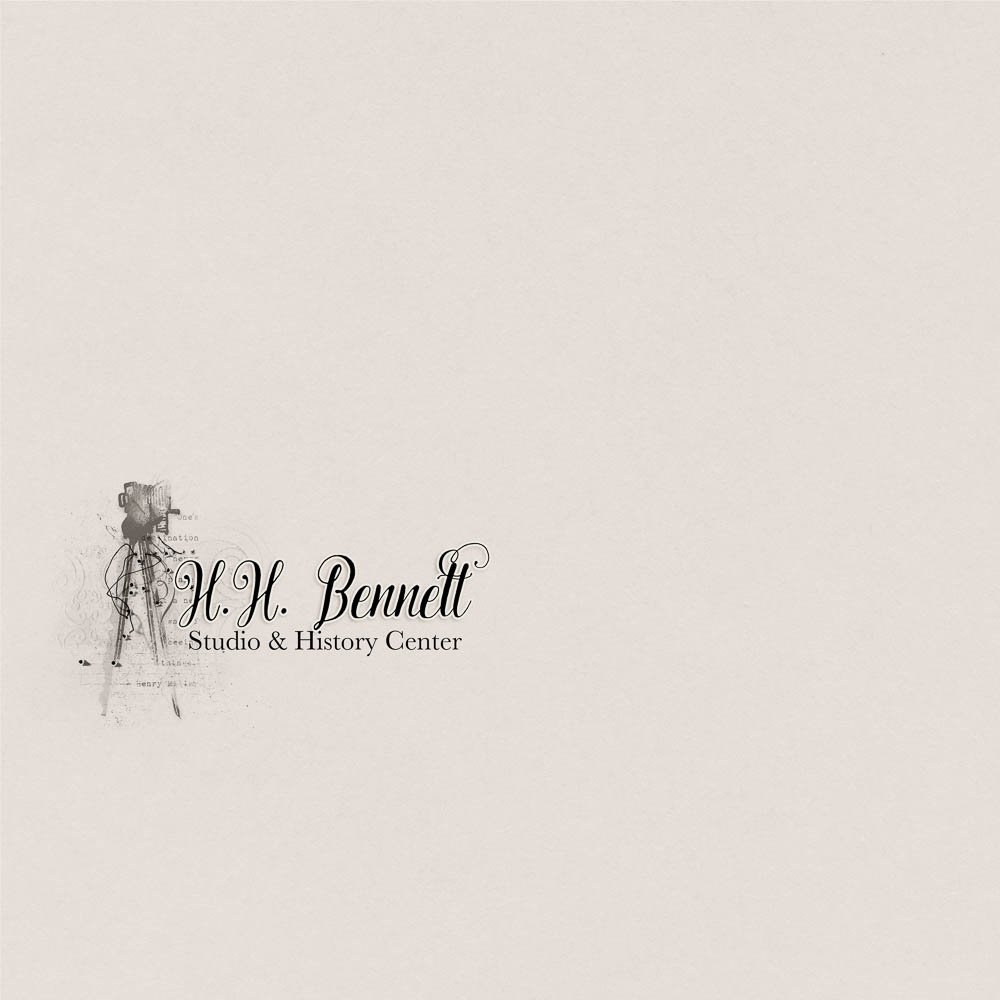 3. Add Ribbon and Stamps. I extracted a ribbon from the banner in ArtPlay Palette Old World using the Quick Selection Tool. I placed the ribbon above a leg of the brush from SnapShot No. 1 and gave it a drop shadow. I arranged three copies of a postage stamp from ArtPlay Palette SnapShot above the SubtleQuotes Brush layer and gave each stamp a drop shadow. Note: Initially I used the ribbon as provided in ArtPlay Palette Old World. But after reading Adryane's tutorial on aging elements, I reopened this file and aged my ribbon with Dripped Stains No. 5 per the instructions in Adryane's tutorial.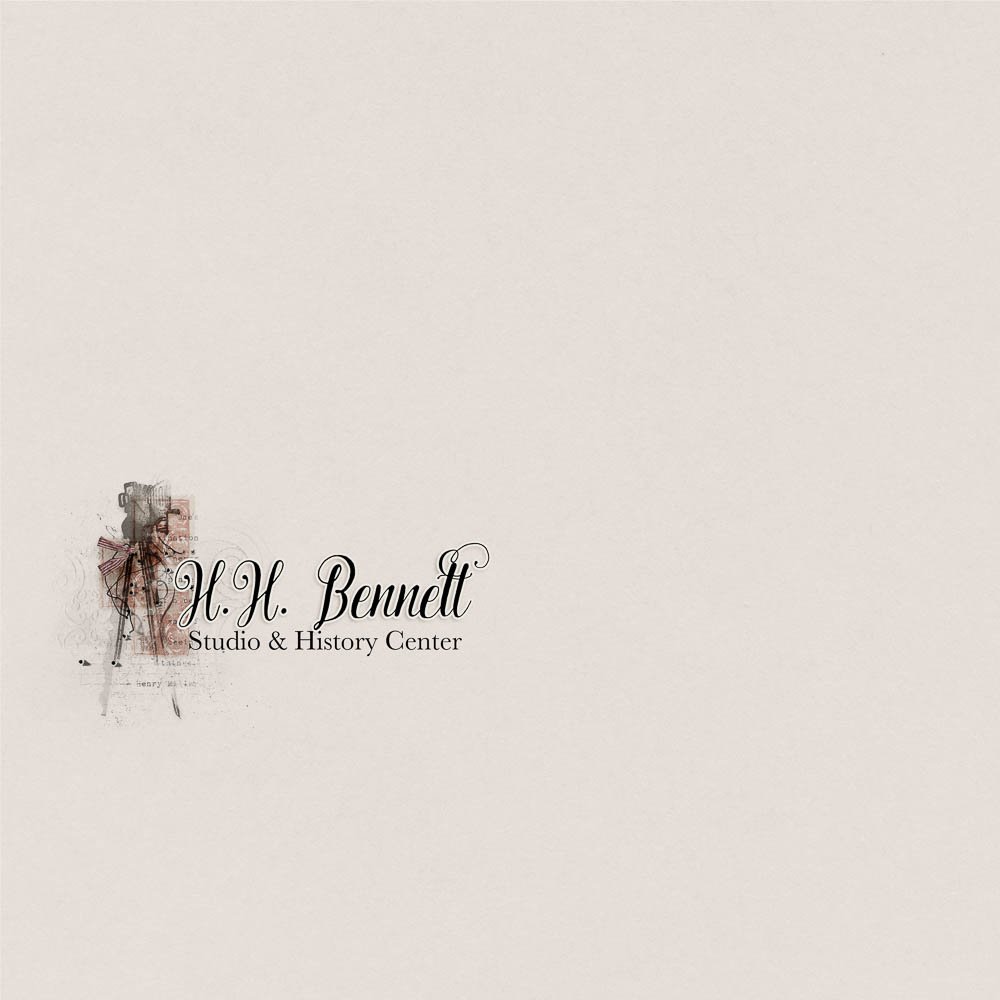 4. Create a Foundation for the Element. Finally, I created a foundation for the camera element that I created with brushes in order to anchor it to my page. I could have stamped additional brushes to create a foundation, but instead I made it easy for myself by simply placing Stains, Paint, Color and Text Transfer layers from Transfer 2 from Artsy Transfers Old World below the postage stamps from ArtPlay Palette SnapShot. I placed an ArtStroke from Transfer 5 from Artsy Transfers Old World  above Snapshot Brush 6 but below the title to visually link my brush layers and title together.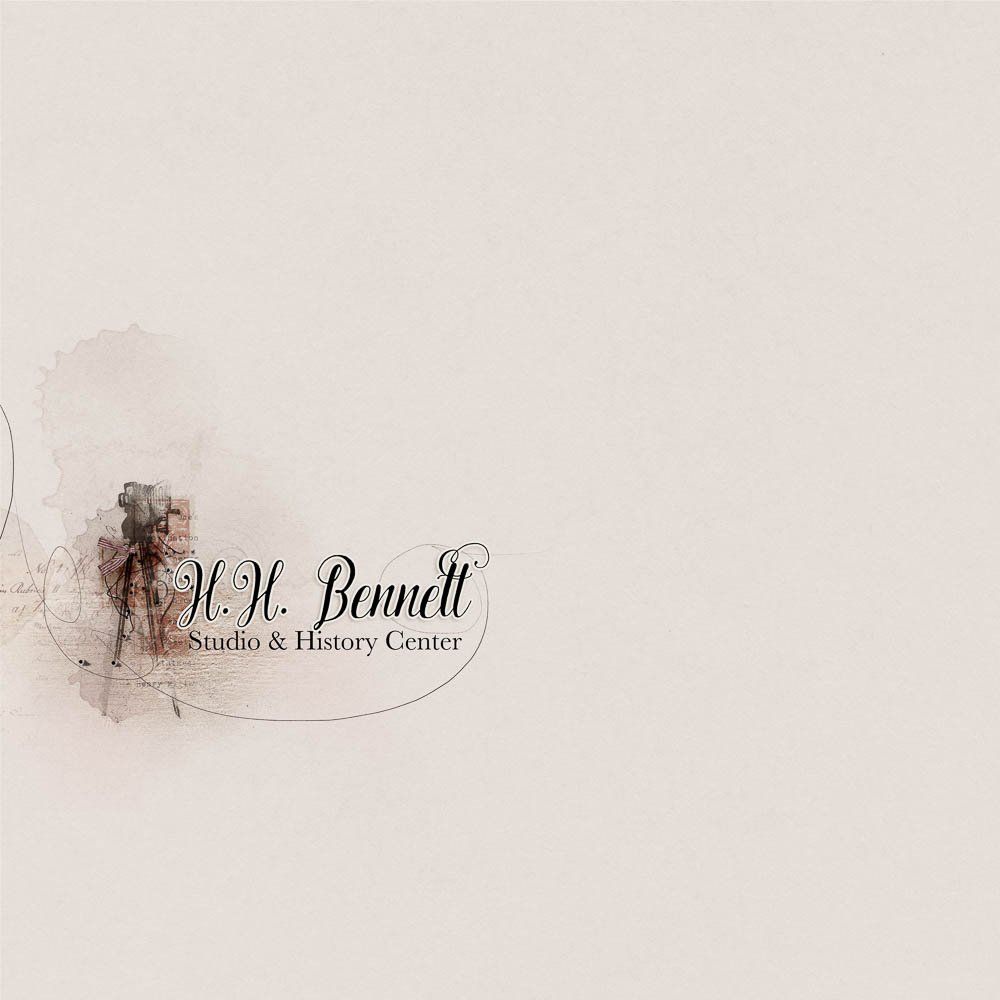 Layering brushes to create an element or cluster also helped balance the weight of the focal photo on my finished page.