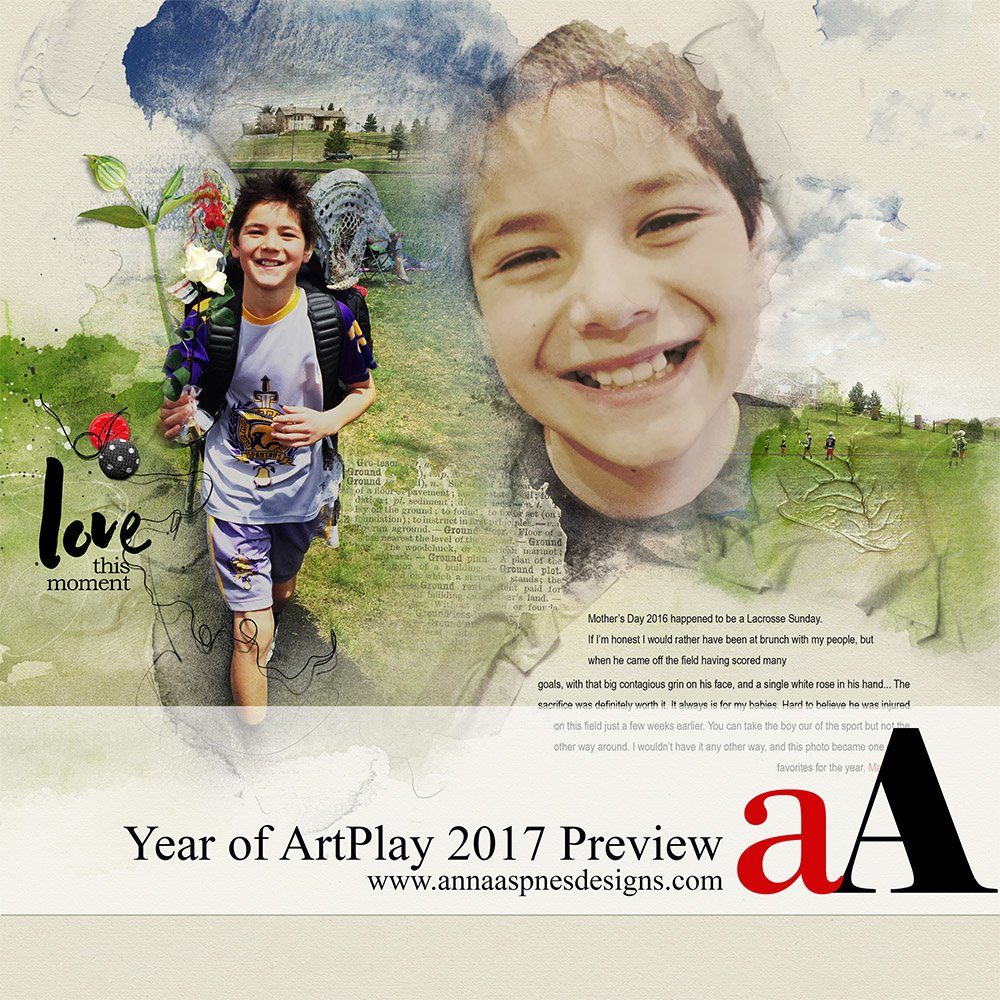 Today I want to share with you a Year of ArtPlay 2017 Preview.
Year of ArtPlay 2017
The first session of the Year of ArtPlay 2017 is now available.
At the end of last year I declared this year to be a Year of ArtPlay 2017 with the intention of sharing my process with as many creatives as possible.
A Year of ArtPlay 2017 boasts 12 ArtPlay Unedited classes over the course of 12 months providing 12 opportunities to elevate your artistry and ignite your creativity in year 2017.
The workshop provides focus on an approach to creating art using your photos with digital art by Anna Aspnes Designs. . This takes place in Adobe Photoshop utilizing the unique ArtPlay method.
The January session was delivered to students last week. 
Based on the quality of the layouts and feedback I'm seeing already from students in our private Facebook group  – The first session has been a BIG success and eye-opener for those participating in this creative journey.
The 1-1/2 hour video lesson walks you through the creation of the layout above from blank canvas to finish. From selecting photos and digital supplies, to custom blending 3 different photos onto an artsy background, this first session has plenty to inspire and grow your artistry skills.
I not only guide you through the design decisions I make and techniques I use to complete the above layout, but I also share all the problems I encounter along the way, and talk you through my approach to solving them.
There's now a  preview of the lesson on the aA Youtube channel that you can watch absolutely FREE.
I have condensed the 90 minute in-depth session down to about 20 minutes of highlights giving you insight into what you can expect from Year of ArtPlay 2017.
And for just $7.50/session you get 12 pre-recorded videos, all DigitalART supplies used to create the lessons and one-on-one support in the private Facebook group, not to mention 4 X 1 hour LIVE sessions to ask questions and receive BONUS assistance.
If you were on the fence about joining a Year of ArtPlay 2017 at the end of last year, I hope this preview of the first session will help win you over.
It's not too late to make 2017 a Year of ArtPlay for you.
Learn more about the course and register on the Classes page or go here.