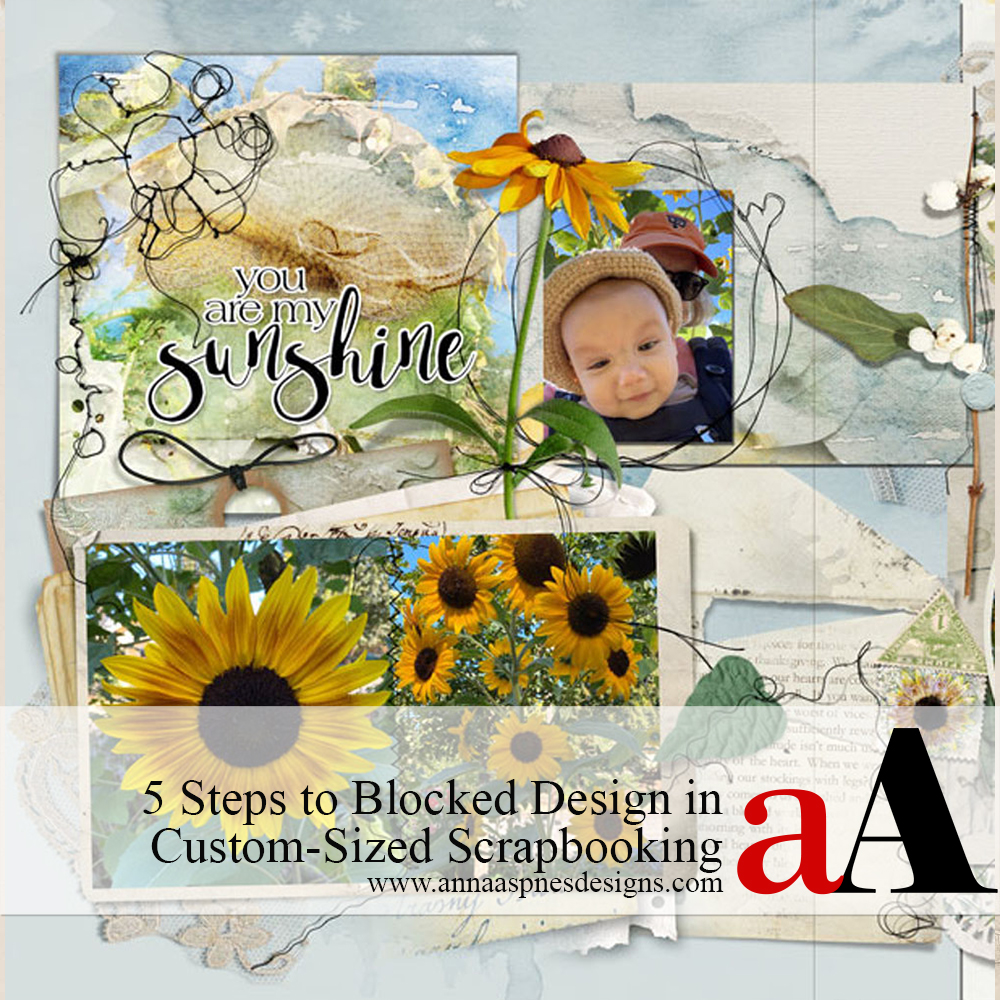 Today, Creative Team Member, Diane Weber, is sharing 5 Steps to Blocked Design in Custom-Sized Scrapbooking.
Complete these techniques in Adobe Photoshop and Elements.
5 Steps to Blocked Design in Custom-Sized Scrapbooking
Introduction
Create a modified format digital scrapbooking layout using a 'blocked' design.
This approach is reminiscent of Linear paper scrapbooking.
Divide your layout into smaller design areas or Blocks.
Can help you create Simple digital scrapbooking pages with ease.
Tip. Select photos with similar Colors for best results.
Note. The predominant blues in the above photos capture the viewer's attention and lead the eye.
1. Select & Crop Photos
Go to File> New to establish a New Layout
In the dialog box, enter a Width of 17 inches and a Height of 10.5 inches (or your preferred dimensions.)
Set up Guides – See my previous post on Modifying Square Digital Papers)
Drag all of your photos onto the page (up to 6-8 photos can be used).
Crop photos.
Note that many photos will be used 'as is' with no frame so crop to the final desired size.
Select the Rectangular Marquee Tool.
With the photo layer selected in the Layers Panel, draw a rectangle around the areas to be removed and press the Backspace key on your keyboard.
You can also select the Custom Shape Tool, place your cursor below the photo in the Layers Panel, draw a (rounded) rectangle, then clip the photo to this new Shape layer.
Arrange photos.
Balancing Colors and Content of Photos.
Tip. If any photos don't fit with the colors, consider desaturating them.
Go to Image> Adjustments> Black & White
Or:
With the photo selected in the Layers Panel, go to Layer> New Adjustment Layer> Hue/Saturation.
Clip this Hue/Saturation layer to your photo, check the Colorize box, and adjust the Sliders.
Note. The desaturated photo in the top middle blends well with the yellows and adds visual interest to the digital scrapbooking page.
Note. All the photos on the right are desaturated so as not to conflict with the blues on the left.
2. Add Background 'BLOCKS'
The best and easiest way to add these 'blocks' is to use ArtsyKardz.
Position your cursor below each photo in the Layers Panel.
Drag the .jpeg format file of an ArtsyKardz beneath the photo, positioned like a photo 'matte.'
3. Add Layers
A favorite way to add layers is with MultiMedia Documents.
Open the .png version of a MultiMedia Documents elements file.
Position your cursor below a photo in the Layers Panel.
Drag in all layers of the MultiMedia Documents.
Arrange and modify the layers to best support your digital scrapbooking layout design.
Tip. PaperTextures, Transfers and Overlays, Tape and Dimensional Paint elements all offer good options for layering.
4. Frame & Arrange Photos
Options for each photo:
Note. Some of these photos are just sitting on the background (upper left and right).
Others are clipped to Frames from a Template (left.)
One is clipped to a UrbanThreadz Frame (right.)
One has a Drop Shadow Layer Style applied (lower right.)
5. Add Embellishments
Blocked pages have a lot of design elements and need minimal embellishment.
Note. There are three small flower clusters.
WordArt, Stitching and Buttons form a Visual Triangle in this digital scrapbooking layout design.
A few other small embellishments like Twigs and Staples are added for Texture and Functionality.
Twigs and string elements add Movement to the digital scrapbooking layout design
The placement of yellow elements form Visual Triangles to lead the eye.
 Summary
You can create a linear blocked design in 5 easy steps.
Select, crop and Arrange photos to create 'blocks.'
Add background papers and elements to create a Foundation for your digital scrapbooking layout.
Add Dimension and Visual Interest with element layers.
Create Focal Points with Clipping Masks and Frames.
Embellish with your favorite elements and WordART.
See also:
And if you liked this 5 Steps to Blocked Design in Custom-Sized Scrapbooking Tutorial Post, please try the technique and post your layout here.