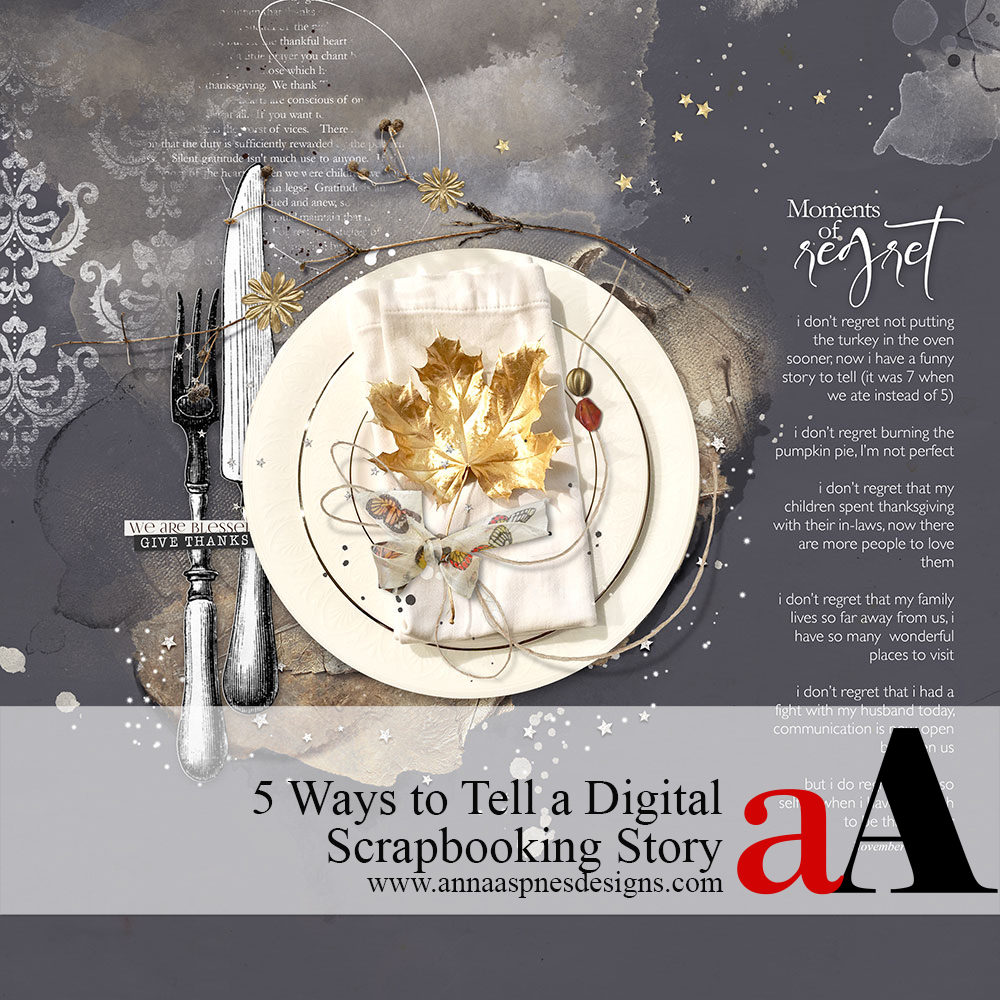 Today, Miki Krueger, is sharing 5 Ways to Tell a Digital Scrapbooking Story if you are facing writer's block, frozen in front of the computer and nothing is coming to you.
5 Ways to Tell a Digital Scrapbooking Story
Introduction
Learn a variety of ways to journal or tell the story in a digital scrapbooking or photo artistry layout design.
Humor

Ancestors' Fiction

Lists

Texts

Prompts/Story Starters/Quotes
Start Here
"You have a story that is unfolding every day–unlike anyone else's–and you can tell your story with a combination of writing, pictures, and visual design on scrapbook pages." Get It Scrapped.
Put down what you know first – You can then embellish these Facts later.
Talk to the Person(s) might be reading this in the future.
Appeal to the Senses, describing sights, sounds, smells, emotions or feelings.
Use details in your photos to Inspire the story.
1. Use Humor
Laughter is the best medicine they say. There is nothing like a good joke or a funny story in a digital scrapbooking or photo artistry layout design.
Humor is something that is Funny, comical, or amusing.

 

Surprise, exaggeration or hyperbole and absurdity are Examples that can be used in a humorous story.
What part of the photo do you find humorous? Did the person Say Something that struck you funny?

 

Describe a time when humor helped you Feel Better about a challenging situation.
Use Speech Bubbles to help with the dialogue flow –  They provide a Visual Representation of the speech or thoughts of a person.
2. Ancestors' Fiction
Our ancestors' stories often hold potential for great plot lines in a digital scrapbooking or photo artistry layout design.
You will likely find Interesting Characters in your own family tree.
Write their stories as historical fiction, or relate their Experiences to the present day or future.
Combine what really happened with a little Fiction for entertainment.
Travel back in time or have the ancestor travel to the present time.
Invite an ancestor to dinner – Review your family tree, which ancestors Would you like to meet?

 

Tell some of the funny stories that have been Passed Down about your ancestors.
Which ones had the most Colorful personalities or lives?
Mix up the generations, and make comparisons in terms of Similarity or Difference.
Create a dialogue between the ancestors – It could be contentious or marveling at the Evolution through the years.
3. Generate Lists
Use lists describing each photo, when using lots of images in your digital scrapbooking or photo artistry pages.
Let the photos speak for themselves – An image speaks a thousand words.
Lists Ease the writing process and negate the need for writing long, detailed sentences.
Add a Number to each image then provide a brief Description.

 

You can also provide the Details in list format.
4. Text Messages
Texts are such a BIG part of our 'smart' and everyday lives to be included in your
digital scrapbooking or photo artistry layout designs.
Create a Screenshot of a text message and include it with your photo.
Email the shot to your computer and then Import it into Photoshop to use.
Screen shots represent Snippets of Real Life, because by nature, they are intended to be Quick a Form of Communication.
Tip.
If the text message is long, make Multiple Screenshots.
You can then 'stitch' or place them together in Adobe Photoshop to share an Entire Conversation.
5. Title Prompts
Prompts are words that spark stories for your
digital scrapbooking or photo artistry pages.
Prompts can include single Words, Phrases and Quotes.

Use the elements from

WordART and  

StoryStarters

by Anna Aspnes Designs to Inspire your journaling.
Longer sequences of words such as Quotes, Poems or Songs can tell a story or provide scope for Expanding an Idea.

as a jumping off point for further journaling or let the quote do the talking all on its own.

They are also a great way to Embellish white space in your digital scrapbooking and photo artistry layouts or Communicate a story that you can't quite put into words as effectively.

 

Words in general provide Context to your photos and can Instill fun, inspiration, laughter, or sentimentality into your scrapbook pages.
Summary
There are many approaches to journaling the stories of your photos
in your digital scrapbooking or photo artistry layout designs.
Try not to overthink the writing – Get the facts down first then embellish with some Personal Thoughts or Feelings on the matter.
Make your journaling more interesting, and Have a Little Fun through the process, by bringing some Humor in the stories you share.
Look to the past, and include anecdotes from your Heritage to connect generations and bring meaning to scrapbooking.
Write Lists, rather than complete sentences or paragraphs, for a Simple approach to jotting down the important details.
Incorporate Conversations via Text Message for a quick and visual way to tell your stories.
Use word prompts to Spark a Story Idea using the imagery in your photo(s).
SEE ALSO:
If you like this 5 Ways to Tell a Digital Scrapbooking Story post, please connect with me in the comments and consider sharing using the social media buttons below.