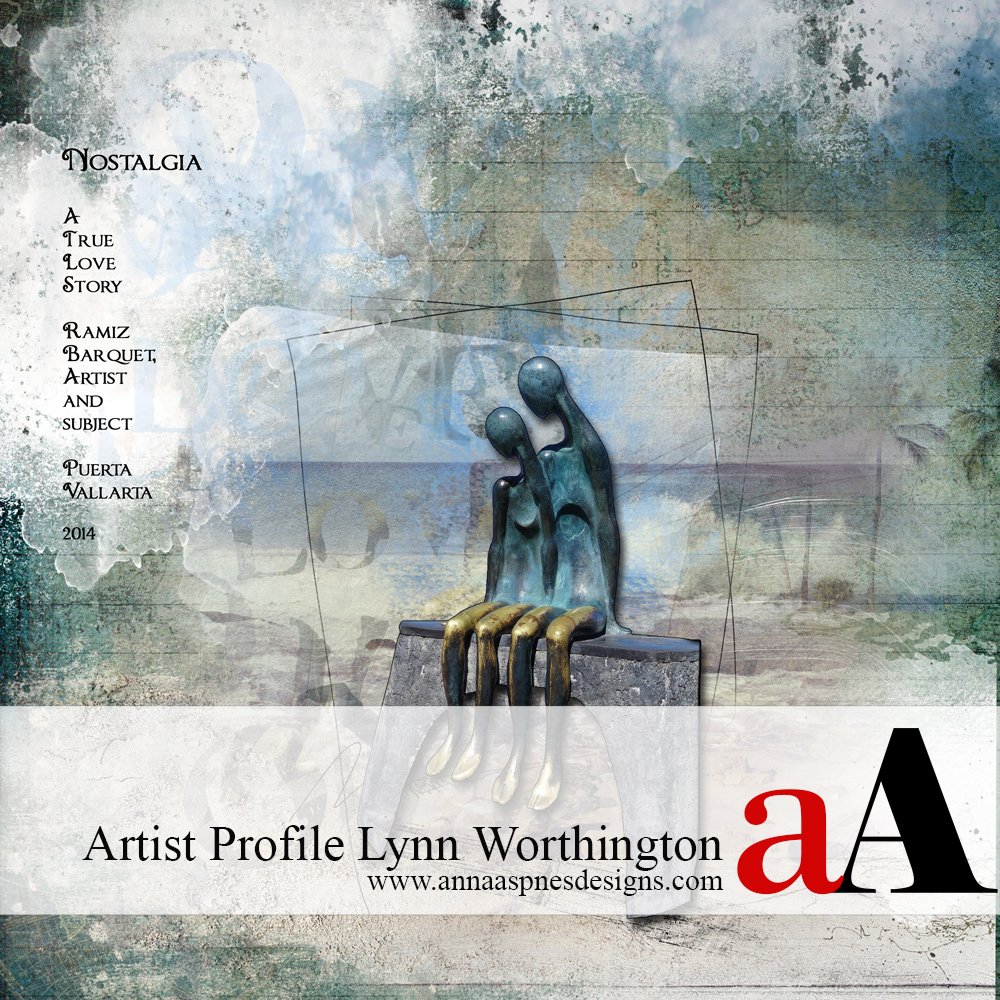 Today we are sharing a Q & A Artist Profile Lynn Worthington.
Lynn Worthington a digital memory keeper and digital artist who loves creating unique art using Anna Aspnes Designs.
Big thanks to Lynn for allowing us to share her artistry.
Artist Profile Lynn Worthington
1. Tell us about yourself and how you discovered digital art.
My Aunt Camille used to say, "Goodness, you always have to be busy!" And that can explain a lot.  Two of my early memories: one is of the smell of dark chocolate on cardboard and the other is a stack of beautiful colored paper given to me by my parents.  I sat at my child-sized table and stared at this lovely gift wondering, for a very long time, how best to dig into it without spoiling it.  There was a physical ache to manipulate this paper that I can recall to this day.  What I can't recall is what, if anything, I actually accomplished.
I've always needed to have something in hand with which to work. More paper, bright water colors, sharp scissors, beads, silky embroidery floss, flowing dyes on silk, machine embroidery patterns, sewing clothes for children and grandchildren (my boys didn't always appreciate it) and most lately I've learned pine needle basket making.  Along with this I'm doing a little playing with clay to make bases for some of the baskets.
During a trip to Japan, 2002, I discovered all kinds of wonderful new paper, it's hard to describe my delight.  Returning home, I started playing with scrapbooks to document that trip and I found the best use of all for my luscious stash of paper.  Somewhere along the line I tripped over websites devoted to digital scrapbooking and was instantly in love!  On-line tutorials gave me my start, so much trial and error over the years.  Anna has some wonderful classes and her team members are always willing to share techniques.  Just recently I signed up for Sebastian Michaels Photoshop Artistry Course.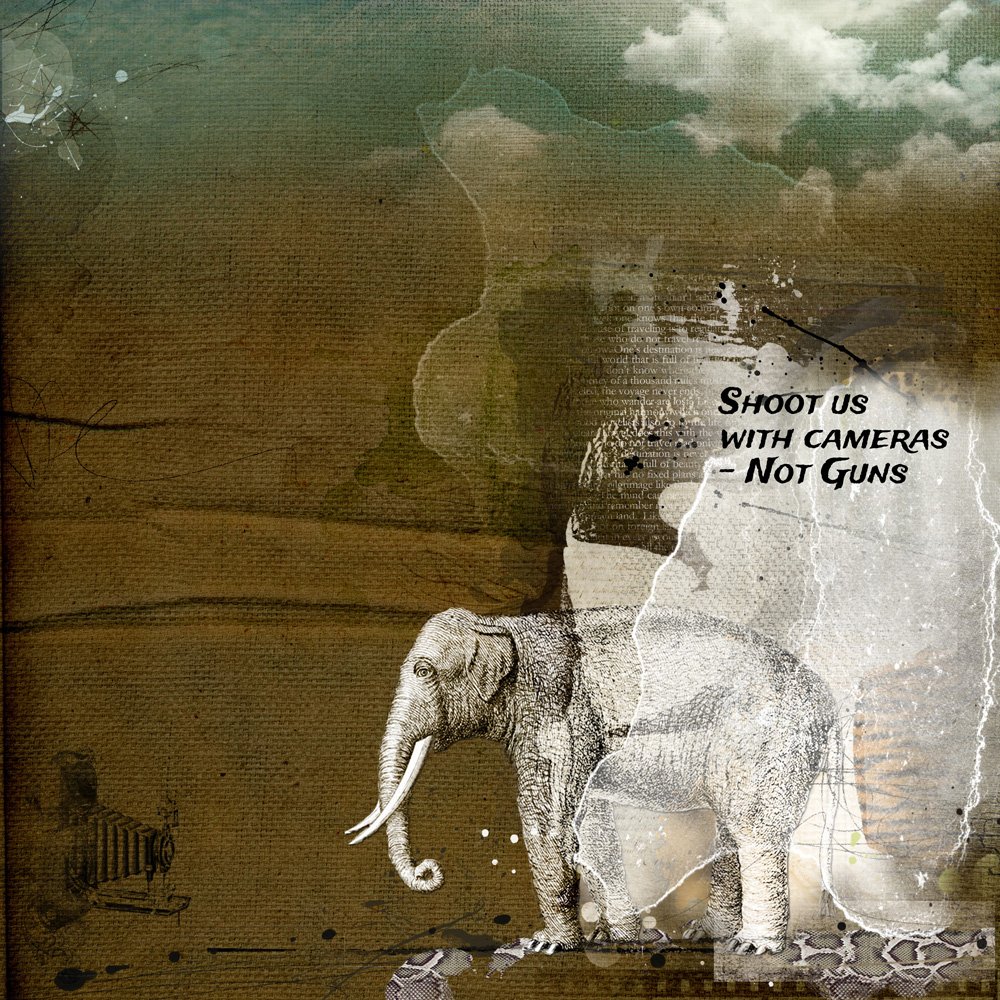 2. Many of your pages have a strong emotional appeal. How are you able to take what you feel about a photo and transfer it effectively into art so that others can feel it too?
This is hard to answer for me.  I'm not sure exactly how I accomplish sharing the emotions I'm feeling. Usually, when I'm playing with a page, I'll get to a point, save it, walk away, return an hour later and assess what I see.  Inevitably, changes happen.  Deletions, additions, total dumpola, or hmmm, might be done now.  I do want to share my excitement or anguish without always having to talk about it with someone.  There was a brief time I sat with doctors to help me through a difficult phase in my life.  I don't recall that they helped me very much, but I did learn that repressing emotions wasn't a good thing.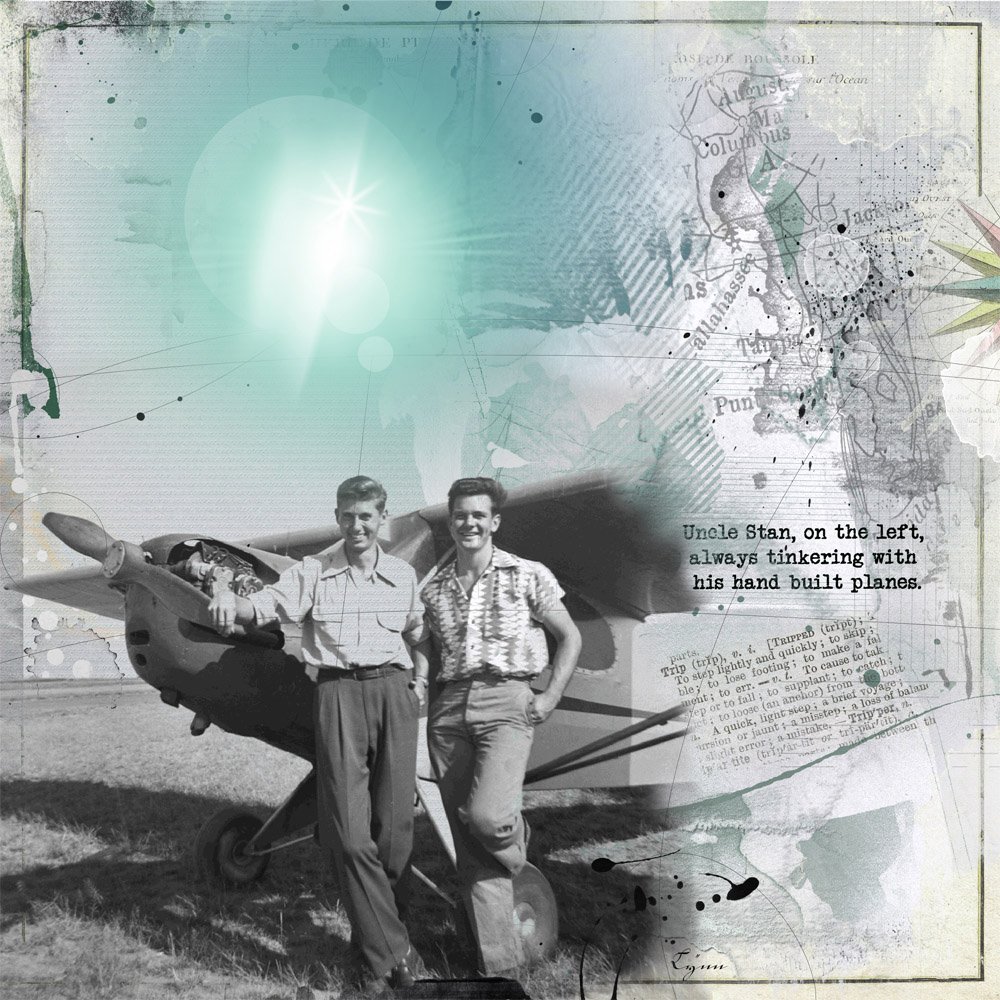 3. How did you create "Uncle Stan and the Plane?"
When I'm making a page there is usually an inspiration, like a special photo or event or even an Anna Color Challenge, to send me in a certain direction.  My Uncle Stan was always intrepid, and ArtPlay Palette Adventure was the perfect starting place.
Blending two papers together, a solid and an artsy, helped to get a good foundation. The photo was blended into the background using the gradient tool and a layer mask.  Anna's Blending Class is perfect for learning a variety of blending modes. I wanted to work with a limited color range so as not to overshadow the black and white photo.
A Florida map segment from Travel USA was placed with reduced opacity and enlarged. Cool Glows were overlaid and blended. Most of the elements were kept to the right side to balance the strong photo and glows.
Overlays, Brushes and a word transfer were moved around, recolored, blended, and the opacity tweaked.  Much experimentation went on before deciding the final outcome.
SkinnyLined Overlays were placed behind the photo. And just before my journaling I placed an Overlay on top to help tie it all together.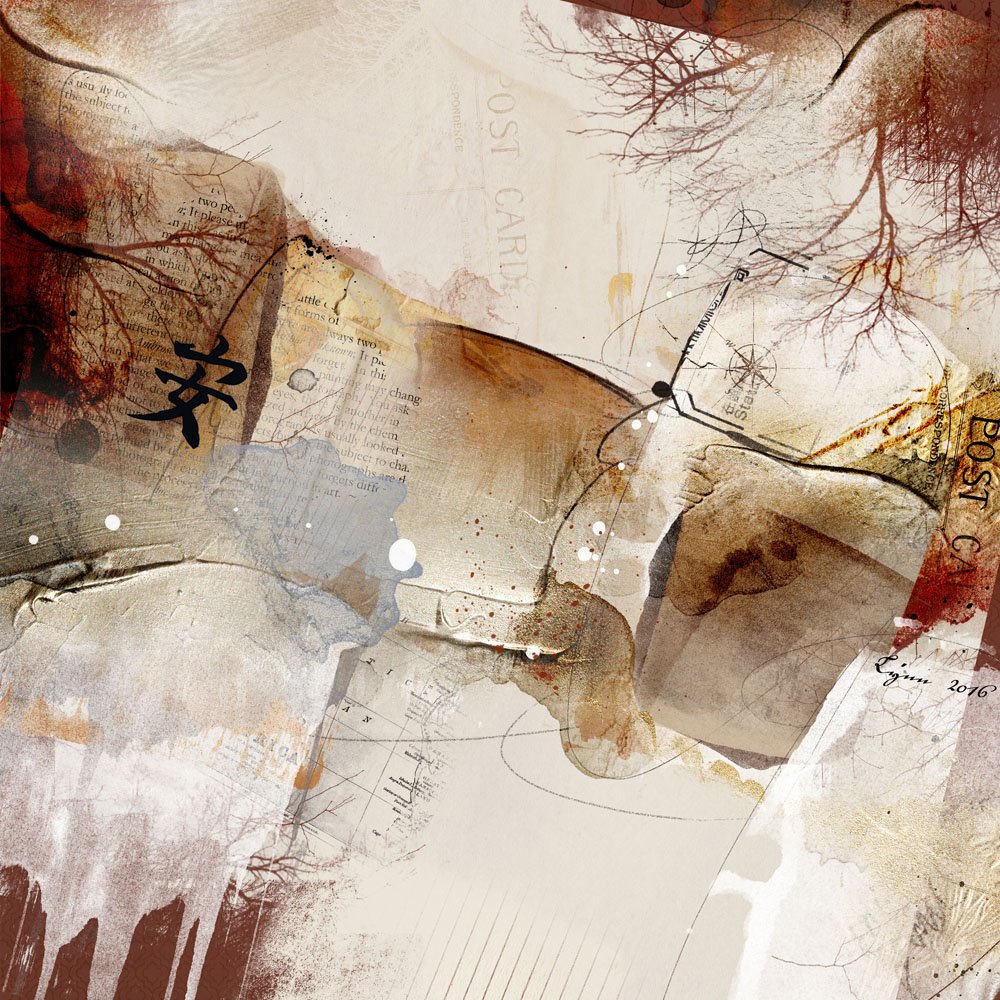 4. There is a lot of beautiful blending on your pages. What is your favorite blending technique?
Often I use a Fotoblendz, or watercolor mask with soft edges as a starting point. Many times these are incorporated into an Artsy Template.  Anna's Artsy Pallets always give me so many tools with which to play, I especially love the overlays with all their swirling colors and textures and I like to blend them into various parts of a page.  The Blending Modes in PS are pure magic and running through them never disappoints me.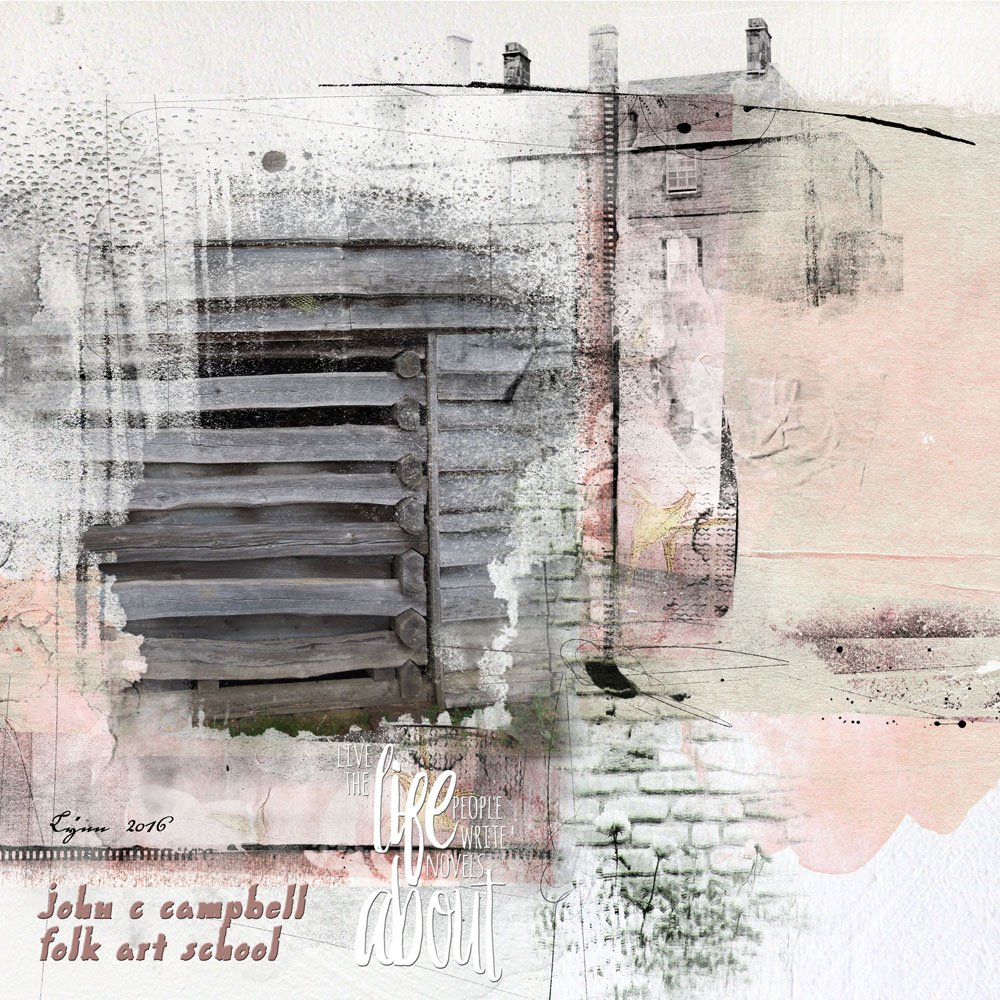 5. When you are not creating digital art, what do you like to do?
My husband and I love to travel, exploring, enjoying natural places, and sometimes golfing or kayaking.  Our home is in The Villages, a very active place where we have to say no occasionally to having too much fun. I love to read, especially historical fiction, and belong to a small book club. There is always some art activity going on in my "office", and our grandchildren are eager to play too.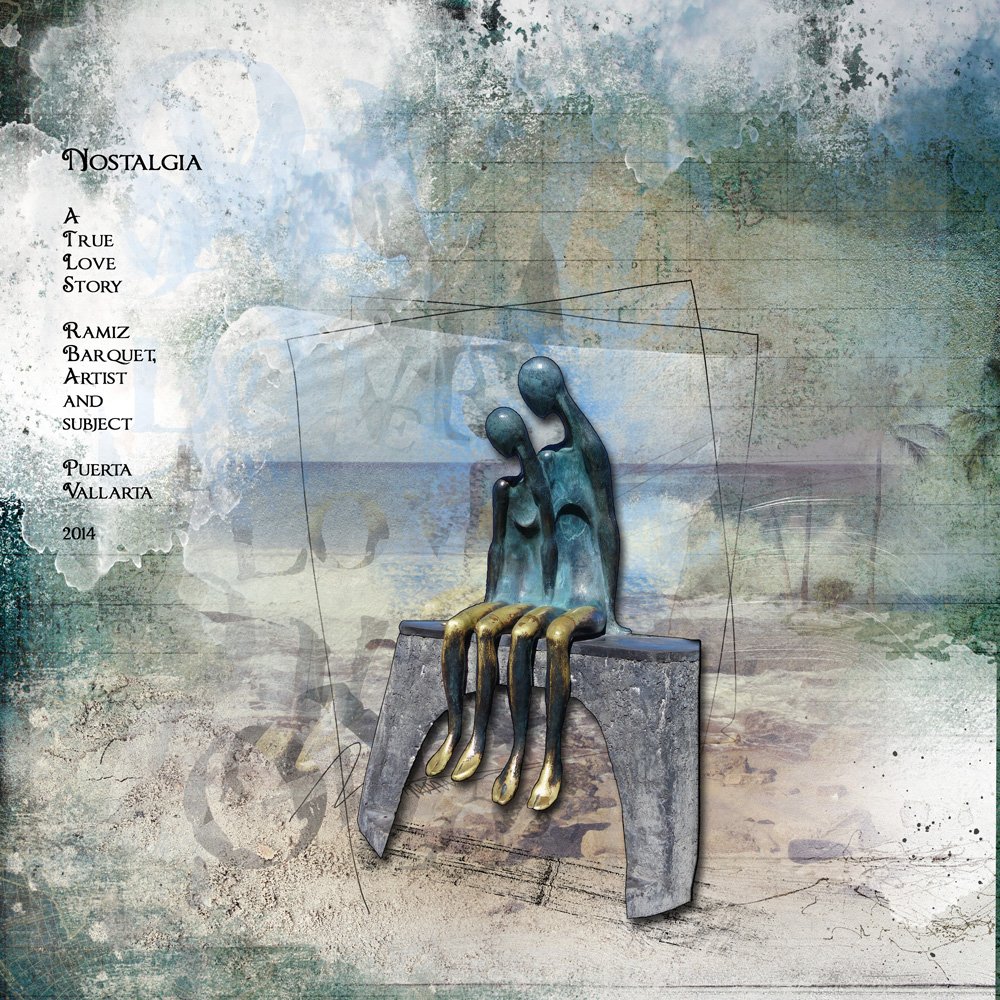 6. If you had to choose only three Anna products to create a page, which three would you choose?
Does an entire APP count as one?  Certainly overlays, pictorial brushes and an artsy template. No wait, a multimedia set might have to be in there too.  Anna's design offerings just make playing with photoshop an escape and an adventure, never knowing where I'll end up.  She makes the rest of us look really good.
We hope you have enjoyed this Artist Profile Lynn Worthington.
The Artist Profiles is a category of posts in which we aim to inspire you with the work of other artists, photographers, memory keepers, makers and curators. I believe we can learn much from others and inspiration can come from a variety of creative sources.
Please email me if you are interested in having your work featured in this space.