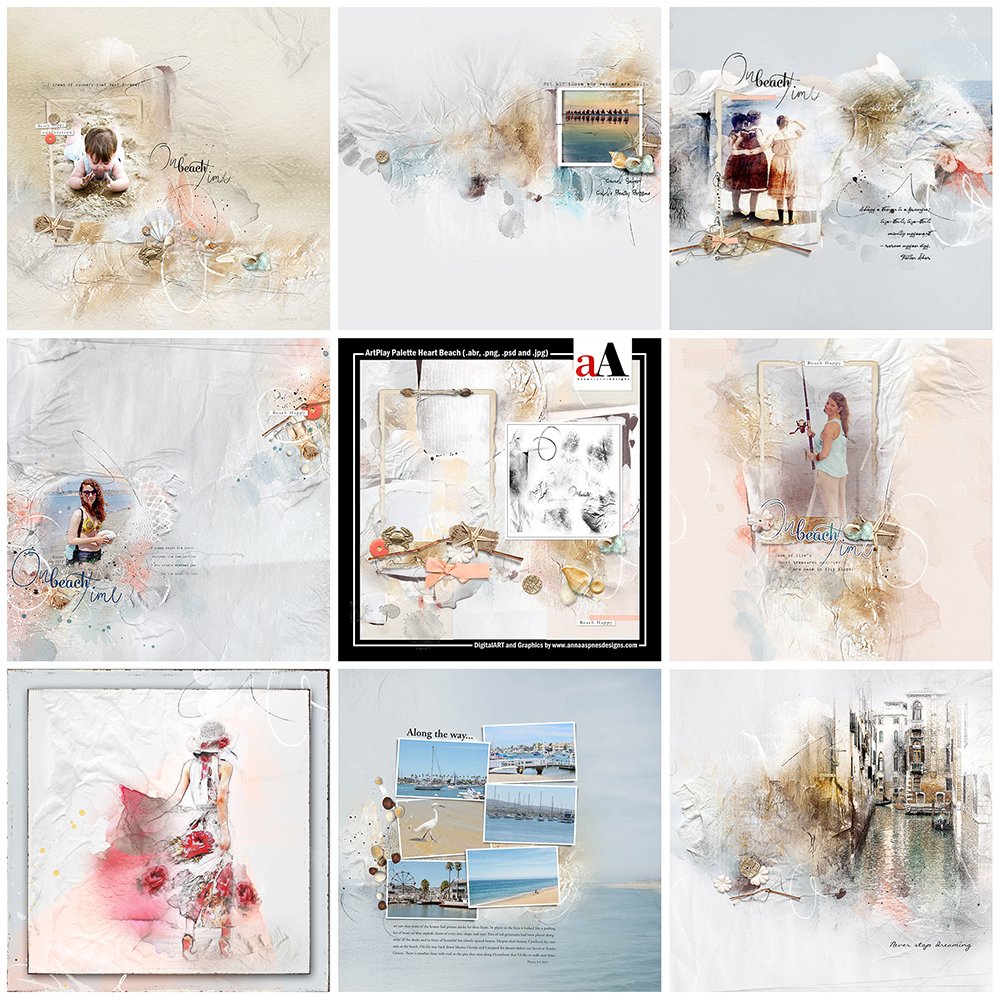 Happy Monday friends!
I hope you had a wonderful weekend. The  aA Gallery is full of new inspiration from the aA Creative Team using ArtPlay Palette Heart Beach and supporting DigitalART products.
You can view the entire release here for a limited time.
Click on the image below to view more gallery inspiration, or visit the AnnaTeam Layouts board on Pinterest.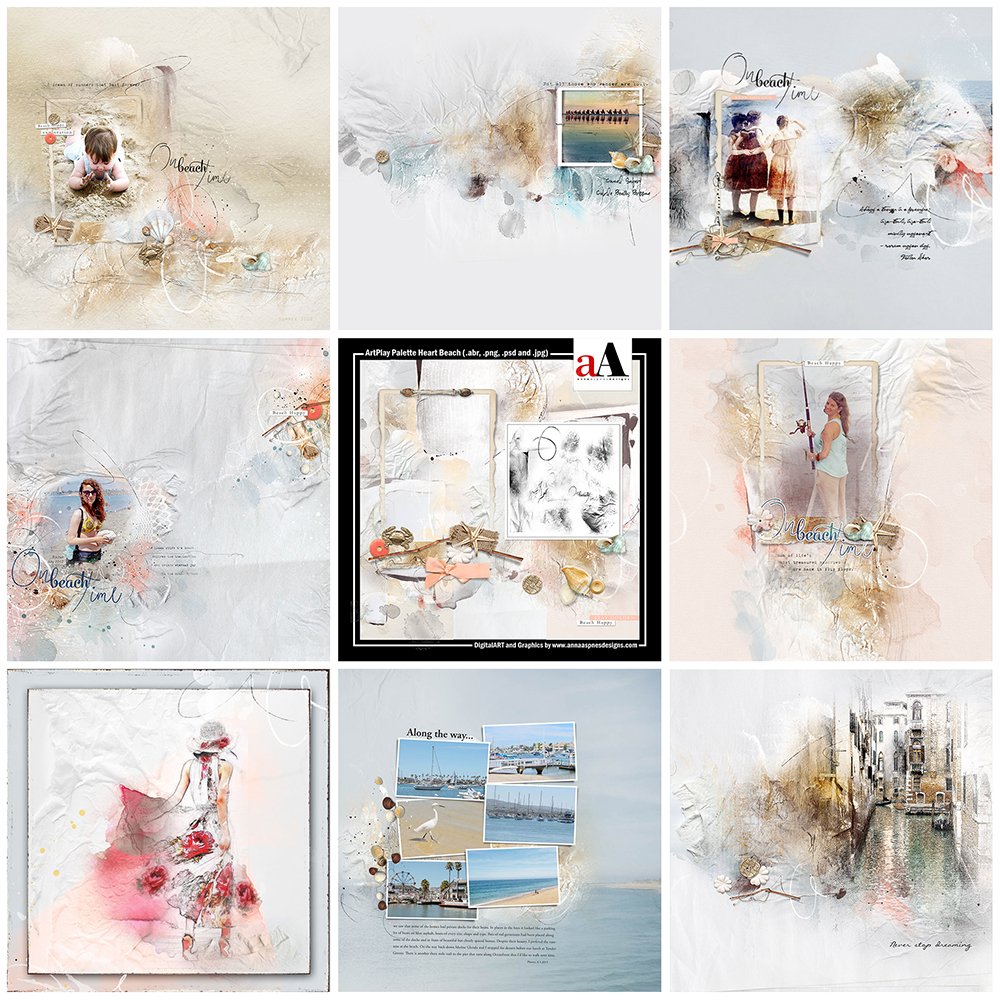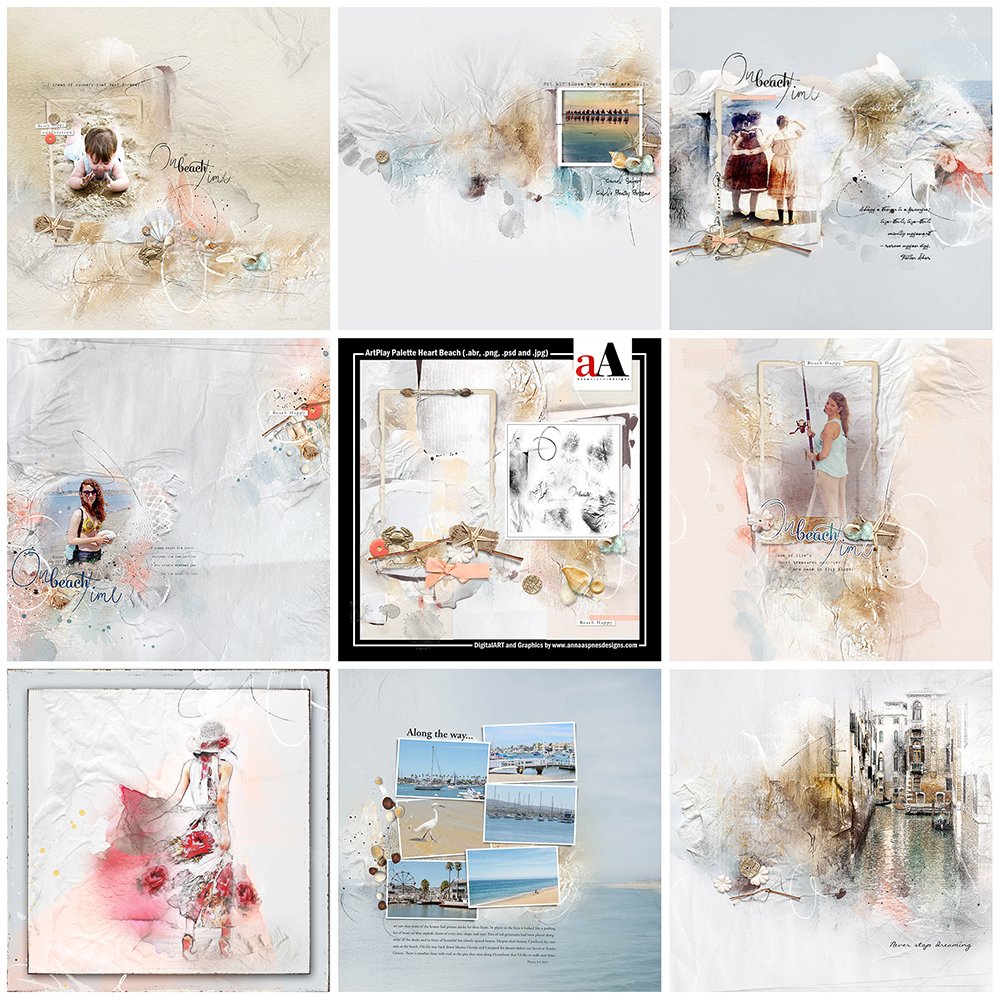 Gallery HighLights. Click on the images to access complete digital supply lists, plus process notes on how each team member put their pages together.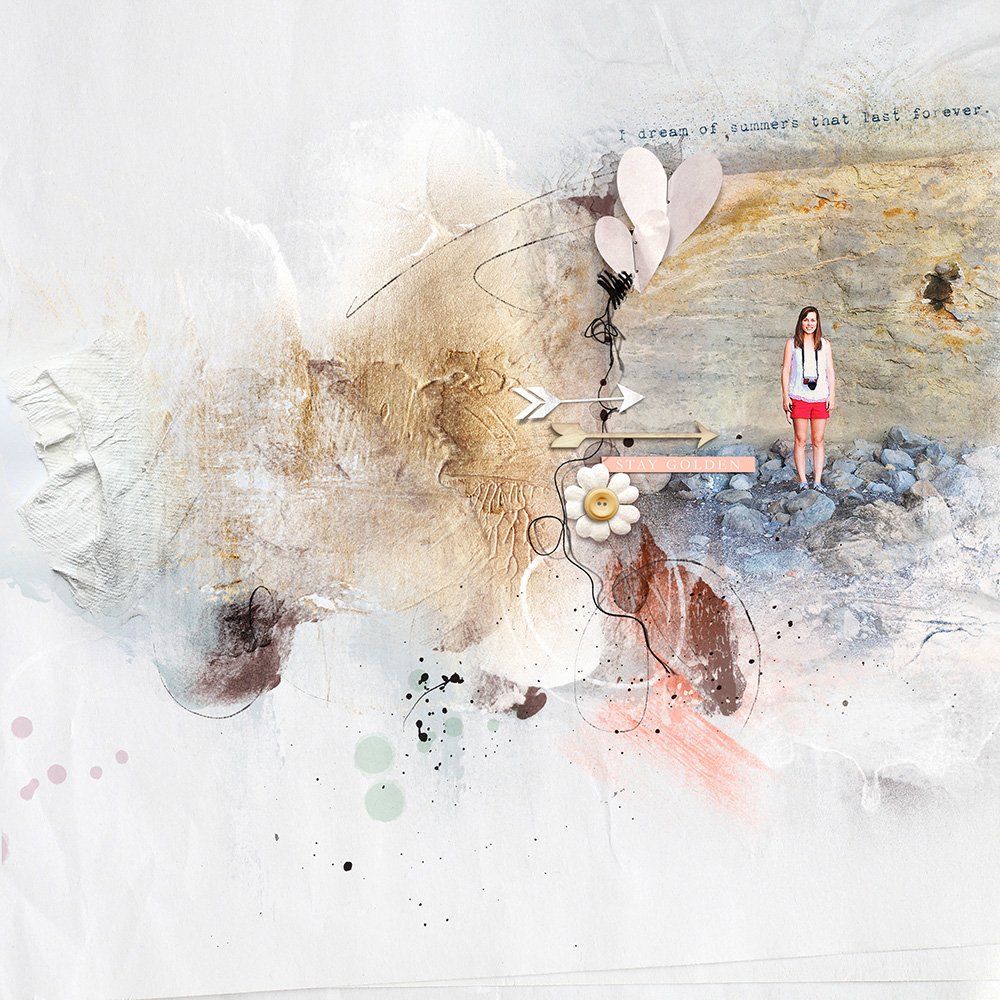 Stay Golden | Heather
1. Recolor FotoBlendz Masks.  FotoBlendz clipping masks are delivered in black .png format. Quite often we clip our photos to to these black clipping masks and call it good.  Heather recolored the Melange FotoBlendz to a gold color and changed the blending mode of the FotoBlendz clipping masks to Multiply before clipping her photo using the clipping mask function in Adobe Photoshop (CTRL + ALT + G) or Elements (CTRL + G).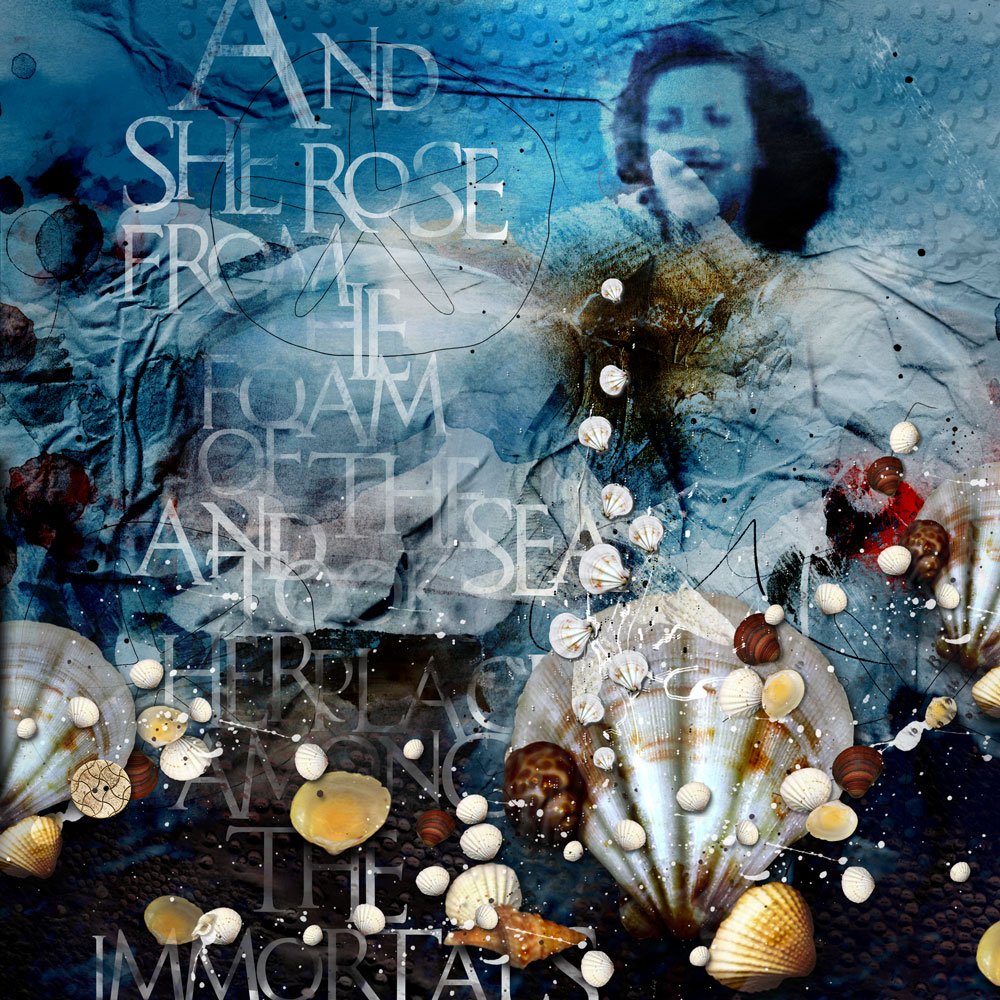 She Rose from the Foam of the Sea | Adryane
2. Distress Text. Adryane created her foundation using a background paper and transfers from ArtPlay Palette Heart Beach. A large size photo was blended over the foundation using a Layer Mask and Brushes. A blue overlay with the Color Burn blending mode applied adds a deep blue hue to the composite. The text was rasterized then distressed through masking and erasing as outlined in AnnaBlendz LIVE.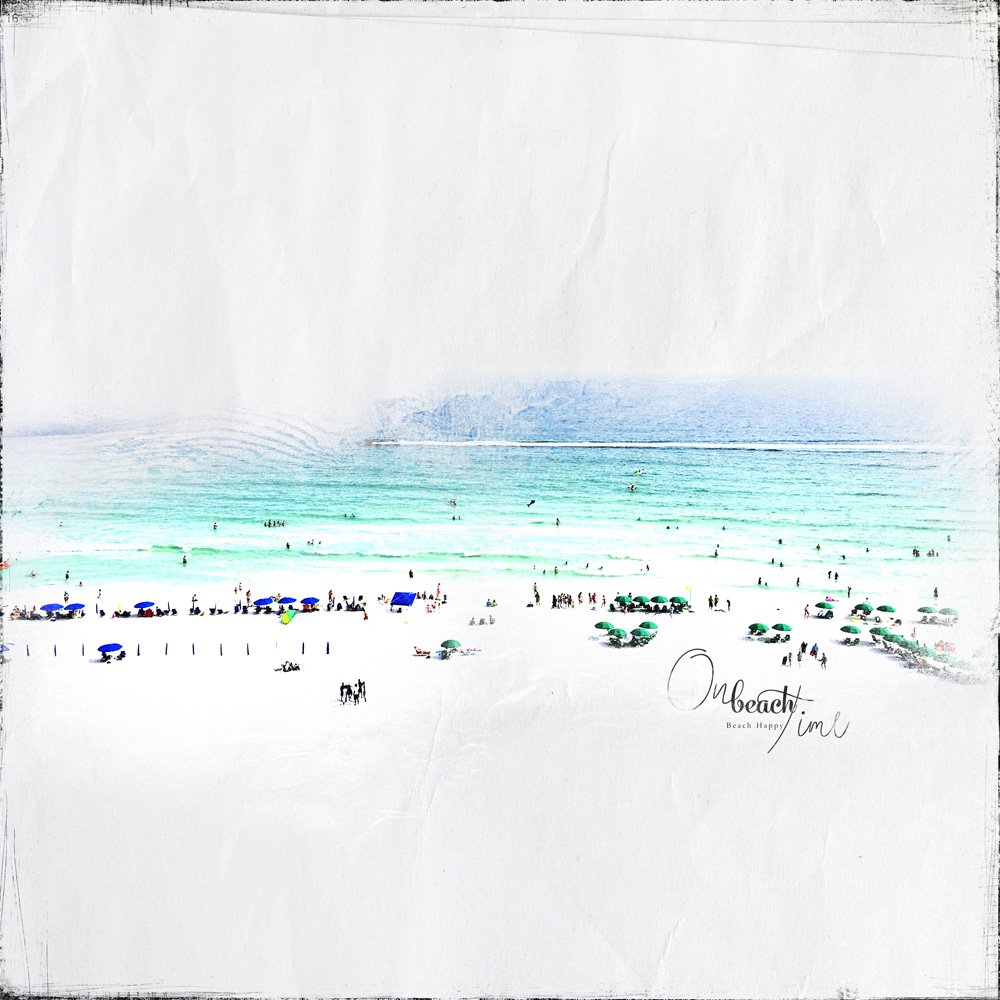 Beach Happy | Donna
3. Create Custom FotoBlendz Mask. Select two or more Melange FotoBlendz clipping masks and a couple of brushes from ArtPlay Palette Heart Beach, layer them up and then merge the layers to create one clipping mask layer. Resize the mask to extend across the page and then recolor white before clipping  your photo to the mask and applying multiple blending modes.
We always love to see your pages. Share them here.