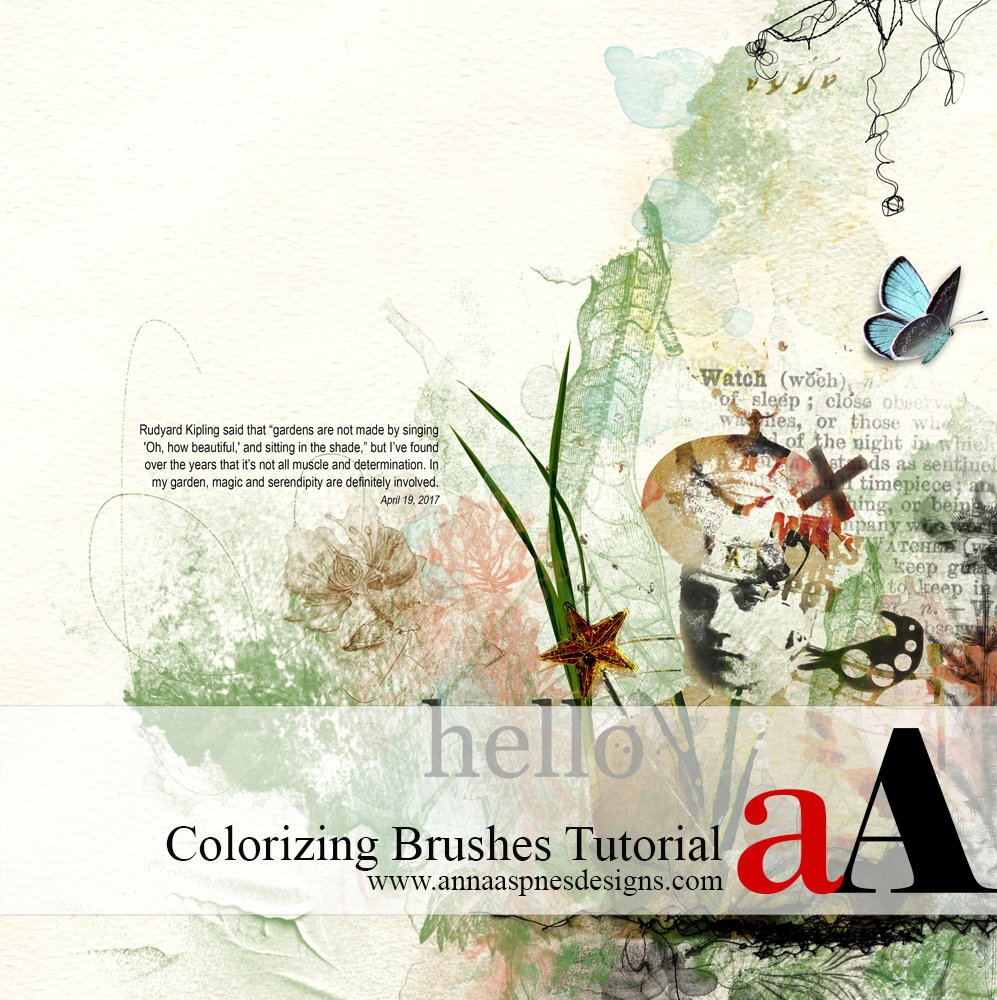 Today, Creative Team Member Laura is sharing her technique for colorizing brushes with ArtPlay Palette Artsy Papers in Abobe Photoshop.
Colorizing Brushes Tutorial
Clipping an Artsy Paper to a brush is an easy way to achieve a variety of colorization effects.
This Colorizing Brushes Tutorial can yield an array of possible colors and textures depending on how you position the paper on the brush,
Select a Brush
Choose a brush of your choice that suits both your theme and preference.
I used an art stamp brush that I made from one of my mixed-media collages using techniques outlined in aA Advanced Brushes in Photoshop Elements.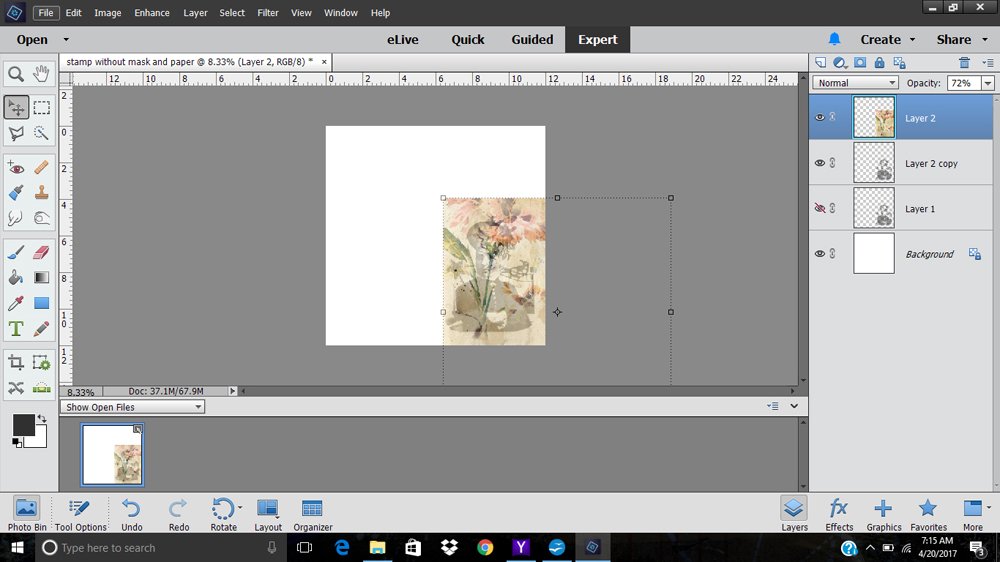 Create Brush Imprint
Select the Paint Brush Tool from the Tools Panel and stamp the brush once on a New Layer.
Duplicate the layer by dragging it up/down to the 'New Layers' icon as a precaution. You might need this layer later in the design process.
Turn off the visibility of the original Brush layer by clicking on the 'eye' icon next to the layer in the Layers Panel.
Select an Artsy Paper and position it over the Brush imprint.
Lower the Opacity slider value (72%) of the paper, so you can see through the image, and position more easily.
I selected ArtsyPaper1.jpg from the ArtPlay Palette Très Bon.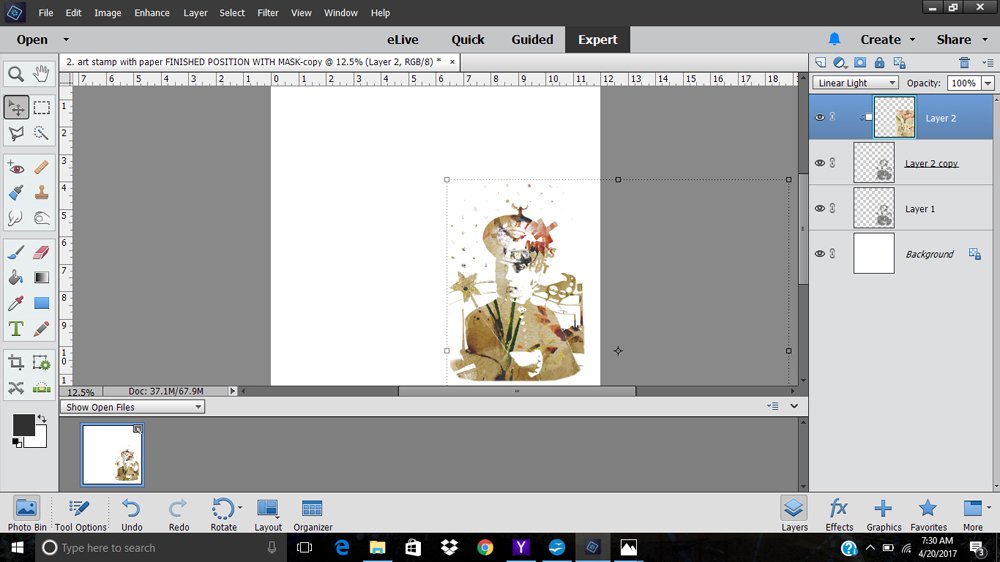 Effect Clipping Mask
Clip the Artsy Paper to the Brush Imprint.
Ensure the Artsy Paper layer is directly above the Brush imprint in the Layers Panel.
Select the Artsy Paper layer in the Layers Panel.
Press CTRL/CMD + ALT/OPT + G (Adobe Photoshop cc/Elements 15) or CTRL/CMD + G (Earlier versions of Adobe Photoshop Elements).
Restore full opacity to the paper by moving the Opacity slider back to 100%.
Experiment by applying different Blending modes. to the Brush imprint layer.
I chose Linear Light, and also turned on the visibility of my original brush layer to intensify the presence of the Brush imprint in my artsy digital scrapbooking layout.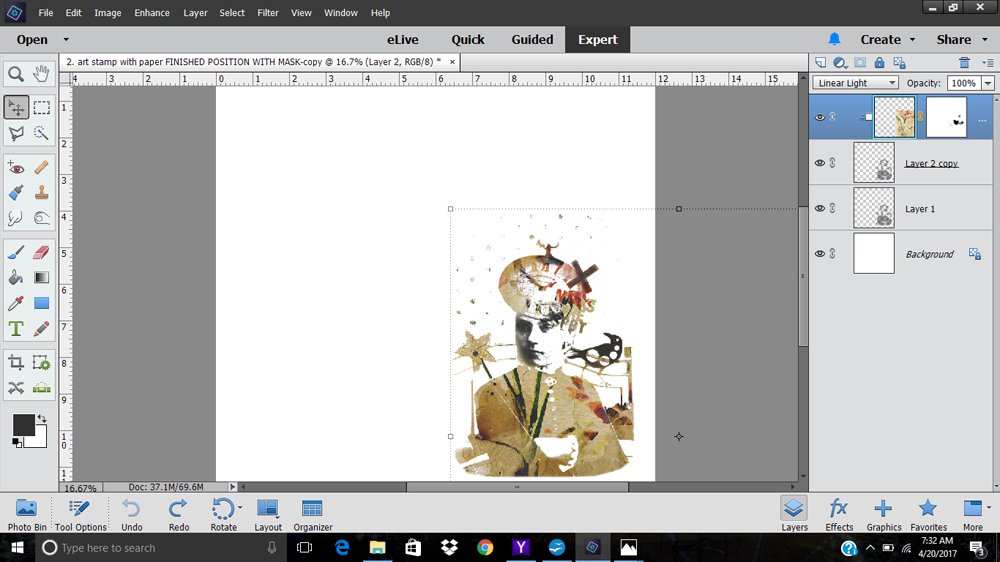 Mask Paper Layer
Use a Layer Mask and Brushes to make modifications as preferred.
See aA Advanced Brushes in Photoshop Elements for further guidance on this technique.
Not that I desaturated the bird, the X, and part of the wand.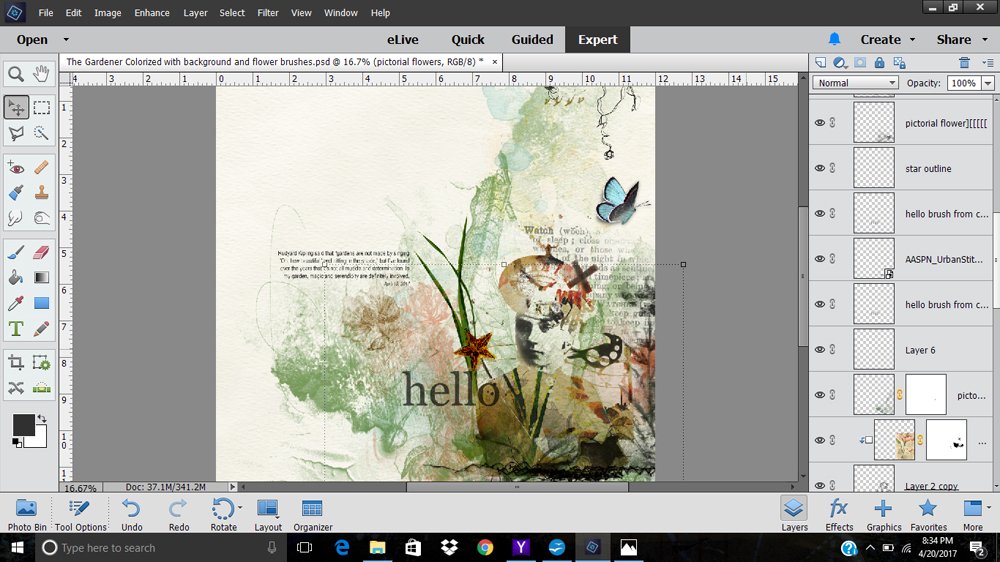 Embellish
Complete the layout with a background paper and additional digital supplies.
I finished my artsy digital scrapbooking page using the following DigitalART supplies.
More tutorials are located in 'Tutorials' section located in the sidebar to the right of this post, as well as on the aA YouTube Channel.
Enjoy this Colorizing Brushes Tutorial?
Please help us reach more people and share the digital artistry love by sharing this post using the social media buttons below.