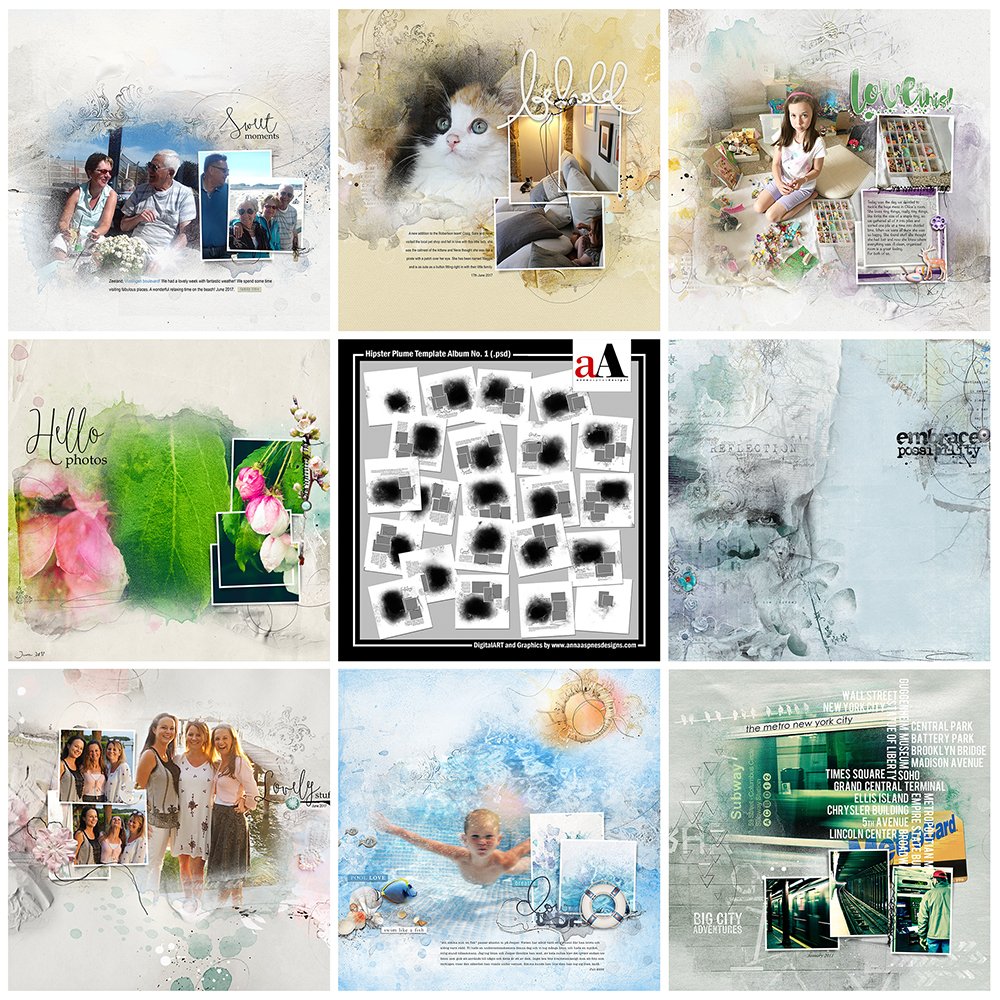 Happy Monday! Today we're sharing digital designs inspiration Hipster Plume Template Album No. 1.
Hipster Plume Template Album No. 1 is the latest collection of digital designs for scrapbookers, photographers, artists and crafters to arrive in the Anna Aspnes Designs store.
Hipster Plume Template Album No. 1
The aA Creative Team have making fast work of their digital scrapbooking and artistry pages using Hipster Plume Template Album No. 1.
The purpose of these templates is do the the artsy fast and easy.
More digital art inspiration for Hipster Plume Template Album No. 1, of course, can be located in the AnnaGallery.
Save almost 50% on Hipster Plume Template Album No. 1  FOR A LIMITED TIME.
Click on the image below to view more digital designs inspiration Hipster Plume Template Album No. 1 or visit the AnnaTeam Layouts board on Pinterest.
Digital Designs Inspiration Hipster Plume Template Album No. 1
See our Gallery HighLights by clicking on the images to access complete digital design supply lists.
You will also find process notes and digital scrapbooking tutorials from each team member to provide new digital inspiration for using aA DigitalART designs.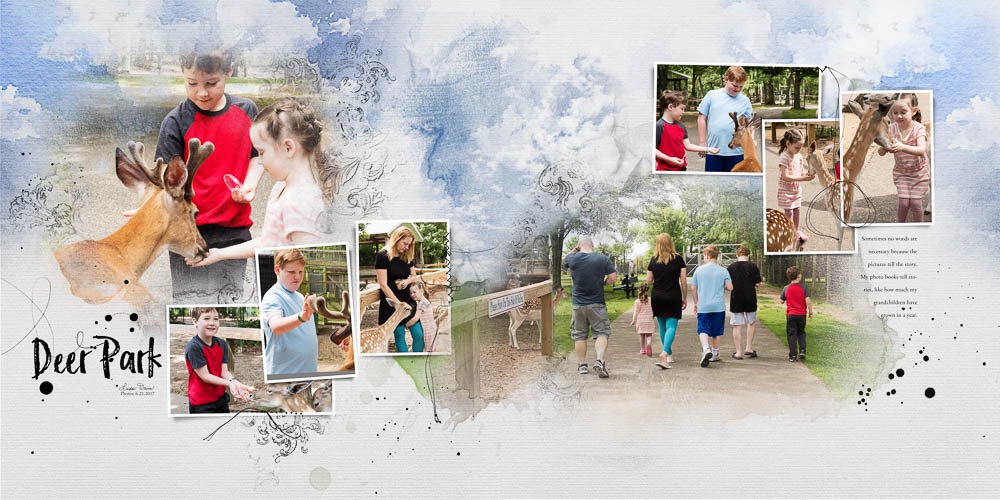 Deer Park | Linda
Lead The Eye
Create continuity in a double page spread using similar artsy background papers.
You can use the same paper twice and alter the digital paper copy with Transfers from ArtPlay Palettes, Blending with Brushes, or simple rotation of the design using the Transform Tool.
Notice how your eye moved from one page to the next based on the placement of color in the design.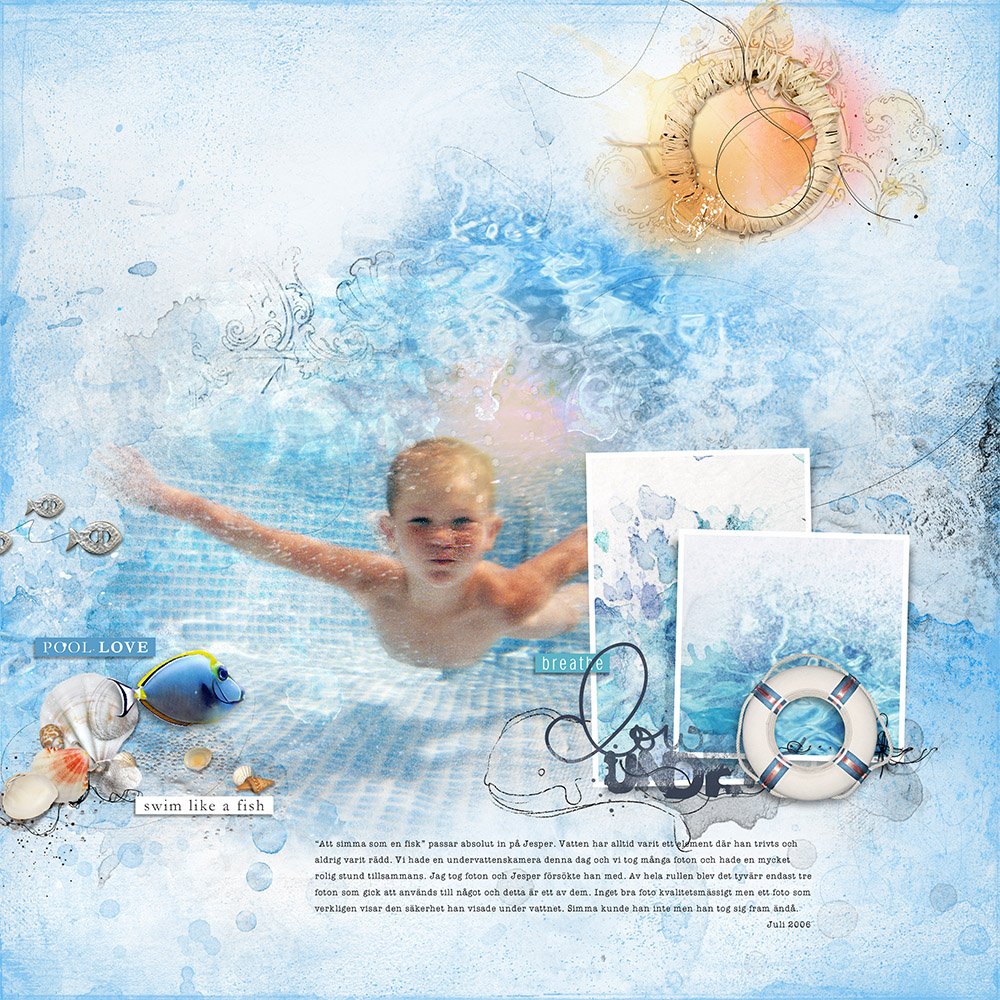 Down Under | Ulla-May
Individual Pages
The templates in this collection may be used individually as single pages, or in pairs to create coordinating double-page spreads.
Use them to document a big event, such as a vacation, or a smaller series of photos such as a summer outing.
Chronicle one story or many in your artsy digital scrapbooking.
Using templates shifts the focus from design to quickly and easily getting your photos into albums.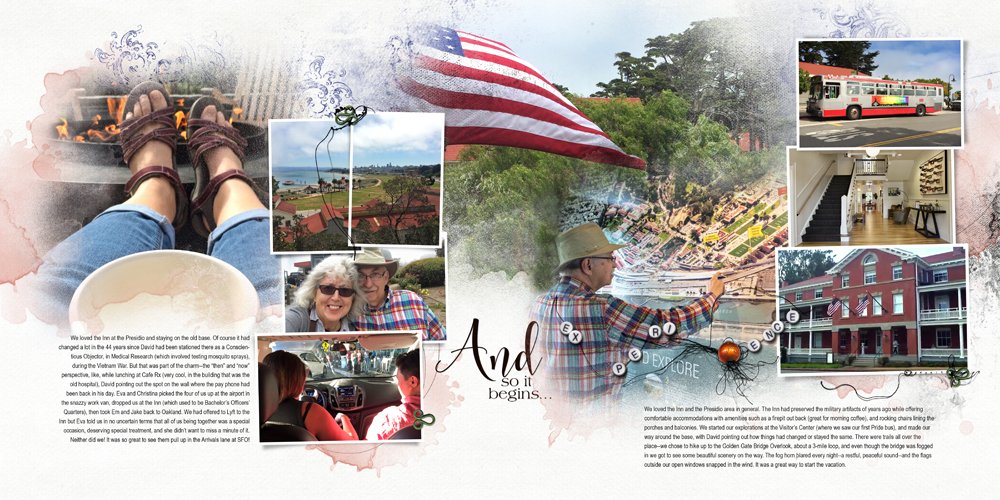 NoCal | Laura
Let The Photos Shine
Simply clip the photos to the masks in the templates and recolor the stains to coordinate with imagery.
Place the photo layer above the mask layer in the layers panel and press CTRL/CMD + ALT/OPT + G (Photoshop or Elements 15+) or CTRL/CMD + G (Elements).
No need to add other DigitalART supplies unless preferred 🙂
Want to learn more about Design?
Join the aA Year of ArtPlay 2017 which is now underway and being enjoyed by artists just like you.
And there is a new video coming this week.
WHAT  STUDENTS ARE SAYING:
Deb says, "The ArtPlay classes are wonderful in that they help me focus on what i want learn and improve. Focused practice and actually seeing how it is done." 
Pam says, "This is a glorious journey. Its meant that I have been able to begin to achieve the graphics I have always wanted to. Your patience and guidance and your supremely professional products have made a wonderful world that was foggy start to clear! Looking forward to continuing this ride and hopefully embark on others you craft for us."
Trish says, "For those of you thinking of taking up the challenge of the Year of Arts Play with Anna it has been an amazing journey. Anna is such a professional and great teacher that you learn so much, have so much fun with the videos and it also stretches you get out of your comfort zone and try new things. I have loved every minute of it so far and whilst am a bit behind, love that I can go back and re-watch earlier videos to pick up the tips again. It is a beautiful thing…"
You can learn more and register aA Year of ArtPlay 2017, after which you'll have immediate access to 6 months of artistry making content.
And Don't Forget: Share and connect with other artsy digital scrapbookers by posting your own Digital Designs Inspiration Paraiso in the AnnaGallery.