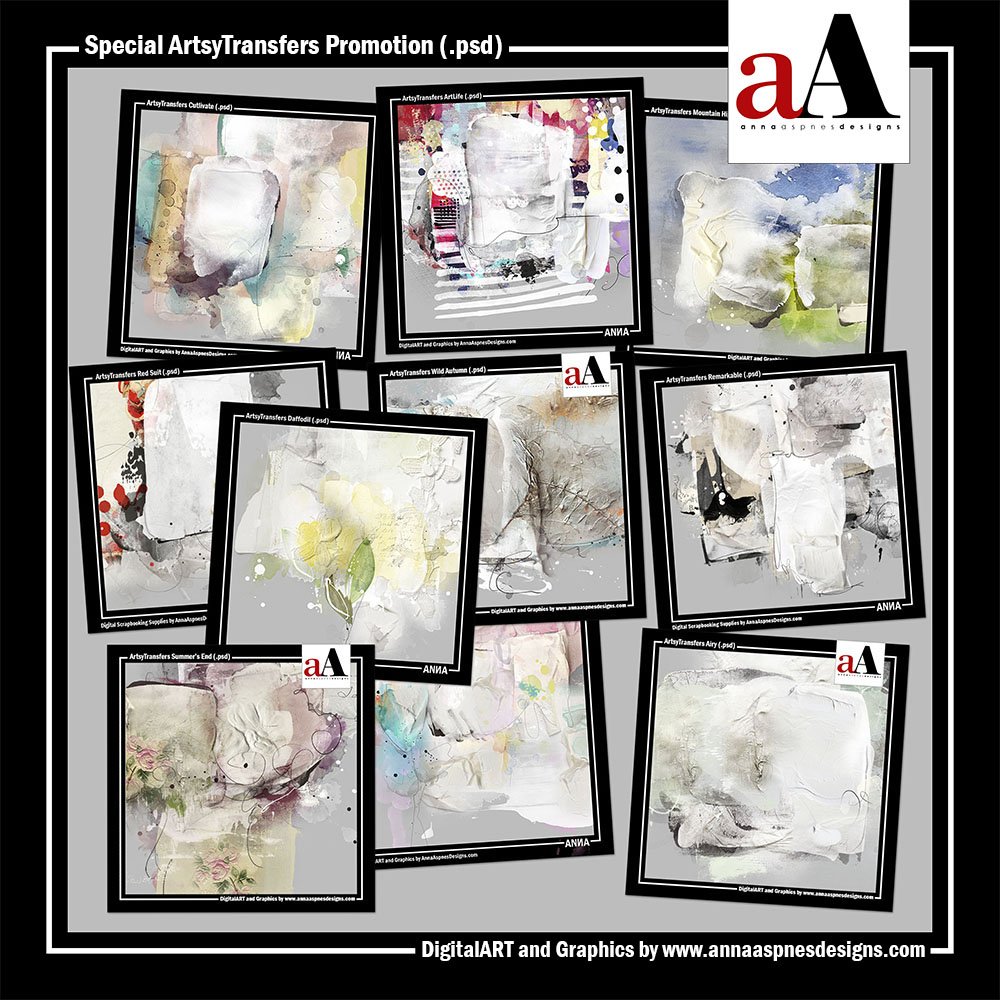 Today we're talking easy photo blending with ArtsyTransfers and providing you with a special offer on these unique artsy digital designs for scrapbooking, art, photography and design.
Please click on the previews for sale information and to purchase products.
Easy Photo Blending with ArtsyTransfers
ArtsyTransfers
New ArtsyTransfers are now available in the aA store.
These artsy layered digital files are delivered in multi-layered .psd format designed for use in Adobe Photoshop and Elements
The layered format provides maximum customization in creating your digital scrapbooking and artistry layouts.
Easy photo blending with ArtsyTransfers is achieved by placing the photo layer above the focal mask layer in the transfer, before clipping the image to the underlying layer, using the clipping mask function in Adobe Photoshop (CTRL + ALT + G) or Elements (CTRL +G).
Manipulate each of the individual ArtsyTransfer layers through re-coloring, masking, blending, moving, rotating or even deleting. Apply blending modes to any of the layers to have a little more artsy fun!
See 15 Ways to Use ArtsyTransfers and view the FREE videos on the aA YouTube channel for further guidance on easy photo blending with ArtsyTransfers.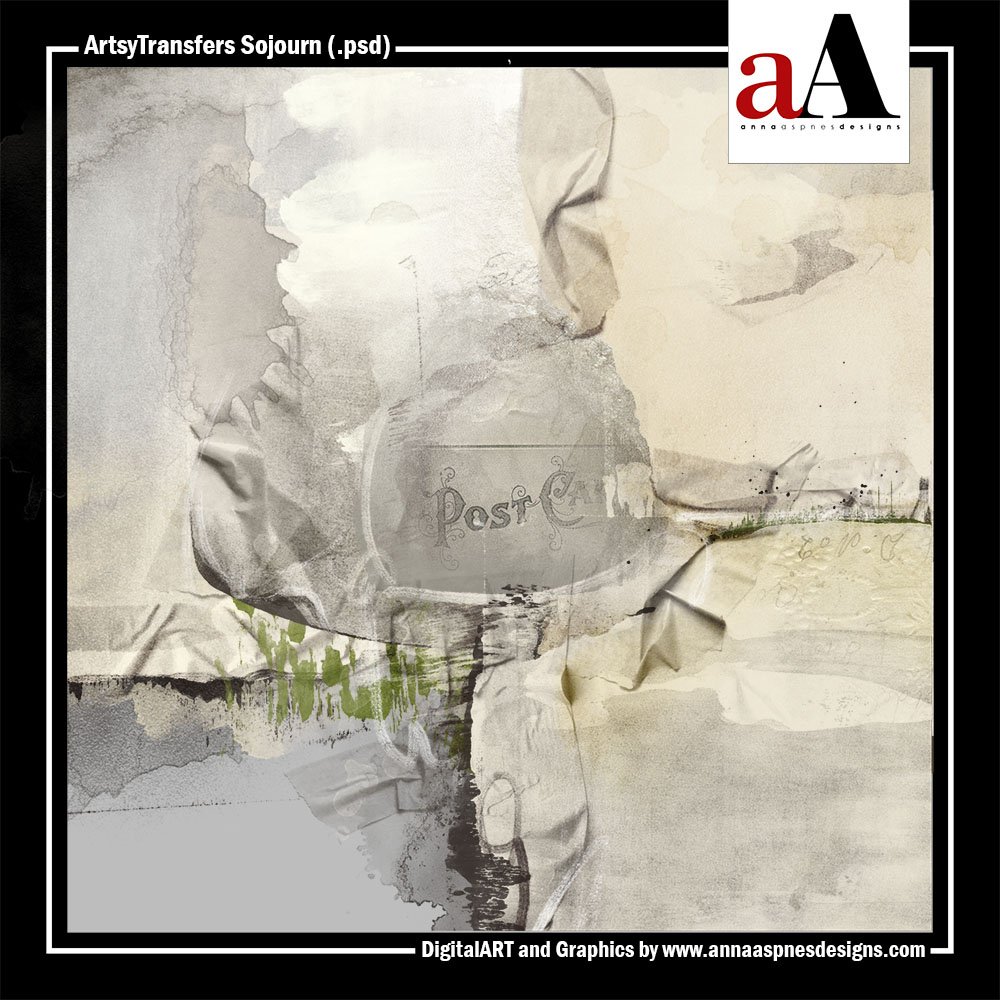 ArtsyTransfers Sojourn. A collection of 5 artsy digital scrapbooking and art designs delivered in layered, multi-color .psd format designed to coordinate with ArtPlay Palette Sojourn. Manipulate these elements by recoloring the individual layers, modifying them through the use of brushes and/or using them with the clipping mask function. Information on using Anna Aspnes Designs in Adobe Photoshop and Elements can be found in the Instructions for Use eBooklet which is available as a free download from the FreeART category of the aA store. A variety of free video tutorials can be found on the aA Youtube Channel.
THIS PRODUCT IS FOR PERSONAL USE ONLY. You can downlaod the Terms of Use at www.annaaspnesdesigns.com. Photographers, Artists, Crafters, Web Designers and Scrapbookers For Hire (S4H)/Scrapbookers For Others (S4O) can purchase a Commercial Use License for this product for an additional $8.00.
Easy Photo Blending with ArtsyTransfers Special Offer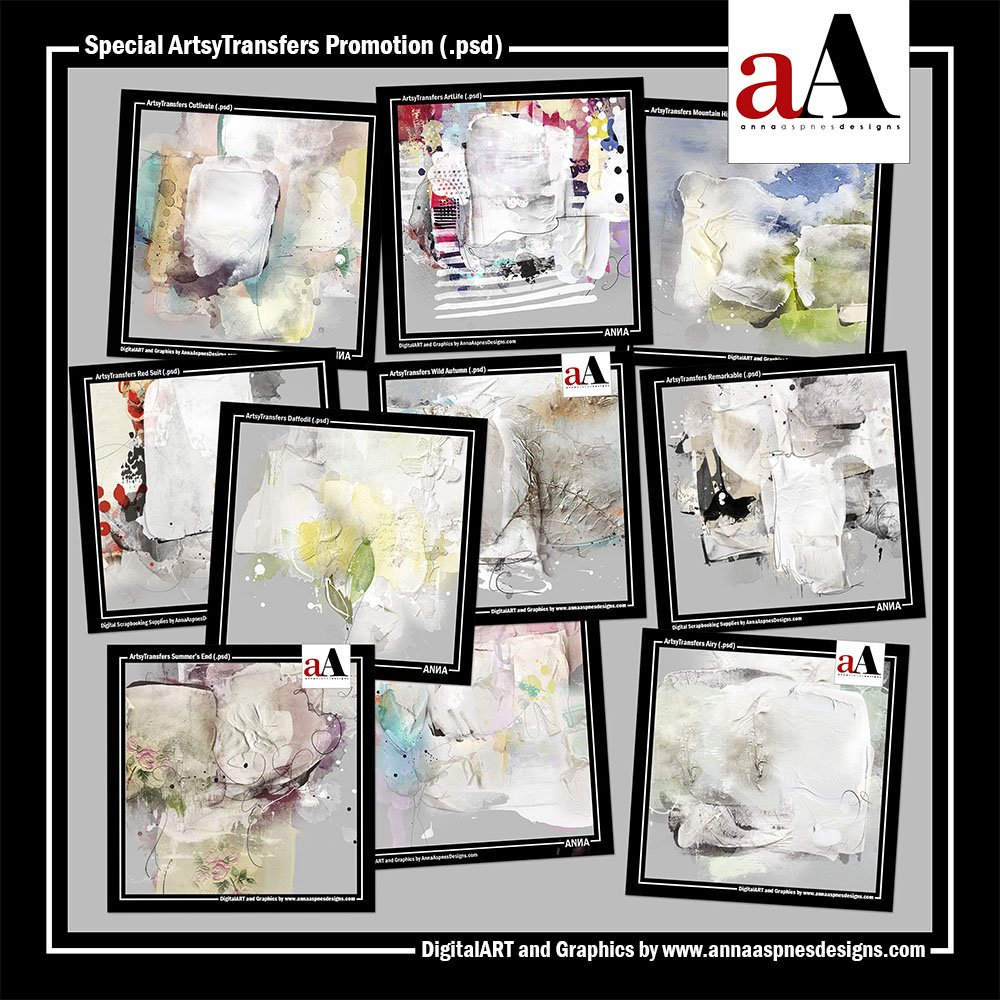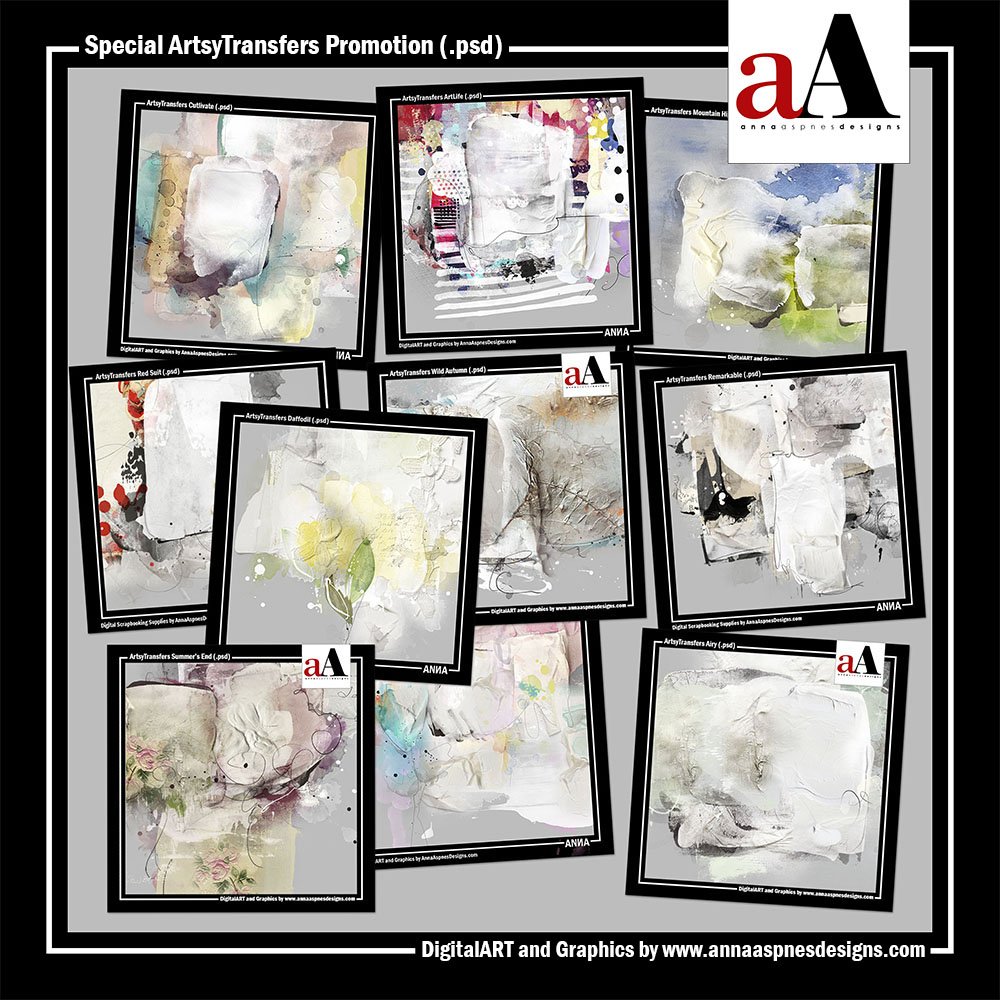 March has arrived!
This month the aA Creative Team will be sharing their artsy tips, techniques and tutorials for digital scrapbooking, artistry and easy photo blending with ArtsyTransfers.
We're kicking off this event with a limited time special offer on ArtsyTransfers in the Anna Aspnes Designs store.
Save 40% on 5 ArtsyTransfers DigitalART sets
OR…
Save 50% on 10 ArtsyTransfers DigitalART sets
You choose.
Click here to browse ArtsyTransfers by Anna Aspnes Designs.
Offer is valid now through Wednesday March 9, 2016 at 9 am EST.
Excludes ArtsyTransfers Released in the last 12 weeks.