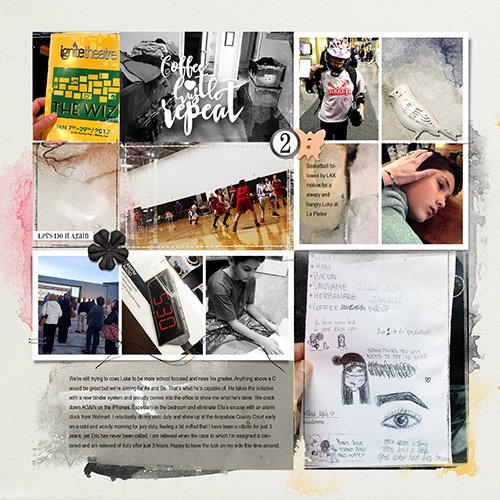 Hello FotoInspired Inspiration January 2017.
I'm hoping this will be an 'at least monthly' feature in this space.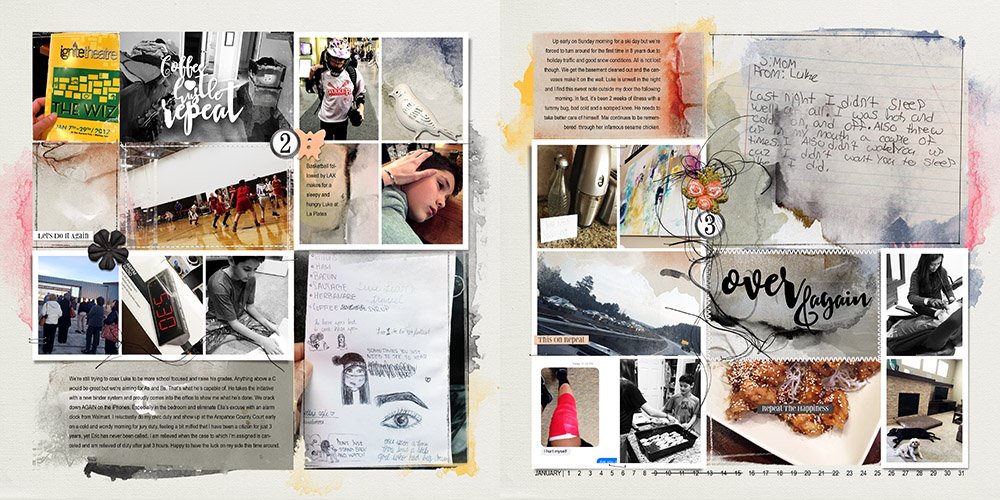 FotoInspired 2017 Week 2 & 3 | Anna
FotoInspired Inspiration January 2017
One of my goals for this year is to resurrect my FotoInspired project. While I'm a big fan of making the art happen, 14 plus years of digital memory keeping has taught me that preserving the every day anecdotes and moments is equally as priceless.
Documenting your everyday might not have been on your list of goals for year 2017, but I encourage you to reconsider.
It's amazing just how much you can forget in such as short period of time.
These pages also provide a neat and organized place for all those random snapshots and stories that never make it into an artsy composite.
But there's also a good dose of artsy thrown in for good measure. Of course.
I regretfully stopped creating these pages for about 18 months, and it took going back to some of my albums, from a few years ago, to realize what a BIG mistake I had made. The every day photo projects I have created over the last 14-1/2 years are some of my favorites.
The act of looking back on my archives immediately inspired me to catch up on 8 months of photos in just over a month.  I am aiming to get through the latter 9 months of last year as and when I can  find make the time. See Getting FotoInspired By Life to view some of these pages.
In the meantime, I'm starting afresh in year 2017 and invite you to join me plus members of the aA Creative Team.
There are definitely preconceived ideas of what the FotoInspired Project should look like, but the truth of the matter is, that it can look different for everyone.
You will base your FotoInspired Project on your preferences, the photos you like to take and your circumstance.
There is no right or wrong way to go about it and only you can speak to what is MEANINGFUL to you.
Your pages might be similar to mine in that they capture the fleeting moments of raising a family.
You may be interested in documenting the daily moments, for yourself, for future generations, or not at all.
The hustle and bustle of a busy household may be a memory past and now your focus is improving your photography and taking photos of the things you love.
You may be interested in the art, the imagery, the words and stories or a mixture of both.
And I think, where we fail the most, is making it more difficult than it has to be.
Keep it Simple. Just photos and words are enough as demonstrated by Fiona in the layout below. She's a queen of digital artistry but not every page you create has to be a work of art.
Pick your Passion. Don't take everyday snapshots if that's not your jam. Take photos that inspire you and use the FotoInspired project as a place to organize all these images that you love. Linda likes to take photos of flowers and so she gathers a collection to create a double-page spread to be included in her yearly album. You'll also note she prefers to use Layered Template Album Collections instead of the FotoInspired Templates.
Stick with your Style (or Not). While Fiona is taking a departure from her artsy style, Donna is choosing to continue her art journalistic approach to preserve little moments and set herself reminders. Heather chooses to use the Project Life/365 products to document the events that she's so well known for. Consider your comfort level within your style and whether this project can be a space to try something new or solidify current norms.
Beat Boredom. Think about how your approach will align with your current process and commitments. Consider whether similarity or variety will maintain your momentum. I personally maintain the same approach each week varying the number of weeks I include in a spread and adding just enough art to keep my interest.
Feasible Commitment. Be mindful not to set yourself up for failure by over committing yourself in terms of expectations or your time. I like to create a 'blueprint' to pre-define my process. For example, add photos then paper. Blend one photo and add stitching to each side of the double-page spread. These reminders  provides a starting point, maintains focus and ensures my pages are completed within the 'one hour' arrange. That is doable in my calendar.
a

A

Creative Team Inspiration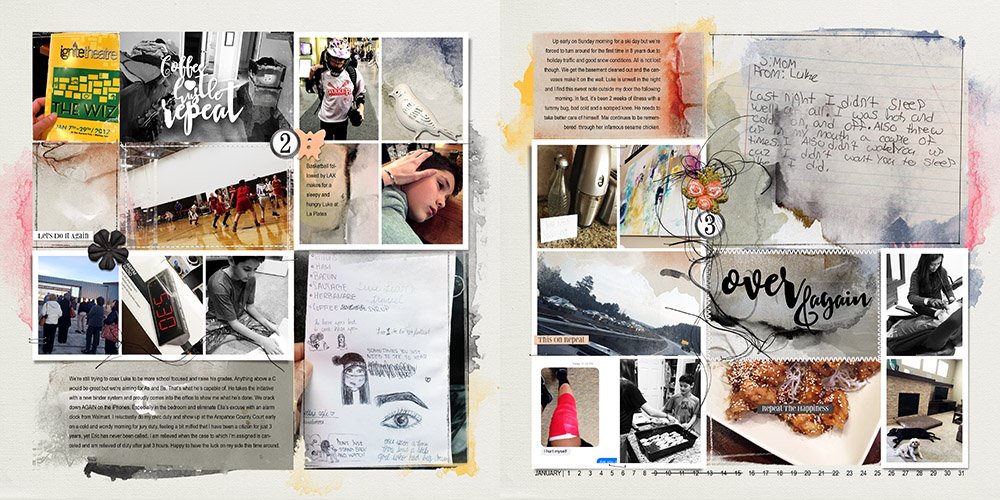 FotoInspired 2017 Week 2 & 3 | Anna
My entire project is based on a series of double pages in which I select and showcase the random photos I have taken throughout the month, along with the stories they tell, and a little art thrown in for good measure.
Read my 5 Tips for FotoInspired Projects.
I'm using the suite of Project Life/365 products in the Anna Aspnes Designs store, and may add to this as the year progresses.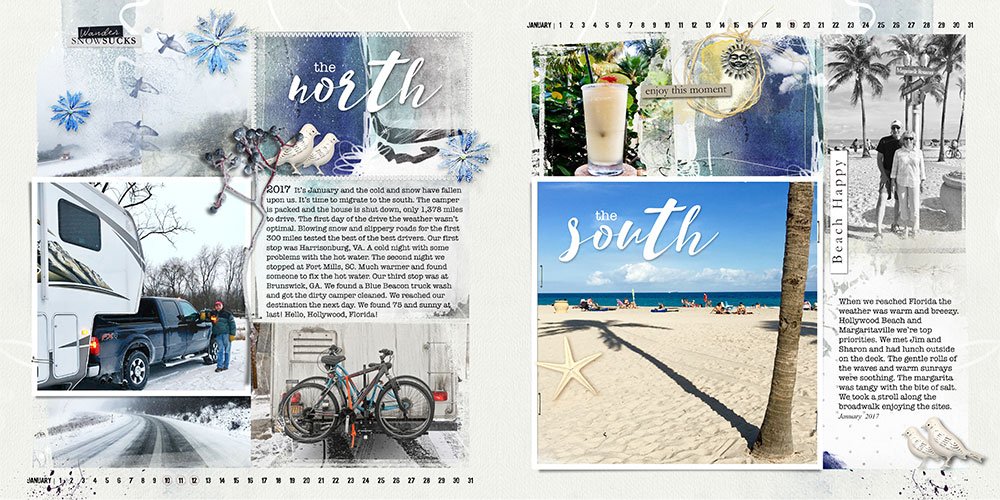 January | Miki
Miki is taking a monthly approach to her FotoInspired Project. She plans to create 1 to 2 layouts a month. Documenting the everyday events is as important to Miki as documenting the momentous events. It will give future generations (her great grandchildren?) a better glimpse of what her life was like.
This is her first double page of her snowbird trip to Florida. Miki's design intent is to keep the colors for the double pages similar and to include some organic elements that support her journaling.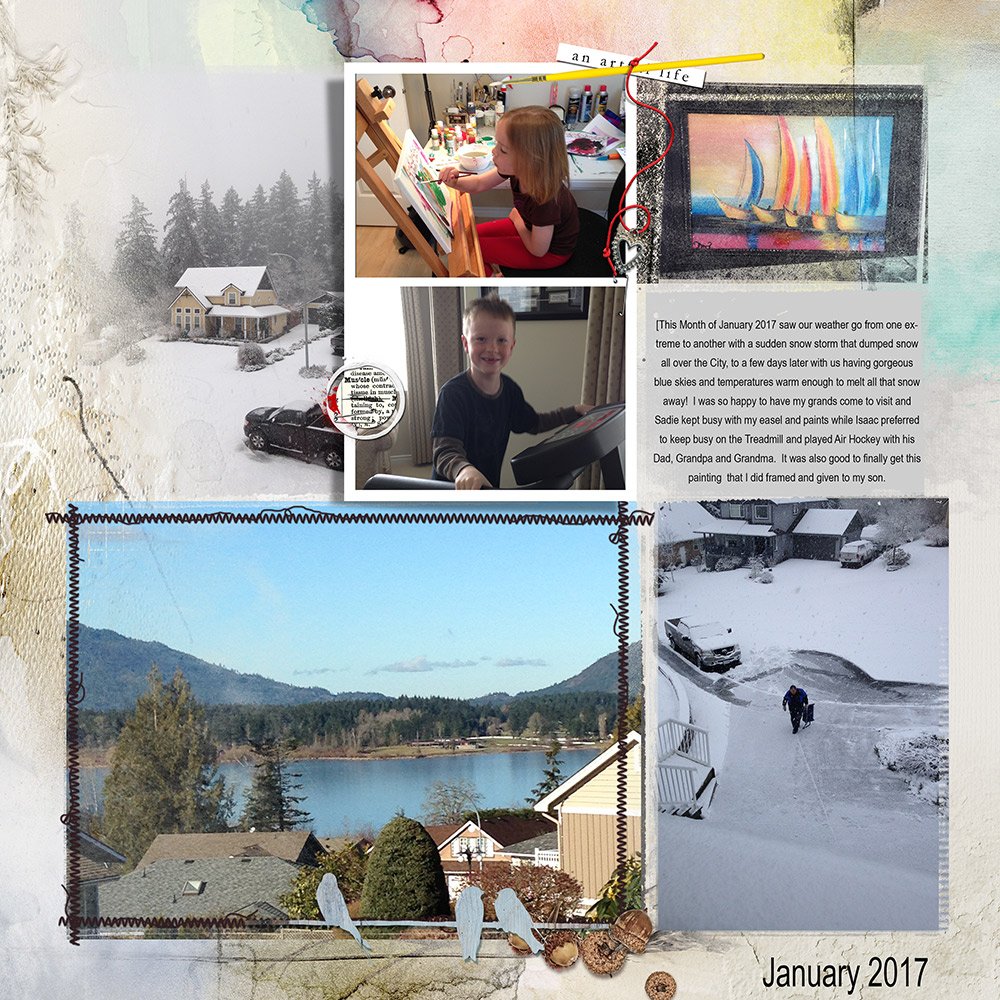 January | Trudy
Trudy is also adopting a monthly approach to her FotoInspired Project, showcasing the random photos she takes throughout the month and other snippets of life such as a photo of her grand daughter's painting.
Trudy uses a few distinct and separate Papiers and Overlays, adding few Elements to showcase the various scenes of January.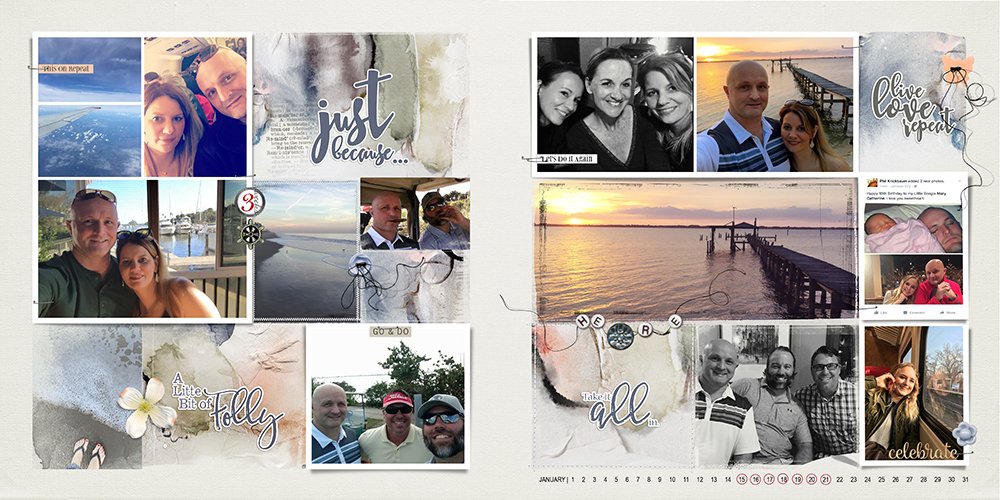 FotoInspired 2017 Week 3 | Lindy
Lindy is creating a weekly album with the photos she takes throughout the week. Depending on the number of photos, it will be a 1 or 2 page FotoInspired layout per week. She likes to include snippets of life by taking snapshots of her or her husband's Facebook posts.
Lindy keeps her layouts flowing by using Artsy Papers from a single collection adding various WordARTS and Elements to support her theme.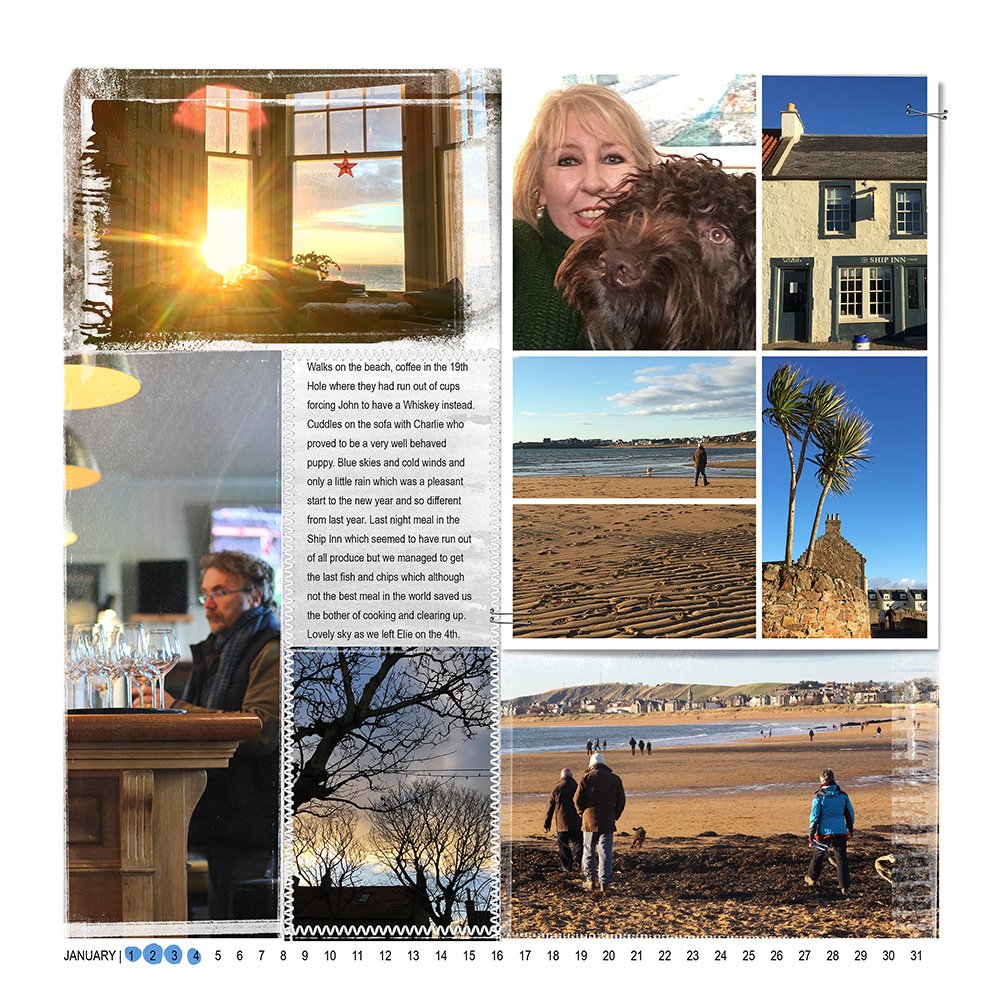 FotoInspired 2017 | Fiona
After being defeated 8 years ago by trying to take a photograph every day, Fiona is  going with Anna's advice and being much more relaxed with her FotoInspired Project, some days there will be lots happening and others not so much and that's OK. Fiona's iphone is also making her life a lot easier as the photographs are all recorded in order by date.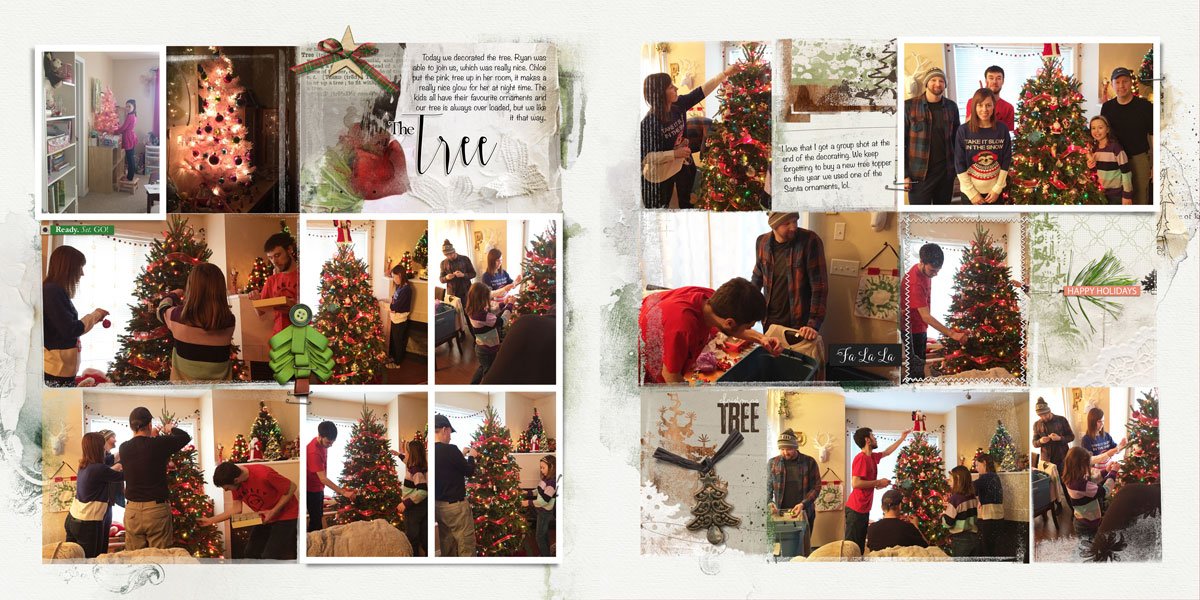 Tree Decorating | Heather
Heather uses the FotoInspired approach to document events.  The FotoInspired Templates are great for a single event where you have a lot of shots. Heather uses ArtsyKardz for the filler boxes to create her journaling.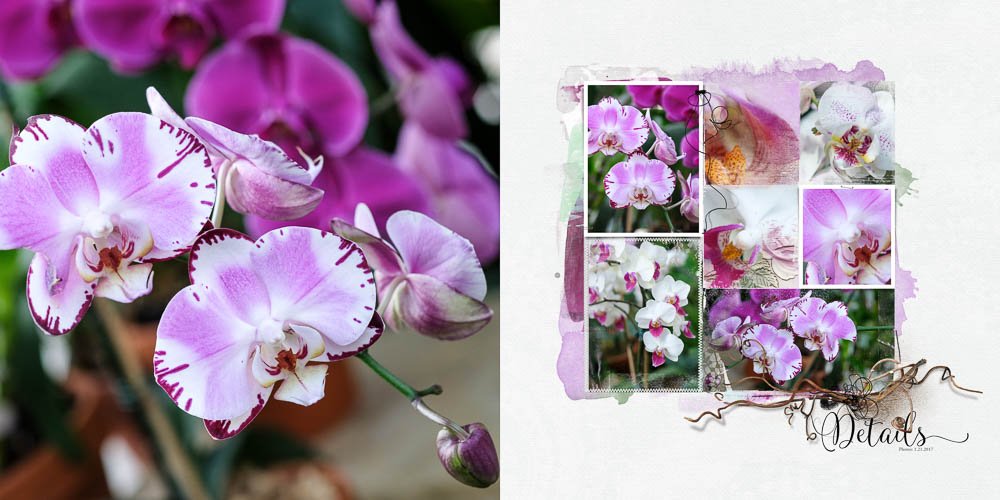 Orchid Details | Linda
Linda uses the FotoInspired approach to emphasize the details of her beautiful flowers. She reduced the size the the template to create a little more white space as a separation from the full page photo. She created a composite of the template side and dropped it on top of the full page photo.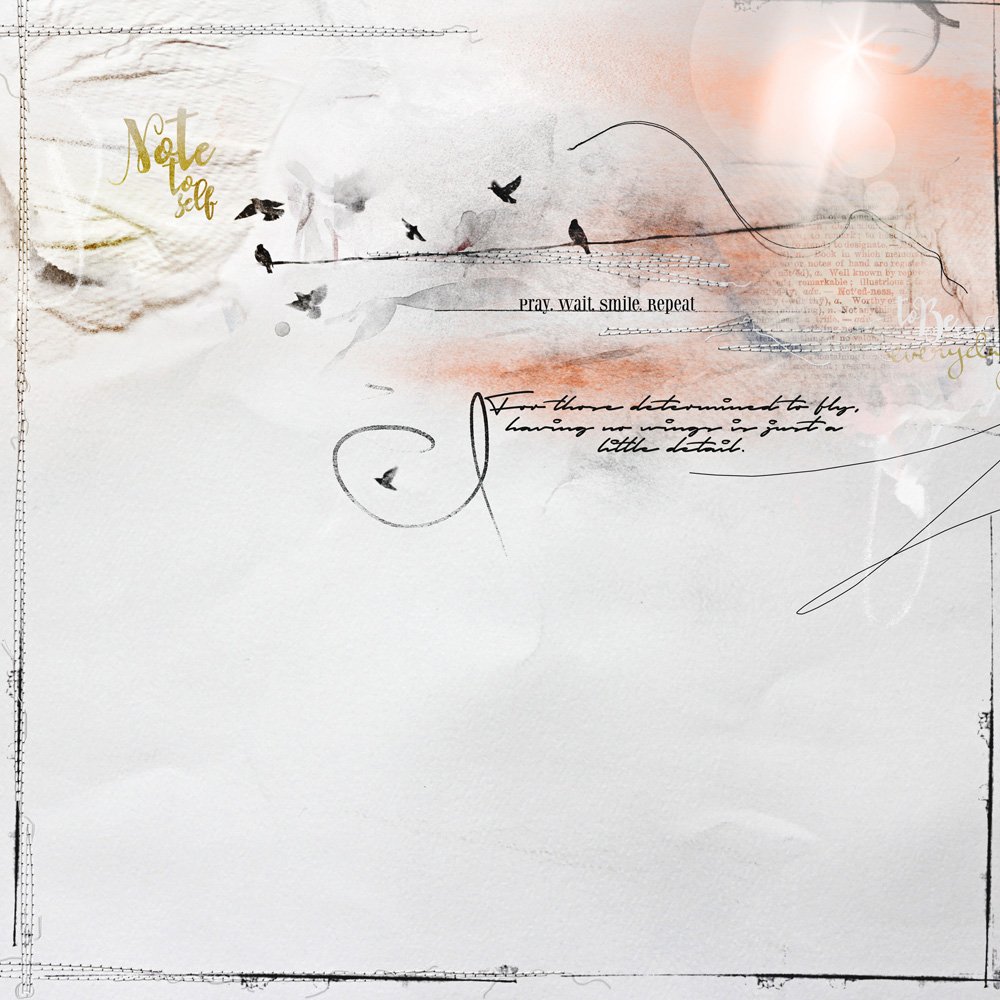 Detail | Donna
Donna is using ArtPlay to create an ART Journal album with her favorite quotes that inspire her during 2017.
We hope we have inspired you with FotoInspired Inspiration January 2017.
If you are interested in trying on the project for size, now is a REALLY good time to do it.
All FotoInspired DigitalART products in the Project 365/Life category are currently discounted by 40% in the Anna Aspnes Designs store through Friday, February 3rd at 9am EST.
You can also join our new FotoInspired Facebook group to connect and share with other FotoInspired digital artists and scrapbookers.