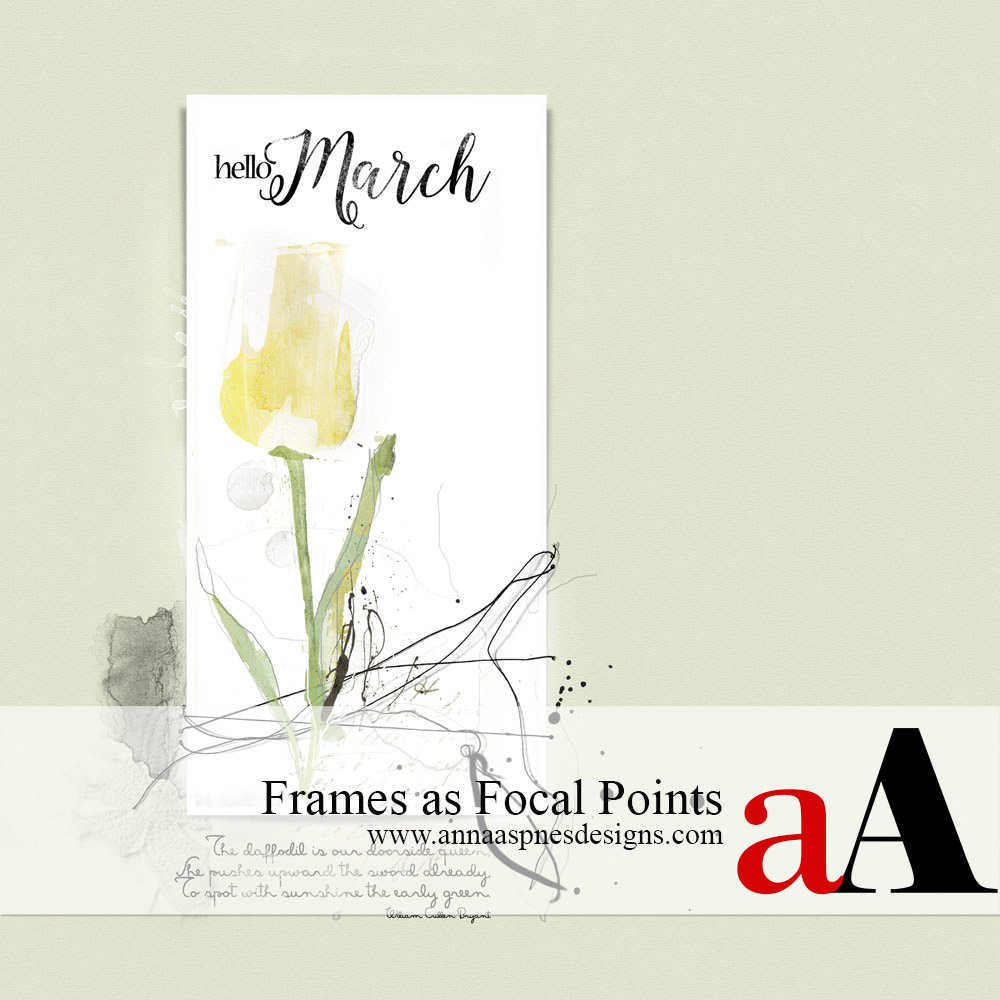 Today, Creative Team Member, Trish Hoskin, shares an approach for using Frames as Focal Points
Frames as Focal Points
Introduction
Use frames as the foundation of your photo artistry or digital scrapbooking design.
1. Select Frame
Choose a frame to support your photo.
Go to File> New and create a layout in the SIZE of preference.
Consider the ORIENTION of your chosen image or photo.
Select a frame that supports the PORTRAIT or LANDSCAPE nature.
Move the frame element layers onto your layout foundation.
Tip. Choose a single or multiple frame format – You could also overlap frames to create a custom configuration.
Note.
UrbanThreadzFramed1_4 to created the base for this design.
The LAYOUT FOUNDATION background was recolored from white to a pale green to support the chosen daffodil image.
Notice how the frame is placed 'off-center' to create VISUAL INTEREST via TENSION.
The POSITION of the frame element provides an immediate FOCAL POINT.
2. Provide Context
Add additional digital elements by or on the frame to customize.
Elements in close PROXIMITY to the frame UNIFY with the frame elements.
Choose elements that support the THEME of the image.
WordART elements provide MEANING and CONTEXT to the VISUAL STORYTELLING.
Note.
3. Add Image
Clip the photo layer to the mask layer in the frame element.
Move the image layer on top of the mask layer in the Layers Panel.
Go to Layer> Create Clipping Mask.
Notice how the image layer conforms to the shape of the underlying mask layer.
Note.
Frame mask layers are typically gray.
Change mask layer to the COLOR of your choice – In this case white.
You can also turn off the gray mask layer and use the white 'matte' layer if available.
Clip photos and or digital elements to the frame mask layer.
Here a MultiMedia Daffodil was 'framed' against the white 'matte'.
Try This.
Digital Supplies
See a full list of aA DigitalART supplies here.
Summary
The frame provides a quick and easy approach to starting and finishing piece of digital artistry.
Choose a Frame to create the FOCAL POINT of your layout design.
The Frame should support your IMAGE or PHOTO in terms of SIZE and ORIENTATION.
Clip the image or photo to the MASK LAYER in the frame.
Embellish to support the THEME, PERSONALIZE and provide CONTEXT.
Try This.
Experiment with different SIZE layout foundations.
See also:
AND IF YOU LIKED THIS FRAMES AS FOCAL POINTS TUTORIAL, PLEASE SEE MORE INSPIRATION IN THE GALLERY.