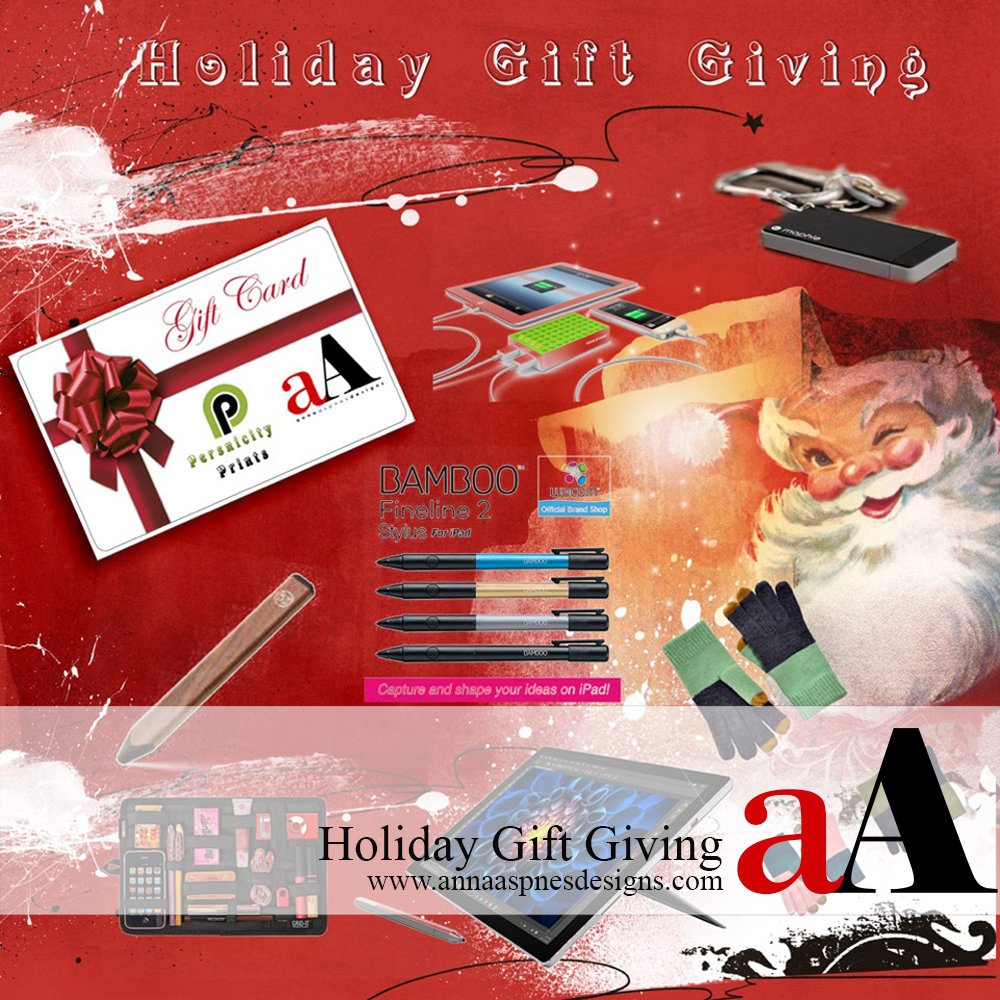 Creative Team Member, Trudy, shares some Holiday Gifts for Artsy Digital Scrapbooking.

It is that time of year again, when we are all getting a little bit anxious about what might be the perfect gift to give (or receive) for Christmas.
See my Top 10 ten Holiday Gifts for Artsy Digital Scrapbooking that will keep on giving all year round.
Holiday Gifts for Artsy Digital Scrapbooking
1. The Art of Learning
There are many digital artistry and scrapbooking courses available to help you get your artistry where you want it to be. This might also be an opportunity for you to introduce ArtPLAY to someone you know such as a friend of family member.
We're pretty fond of the LIVE classes by aA Designs around here. If you missed one, email Anna and she can easily help you arrange your artsy learning experience. Choose from AnnaBlendz, Flipping Clipping, ExtractTHIS, WordARTSY and PenPLAY.
2. GiftKardz
Always a safe bet. You can't beat the flexibility and the freedom choose what and when you want to take advantage of that gift, and maybe you can help someone strike a few items from their wishlist. We have GiftKardz of varying amounts in the aA Designs store.
You might also consider checking out what's available at my favorite printers Persnickety Prints and Picaboo.
3. Wacom
Once you've got used to a tablet and pen, there's no turning back. The Bamboo Fineline 2 for iPad helps you capture and shape your creative ideas on your iPad. A wonderful addition to the toolbox of any digital artist or scrapbooker.
4. Apps
There are lots of apps available that can help you organize, plan and prepare for creating art and are great for small budgets. Paper and Pencil by Fifty Three is a free app for the iPad and iPhone designed to help you take notes, create lists, doodle on photos or build sketches. The co-ordinating 'Pencil' is available for purchase here.
5. Microsoft Surface Pro 4
It's an ultra-thin laptop and pen/tablet all rolled into one. With up to 1TB of storage, Microsoft Surface Pro 4 might just be that dream gift. Check out all the amazing things the Microsoft Surface Pro 4 can do.
These are just 5 fabulous Holiday Gifts for Artsy Digital Scrapbooking to make Christmas Merry and Bright.
I will be back again in December with a few more.